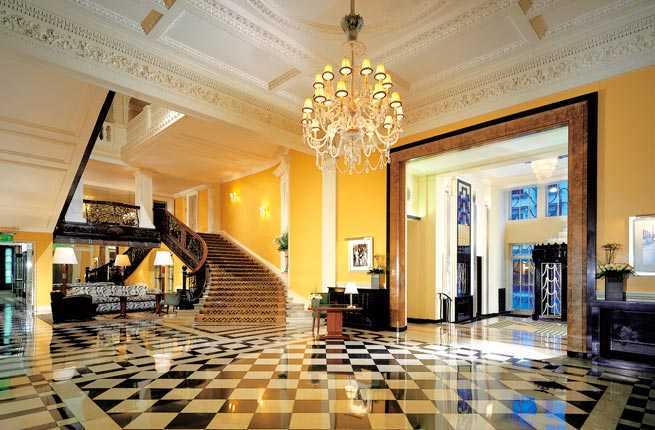 Courtesy of Claridge's
Film shoots, fountain frolics, and tunnel tête-à-têtes are just some of the shenanigans that have taken place at these iconic hotels across the globe, where everyone from royals to presidents to movie stars have checked in. Sleep where Marilyn slept, drink where Gershwin drank, or call for late-night room service in a hotel where Katharine Hepburn did the same. These ten storied hotels are steeped in Hollywood history and beloved by celebrated guests, all of whom should be grateful that the walls don't talk.
By Kristan Schiller
Courtesy of Rosewood Hotel Georgia
Rosewood Hotel Georgia
WHERE: Vancouver, British Columbia
Over the decades, the legendary Hotel Georgia was the place in Vancouver to see and be seen, having hosted everyone from John and Ethel Barrymore, Marlene Dietrich (along with 40 suitcases), Laurence Olivier, John Wayne, and Gary Cooper. Legend has it that, in 1950, when Katharine Hepburn waltzed in for the first time, wearing her trademark pants, the feisty screen legend introduced late-night room service to the hotel, after she gave the manager her list of requirements. However, Cooper Tardivel, the charming head bartender at the hotel's Hawksworth Restaurant, offers up an even better story. Tardivel says that Bing Crosby had been fly-fishing in the Canadian interior for weeks when he descended upon Vancouver en route back to the East Coast in his waders and was turned away due to his disheveled appearance at what is now the Fairmont Hotel Vancouver across the street. Miffed, Crosby crossed the street to the Hotel Georgia where he was given a warm welcome and the keys to the Penthouse suite; Crosby quickly showered, suited up in black tie, and marched back across the street to inform the concierge at the Fairmont Hotel Vancouver that he would tell all of his Hollywood friends to patronize to the more hospitable Hotel Georgia from that day forward. And so they did.
PLAN YOUR TRIP: Visit Fodor's Vancouver Travel Guide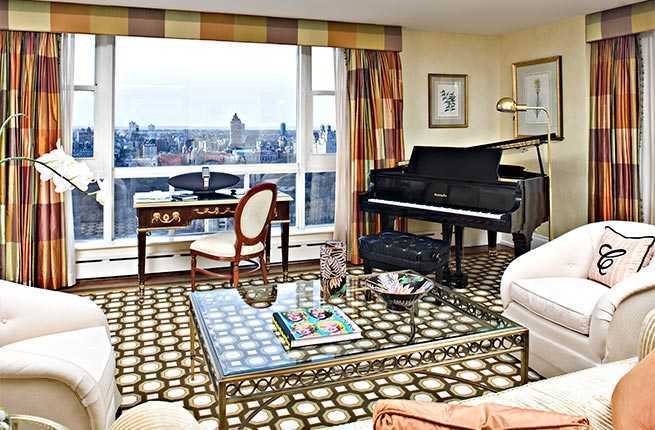 Courtesy of The Carlyle
The Carlyle
WHERE: New York, New York
The New York Times famously dubbed this discreet Upper East Side doyenne a "Palace of Secrets" (JFK is said to have routinely whisked Marilyn Monroe into the hotel for late-night trysts through The Carlyle's underground passageways). Named for the Victorian essayist Thomas Carlyle, the Art Deco grand dame opened in 1930 with composer Richard Rodgers as its first tenant and Dorothy Draper as one of its interior designers. Audubon and Piranesi prints decorate the guest rooms, Marcel Vertes murals bedeck cafe walls, and prancing animals painted by the bar's namesake, and former Carlyle resident, Ludwig Bemelmans offer a playful counterpart to what some might deem snobbish sophistication. Other notables who've frequented The Carlyle over the years include LBJ, Warren Beatty, Jack Nicholson, and Woody Allen (whose Eddy Davis New Orleans Jazz Band performs almost every Monday night at the Café Carlyle).
PLAN YOUR TRIP: Visit Fodor's New York City Travel Guide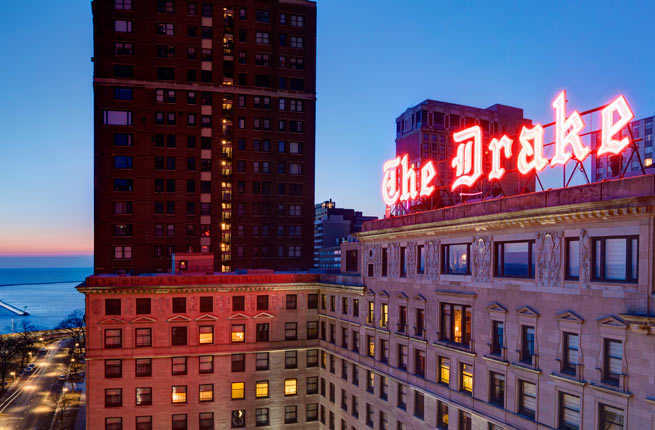 Courtesy of 2015 Hilton Hotels & Resorts
The Drake
WHERE: Chicago, Illinois
During the 1920's, The Drake Hotel's Fountain Court (now the Palm Court) hosted Chicago's social elite daily for afternoon tea. Walt Disney, George Gershwin, and Charles Lindbergh frequently stayed at the hotel and passed the time in The Gold Coast Room, where Herbie Kay could be heard many nights of the week. In 1952, newlyweds Marilyn Monroe and Joe Dimaggio carved their initials into the famous wooden counter in the Cape Cod Room at The Drake, and on December 6, 1933, Coq d'Or opened and was swarmed by enthusiastic drinkers, eager to purchase a shot of whiskey the day after prohibition was repealed. Other famous guests of the hotel include Frank Sinatra, Dean Martin, and Princess Diana.
PLAN YOUR TRIP: Visit Fodor's Chicago Travel Guide
Courtesy of Claridge's
Claridge's
WHERE: Mayfair, London
Spencer Tracy once said he'd rather go to Claridge's than to heaven when he dies. A single step inside the lobby of London's most glamorous hotel, with its Art Deco elegance, air of refinement, and seamlessly choreographed service, and it's easy to see why. Whether you fancy sipping champagne at Claridge's Bar, indulging in one of London's most lavish afternoon teas, or spending the night in a room with interiors chosen by the likes of CW Stephens (of Harrods fame), Diane von Furstenberg, or Guy Oliver, you're certain to be swilling the "Claridge's Kool-Aid" at check-out. During the Second World War, several exiled heads of state used Claridge's as a refuge, with the Kings of Greece, Norway and Yugoslavia actually living at the hotel for the duration. In 1945, at the request of Winston Churchill, suite 212 was declared Yugoslavian territory so Crown Prince Alexander II could be born in his own country; Churchill also stayed at Claridge's after losing his election. Throughout the '50s and '60s, stars such as Cary Grant, Katharine Hepburn, Audrey Hepburn, and Yul Brynner frequented Claridge's, followed by Aristotle and Jackie Kennedy Onassis in the '70s. The hotel still sustains its celebrity allure; supermodel Kate Moss held her 30th birthday party at Claridge's, where guests dressed up as characters from F. Scott Fitzgerald's The Beautiful and Damned.
PLAN YOUR TRIP: Visit Fodor's London Travel Guide
Courtesy of Design Hotels
Hotel Zoo Berlin
WHERE: Berlin, Germany
Originally built in the late 19th century as a private residence for an affluent Berlin family and converted to a hotel in 1911, the meticulously renovated and recently reopened Hotel Zoo Berlin has been welcoming prestigious guests for decades. With its intricate carvings on its exterior walls, tall windows, and old world sophistication, the hotel recalls the old-time glamour of the roaring '20s. As one of a handful of buildings that remained untouched during World War II, Hotel Zoo enjoys a stately status in Berlin, which is fitting for a hotel that was purportedly the place to stay for red carpet guests during the Berlin International Film Festival, hosting starlets such as Grace Kelly and Sophia Loren.
PLAN YOUR TRIP: Visit Fodor's Berlin Travel Guide
Courtesy of Round Hill Hotel and Villas
Round Hill Hotel & Villas
WHERE: Montego Bay, Jamaica
The fact that Ralph Lauren owns a cottage here—and has loaned his aesthetic to the decor at the resort—is proof enough that Round Hill has the luxury chops to satisfy Hollywood's elite. John Pringle, who built Round Hill, was a 26-year-old upstart when he happened to be seated next to Noël Coward on an airplane to New York in the 1950s. Ambitious and outgoing, the young Pringle regaled Coward with tales of how he was in the process of creating a colony of cottages and an upscale hotel on a former sugar plantation along a 100-acre peninsula near Montego Bay in the Caribbean. Coward became one of Pringle's first shareholders, and the rest is history. Shortly after Coward's cottage was built, friends like Bill and Babe Paley, Mr. and Mrs. Oscar Hammerstein, Viscount and Viscountess Rothermere, Errol Flynn, and Ian Fleming followed suit.
PLAN YOUR TRIP: Visit Fodor's Jamaica Travel Guide
Courtesy of Hotel Excelsior
Hotel Excelsior Venice
WHERE: Lido, Italy
A favorite of movie stars who descend upon Italy yearly for the Venice International Film Festival, this elegant resort on the Venetian island of Lido is just a 15-minute boat ride from St. Mark's Square. Notable past guests include Jack Lemmon, Orson Welles, Giuseppe Ungaretti, Clark Gable, Giorgio De Chirico, and Italo Calvino. The 178-room hotel first opened in 1908 and has been known for more than a century as one of Italy's most luxurious stays. With its courtyard fountain, ornate interiors, and private pier, it's easy to see why this hotel is a magnet for the rich and famous.
PLAN YOUR TRIP: Visit Fodor's Venice Travel Guide
Courtesy of Hotel Lancaster Paris
Hôtel Lancaster Paris
WHERE: Paris, France
Built as a private residence in 1889, Hôtel Lancaster—in the heart of Paris—still projects the warmth of a tastefully decorated home. In the 1930s, Marlene Dietrich lived in one of the hotel's apartments for three years, and today the lavish suite named after her boasts a gorgeous grand piano in the living room. Famous hotelier Emile Wolf searched for antiques in Paris' most prestigious auction houses to fill the hotel, and the striking collection still enhances its elegant ambience. And the interior garden boasts plants from five continents. It's not surprising that even today, stars like Jane Fonda, Emma Thompson, and Pedro Almodóvar call Hôtel Lancaster home when they're in Paris.
PLAN YOUR TRIP: Visit Fodor's Paris Travel Guide
Courtesy of Jumeriah Hotels and Resorts 2015
Pera Palace Hotel Jumeirah
WHERE: Istanbul, Turkey
This Istanbul landmark was built in 1892 to accommodate passengers traveling from Paris to Istanbul on the Orient Express. During World War I, allied forces used the hotel as their headquarters, and when the war ended, the British gave the "key of Istanbul" back to Turk nationalist (and later president) Celal Bayar at the hotel. Since then, famous guests have included Jackie Kennedy Onassis, King Edward VIII of England, Agatha Christie, and Greta Garbo, who stayed at the hotel in the 1920's. In fact, Pera Palace now has six rooms called the "Greta Garbo Corner Rooms" to pay tribute to the legendary screen siren. These high-ceilinged rooms all have a feminine air to them and views from private balconies over the Petit de Champs.
PLAN YOUR TRIP: Visit Fodor's Istanbul Travel Guide
Courtesy of Thompson Hotels
Hollywood Roosevelt Hotel
WHERE: Los Angeles, California
This beautiful boutique hotel, with the Hollywood Walk of Fame literally at its doorstep, was Marilyn Monroe's place of residence around the time of her first modeling shoot—filmed at the Hollywood Roosevelt pool. A pillar of Hollywood glamour since its opening in 1927, the hotel boasts vintage bowling lanes, 1950's cabanas, and a statement-making Spanish Colonial lobby. The loft-like Marilyn Monroe suite overlooks the Tropicana Bar and Pool (Olympic-size), while the "Gable Lombard Penthouse" offers views of the Hollywood hills and beyond.
PLAN YOUR TRIP: Visit Fodor's Los Angeles Travel Guide