Courtesy of Fairmont Hotels & Resorts
A litmus test of luxury while you're away from home, a hotel's bathroom products may be small in size, but they play a large role in determining guest satisfaction. It's no surprise, then, that hotels are becoming more discerning when it comes to the toiletries they stock. Of course, there are plenty of individual properties with exquisite offerings laid out on the sink, but what about hotel brands? We've selected 10 companies that offer outstanding products at every single one of their properties, which should remove some guesswork when you plan your next hotel stay. —Zachary Laks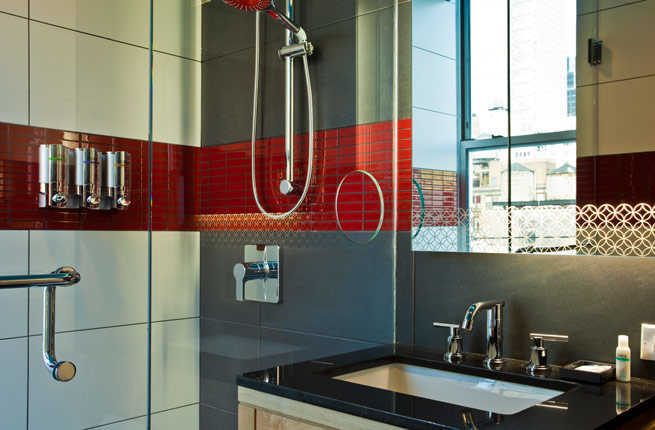 Courtesy of Wyndham Hotel Group
Featuring: Zero Percent Collection from Gilchrist & Soames
With over 120 properties and 17,000 rooms in Europe and the Americas, TRYP by Wyndham, is a contemporary, midscale extension of Wyndham's international brand. Partnering with Gilchrist & Soames, TRYP features the line's Zero Percent Collection, a luxe, earth-friendly formulation named for its zero sulfates, parabens, phthalates, and artificial colors. With an emphasis on a green stay, the shampoo, conditioner, and body wash are provided in refillable dispensers in the shower. And for those looking to bring a few samples of the sudsy amenities home, the front desk has a few small bottles of the collection at their ready. Expect to find the Zero Percent Collection in nearly all TRYP properties with a few international exceptions.
Courtesy of Renaissance Hotels
Featuring: Aveda
Estée Lauder's leading organic line, Aveda stands out with its fresh, plant-infused scents. Appealing to both men and women, the line ensures a high-quality natural product free of silicone oils, petroleum products, and artificial colors, along with its no animal testing guarantee and packaging from recycled materials. Found in all of Marriott's 160 Renaissance Hotels worldwide, guests enjoy 1 ounce bottles of Aveda's highlights including their scalp-tingling Rosemary Mint Shampoo and Conditioner, Energizing Body Cleanser, and their rich All Sensitive Moisturizer cream.
Courtesy of Meritage Collection
Meritage Collection Hotels
Featuring: Fresh
Skincare is a priority at Meritage Collection Hotels, a Southern California-based collection of six resorts including one remote location in Hawaii, where the high-end Fresh line of bath amenities can be found. Featuring Fresh Hesperides Grapefruit Bath & Shower Gel, the potent formula infuses shea butter, citrus fruit extracts, with vitamins C and D to nourish and revitalize the skin. A skin-care line that sells for a premium, there's great savings to be had in asking front desk for a few extra bottles of the shower gel for the road.
Courtesy of W Hotels
Featuring: Bliss
A standout hotel group, synonymous with the cosmopolitan scene of each city it inhabits, expect the new age of skincare and cosmetics at W Hotels worldwide with their partnership with Bliss. Having led the charge of modern, upscale urban spas, Bliss's beauty, bath and body amenities were created to help recreate a spa experience at home. The sink side amenities roster reads as a greatest hits of Bliss with products that include their Fabulous Foaming Face Wash, and Lemon+Sage line which includes Soapy Suds (body wash and bubble bath starter), Body Butter, Supershine Shampoo, and their Conditioning Rinse.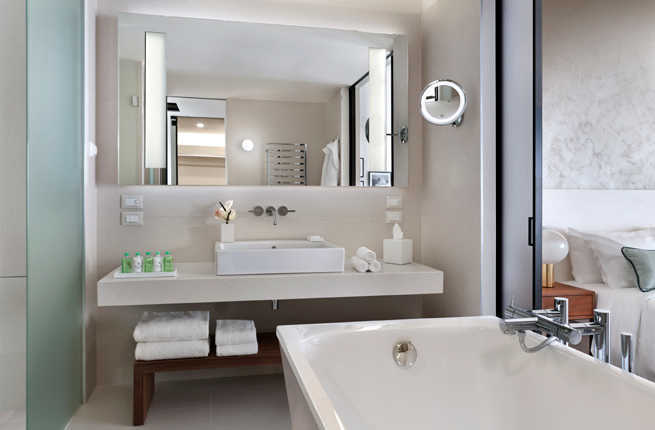 Courtesy of JW Marriott
JW Marriott – Aromatherapy Associates
Featuring: Aromatherapy Associates
Spanning the globe with 77 properties in 27 countries, JW Marriott extends its high-touch luxury class to the bathroom, where select Aromatherapy Associates line of products can be found. Touted as the leading experts in aromatherapy, the UK-based cosmetics line features essential oils that are crafted to improve physical, mental, and emotional well-being. The exclusive JW Marriott line was created with business travelers in mind, with an emphasis on combating skin dehydration after long flights as well as fatigue from jet lag.
Courtesy of The Peninsula Hotels
Peninsula Hotels – Oscar de la Renta
Featuring: Oscar de la Renta
Continuing a partnership now in its third year with the exclusive Peninsula Hotel Group, Oscar de la Renta's custom-crafted collection of soaps, shampoos, and lotions remain a highlight of the in-room experience. The line of travel-sized amenities feature a citrus and floral musk unisex fragrance with notes of mandarin, bergamot, freesia, and cedar, developed with Firmenich, and produced in association with Gilchrist & Soames. And a small detail that does not go unnoticed, the cap of each amenity is a custom-designed rose shape.
Courtesy of Fairmont Hotels & Resorts
Fairmont Hotels – Le Labo
Featuring: Le Labo
An elite perfume house founded in 2006 in New York City, Le Labo has garnered international acclaim for its handcrafted, custom concoctions. For one of the line's most popular scents, Le Labo summoned the legendary roses of the French Riviera, particularly Grasse, France, to create Rose 31 eau de parfum, now found in nearly all of Fairmont Hotel Group's more than 70 hotels across the globe. The scent is sophisticated and vibrant, featuring 31 ingredients that accentuate the essence of the roses of southern France, with hints of cedar, cumin, and amber. Infused into the hotel room's shampoo, conditioner, body wash, body lotion, and soap bar, just one whiff of the scent transports guests to the French coast of the Mediterranean. However, it is important to note that you won't find Le Labo at The Plaza, a Fairmont-managed property (where Caudalie amenities are set in every room); Fairmont Grand del Mar (with luxe bath amenities created exclusively for the property by Red Flower); and Fairmont's three properties in Kenya (Fairmont The Norfolk, Fairmont Mount Kenya Safari Club, and Fairmont Masai Mara).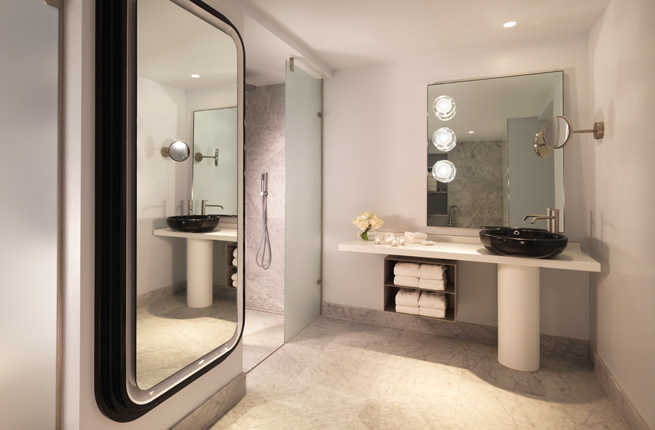 Niall Clutton
Morgans Hotel Group – Malin+Goetz
Featuring: MALIN+GOETZ
Featuring over a dozen properties in the U.S. and Europe (with highlights including New York's Hudson Hotel, Delano Las Vegas, and Modrian Los Angeles), Morgans Hotel Group ensures high standards of grooming with MALIN+GOETZ products in all of its outposts. An apothecary and lab that ranks among the top in the industry with its sensitive skin technology, MALIN+GOETZ creates natural oils, lotions, and soaps in the U.S. predominantly from locally soured botanicals. The entire line is paraben free, and contains no synthetic perfumes, dyes, and is never tested on animals. Guests staying at one of the properties are treated to a few of the line's favorites include the Peppermint Shampoo, Cilantro Conditioner, and Rum Soap.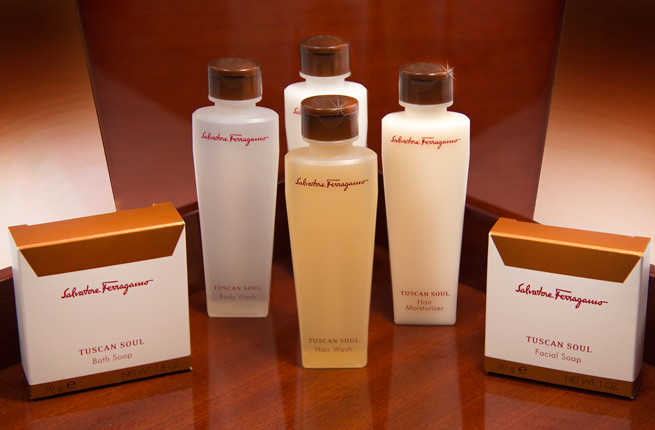 Courtesy of Waldorf Astoria Hotels & Resorts
Waldorf Astoria Hotels – Salvatore Ferragamo
Featuring: Salvatore Ferragamo
Representing the finest hotels in the Hilton Worldwide family of hotels, 25 properties now operate as part of Waldorf Astoria Hotels & Resorts. A first for the fine Italian footwear manufacturer, Salvatore Ferragamo paired with the hotel group in 2011 to introduce a new line of Tuscan Soul bath amenities that have become a signature element of a Waldorf Astoria stay. With an expansive twenty piece collection scented with citrus, floral, and woods notes, expect some nice extras including eau de toilette, shower gel, facial mist, lip balm, bath tablets, face cream, eye cream, shaving gel, aftershave and a bathrobe.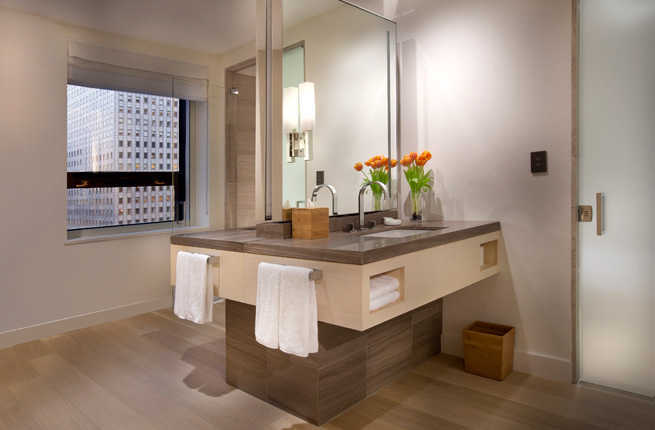 Courtesy of Grand Hyatt
Featuring: June Jacobs Spa Collection
All of Grand Hyatt's 44 locations throughout the world welcome guests to relax and recharge with June Jacobs Spa Collection, a partnership now entering its third year. Featuring a custom-designed line inspired by June Jacobs' top-selling Green Tea and Cucumber collection, guests find a clarifying shampoo and conditioner, alongside the line's purifying shower gel, a facial bar, body bar, and body balm. A mixture of botanical ingredients sourced from around the world, the fragrance is dominated by a blend of antioxidant white, red and green tea extracts, and goji berry, pomegranate and grape seed extracts. And if you're looking for an even more upscale spa experience in your hotel room, Park Hyatt now features Le Labo's signature Bergamot 22 line in all of its U.S. and Caribbean properties.