Stephanie Fry Photography
Celebrating Oktoberfest in Munich is a cherished memory for many, but you're mistaken if you think you need to head to Germany to partake in this annual beer-soaked festival. If you look closer to home, you'll find no shortage of Oktoberfests right here in the U.S, so get ready for a weekend of beer, sausage, and potato salad. At all of these fests, you'll find live music, dancing, and plenty of lager, so put on your dirndls and lederhosen and head to one of America's best Oktoberfests.
By Zachary Laks
Ed Smith
The scenic bay view on San Francisco's Pier 48 pairs perfectly with German-brewed beer and bratwurst at Oktoberfest by the Bay (September 19–21, 2014). Crowds seek out this annual four day festival for its Old Country ambiance, which brings people from all walks of life to toast to the good ol' days. The famed Chico Bavarian Band, a 21-piece traditional Blaskapelle (brass band) from Northern California, ignites the party with tuneful beats and cheery lederhosen. Enjoy the Bavarian dancing and maybe even learn a new step from the Nature Friends Schuhplattler, which presents a dance piece sporadically throughout each day.
Insider Tip: Oktoberfest by the Bay is cash-only, so head to the ATM first. Parking near Pier 48 fills up fast, but there are nearby lots to utilize, as well as public transportation.
PLAN YOUR TRIP: Visit Fodor's San Francisco Guide
Cincinnati USA Regional Chamber
The largest Oktoberfest in the U.S., Oktoberfest Zinzinnati (September 19–21, 2014) takes over downtown Cincinnati with over 500,000 attendees annually. Soft pretzels, sauerkraut balls, and potato pancakes stand out as favorites among the staples of bratwurst and German beer. Live music brings the festival to life on many of the seven stages throughout the fest, including the crowd favorite, the world's largest Chicken Dance. Perhaps the main attraction of Oktoberfest Zinzinnati though is its playful Gemütlichkeit (goodwill) Games. Join the cheerful spectators as they root for the Mädchens (traditional German waitresses) who race beer steins, as well as the classic beer barrel roll, where racers roll empty casks towards the finish line.
Insider Tip: Be sure to indulge in the over-sized, uber-stuffed cream puffs that the fest has to offer, along with the fresh strudel.
PLAN YOUR TRIP: Visit Fodor's Cincinnati Guide
Matthias G. Ziegler / Shutterstock
The St. Alphonsus Oktoberfest
Chicago hosts Oktoberfest in grand style with over 25 organized, individual fests throughout September and October. The St. Alphonsus Oktoberfest (September 26–28, 2014) stands out for its weekend-long celebration of German life in and around the magnificent St. Alphonsus church in Lakeview. Newly added to the festival is their Craft Beer Night, where over 20 local breweries from around the country offer samples and discuss their brewing techniques. $40 gets you admission and a handy pretzel necklace to keep nourished. The "Kinderfest" is also a popular event, with face painting, dance parties, and crafts for the younger German-fare lovers.
Insider Tip: Amidst the German culture, take a momentary detour into Swedish cuisine at Ann Sather Restaurant, where the best cinnamon rolls in the Midwest await.
PLAN YOUR TRIP: Visit Fodor's Chicago Guide
Oktoberfest USA – La Crosse, Wis.
With a population just over 50,000, LaCrosse, Wisconsin, pulls out the stops for their annual Oktoberfest (September 25–28, 2014). With a variety of local food trucks gathered to serve more than just traditional wurst, attendees indulge in Midwestern delicacies, such as cheese curds, deep fried cookie dough, and deep fried pickles. Stop by the Lederhosen Luncheon for a traditional German buffet of brats, potato salad, and German chocolate cake. And don't miss the annual opening pageant, the Edelweiss Parade, where the Oktoberfest LaCrosse Royal Family greets the onlookers and local marching bands show their pride.
Insider Tip: The fan favorite Brat Pack Radio close out the festival this year with a rocking set list of all-time favorite classic rock songs.
PLAN YOUR TRIP: Visit Fodor's Wisconsin Guide
Evan Semon
Over 350,000 people gather annually at Oktoberfest Denver (September 19–21 & 26–28, 2014) to celebrate old Bavaria with a host of unique events and activities that sets Denver apart from the rest. Marvel at the perseverance and sheer arm strength of the men and women who compete annually in the Stein Hoisting Competition. The contest challenges contestants to keep an ale-filled 1.5 liter Stein at shoulder height for as long as possible. The fest also hosts the Keg Bowling National Championships, in which 50 liter empty kegs are hurled at kegs stacked in a pyramid. Add to that the Long Dog (think Wiener dog) Derby and a winning list of local and national music talent, Oktoberfest Denver is a super-charged showcase of all things German.
Insider Tip: Be sure to stop by Biker Jim's Gourmet Dogs for a taste of Denver's best gourmet street food.
PLAN YOUR TRIP: Visit Fodor's Denver Guide
Big Bear Lake Photography Team Richard Millener and Dave Johnson
Big Bear Lake Oktoberfest
Escape for the weekend to Big Bear Lake's multi-faceted, sprawling Oktoberfest (weekends from September 13–October 25, 2014). Big Bear Lake's fest sets impressive standards with their three unique biergartens: Shock Top Sports Garten, Spaten Bier Garten, and the Warsteiner Bier Garten. Each gardenserves a host of its namesake's brew along with new takes on classic German recipes, such as Schweine Braten (pork roast), Bavarian Dumplings, and Knockwurst. Log sawing competitions, clogging, and polka dances are staples of this Southern California fest. Seek out the fresh air at the Budenstrasse (avenue of the booths) where dozens of stalls sell handmade crafts as well as freshly made sweets.
Insider Tip: On Friday, October 17, the fest hosts the popular "Oktoberfest Unplugged," where a five-course German food/beer pairing dinner is served. Tickets must be pre-purchased for this special evening out.
PLAN YOUR TRIP: Visit Fodor's California Guide
Courtesy Wurstfest
Forty minutes outside of San Antonio, Texas, Wurstfest (November 7–16, 2014) is the annual 10-day Bavarian festival. This family friendly fest fuses the best of German culture with a taste of Texas. Colorful carnival rides dot the festival alongside tents of beer, food, and live music. The fest hosts a popular polka competition along with a more general dance competition, for the less polka inclined. The whole town of New Braunfels transforms during Wurstfest, including the local theater troupe, Circle Arts Theatre, which stages a comedy around wurst, a Wurstfest Regata on Canyon Lake, and Kunsthalle, a local arts & crafts market that sets up right beside Wurstfest.
Insider Tip: The easiest and fastest way to get to the Wurstfest is the Wurst Wagen, a shuttle with numerous stops throughout New Braunfels. The Wurst Wagen costs $15.
PLAN YOUR TRIP: Visit Fodor's San Antonio Guide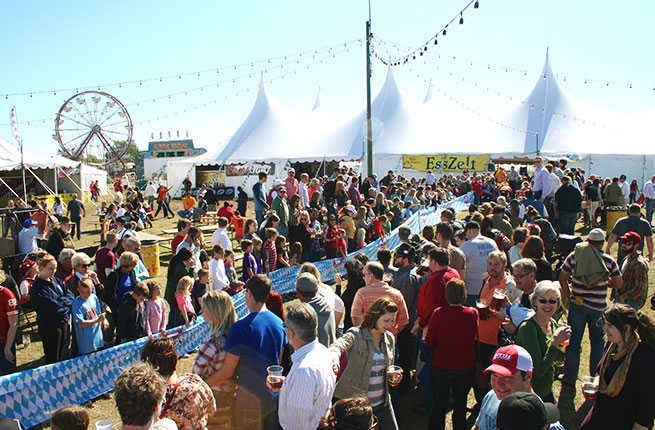 River Parks Authority
Located in the heart of town, Linde Oktoberfest Tulsa (October 16–19, 2014) brings out the best in beer, food, and entertainment each October. The fest attracts upwards of 60,000 people, all seeking the authentic German experience. With a banner showcase of over 60 varieties of beer from around the world, there is something on tap for every taste. Carnival games and rides add to the thrill of the fest for families, while beer pong tournaments entertain the adults. Look out for the beer keg and wiener dog races, as contestants vie to be best in the fest. With schnitzel, smoked turkey legs, and Bavarian cheesecake as just some of the fest staples, no one goes home hungry.
Insider Tip: Skip the hassle of parking and take advantage of the free shuttles that run throughout Tulsa to bring fairgoers to the Tulsa Oktoberfest.
PLAN YOUR TRIP: Visit Fodor's Tulsa Guide
Stephanie Fry Photography
Nestled around the Okanogan-Wenatchee National Forest lies the small, charming town of Leavenworth, Washington, about 2 hours east of Seattle. Quoted as "the next best thing to being in Munich," the Leavenworth Oktoberfest (weekends from October 3–18, 2014) encompasses a large scope of German fare. With continuous live music, including bands brought in from Germany, the festive ambiance is alive with an upbeat rhythm. Each Saturday, there's a parade through the town, which concludes with Leavenworth's mayor hosting a Keg Tapping Ceremony–a celebration that kicks off the weekend of cheers and toasts.
Insider Tip: The Bavarian Lodge in Leavenworth is the ideal place to stay for Oktoberfest, as it offers the charm of a country inn, complete with the German experience.
PLAN YOUR TRIP: Visit Fodor's Washington Guide
maisicon / Shutterstock
Held throughout the city of New Ulm in four locations, New Ulm Oktoberfest (October 3–4 & 10–11, 2014) takes visitors back to old Bavaria with signature, unique spins on classic Oktoberfest celebrations. Horse-drawn trolley rides bring you through the town to Schell's Brewery, the German craft beer manufacturer that's been in operation in New Ulm since 1860. Tours of the brewery are available daily and include beer tastings of six varieties. You can't miss the 45-foot signature Glockenspiel Clock Tower that rings three times daily with 37 bells and 12 figurines rotating, depicting the city's history.
Insider Tip: For even more authentic German food, head over to the local-favorite Veigel's Kaiserhoff for their award-winning ribs and jaeger schnitzel.
PLAN YOUR TRIP: Visit Fodor's Minnesota Guide