Peter Vanderwarker
All too often, the museums that get all the attention are those in big cities with blockbuster collections, like MoMA in New York City, the Field Museum in Chicago, and the Getty Museum in Los Angeles. But hidden away in America's small towns are equally fascinating, more unique museums that are home to coveted works of art and historical items. Whether you travel to Cooperstown, New York; Biloxi, Mississippi; or Bainbridge, Washington, you'll find no shortage of treasures inside our favorite small-town museums.
By Annie Bruce
Courtesy of The Huntington Library, Art Collections, and Botanical Gardens
WHERE: San Marino, California
Made up of a library filled with rare books and manuscripts, a series of art collections, and botanical gardens, The Huntington holds a number of fascinating pieces, including a Gutenberg Bible from the 1450s and Mary Cassatt's Breakfast in Bed. Founded in 1919 by Henry E. and Arabella Huntington, the museum is located just 30 minutes from bustling Los Angeles on 207 acres of lush property in the San Gabriel Valley. Outside of London, the museum holds the largest collection of British art from the 18th and 19th centuries. More than 500,000 visitors travel to The Huntington each year to view the collection.
Insider Tip: Make reservations for a spot at the Rose Garden Tea Room, where you can marvel at three acres of roses and enjoy finger sandwiches, scones, and a fresh pot of tea.
PLAN YOUR TRIP: Visit Fodor's Los Angeles Travel Guide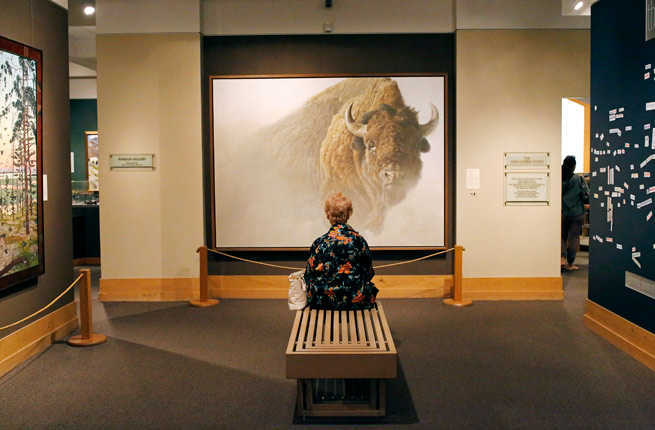 National Museum of Wildlife Art 2014
National Museum of Wildlife Art
WHERE: Jackson, Wyoming
Located on a cliff overlooking the National Elk Refuge, the National Museum of Wildlife Art is made up of 14 galleries and more than 5,000 pieces of art. Dedicated to recognizing the relationship between humans and the environment, the collection includes work dating from 2500 B.C. to present day, including pieces from Charles Russell, Albert Bierstadt, and Karl Bodmer. The 51,000-square-foot building was designed to invoke the ruins of Slains Castle in Scotland and also includes a ¾ mile sculpture trail that takes visitors around the surrounding landscape. The museum originally started as the Wildlife of the American West Art Museum in 1987 at Jackson's Town Square and eventually moved to its current location in 1994, after outgrowing its former three-gallery storefront. It received the Wyoming Humanities Award in 1994 and was designated by Congress as the National Museum of Wildlife Art of the U.S. in 2008.
PLAN YOUR TRIP: Visit Fodor's Jackson Hole and Northwest Wyoming Travel Guide
Courtesy of Princeton University Art Museum
Princeton University Art Museum
WHERE: Princeton, New Jersey
More than 92,000 pieces of art from across the globe are housed at this museum on Princeton University's campus. With free admission, visitors can explore one of the best university art museums in the world, with pieces dating back to the 1750s from Western Europe, China, and Latin America. On Thursday evenings, the museum is open until 10 pm, and on Saturdays and Sundays, visitors can take free Highlights of the Museum tours, with no reservations required.
PLAN YOUR TRIP: Visit Fodor's New Jersey Travel Guide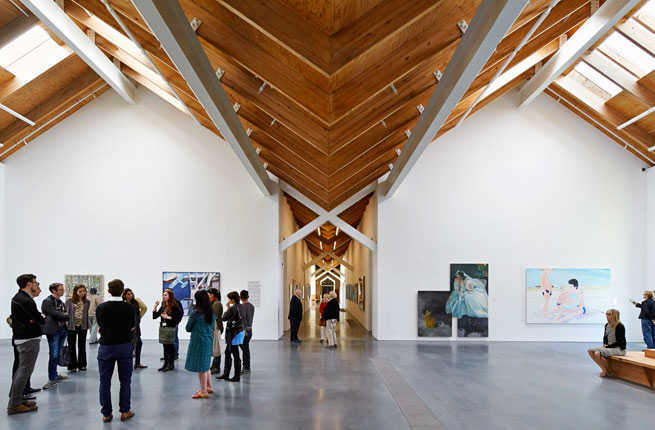 Hufton + Crow
WHERE: Water Mill, New York
After opening its new location in November 2012, the Parrish Art Museum, which was originally built in 1898 in Southampton, has three times the space for its massive collection. Now more than 2,600 art pieces, with work from Fairfield Porter, Roy Lichtenstein, Childe Hassam, and James Whistler, are housed in a 34,440-square-foot, Herzon & de Meuron-designed barn in Long Island's East End. The museum also holds the largest public collection of work from William Merritt Chase, with more than 40 pieces of his art and more than 1,000 photographs from his life.
PLAN YOUR TRIP: Visit Fodor's Long Island Travel Guide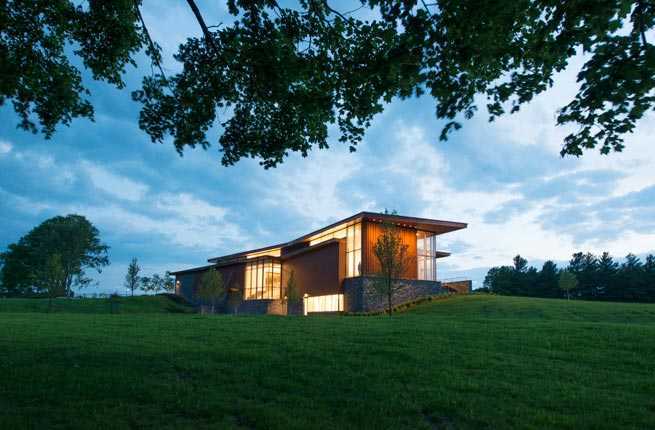 Peter Vanderwarker
WHERE: Shelburne, Vermont
Founded by collector Electra Havemeyer Webb in 1947, the Shelburne Museum stands out from the rest because of its collection of 18th- and 19th- century buildings relocated from the New England region, including an 1871 lighthouse, jail, 220-foot steamboat, and a one-room schoolhouse. These 25 buildings, along with 13 others, hold more than 150,000 pieces of object art on 45 acres of Vermont's Lake Champlain Valley. The Shelburne Museum also features an impressive collection of folk art and more than 400 quilts. The museum's buildings are surrounded by 20 gardens, including the Danby Fountain Garden and the Diamond Barn Garden, for visitors to explore. The newly added Pizzagalli Center for Art and Education holds galleries, a performance venue, and classroom space for art programs.
PLAN YOUR TRIP: Visit Fodor's Northern Vermont Travel Guide
Timothy Hursley / Crystal Bridges Museum of American Art
Crystal Bridges Museum of American Art
WHERE: Bentonville, Arkansas
The Crystal Bridges Museum of American Art is one of the country's most important art museums. Created from Alice Walton's (the heiress to the Wal-Mart Store fortune) art collection, the museum is located about 10 minutes away from downtown Bentonville and surrounded by 3.5 miles of trails. In 2005, Walton started purchasing items with the goal of opening a museum in her hometown. The museum, designed by Moshe Safdie, has more than 400 pieces on display (as well as an additional 800 in storage), including Andy Warhol's Dolly Parton, Norman Rockwell's Rosie the Riveter, and a portrait of George Washington.
PLAN YOUR TRIP: Visit Fodor's Arkansas Travel Guide
Jeremy Clowe / Norman Rockwell Museum
WHERE: Stockbridge, Massachusetts
With 998 original paintings and drawings and an archive of more than 100,000 items, the Norman Rockwell Museum holds the world's largest collection of the famous artist's work. Founded by Norman and Molly Rockwell in 1969, the museum switched locations in 1993 and currently sits on a 36-acre space near the Housatonic River Valley. Rockwell's The Four Freedoms, Stockbridge Main Street at Christmas (based on the town where the museum is located), and The Marriage License are all part of the museum's collection.
PLAN YOUR TRIP: Visit Fodor's Berkshires Travel Guide
Milo Stewart Jr./National Baseball Hall of Fame
WHERE: Cooperstown, New York
The National Baseball Hall of Fame might be located in a small town, but the museum draws quite the crowd, with close to 300,000 visitors each year. With exhibits about Babe Ruth, women in baseball, Hank Aaron, baseball in movies, and the African American baseball experience, the museum is filled with thousands of legendary artifacts (like Shoeless Joe Jackson's shoes and the ball that Babe Ruth hit for his 500th home run) and plenty of baseball history. Located in central New York's Ostego County, each year the museum hosts the Baseball Hall of Fame Induction Ceremony and the Hall of Fame Classic Weekend, with a baseball game featuring members of the Hall of Fame and retired players.
PLAN YOUR TRIP: Visit Fodor's Albany and Central New York Travel Guide
Courtesy of Mark Twain Boyhood Home & Museum
Mark Twain Boyhood Home & Museum
WHERE: Hannibal, Missouri
Watch as The Adventures of Tom Sawyer comes alive at iconic spots in Hannibal, such as the white picket fence surrounding Samuel Clemens' (Mark Twain's) boyhood home, the Becky Thatcher House (home of Laura Hawkins, whom the character was based on), and the Huckleberry Finn House (home of Tom Blakenship, the inspiration for Huck). The registered Historic National Landmark also has an interpretive center, a collection of Mark Twain items (such as his Oxford gown, a white suit coat, and letters) and first editions, and a gallery with Norman Rockwell paintings of Tom and Huck.
PLAN YOUR TRIP: Visit Fodor's Missouri Travel Guide
Billy Dugger
Ohr-O'Keefe Museum of Art
WHERE: Biloxi, Mississippi
The Ohr-O'Keefe Museum of Art, designed by renowned architect Frank Gehry, celebrates the work of the self-proclaimed "Mad Potter of Biloxi," George E. Ohr. Formerly part of the George Ohr Arts and Cultural Center, plans for a new home dedicated to Ohr began in 1998, but Hurricane Katrina destroyed progress on the museum when it hit in 2005. Finally, in November 2010, the Ohr-O'Keefe Museum of Art opened in Biloxi. Made up of four buildings, in addition to the Pleasant Reed Interpretive Center (named after the emancipated craftsman), the museum includes a gallery of African American Art, George E. Ohr Galleries (housed in uniquely crafted pod structures), and a Center for Ceramics, all crafted around the ancient live oak trees throughout the museum campus.
PLAN YOUR TRIP: Visit Fodor's Biloxi Travel Guide
WHERE: Marfa, Texas
Set in the Chihuahuan desert, the Chinati Foundation delivers a museum experience like no other. With many of the installations spread throughout the 340-acre-campus, visitors must travel ½ mile to 1.5 miles of uneven terrain to marvel at work by Donald Judd, John Chamberlain, Richard Long, and David Rabinowitch. Created to celebrate large-scale art displays, the Chinati Foundation opened in 1986 and is one of the largest permanent installations of contemporary art in the world. Visitors can view select works by Donald Judd through self-guided tours, but all other art pieces are only available through guided tours—space is limited, so be sure to reserve a spot in advance.
Insider Tip: Make sure to set aside plenty of time for a visit, because full collection guided tours last for about six hours, with a two-hour lunch break built in. Two-hour selection tours are also offered, which include a guided but more limited look at select works.
PLAN YOUR TRIP: Visit Fodor's Marfa Travel Guide
Art Grice
Bainbridge Island Museum of Art
WHERE: Bainbridge Island, Washington
With a focus on art pieces and artists from the Kitsap and Olympic peninsulas and the western Puget Sound region, the Bainbridge Island Museum of Art easily sets itself apart from fellow art museums in the Seattle region. The 20,000-square-foot building features curved glass one side of the building (allowing people walking by to see directly in), a rooftop garden, and plenty of natural light; it's on track to receive LEED Gold status, thanks to its solar power, use of recycled materials, and other sustainable features. Located on Bainbridge Island, the museum opened its doors in June 2013 and is continuing to build on its impressive collection of contemporary art.
PLAN YOUR TRIP: Visit Fodor's Seattle Travel Guide
Courtesy of Colonial Quarter
WHERE: St. Augustine, Florida
This living history museum, located in Northeastern Florida, gives visitors a chance to experience life in St. Augustine, known as the oldest European-established city in the country, in the 16th-, 17th-, and 18th- centuries. Colonial Quarter is home to a 35-foot watchtower (with stunning views of the city), costumed reenactors, the De Mesa-Sanchez House dating back to the 1740s, and fun interactive activities, such as an artifact dig and musket drill. For an additional fee, visitors can also attend The Colonial Crew Revue, a variety show in the outdoor amphitheater on select Fridays and Saturdays. While there, you can also dine at the Bull & Crown Publick House, with beer and wings, or the Taberna del Caballo, serving up Sangira and tapas, on the property.
PLAN YOUR TRIP: Visit Fodor's Northeast Coast Travel Guide
Velvet, CC BY-SA 3.0 via Wikimedia Commons
WHERE: Beacon, New York
Dia Beacon, located near the Hudson River, holds art from the 1960s to present day and hosts more than 75,000 visitors each year. Designed to support projects that may have been too big to complete otherwise, Dia was created by Philippa de Menil, Heiner Friedrich, and Helen Winkler in 1974 in New York City. With Dia-sponsored locations and art pieces all across the world, including The Lighting Field in New Mexico and The Vertical Earth Kilometer in Germany, Dia also has a lecture and reading series in the Chelsea neighborhood of NYC, in addition to its outpost in Beacon, which opened in 2003. The Beacon location, which was formerly a factory, was added to the State and National Register of Historic Places after artist Robert Irwin renovated the space, while maintaining its "original character."
PLAN YOUR TRIP: Visit Fodor's Hudson Valley Travel Guide
Vesterheim: The National Norwegian-American Heritage Museum and Center
WHERE: Decorah, Iowa
Home to the most extensive collection of Norwegian-American pieces in the world, Vesterheim (meaning "western home") is made up of 12 historic buildings, a Folk Art School, library, archives, and more than 24,000 artifacts. The museum opened under a different name in 1877, when Norwegian Americans began saving artifacts and keeping them at Luther College. Their initial collection is now part of the oldest and most comprehensive museum in the country dedicated towards one immigrant group. The museum's main building houses a 25-foot wooden sailboat, a log house from 1852, and folk art displays.
PLAN YOUR TRIP: Visit Fodor's Iowa Travel Guide