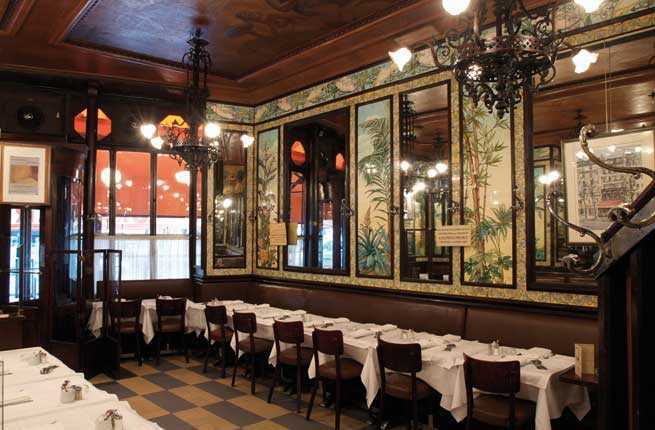 Courtesy of Brasserie LIPP
Ernest Hemingway was not only a great writer; he was also an ambitious traveler who spent extended periods of time in Paris, Madrid, Pamplona, Venice, Havana, and Key West. No matter where he went, he frequented the best bars and restaurants—from the Ritz in Paris to Harry's Bar in Venice—often writing about these places in his novels and short stories and thus ensuring their long-lived fame. In honor of Hemingway's upcoming birthday—he would have turned 115 years old on July 21—here are some of his favorite haunts around the world.
by Laura Itzkowitz
Courtesy of The Leading Hotels of the World
The Ritz Paris
WHERE: Paris
"Whenever I dream of afterlife in Heaven," Hemingway wrote, "the action always takes place at the Paris Ritz." Indeed, there are few places in the world more closely associated with Hemingway. He often drank with F. Scott Fitzgerald at the bar that now bears his name. But of all his antics, he's probably most famous for storming the Ritz at the end of WWII—careening into the hotel with a group of displaced soldiers, declaring the place free, and ordering champagne for everyone. The hotel makes an appearance in The Sun Also Rises.
PLAN YOUR TRIP: Visit Fodor's Paris Guide
Courtesy of Brasserie LIPP
Brasserie Lipp
WHERE: Paris
As a young expatriate in Paris, Hemingway lived in a small apartment in the Latin Quarter and enjoyed wandering around the Left Bank. In A Moveable Feast, he recounts going to the Musée du Luxembourg on an empty stomach and appreciating the Cézannes all the more because he was so hungry. When it got to be too much for him, he would stop at Brasserie Lipp on Boulevard Saint-Germain for a liter of beer and pommes à l'huile with sausage. This classic Parisian brasserie still serves the same fare, and the waiters still sport white waistcoats with black bowties and aprons.
PLAN YOUR TRIP: Visit Fodor's Paris Guide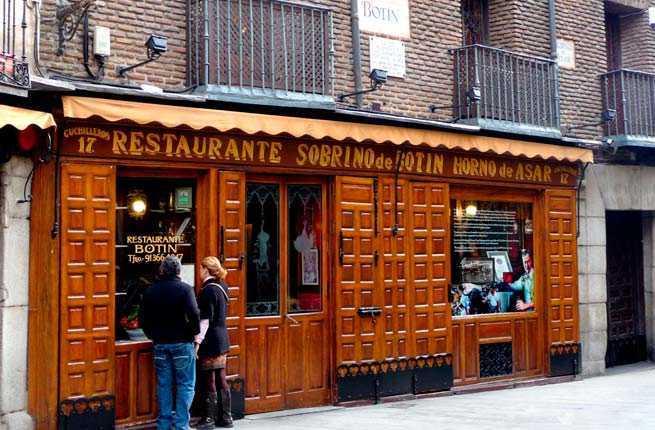 Casa Botín
WHERE: Madrid
Hemingway called Casa Botín the best restaurant in the world and set the final scene of The Sun Also Rises there. He often dined at the historic restaurant (the world's oldest, according to the Guinness Book of Records) and was friends with the owners. Established in 1725, Casa Botín retains its 18th-century charm with centuries-old ovens, ancient wooden beams, and antique furnishings and décor. The place is most famous for its suckling pig and lamb, though Hemingway apparently wanted to learn owner Emilio González's recipe for paella.
PLAN YOUR TRIP: Visit Fodor's Madrid Guide
Courtesy of Cerveceria Alemana
Cerveceria Alemana
WHERE: Madrid
A group of German manufacturers opened La Cervecería Alemana on the Plaza Santa Ana in 1904, and its décor has remained virtually unchanged ever since. Hemingway often drank there in the 1950s when he returned to Madrid after reporting on the Spanish Civil War and WWII. He sometimes shared a table with Ava Gardner and her love interest, Luis Miguel Dominguin. Sitting inside, surrounded by dark wood and marble tables, it's easy to imagine him there, guzzling liters of the bar's excellent beer.
PLAN YOUR TRIP: Visit Fodor's Madrid Guide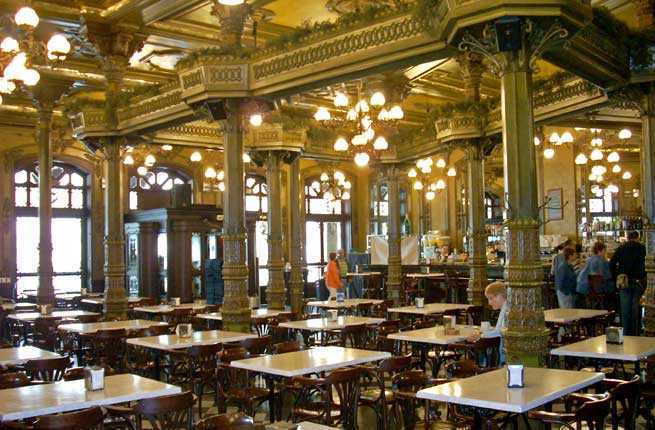 Café Iruña
WHERE: Pamplona
Hemingway was so fond of Pamplona (and the people of Pamplona were so fond of him) that after his death, the city named a small street after him and put up a statue of his likeness. For Hemingway, the running of the bulls was the main draw of this Basque city, and the booze at Café Iruña was a close second. Founded in 1888, Café Iruña was Pamplona's first establishment with electricity and its wine is some of the best around. Hemingway described the café on Plaza del Castillo in The Sun Also Rises.
PLAN YOUR TRIP: Visit Fodor's Pamplona Guide
Harry's Bar
WHERE: Venice
The famous Harry's Bar on Campo San Marco has served illustrious clients since Giuseppe Cipriani opened it in 1931. When Hemingway stayed in Venice during the winter of 1949-1950, he spent much of his time at Harry's Bar, where he had a table of his own and often drank with the owner himself. As Cipriani put it, Hemingway was "generous to a fault." Hemingway mentioned Harry's Bar many times in his short story, Over the River and Into the Trees, which he wrote that winter in Venice. Other famous patrons have included Orson Welles, Truman Capote, Somerset Maugham, Arturo Toscanini, Charlie Chaplin, Georges Braque, and Peggy Guggenheim.
PLAN YOUR TRIP: Visit Fodor's Venice Guide
La Bodeguita del Medio
WHERE: Havana
La Bodeguita del Medio credits itself as the birthplace of the mojito, and that's exactly what Hemingway drank there. The place was originally known as Casa Martinez, after its owner Angel Martinez, who opened it in 1942. Many writers, musicians, and artists frequented La Bodeguita, including Pablo Neruda, Gabriel García Marquez, Nat King Cole, Marlene Dietrich, and of course, Hemingway. A plaque preserves Hemingway's signed quote, "My mojito in the Bodeguita del Medio and my daiquiri in the Floridita."
PLAN YOUR TRIP: Visit Fodor's Havana Guide
La Floridita
WHERE: Havana
When Hemingway lived in Havana in the 1930s and '40s, he frequented La Floridita, which proudly calls itself "the cradle of the daiquiri." La Floridita is located in La Habana Vieja, not far from the Hotel Ambos Mundos, where Hemingway kept a room and wrote For Whom the Bell Tolls. The restaurant celebrates its ties to Hemingway with memorabilia, a life-size bronze sculpture, and dishes like the Gran Plato Hemingway with lobster, fish, shrimp, and vegetables in garlic sauce.
PLAN YOUR TRIP: Visit Fodor's Havana Guide
Daniel Korzeniewski/Shutterstock
Sloppy Joe's
WHERE: Key West
Hemingway once dubbed Key West "the St. Tropez of the poor," and a visit to Sloppy Joe's will make you understand why. The famous saloon opened on December 5, 1933—the day Prohibition was repealed—and served 15-cent shots of whiskey and 10-cent shots of gin. The bar's owner, Joe Russell, was a rumrunner and operated a speakeasy during Prohibition, supplying Hemingway with Scotch. When Russell was finally able to open a legitimate saloon, Hemingway was a regular, along with his "mob" of cohorts, including John Dos Passos, an expat writer he had met in Paris. The bar is just as rowdy today as it was then, with patrons coming to drink starting at 9 a.m.
PLAN YOUR TRIP: Visit Fodor's Florida Keys Guide
wizdata/Shutterstock
Hemingway Home
WHERE: Key West
Hemingway arrived in Key West in 1928 by way of Cuba on the advice of Dos Passos. He and his third wife, Pauline, fixed up the 1851 Spanish colonial house, which was in desperate need of repair, and filled it with souvenirs collected on their trips. Pauline convinced him to install an in-ground pool at the exorbitant price of $20,000, prompting him to stick a penny in the wet cement and declare, "Here, take the last penny I've got!" Visitors are encouraged to spot it at the north end of the pool. A visit to Key West would be incomplete without a trip to this literary landmark, where six-toed cats (descendants of Hemingway's cats) still roam.
PLAN YOUR TRIP: Visit Fodor's Florida Keys Guide