Joan Marcus
It's common to see a play or musical when visiting New York, but what about when you're in other cities? All over the country, regional theaters host classic productions, new revivals, American and world premieres, and potential Broadway-bound newcomers year-round. The next time you want to see some of the best theater in the country, hold off on booking a ticket to New York and instead see what might be playing closer to home at the 10 best regional theaters in the U.S.
By Annie Bruce
Roger Mastroianni
Cleveland Play House
WHERE: Cleveland, Ohio
The year 2015 marks the 100th anniversary of the Cleveland Play House, the country's first professional regional theater. Over the decades, the company has created more than 1,300 productions, seen by more than 12 million people. Paul Newman, Alan Alda, and Margaret Hamilton all started their careers at the Ohio-based playhouse, which launched America's first community-based theater education initiatives and currently features a Playwrights' Unit to nurture new work. In the past, the company was involved in the Full Circle International Theatre Exchange Program, a partnership with organizations in Hungary, Russia, and more, designed to bring unique productions to the stage. The Play House currently hosts the annual New Ground Theatre Festival, which brings solo performances and full-scale productions of new work to the stage. The company most recently moved to PlayhouseSquare's Allen Theatre in 2011.
PLAN YOUR TRIP: Visit Fodor's Cleveland Travel Guide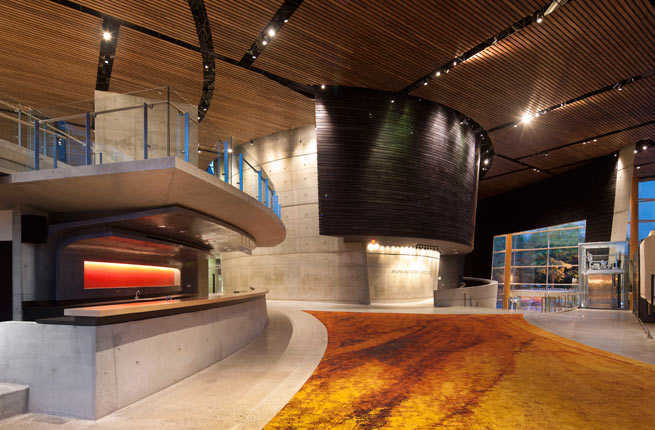 Nic Lehoux courtesy of Bing Thom Architects
Arena Stage
WHERE: Washington D.C.
Arena Stage has a long history of excellence in theater. Founded in 1950, the company was the first to receive the prestigious Outstanding Regional Theatre Tony Award and the first regional company to bring a show to Broadway: The Great White Hope. With a focus on performances that highlight the country's diversity, the company is dedicated to providing a mix of classic productions and original work. Its current season has it all, ranging from the world premiere of The Originalist to a production of August Wilson's King Hedley II. Arena Stage's home has moved around throughout the years, going from a former movie house to the gymnasium in the Old Heurich Brewery, before settling at the Mead Center for American Theater. A number of notable actors have graced one of the company's three stages, including James Earl Jones, Kevin Kline, and Jon Voight.
PLAN YOUR TRIP: Visit Fodor's Washington D.C. Travel Guide
Courtesy of kevinberne.com
Berkeley Repertory Theatre
WHERE: Berkeley, California
Known for launching the world premiere of the Michael Mayer-directed hit American Idiot during its 2009-2010 season, Berkeley Repertory Theatre has hosted a number of Broadway- and Off-Broadway-bound shows since its start in 1968. Through its Ground Floor program, which uses workshops and commissions to create new works, the company is also dedicated to creating original productions and cultivating thriving artists. Since 2001, the company's School of Theatre has helped more than 220,000 students through workshops, original productions, and a fellowship program, placing an emphasis on imagination and education. Berkeley Rep received a Tony Award for Outstanding Regional Theatre in 1997.
PLAN YOUR TRIP: Visit Fodor's The Bay Area Travel Guide
Matthew Murphy
Paper Mill Playhouse
WHERE: Millburn, New Jersey
What do Rob Marshall, Kristin Chenoweth, and Newsies have in common? They all made their professional debuts at the Paper Mill Playhouse. What was originally an actual paper mill in 1795 was later transformed into a hit-producing theater company once Antoinette Scudder bought the establishment in 1934. After a fire burned the playhouse down in 1980, a new theater launched in 1982; inaugural production You Can't Take It With You ultimately went on to Broadway. Known for its "Theater for Everyone" campaign, the Paper Mill provides "sensory-friendly performances" for children with developmental disabilities and autism. Director Mickey McNany was awarded the New Jersey Governor's Award in Arts Education for the program.
PLAN YOUR TRIP: Visit Fodor's New Jersey Travel Guide
Courtesy of Steppenwolf Theatre
Steppenwolf Theatre Company
WHERE: Chicago, Illinois
Steppenwolf Theatre Company has come a long way since its first production in 1974, when the founding members (a group of recent high school graduates) came together to perform And Miss Reardon Drinks a Little at a Unitarian church in Deerfield, Illinois. Now, launching an average of 16 productions each year, Steppenwolf is home to a number of unique shows and notable performers (John Malkovich and Joan Allen both got their start here). Notably, Tony-award winning August: Osage County premiered at the Chicago company in 2007, and most recently, the theater hosted the pre-Broadway run of This Is Our Youth, starring Michael Cera.
PLAN YOUR TRIP: Visit Fodor's Chicago Travel Guide
Joan Marcus
Yale Repertory Theatre
WHERE: New Haven, Connecticut
Since 1966, when it was founded by the dean of the Yale School of Drama, Yale Repertory Theatre has received eight Tony Awards and more than 40 nominations for shows sent to Broadway. Housed at Yale University, this theater company features the Binger Center for New Theatre, a program dedicated towards supporting new works in the theater world, which includes everything from the premiere of Notes from the Underground to Marie Antoinette. The company is made up of three theaters, including the 487-seat Yale Repertory Theatre in a space that was previously the Calvary Baptist Church. The organization received a Tony Award for Outstanding Regional Theatre in 1991.
PLAN YOUR TRIP: Visit Fodor's New Haven, Mystic, and the Coast Travel Guide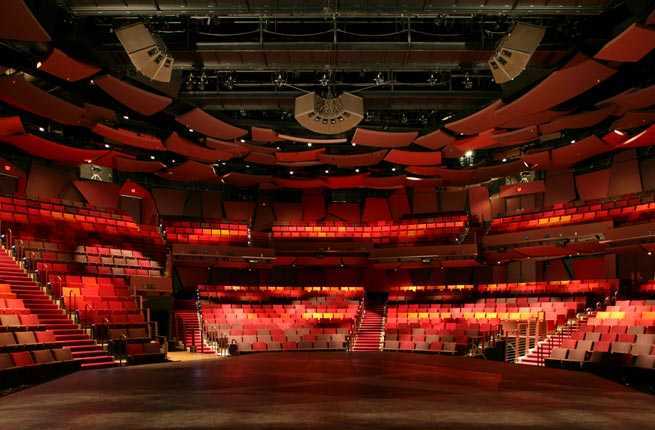 Gallop Studios
Guthrie Theater
WHERE: Minneapolis, Minnesota
This season at the Guthrie Theater marks the last for artistic director Joe Dowling, who has led the award-winning theater company through a number of changes throughout his 20-year tenure. During his term, Dowling created actor-training programs, worked to bring many world premieres to the company by partnering with playwrights, and launched the theater's move and expansion, which was completed in 2006. With unique programming, such as the WorldStage Series, the Guthrie is eager to take its audiences beyond Minnesota by bringing companies from Poland, the U.K., and other countries across the globe to Minneapolis. And by partnering with The Acting Company, the Guthrie takes one show a year on tour across the U.S. Sir Tyrone Guthrie first opened the theater in 1963 in the Midwestern city, because of its cultural presence and excitement for the project.
PLAN YOUR TRIP: Visit Fodor's Minneapolis-St. Paul Travel Guide
Courtesy of La Jolla Playhouse
La Jolla Playhouse
WHERE: San Diego, California
Founded by Gregory Peck, Dorothy McGuire, and Mel Ferrer in 1947, this nonprofit theater company has earned 35 Tony Awards for productions sent to Broadway, including Jersey Boys, Memphis, Peter and the Starcatchers, How to Succeed in Business Without Really Trying, and Side Show. Home to four theaters, which have hosted 75 world premieres, the La Jolla Playhouse has received more than 300 awards for theater work, including a 1993 Tony Award for Outstanding Regional Theatre. The company still makes time to help more than 33,000 community members with its educational programs.
PLAN YOUR TRIP: Visit Fodor's San Diego Travel Guide
Michael J. Lutch/American Repertory Theater
American Repertory Theater
WHERE: Cambridge, Massachusetts
The American Repertory Theater (A.R.T.) has been on a roll lately when it comes to producing Tony Award-winning hits. First there was the 2012 adaptation of The Gershwins' Porgy and Bess, which won for Best Revival of a Musical, followed by Pippin, which also won for musical revival; most recently, All the Way earned the 2014 award for Best New Play. This history of excellence began in 1980, when Robert Brustein launched A.R.T. as part of Harvard University's campus. Its second stage, OBERON, sits in Harvard Square and features aerialists, tap dancers, comedians, and many other forms of local performance on a regular basis. A.R.T. interacts with more than 10,000 members of the surrounding area each year through enrichment programs and remains committed to brining well-made productions to the stage, such as Finding Neverland, which following a successful run in Cambridge, begins previews on Broadway in March. A.R.T. is also involved in long-term initiatives, such as the National Civil War Project, a partnership with several other universities and theater organizations to produce original works based on the Civil War in honor of the 150th anniversary.
PLAN YOUR TRIP: Visit Fodor's Boston Travel Guide
Greg Mooney
Alliance Theatre
WHERE: Atlanta, Georgia
Recipient of the 2007 Tony Award for Outstanding Regional Theatre, this Atlanta-based company is home to a number of original productions and world premieres, from The Color Purple to Aida to Bring It On: The Musical. The organization encourages new works through the Alliance/Kendeda National Graduate Playwriting Competition, a national contest for young writers that results in a show produced by the Alliance Theatre. The company typically produces more than 10 shows each season. Since its founding in 1968, the Alliance has become the largest regional theater in the Southeast region. This month, the theater launches a musical production of Tuck Everlasting with Tony Award-winning director and choreographer Casey Nicholaw (The Book of Mormon, Aladdin).
PLAN YOUR TRIP: Visit Fodor's Atlanta Travel Guide