Courtesy of Finger Lakes Regional Tourism Council
If you've ever brought a young child to an art museum, then you're all too familiar with the high-stakes anxiety involved (like keeping them from touching that prized Monet or from bumping into an ancient Egyptian sarcophagus). We propose saving The Met for just a few more years, and taking your brood instead to a family-friendly children's museum, where just about everything is meant to be touched. The concept of "hands-on learning" in a museum was introduced by the Boston Children's Museum back in 1913, and today's children's museums deftly balance play with educational opportunities. Whether your kids are inspired by reptiles, outer space, skyscrapers, or puzzles, our favorite children's museums offer plenty of ways to engage young minds. —Christina Valhouli
M. Branscom for Visit Philadelphia
WHERE: Philadelphia
Located just outside Philadelphia's city center in Fairmount Park, the Please Touch Museum, true to its name, welcomes kids to touch everything in sight. Housed in the Beaux-Art style Memorial Hall, the museum proposes 157,000 square feet of hands-on exhibits. Kids can sip tea with the Mad Hatter in an Alice in Wonderland-themed exhibit, or ride a restored 1908 carousel. The Flight Fantasy room will appeal to budding NASA scientists, while the Rainforest Rhythm exhibit offers conga drums and a canoe.
Insider Tip: Fairmount is Philadelphia's biggest park, spanning more than 9,200 acres; stick around for its playgrounds, the Philadelphia Zoo, and plenty of trails for biking and horseback riding.
PLAN YOUR TRIP: Visit Fodor's Philadelphia Travel Guide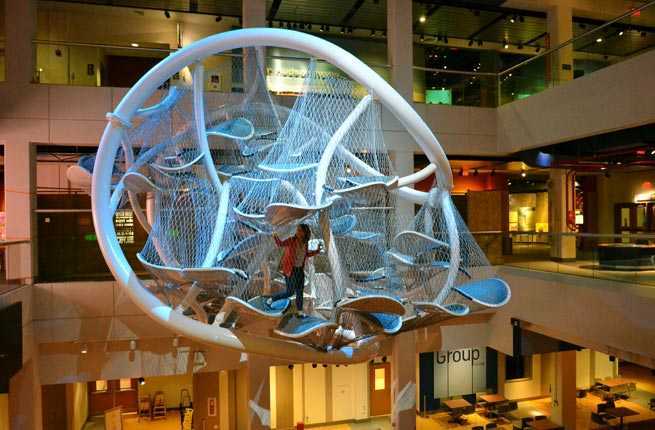 Courtesy of Liberty Science Center
WHERE: Jersey City, NJ
Whether your kid's showing signs of being a budding engineer—or, perhaps is content enough to simply watch reptiles in action—head to New Jersey's Liberty Science Center. The Skyscraper exhibit, where brave kids can walk across an I-beam suspended 16 feet above the floor, is the largest permanent display here. Look, too, for exhibitions centered on Hudson River wildlife, infections, or even the Rubik's cube, and stick around for the IMAX theatre.
Insider Tip: Liberty Science Center is home to over 110 species of animals, including the popular (and endangered) cotton-top tamarin monkeys (you can sneak a peek of them via the museum's webcam).
PLAN YOUR TRIP: Visit Fodor's New Jersey Travel Guide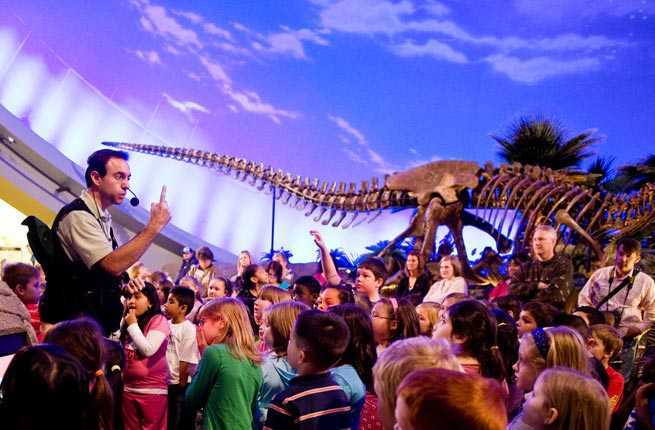 Courtesy of Children's Museum of Indianapolis
Children's Museum of Indianapolis
WHERE: Indianapolis, IN
The Children's Museum of Indianapolis is often cited as one of the best children's museums in the U.S., and for good reason. Some of the most popular exhibits include Dinosphere, which showcases Leonardo, the mummified duckbill dinosaur, as well as Dracorex hogwartsia, a newly discovered dinosaur species. Take Me There China explores contemporary Chinese culture, encompassing pandas-themed displays, calligraphy, shadow puppets, and more.
Insider Tip: Look out for the museum's resident experts who regularly give talks, like underwater archaeologist-in-residence Dr. Charlie Beeker, who recovers historical shipwrecks, or, former astronaut Dr. David Wolf.
PLAN YOUR TRIP: Visit Fodor's Indianapolis Travel Guide
Karin Hansen
WHERE: Boston
The second-oldest children's museum in America, Boston Children's Museum is credited with introducing the concept of "hands-on learning." Today the museum is also a LEED-certified "green" museum. Permanent exhibits include the Construction Zone, where kids can hop on a Bobcat®; an authentic two-story Japanese house; and Johnny's Workbench, a family-friendly workshop area complete with tools and hardware. Kids can also physically challenge themselves by tackling the three-story New Balance Climb, a climbing sculpture made from a series of curved platforms.
Insider Tip: The Museum is also famous for its giant Hood Milk Bottle landmark, set just outside the entrance; it was originally crafted in 1943, and stands 40 feet high.
PLAN YOUR TRIP: Visit Fodor's Boston Travel Guide
Finger Lakes Regional Tourism Council
The Strong, National Museum of Play
WHERE: Rochester, NY
Set in New York's Finger Lakes region, The Strong National Museum of Play is fully devoted to the power of play, utilizing play methods as a tool to explore topics like American culture and history. It's also home to the National Toy Hall of Fame and the International Center for the History of Electronic Games. All together, the complex hosts the world's largest collection of toys, dolls, and games. Popular exhibits highlight comic book heroes and the evolution of video games, and there's also a pretend supermarket.
Insider Tip: Another perk of visiting: The museum houses a year-round indoor butterfly garden (an additional fee is required).
PLAN YOUR TRIP: Visit Fodor's Rochester Travel Guide
Courtesy of Port Discovery Museum
Port Discovery Children's Museum
WHERE: Baltimore, MD
This family-friendly favorite combines play with serious learning. Permanent exhibits at the Port Discovery Children's Museum include a mental and physical obstacle course set in 1920s Egypt; a soccer and games stadium; and Miss Perception's Mystery House. Kids can burn off extra energy by scrambling around the three-story KidWorks, an urban tree house that includes zip lines, tunnels, slides, and a footbridge.
Insider Tip: If your family has any steam left, consider making a detour to the B&O (Baltimore & Ohio) Railroad Museum, an affiliate of the Smithsonian, where kids can indulge their train obsessions.
PLAN YOUR TRIP: Visit Fodor's Baltimore Travel Guide
Amy Snyder, Exploratorium
WHERE: San Francisco
This legendary museum marks one of San Francisco's top attractions. The Exploratorium has more than 600 hands-on exhibits that delve into art, science, and human perception. The newest permanent exhibit is Science of Sharing, which examines behaviors like competition and cooperation. Other galleries cover topics like Light & Sound and Tinkering.
Insider Tip: The food here goes above and beyond. Stop by the SeaGlass Restaurant for bay views paired with sushi or tacos; or, try the Seismic Joint Café for its bowls of steaming ramen.
PLAN YOUR TRIP: Visit Fodor's San Francisco Travel Guide
Dan Donovan, St. Louis Convention & Visitors Commission
WHERE: St. Louis, MO
Think of the City Museum as a giant, eccentric playground for kids—it looks like something Tim Burton might have dreamed up in a salvage yard while watching The Matrix. The entire museum, which is the brainchild of artist Bob Cassilly, is made from repurposed objects including cranes, abandoned planes, and bridges. Come here to be inspired while exploring gigantic slides, an aquarium, and underground passageways.
Insider Tip: Wear closed-toe shoes and long pants as visitors will be climbing, scrambling and sliding around.
PLAN YOUR TRIP: Visit Fodor's St. Louis Travel Guide
Courtesy of Robb McCormick Photography
COSI (Center of Science and Industry)
WHERE: Columbus, OH
An acronym for the Center of Science and Industry, COSI is a combination museum and science research center. There are more than 300 hands-on exhibits here, which tackle themes such as space, life, gadgets, and the ocean. The museum also has a new planetarium, as well as a working TV and radio studio. At the Big Science Park exhibit, visitors can play around with air pressure, or lift a car using a lever.
Insider Tip: COSI is home to America's only high-wire unicycle.
PLAN YOUR TRIP: Visit Fodor's Columbus Travel Guide
Courtesy of BruceSilcox / Minnesota Children's Museum
Minnesota Children's Museum
WHERE: St. Paul, MN
Located in downtown St. Paul, the Minnesota Children's Museum welcomes kids to crawl through its Habitot, which leads through four recreated Minnesotan habitats (pond, forest, prairie, and caves). There's also an in-house restaurant where children can role-play at being the server or chef, as well as "Inventor Workshops" and a rooftop art park.
Insider Tip: Refuel at the nearby, historic Mickey's Diner, which resembles a railroad dining car. It's made cameos in many films and is listed on the National Register of Historic Places.
PLAN YOUR TRIP: Visit Fodor's Minneapolis-St. Paul Travel Guide