Thomas Bond House
129 S. 2nd St., Philadelphia, Pennsylvania, 19106, USA
This bed-and-breakfast in the heart of Old City is great for history buff travelers who want a taste of 18th century Philadelphia. Built in 1769 by a prominent local physician (an enormous family tree detailing his descendants hangs from a wall in a common living room), the four-story Georgian house has undergone a partial restoration. Everything from the home's molding and wall sconces to the woodwork and flooring has been restored. (Just think: Ben Franklin supposedly hung out there!) Rooms have reproduction period furnishings (there are also a few antiques), including four-poster beds, and two have marble fireplaces. In keeping with the Colonial theme, some rooms are a tad cold in winter. Continental breakfast is served weekdays; a full breakfast is served on weekends. Complimentary restaurant grade pump coffee, tea, and ice water are on hand, and a complimentary "one glass of wine" (emphasis by host) is served nightly. The hotel requires children to be 10 years or older.
YOU SHOULD KNOW Service is everything and your host of the small staff could be the part-time worker who knows little about hospitality. Be prepared for that tight ship bed and breakfast experience where you may feel like a student of the rules and regulations rather than a guest at the hotel with any concierge type tailor-made experience.
Photo: Original mill work adds to the historic charm of many of our 12 rooms
room
A standard room varies wildly but will have 18th-century Georgian style antique reproductions and an American Colonial style furniture in natural woods. The self-controlled heat and air conditioning in each room is from the 80s. You might get a working fireplace in your room or the cozy alcove room. Cable TV and a landline phone is provided in each room.
YOU SHOULD KNOW Rooms are very pleasant but earplugs are provided for "folks unaccustomed to city noise."
Photo: Original mill work adds to the historic charm of many of our 12 rooms
Photo: All of our 12 guest rooms have private bathrooms.
bathroom
The tubs and showers are from the 1980's and the tubs are small and disappointing. Custom products are made especially for the Bond House and have classic scents like tea rose.
Photo: All of our 12 guest rooms have private bathrooms.
Photo: Thomas Bond House Parlor
lobby
The lobby is just a tiny entrance down a narrow hallway to check-in where you will stand while you are being checked in. The period piece parlor room is what is inviting, and where guests should rest while being checked in, they are not. They should be offered tea, coffee or water and shown where the powder room is, and this is not always done here, it depends on your host. Perhaps it's because the hotel is owned by the National Park Service.
Photo: Thomas Bond House Parlor
dining
The innkeeper and staff (obviously not-professional chefs) prepare all the food in house so it is homecooked, food allergies or health preferences can be requested. Breakfast is the only meal served. The staff made cookies are served at 8 pm. The food, like the wine, is rationed.
Photo: Continental breakfast is served daily, we are also able to accommodate dietary restrictions and allergies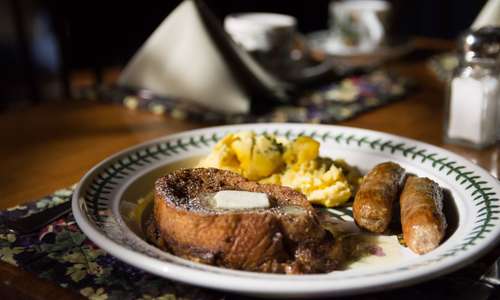 Photo: Alongside our continental breakfast, hot breakfast is served on weekends and holidays!
LOCATION
Getting Around
SEPTA is a five-minute walk away, to the 5th and Market subway station with east and west Market Frankford line.
The 42 and 21 bus is a one minute walk around the corner and takes you uptown.
The 33 bus a few blocks away takes you to the Art Museum area.
Restaurants
There are take-out menus of nearby restos and your host may tell you to look through them yourself instead of suggesting options like a concierge but eating and drinking options abound. Here are some recommendations:
Israeli-American James Beard award winner, Michael Solomonov's masterpiece restaurant Zahav (4- minute walk) is nearby.
Hyper-authentic City Tavern (1- minute walk) serves colonial American fare and beer from real recipes with staff in period wear.
Nick's Old City (3- minute walk) has a famous roast beef sandwich and burger that's often rated best in the city.
Bars
The Little Lion (3- minute walk) is a sharp upscale American pub.
Lucha Cartel (2- minute walk) has some of the best margaritas in town and salsa at night.
The Continental and Martini Bar ( 3-minute walk) has martinis and more at Stephen Starr's posh diner.
WHY WE LIKE IT
History lovers with adore this authentic recreation of a 1800s estate, it's an actual living museum. You are right in the center of Historical Philadelphia where even period food is nearby. The period parlor is decorated pleasantly, with the right interesting guests who are often scholars and historians over your cookie and self-serve coffee or your one glass of wine the parlor it's a nice place to unwind.
QUICK FACTS
HOTEL INFO
Phones: 215-923–8523;800-845–2663