Fodor's Expert Review

Gran Hotel Domine Bilbao

Alameda de Mazarredo 61, Bilbao,, Basque Country 48009, Spain See on Map Fodor's Choice
Location Location Location; The golden rule of real estate might as well have a picture of the Gran Hotel Domine Bilbao next to it. Situated directly across the street from the Guggenheim, the ultra-modern luxury hotel and its stylish design feel like a seamless extension of the museum itself. Add that to the first-class service and eye-dazzling décor, the hotel guarantees that guests of all ages will find everything they need for a remarkable experience. A 2017 renovation upped the game on the hotel's already impressive facilities and ensured that its handsome rooms are equipped with the latest technology. And the hotel's rooftop terrace seals the deal on why this hotel is considered one of the best in Bilbao.
YOU SHOULD KNOW Our only gripe with the hotel is the distinct jump in size and quality between Standard rooms and the more premium options; the five star property might end up feeling more like four if you don't go for a nicer room.
room
Ranging from the Standard option all the way up to the Presidential Suite, the hotel's 145 rooms are all equipped with seriously comfortable mattresses, technological bells and whistles like built in USBs and table-top HDMI connections to TVs, and a variety of local art adorning the walls. However, the standard room is both smaller and blander than what one is accustomed to at a five-star hotel. That all changes if booking the Superior rooms or Suites, in which luscious wood trims and mod, colored furniture accompany airy lodgings with some of the best views in the city. Additional upgrades will get you a beyond-enviable private balcony overlooking the museum and riverfront.
YOU SHOULD KNOW The famed views of the Guggenheim and riverfront are reserved only for Superior and Suites. For Standard rooms, you're relegated to a rather disappointed view is of the narrow interior atrium of the hotel. If you are at all prone to claustrophobia, you will definitely want to upgrade to Superior.
bathroom
Once again, there is a big jump in quality between standard and Superior. In Standard bathrooms, guests will find pleasing blue-tiled floor and walls accompanying double sinks and the hotel's signature toiletries. All are functional enough, though feel lackluster for what we are used to in a five-star hotel. However, Superior and Suite bathrooms are a whole other ballgame. Here, one will find marble washrooms and a sensuous glass partition that separates the wash area from the gorgeous Philippe-Stark-designed bathtubs perched atop sauna-inspired dark wood panels.
lobby
It is said that the designer of the hotel, Javier Mariscal, wanted to trace the entire history of 20th century design through the hotel. And from what we can gather from our time here, we get the feeling he came pretty close. The lobby is dominated by Mariscal's ginormous Cypress Fossil, a huge tree-trunk like sculpture weighing 90 tons and whose 80-feet in height rises all the way to the dome at the top of the atrium. Throughout the expansive lobby are cubist-inspired fountains and plenty of nooks and crannies to get lost in where striking works of modern art wait to be discovered around each corner.
The concierge in the lobby is as knowledgeable and helpful as they come; take advantage of them while here.
spa
The hotel recently introduced Wellness by Domine, a luxury spa with tranquil tones and an Asian-inspired flair. The wellness center offers massages, beauty and health treatments, a steam room, and a sauna.
gym
The refurbished fitness room boasts all of the modern essentials and even has areas with padded floors instead of wood for comfortable stretching and calisthenics to mix in with the cardio and weight options. And from its elevated position, guests have the unique opportunity to enjoy views of the Guggenheim as they work the pintxos off.
dining
Tucked away in the lobby is Beltz, an intimate fine-dining restaurant which has a regularly changing menu of modern international gastronomy. But for a more classic elegance, we really like LeCafé; the hotel's formal cafe, with its enormous bay windows facing the Guggenheim Museum, creates a classic light-filled atmosphere with stellar table-side views and service for lunch or dinner.
YOU SHOULD KNOW Beltz is closed Sunday and Monday.
drinking
Right across the lobby from LeCafé is The Sixty-One Lobby Bar, a sprawling cosmopolitan lounge that wraps around the eye-catching bar, housed in a modern frame of black marble supports, which serves as the centerpiece. It's an elegant fusion of modern and classic styles wrapped up into one.
YOU SHOULD KNOW The bar does not serve food.
lounge
The famed terrace of the Gran Hotel Domine Bilbao is so singularly spectacular that it deserves its own section. A daily breakfast is served from this spacious rooftop perch, where an open-design interior keeps guests warm during the winter and a sophisticated outdoor deck boasts panoramic views of the river and the rolling titanium shells of the Guggenheim. The breakfast itself is something to marvel out – a mouthwatering, wide-variety buffet made only from the finest ingredients. During the afternoon and early evening, guests can enjoy pintxos and well-crafted cocktails from the privileged position.
YOU SHOULD KNOW Though the terrace is open year-round for breakfast, for all other hours it is only open during the summer (June 1st – Sept 30th). So if you're dreaming of spending all afternoon settled on the gorgeous terrace (which we really couldn't blame you for doing), make sure you double-check what time of year you book.
LOCATION
Getting Around
Though the immediate neighborhood is a sleepy one, a tram stop in front of the museum will provide guests an easy (and scenic) route to the hustle and bustle of Bilbao's Casco Viejo (old quarters). The commercial hub of the city, rich with pintxo bars and cocktail joints, is also a leisurely walk away.
Restaurants
It's one thing to eat a meal whilst looking out upon the Guggenheim. But it's even better to eat at the museum itself. The Guggenheim boasts two world-class restaurants: Bistró and Nerua. Both are equally good so guests can't go wrong with either. If it's a beautiful day, try the terrace at Bistró, but if you want the bragging rights of a Michelin Star restaurant, head over to Nerua for their progressive take on Basque cuisine.
Bars
La Mula de Moscú (4-min walk), is one of Bilbao's newest additions to its growing cocktail bar scene and offers much more than just the eponymous Moscow Mule. If higher energy is what you crave, do not miss Kafe Antzokia (11-min walk). Housed in a classic Art Deco theater with wraparound balcony, this longstanding local institution is a music venue, bar, club, and performance center all rolled up into one. Catch a punk rock show, have a beer, or dance the night away with some locals.
WHY WE LIKE IT
If a hotel could get 5-stars just for its location this hotel just might. And though we were a little disappointed with the base-level rooms, the Gran Hotel Domine Bilbao redeems its luxury status with outstanding service, world-class design both inside and out, and a plethora of art that makes it feel right at home across from the Guggenheim. But the real cherry on top has to be the rooftop terrace – there's nothing else quite like it in the entire city.
People also liked
$$ | c/ Ronda, 3
Opened in 2017, Hotel Arrizul Congress is an elegant contemporary addi... Read More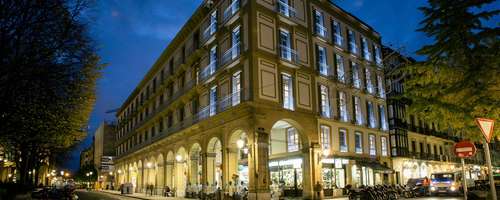 $$ | Calle Legazpi, 12
This unassuming boutique hotel that overlooks Plaza Gipuzkoa in San Se... Read More
$$ | Calle Posta 11
Hiding within the enchanting Old Quarter of Bilbao is a movie lover&rs... Read More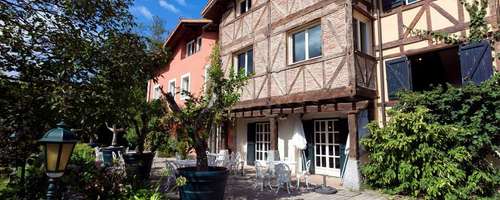 $$ | Portal de Atea S / N
Tucked away in a pastoral valley behind the picturesque seaside villag... Read More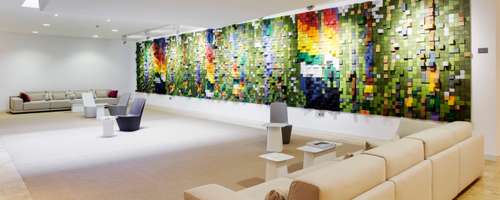 $$ | Paseo Campo Volantín, 11
Located on the quiet side of the River Nervión as it cuts throu... Read More
$$ | Bº Askizu
Nestled among the rolling vineyards above the picturesque seaside vill... Read More