König von Ungarn
Schulerstrasse 10, Vienna, Vienna, A-1010, Austria
This boutique accommodation is one of the oldest lodgings in the city, having first opened its doors in 1746. The building itself dates further back, to the Middle Ages, and is situated on a street behind the Cathedral. There is an eclectic mix of styles among the rooms that ranges from country traditional to more contemporary urban designs, and classical music lovers will adore the fact that Mozart once lived in an apartment above what is now the hotel restaurant. That glass-roofed courtyard offers a quiet place to relax in what is otherwise a pretty bustling area.
YOU SHOULD KNOW The hotel door is directly on the street, with barely a curb between you and the cars, so be careful when exiting.
room
Heavy wood paneling dominates the traditional, old-fashioned rooms, as do wing-backed chairs, long drapes and antique armoires. The newer wing has more updated, bold design. Suites are two-story.
Ask for a room facing the courtyard for a quieter stay.
Photo: Double room modern style
Photo: Double room classic style
Photo: Double room classic style
bathroom
Dated, but functional, with basic shower and amenities.
Photo: Bathroom classic style
Photo: Bathroom modern style
Photo: Lobby with bar area
lobby
Reception is small, but leads to a large, plant-filled courtyard, which serves as a lobby.
Photo: Lobby with bar area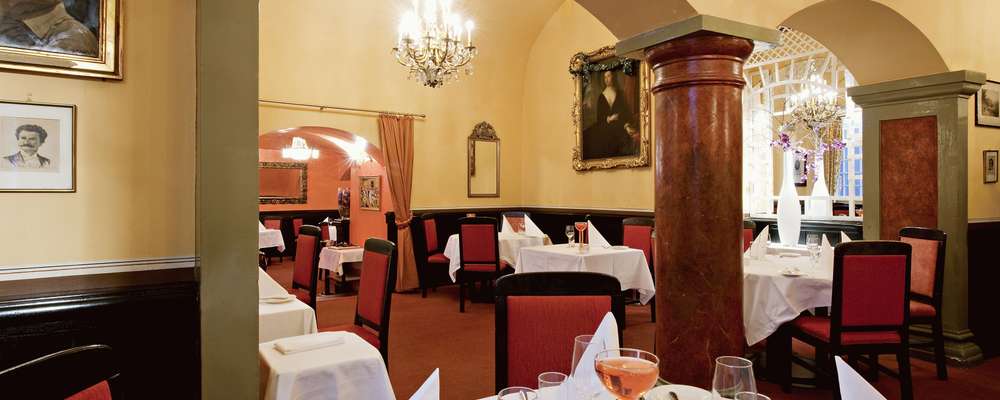 Photo: Restaurant
dining
The restaurant has been in business since the hotel opened its doors in 1746. The kitchen is open til 10:30 pm. and serves traditional Austrian food.
Photo: Restaurant
Photo: Atrium with bar
drinking
The bar, open til midnight, serves drinks in the courtyard.
Photo: Atrium with bar
LOCATION
Getting Around
Forget the car, there is no parking option here. Major sites are all within a five-to-fifteen minute walk, and the Stephansplatz Ubahn is nearby.
Restaurants
The featured food is given away in its name:. Gulaschmuseum (just steps away from the hotel). It is cozy inside and there is more than goulash on the menu, including a selection of vegetarian options. Cash only. Around the corner is Kleines Cafe (five minute walk), a local treasure owned by an Austrian film star. In summer, sit out on the vast Franziskanerplatz. Pürstner (three minute walk) is classically Austrian, right down to the Kachelöfen, a clay stove that is still used in villages to heat many of the older homes. The fare is traditional and tasty. In summer, sidewalk seating is a popular option.
Bars
Porgy and Bess (three minute walk) is Austria's most famed jazz club, considered one of the Top Ten in Europe. Drinks are reasonably priced and include beer, wine and cocktails. Loos American Bar (five minute walk) is an art deco Vienna gem designed by Adolf Loos in the early 1900s. It is a remarkable space, with drinks to match. Kix-Bar looks like another sidewalk cafe on the outside, but inside is a relaxed spot to have a drink.
WHY WE LIKE IT
It's a bit on the old fashioned side, but that's a plus with us -- this is the kind of hotel where tradition beats trendy. The location near the Cathedral and so close to great eateries and nightlife also serves it well.
QUICK FACTS
HOTEL INFO
Phones: 01-515–840