Nevis Tourism Authority
St. Kitts' little-known sister island, Nevis, has been attracting a lot more attention with the massive popularity of Hamilton the Musical, since it happens to be that founding father's birthplace. But being off the radar for the masses has been a good thing for this lush little isle, as it has managed to remain unspoiled.
Nevis Tourism Authority
Nature
You know there must be a truly wild side to an island that is home to more monkeys than people. The emerald rainforest-covered volcano provides excellent hiking opportunities, but a local guide is highly recommended. En route, you'll encounter soul-soothing spots like hidden waterfalls and secret caves. Beyond the armies of green monkeys, you're also bound to encounter random critters like wild donkeys, meandering goats, tropical birds, and maybe even wild boars.
Insider Tip: If you'd rather explore by ATV, Funky Monkey Tours will take you to the best nature spots not often covered on regular bus or taxi tours.
PLAN YOUR TRIP: Visit Fodor's Nevis Guide
Nevis Tourism Authority
Cottle Church
Nevis's history is fascinating, and there's a small museum in Charlestown recounting the island's colonial past. In the home where Alexander Hamilton was born right across the courtyard, there is now a small museum dedicated to his life. There is also a museum dedicated to Admiral Horatio Nelson. The Bath Hotel, built in 1778, was the first hotel in the Caribbean and now houses government offices. Also still standing (without the roof) is the Cottle Church. Plantation owner John Cottle built it in 1824 so his family and his slaves could worship together, even though it was illegal at the time.
Insider Tip: Bring your bathing suit to the Bath Hotel, as there are public hot springs out front.
PLAN YOUR TRIP: Visit Fodor's Nevis Guide
Nevis Tourism Authority
Festivals
Although Nevis celebrates its annual national carnival, Sugar Mas, on sister island St. Kitts in December, they have their own interesting local events. There's the new annual Mango Festival held every summer, celebrating the national fruit with lots of culinary offerings and street fairs. Culturama, a local celebration of art and culture, is held on the anniversary of Emancipation Day in July. And the Nevis Blues Festival is a musical blowout on beautiful Oulie Beach in April. It's a fun and friendly get-together.
PLAN YOUR TRIP: Visit Fodor's Nevis Guide
Montpelier Plantation & Beach
Montpelier Plantation
The plethora of sugar mill ruins on Nevis has provided hoteliers an opportunity to create unique resorts. Nisbet Plantation is the only planation built on the sea, and where Horatio Nelson met his wife, Fanny Nisbet. Up in the highlands, the stunning Montpelier plantation is now a Relais & Chateaux resort. (It's also where Horatio actually married Fanny.) Then there's Golden Rock Inn, owned by a New York artist, another restored sugar plantation surrounded by acres of gorgeous botanical gardens. The oldest wooden house in the Caribbean (circa 1660) has become The Hermitage, a charming and unique boutique hotel.
Insider Tip: Nisbet Plantation's maître'd gives a rollicking local pub tour.
PLAN YOUR TRIP: Visit Fodor's Nevis Guide
Four Seasons
Four Seasons
Nevis has some excellent dining. Best bets for creative Caribbean fusion fare might be Four Seasons' Mango and The Great House at Nisbet Plantation, while Montpelier has the world's only private dining in a 300-year-old sugar mill tower. Local cuisine focuses on grilled rock lobster, chicken, ribs, and the catch of the day. "Goatwater" (goat stew) is also a specialty. For drinks, the most famous cocktails are the "Killer Bees" (a secret potent rum punch recipe) served at Sunshines Beach Bar and cocktails are also very creative at Bananas jungle bar/bistro on Hamilton Estate.
PLAN YOUR TRIP: Visit Fodor's Nevis Guide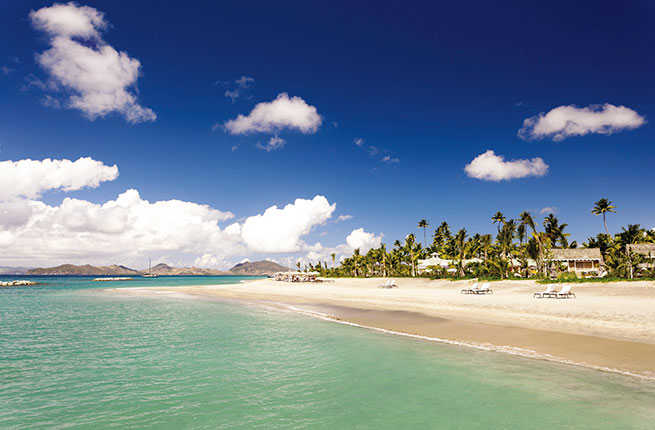 Nevis Tourism Authority
Beaches
Less party-heavy than highbrow St. Barths and lusher than Anguilla, Nevis quietly attracts celebs seeking an escape where they can simply relax out of the limelight.The island has long been the darling of famous folk like Oprah, Beyoncé, Kelly Ripa, Meryl Streep, Britney Spears, Debra Messing, Eric Stonestreet, and Mary-Louise Parker, to name just a few. Princess Diana brought her sons to Nevis just after her divorce and partied barefoot on the beach at the local BBQ. VIPs feel safe there, and the locals are among the friendliest you'll encounter in the entire Caribbean.
PLAN YOUR TRIP: Visit Fodor's Nevis Guide
Melissa Legner
Horse Racing
Running is big on Nevis. There are two annual running events—a triathlon and a running festival. As an ex-British colony, cricket and football are also very popular pastimes. But you might be surprised to learn that Nevis also has one of the Caribbean's best drag racing tracks. The St. James Raceway attracts competitors from all over the Caribbean. There is also horse racing at the seaside Indian Castle Racetrack, a very social event where visitors and locals alike love to bet on the outcome.
Insider Tip: There's also an annual "Swim to St. Kitts" competition.
PLAN YOUR TRIP: Visit Fodor's Nevis Guide
Nevis Tourism Authority
Watersports
There is some marine life to be seen right offshore, but most snorkeling trips involve a fun party sail to nearby St. Kitts. However, Nevis is a fabulous scuba diving spot with expert instruction and great excursions run by Scuba Safaris with five sunken wrecks to explore nearby. They also offer unique Dive and Dine experiences where certified divers catch their own rock lobster for dinner and the Four Seasons chef prepares it with a special Nevisian barbecue glaze.
Insider Tip: The Four Seasons works with the local Nevis Turtle Group, where guests can participate in sea turtle releases and preservation.
PLAN YOUR TRIP: Visit Fodor's Nevis Guide
Nevis Tourism Authority
Lover's Beach
When you head to the Caribbean, you want great beaches, and Nevis doesn't disappoint. But what's most interesting about the surfside escapes is how secluded they can be even though all beaches are open to the public. It takes little time to walk away from a resort and find yourself all alone with the sea. Each beach is different with stretches of sand ranging from alabaster white to black powder to golden brown, and all with warm, aqua seas.
Insider Tip: Best bet for complete seclusion? Aptly named Lover's Beach, hidden away from the road on the north shore.
PLAN YOUR TRIP: Visit Fodor's Nevis Guide