These town names will upset you. They will upset you terribly.
It's a wild and wondrous world we live in, and we at Fodor's aim to show you all its beauty right through your computer screens. However, the world is also rude and terrible, and we're also here to show you that, as well! Take these actual places, for example, compiled by Marvellous Maps, on the Magnificently Rude Map Of World Place Names.
I have one thing to say to these places: Get a hold of yourselves. You are rude as hell. Why are you named these things? None of you have manners, not one of the places listed here has any manners. Get a new name. These towns are named terrible, terrible things.
NSFW. Please forgive me, because I cannot forgive myself.
WHERE:
Yellowknife, Canada
Okay, so this is just a street. It's a short, residential street in the Old Town section of Yellowknife, and its name started off as a joke… and then it just stuck around. Exactly how ragged-ass is this road? Not very. It's fine. It doesn't seem that ragged-ass. But what do we know?
What kind of smith now? Sexsmith? What kind of smith is that? Is it like a locksmith? What's going on here? Sexsmith is a town located in Alberta and was named after a trapper and trader named David Sexsmith. They've got some museums there.
Shitagoo Lake is a lake near Lac-Edouard in Quebec, and frankly, it sounds disgusting.
WHERE:
Newfoundland, Canada
This is a cove in Newfoundland. It sounds… lovely.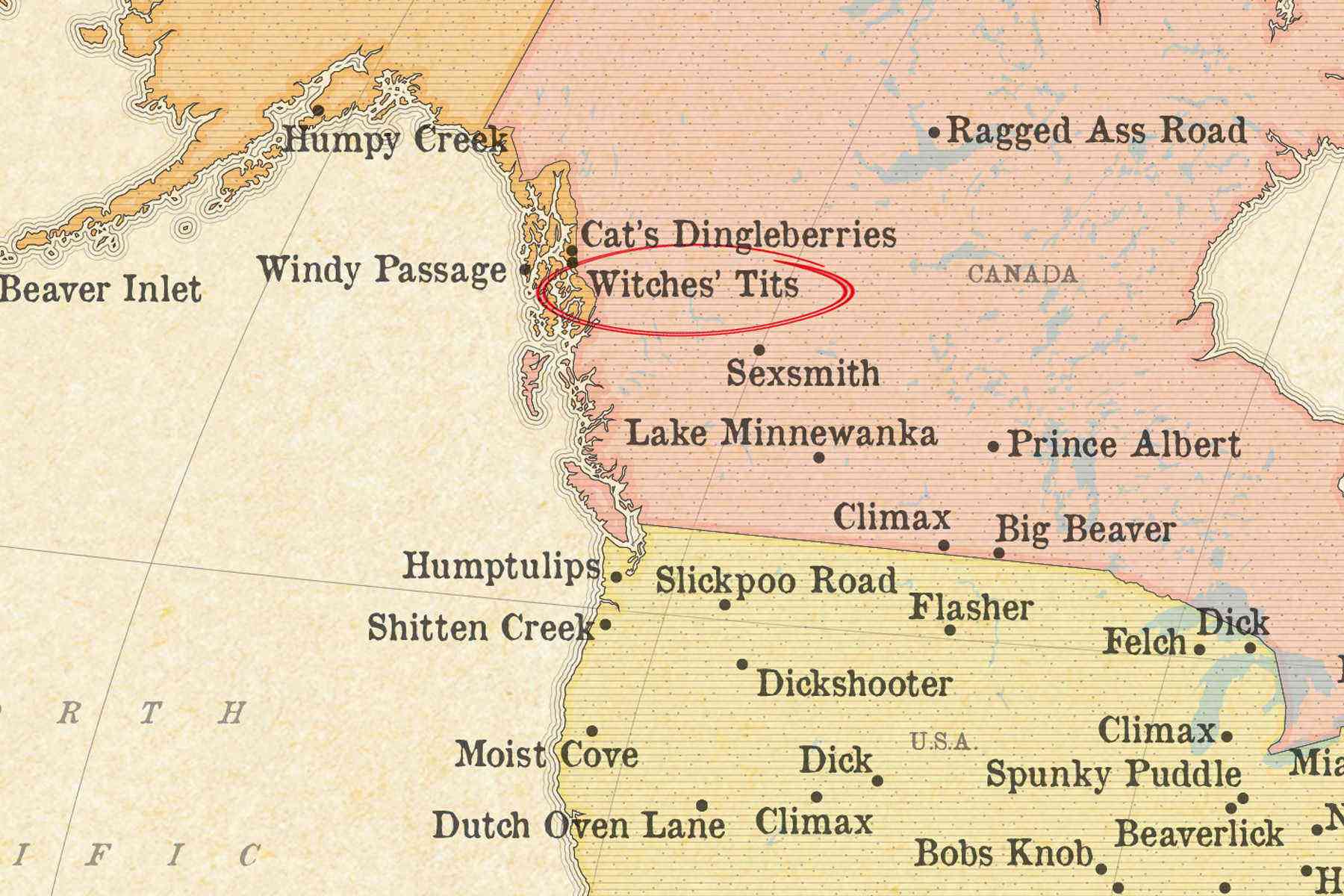 Okay, come on now. This is. This isn't nice at all. I don't like this.
I'm not sure what goes on in Dickshooter, but I'm hoping the answer is: not that. Fact: This town was named after an actual guy named Dick Shooter, and it's a mostly isolated place. Shocking.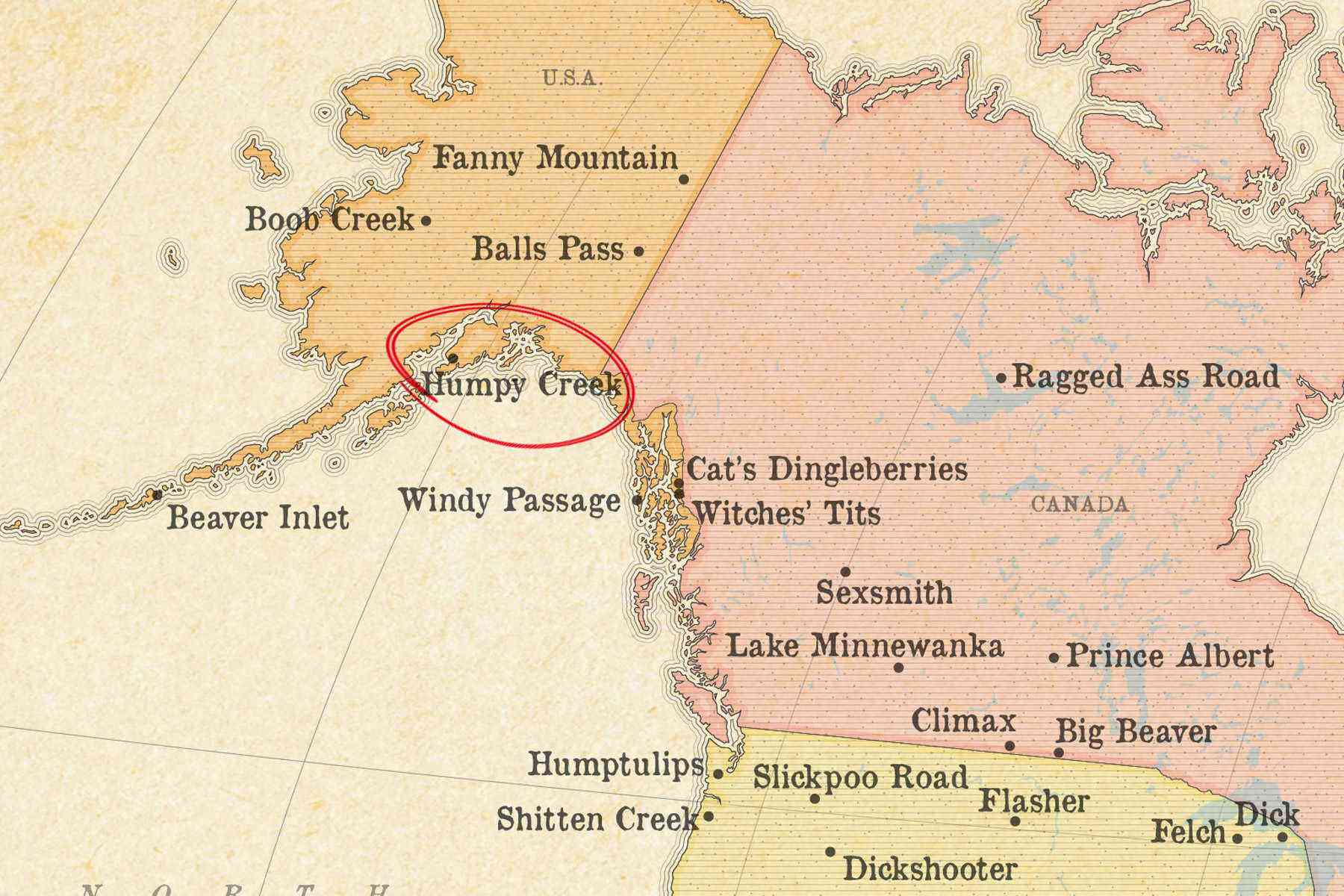 Sounds like this creek was named by an 11-year-old who doesn't quite know how to be rude yet. In actuality, it's a stream in Alaska where people fish for salmon.
Spunky Puddle is a ghost town in Clark County, Ohio.
This is a lake in Texas. It is extremely rude, but adding a "worth" to the end of the name at least makes it somewhat regal.
What's with all these rude-ass lakes, North America? This one is in Caledonia County, Vermont, 16.4 miles from Saint Johnsbury. It sounds like a bad time.
Three Way is a city in Madison County, Tennessee.
WHERE:
British Virgin Islands
Oh, come on. Putting the "x" there does not make it cute. Oh, you're a beautiful beach, hm? Well, you are still very, very rude. Little Dix Bay is located on Virgin Gord in the British Virgin Islands. Aren't words hilarious?
Wet Beaver Creek is a wilderness area in Yavapai County. I'm sorry, what kind of creek? What kind of creek is this? No. No, Arizona! Name your wilderness areas something nicer, please.
Mianus is a neighborhood in the city of Greenwich, and it's not fooling anyone with that spelling. We know what you are getting at. And it is rude. Wash your mouth out with soap, Mianus.
These 4 Towns Called Climax
WHERE:
Georgia, Colorado, Minnesota, and Saskatchewan
Climax, Georgia. Climax, Colorado. Climax, Minnesota. Climax, Saskatchewan. Four. Four?! There's four of you on one continent, hm? Couldn't even come up with something that somebody else hadn't taken already? Whatever. I mean, okay, at least "climax" has several different meanings, so maybe someone just didn't know the rude version.
Oh, for the love of god. Grow up. There's only one thing "intercourse" could mean. You are actually not even trying with this. Come on, man. Come on.
This place got its name from a church called "New Erection," because it was re-erected there, after first being erected elsewhere. Sure, great choice of words, guys. Nicely done. Did no one care to look this up? Do you guys know what words mean?
This sounds like the most uncomfortable flower in the world, but it's just a village in Grays Harbor County, Washington.
Horneytown was named after a family of settlers, who had the last name of "Horney." Great. That's… that's so great. I love this.
This is a cul-de-sac in Idaho, and you know what? I'm done. This is embarrassing. I am embarrassed by this.
This one gets straight to the point. Fuck it, name the town "Poop." It's a small village in Yucatan, Mexico. Honestly, Mexico gets a gold star for only having one terribly named town.