Jess Kraft / Shutterstock
Cartagena's days as a Spanish colonial port on the Caribbean Sea left it with a romantic walled town and fortifications that have World Heritage Site status. But this Colombian city of almost a million people, which won a spot on Fodor's 2014 Go List, is no museum piece. Pleasure seekers have replaced pirates, coming for the tropical sun and historic buildings filled with shops and restaurants. Beyond the walled town on the Bocagrande peninsula are hotels and apartment buildings, but for visitors, the charm is the center, whether in the historic town or in the hipster neighborhood of Getsemaní. And it's all just a five-hour flight from New York.
By Linda Cabasin
Jess Kraft / Shutterstock
Soaking Up Colonial History
The massive bulk of Castillo de San Felipe de Barajas, the largest fortification Spain built in the West Indies, makes it easy to grasp Cartagena's importance as a port from the 16th century. Climb the fort's steep battlements for sweeping city views and explore its tunnels, designed to repel invaders seeking gold and other treasures. On Plaza de Bolívar in the walled city, the handsome Palacio de la Inquisición, now a museum, held the offices of the Inquisition; some exhibits display gruesome instruments of torture, while maps, models, and documents reveal the growth and history of Cartagena.
PLAN YOUR TRIP: Visit Fodor's Cartagena Travel Guide
Watchtheworld / Shutterstock
The hot bohemian neighborhood of Getsemaní, a few minutes' walk from the historic center, is a must-visit for its local scene—like Brooklyn's Williamsburg neighborhood a decade ago, perhaps—as well as hip bars and clubs. Calle de la Sierpe takes you past walls adorned with Getsemaní's trademark colorful street art and into Plaza de la Santísima Trinidad. On Saturday nights, adults sip beer and listen to music here, while kids play with toys set out for them. Explore narrow streets like Callejon Angosto, and settle in at longtime favorites like Café Havana, with salsa and Cuban music, or fresh arrivals like Demente, a trendy tapas bar.
PLAN YOUR TRIP: Visit Fodor's Cartagena Travel Guide
Ksenia Ragozina / Shutterstock
The walled town's pastel-hue, flower-draped buildings are packed with shopping temptations at all prices; delightfully, many stores are Colombian rather than international chains. St. Dom stocks an exquisite, luxury-priced selection of Colombian-designed fashions and home items, and Silvia Tcherassi's clothing for women is boldly beautiful (and expensive). Stop by Azulu for cheerful accessories and styles at good prices, and Vélez for Colombian-made leather items for men and women. Looking for satisfying souvenirs? Nab a useful, colorfully woven mochila bag from a street vendor. Or take a break and sip premium Colombian coffee at Café San Alberto, and buy beans for your lucky friends.
PLAN YOUR TRIP: Visit Fodor's Cartagena Travel Guide
Courtesy of Cartagena de Indias Tourism
Exploring The Walled City
Built over two centuries, Cartagena's murallas, or city walls, encircle the historic old town, an impressive reminder of how many invaders coveted the port city's wealth. Visitors head here to the shops, restaurants, museums, and churches nestled inside the walls in colorful, well-restored buildings. The areas near the iconic Clock Tower get very busy, while the Barrio San Diego is quieter yet equally lovely. Wherever you wander, find one of the many entrances that let you promenade on top of the walls and appreciate their solidity. Sunset strolls are local favorites, but the sea and city views are lovely anytime.
PLAN YOUR TRIP: Visit Fodor's Cartagena Travel Guide
From street fare to fine dining, Cartagena entices your palate. Grab an arepa (grilled or fried corn dough), stuffed with cheese or egg, from a street vendor, or stop by a brightly dressed palanquera offering mango, passion fruit, papaya, and more. Seafood is a top choice, including red snapper with coconut rice, and a must for cebiche is tiny El Boliche Cebicheria. Wash it all down with local beer like Aguila or a mojito; the tropical heat also makes cool limonada de coco (coconut milk lemonade) appealing. Relax at classics like La Vitrola or try elegant fare in spots like Restaurante 1621 in the Sofitel.
PLAN YOUR TRIP: Visit Fodor's Cartagena Travel Guide
Courtesy of Cartagena de Indias Tourism
Pick your own pace and pleasure during Cartagena's sultry evenings, when nightlife rolls on into early morning. The walled town's buildings look spectacular lit up at night, so stroll around squares like Plaza de Santo Domingo and relax with the crowds drinking at cafés, or listening to music spilling from salsa spots like Donde Fidel in Plaza de los Coches. For salsa and son with a view, hit the floor at Quiebra-Canto, a second-story dance club overlooking the clock tower and walled town. Want more? Sashay over to the newly popular Getsemaní neighborhood for cool bars and salsa spots.
PLAN YOUR TRIP: Visit Fodor's Cartagena Travel Guide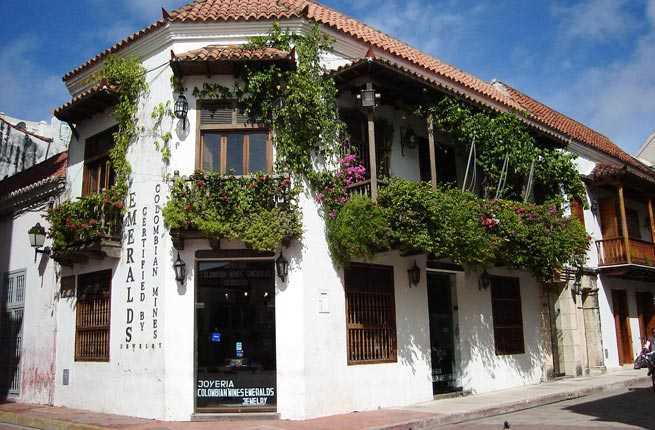 Courtesy of Cartagena de Indias Tourism
Colombia produces more than 60 percent of the world's emeralds, and jewelers abound in Cartagena. At Joyería Caribe in the Bocagrande area you can make jewelry and purchase lovely creations. For $70, take a two-hour class (sign up in advance) and learn to twist silver to create four emerald pieces, such as a ring and bracelet; the fee includes your choice of one piece. The instructors are part of Caribe's program to train jewelry workers. All visitors can explore the informative free museum as well, with its antique jewelry, re-created mine tunnel, and hunks of emerald.
PLAN YOUR TRIP: Visit Fodor's Cartagena Travel Guide
Gary C. Tognoni / Shutterstock
As in other South American cities, plazas reflect the soul and spirit of Cartagena. In Plaza de San Pedro Claver, whimsical wrought-iron sculptures by Eduardo Carmona depict locals practicing traditional trades and activities; also visit the eponymous church. Dominican priests built Plaza de Santo Domingo and its ancient church in the late 16th century. Today Colombian artist Fernando Botero's sculpture of voluptuous, naked Gertrudis matches the plaza's festive tone. Pay your respects to Simon Bolivar, liberator of Colombia, at his statue in shady Plaza de Bolívar, a space filled with locals relaxing and visitors seeking out nearby museums.
PLAN YOUR TRIP: Visit Fodor's Cartagena Travel Guide
Free Wind 2014 / Shutterstock
It's well worth a stop at the Museo de Arte Moderno de Cartagena, on Plaza de San Pedro Claver in the walled city, for an overview of contemporary Caribbean-influenced Colombian art and other Latin American works. Changing exhibits in the museum, a conversion of two 17th- and 19th-century buildings, show the creativity displayed in modern statues and art around town. Don't miss the permanent gallery of works by Cartagena resident Enrique Grau (1920-2004), who along with Alejandro Obregón and Fernando Botero is considered one of Colombia's most influential 20th-century artists. Another modern art stop, the NH Galeria, has changing exhibits, so be sure to check ahead.
PLAN YOUR TRIP: Visit Fodor's Cartagena Travel Guide
Courtesy of Sofitel Legend Santa Clara Cartagena
Relaxing at Historic Hotels
Get close to Cartagena's past in the walled city at an atmospheric hotel converted from a historic building. The sumptuous Hotel Charleston Santa Teresa occupies a former convent, while the grand Sofitel Legend Santa Clara Cartagena, in a renovated Clarist monastery, uses the nuns' dining room and kitchen as restaurants. More intimate picks are Casa San Agustín, with 31 chic rooms in former residences, and romantic Casa Pestagua, in an aristocratic mansion with 11 antique-filled rooms. For modern verve mixed with history, consider designer Silvia Tcherassi's Tcherassi Hotel + Spa. If you need space for the family and want a beach, though, there are hotels like the Hilton Cartagena in Laguito, outside the walled town.
PLAN YOUR TRIP: Visit Fodor's Cartagena Travel Guide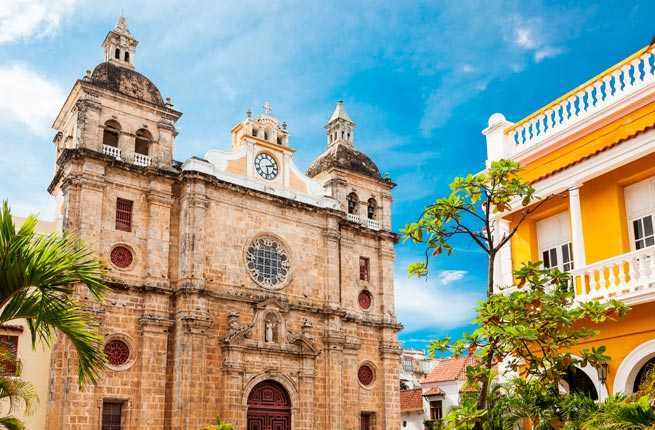 Sorin Colac / Shutterstock
Admiring Historic Churches
Step into a few beautiful churches in the walled town for insight into Cartagena's turbulent history. You can't miss the tall steeple of Metropolitan Cathedral, near Plaza de Bolívar. Construction began in the 1570s, but English privateer Francis Drake destroyed part of the work in 1586. Today a gold colonial altar and simple but massive arches are notable. The Jesuits built majestic baroque Cathedral of San Pedro Claver in the 18th century, naming it for San Pedro Claver (1581-1654), who baptized 300,000 slaves and advocated for their better treatment, although Cartagena was a slave-trading hub. The saint's remains are visible in the altar.
PLAN YOUR TRIP: Visit Fodor's Cartagena Travel Guide
Venturelli Luca / Shutterstock
Cartagena is on the Caribbean, but its gray-sand beaches aren't the most appealing for scenic escapes. For better swimming, turquoise waters, and powdery strands, take a boat (15 minutes) to Playa Blanca. Or snorkel and scuba dive amid beautiful coral with Buzos de Barú, just 50 minutes from the city. For complete pampering in the Islas del Rosario (55 minutes by boat), book a day tour through Hotel San Pedro de Majagua that can include fresh fish for lunch. Relax on the hotel beach or explore the island (extra cost) by bike and by kayak through shady mangroves.
PLAN YOUR TRIP: Visit Fodor's Cartagena Travel Guide