Mayflower Park Hotel
405 Olive Way, Seattle, Washington 98101, USA
Mayflower Hotel
Why We Like It
At 90 years old, the Mayflower Park is one of Seattle's historic hotels, and it still maintains the air of a long-gone era, from the elegant lobby to the tastefully appointed rooms. It may be too old-fashioned for some travelers, but others will find the hotel totally charming. It's home to Oliver's, one of the city's best martini bars, with windows that are perfect for people-watching, as well as Andaluca, which serves delicious Mediterranean fare. The central location is also a big draw.
The Mayflower Park has a thing for traditional style, which truly sings at this historic hotel built in 1927. The decor, a pleasing mix of antiques, Asian accents, brass fixtures, and florals, is attractive and unobtrusive, from the classy lobby to the comfortable guestrooms. The main draw is the hotel's location: a quick walk from Pike Place Market and close to both Downtown and Belltown. Despite the centrality, the building is so sturdily constructed that it's much quieter than many modern Downtown hotels. There is also a lovely restaurant, Andaluca, as well as Oliver's, a well-known martini bar, where even locals flock for well-poured cocktails.
YOU SHOULD KNOW Travelers who prefer edgy or eclectic boutique hotels might find the Mayflower Park Hotel too old-fashioned, but traditional will never go out of style for others.
room
The Mayflower Park, which celebrated its 90th anniversary in 2017, features an elegant mix of Queen Anne furnishings, soft hues, florals, and Asian accents. Standard rooms aren't particularly spacious but they are well-appointed and include a very comfortable bed. Most views are of the street and building variety; some suites on the top two floors have a sliver of a view of Elliott Bay.
bathroom
On the small side but just roomy enough, bathrooms feature square tiles, pedestal sinks, and a shower-tub combo. Beautifully scented bath products are a bonus.
lobby
Elegance and Old-World style define the lobby, which features a lovely mix of gleaming wood, classic and antique furniture, and prominent Asian accents, including an eye-catching folding screen behind the check-in counter. Wainscotting and a glittering chandelier hanging from the high ceiling add to the ambiance, as does the tinkling jazz coming from Oliver's, a well-known martini bar off the lobby.
gym
The hotel's fitness center includes cardio equipment, weight machines, and free weights.
dining
Andaluca, a cozy spot with mahogany millwork, hand-painted murals, and a palette of deep, saturated hues, serves Mediterranean-inflected fare, including a selection of tapas. Dishes like the restaurant's signature paella and the Petit Rib Roast with rioja butter sauce are elegantly presented, and a solid wine list offers plenty of potential pairings. For dessert, try the Coconut Kataifi Cheesecake, a unique and delicious riff on cheesecake drizzled with a saffron-pineapple gastrique. The restaurant also serves a simple but reliably good breakfast.
drinking
Oliver's Martini Bar, which opened in 1976, holds the distinction of being the city's first "daylight" bar; before the law changed, if hard liquor was served at an establishment, nobody was allowed to peer in the windows -- or out. Today the classy Oliver's Martini Bar features bustling street views framed by floor-to-ceiling paned windows, as well as excellent cocktails and a menu of casual bar eats.
A historical tidbit: In 1949, the Mayflower was also the first hotel to open a bar in Seattle; it was called The Carousel Room and had a fabulously over-the-big-top carnival theme.
Oliver's has won countless awards for its perfect poured classic martinis.
People also liked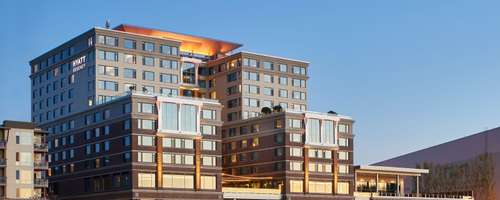 $$
With stylish modern guestrooms and stellar views of Lake Washington, t... Read More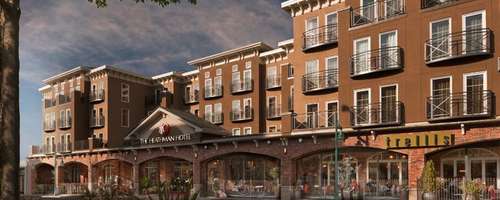 $$ | 220 Kirkland Ave.
This chic boutique hotel in Kirkland, on the east side of Lake Washing... Read More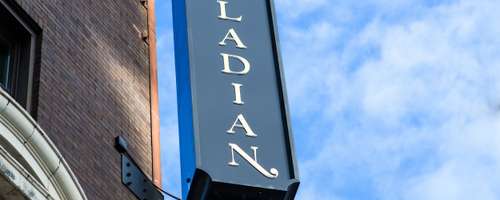 $$ | 2000 2nd Ave
With a hip design and an ideal location, the boutique Kimpton Palladia... Read More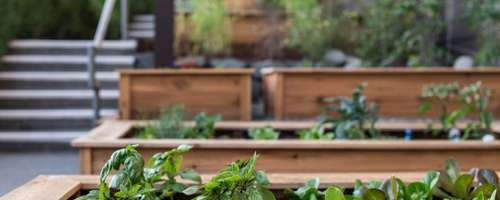 $$ | 6501 Railroad Ave.
Salish Lodge is near the city and offers a uniquely Pacific Northwest... Read More
$$ | 4140 Roosevelt Way NE
From the pool to the pineapple cupcakes, University Inn is a fun place... Read More
$$ | 5216 Ballard Ave NW
Away from the city's tourist-dense areas, Hotel Ballard offers elegant... Read More
LOCATION
Getting Around
The hotel is connected to Westlake Center (and even has indoor access to it from the Mezzanine level), where you'll find multiple modes of transit: Westlake Station, a main hub for Seattle's light rail system; the Monorail connecting to Seattle Center; bus lines servicing every corner of the city; and the terminus for the South Lake Union Streetcar.
Restaurants
Dining options abound near the hotel. For a casual meal, The Retro Restaurant and Lounge (5-minute walk), a hole-in-the-wall pub named in honor of its vintage 110-year-old digs, serves up surprisingly good food, especially the burger. It's open 'til 2 a.m., a real boon for late-nighters. Also nearby: several restaurants from Seattle's most well-known restaurateur, Tom Douglas. Dahlia Lounge (5-minute walk) was his first of many, with a menu showcasing Asian-inspired riffs on Pacific Northwest cuisine (you can also get the restaurant's famous coconut cream pie, as well as many other delicious goods, at the Dahlia Bakery next door).
Bars
Craft cocktails are the specialty at Suite 410 (2-minute walk), a small spot with bartenders who elevate the art of the drink, which makes the prices ($10-$20) palatable. Radiator Whiskey (10-minute walk), tucked away in Pike Place Market, is typically packed, not just for its strong cocktails and spirits--including a great selection of its namesake one--but also for its carnivore's delight of a menu (they even serve pig's head).
QUICK FACTS
HOTEL INFO
Phones: 206-623–8700;800-426–5100