Where to find books in the world's newest UNESCO city of literature.
Seattle was recently named a UNESCO city of literature, but it's not just the long, gray winters and abundance of coffee shops that make the city a haven for readers. Seattle is home to a wealth of bookstores that range from quirky deep dives into obscure subjects—maritime history anyone?—to community hubs that are reshaping the ways we read and write poetry. Wherever your reading interests take you, from anarchy to astrophysics, there's somewhere in the city to find your next book.
Elliot Bay Books
You could spend all day exploring the core of the local book world, four-decade-old Elliot Bay Books, in the heart of the Capitol Hill neighborhood. Come for the city's largest selection of books and independent magazines, stay for the daily author events, and fill the time in between at the outpost of one of the best restaurants in town, Oddfellows Café, in back. Their on-point staff picks are worth paying attention to, as is their wide selection of local authors.
Book Larder
Seattle's food scene, with its range of innovative restaurants, had been topping national awards lately, and that's trickled down to readers and home cooks. At sunny, spacious Book Larder you can find rare, out-of-print cook books along with new hip volumes and attend recipe demos from local chefs like Molly Wizenberg. There's a lot to like about a bookstore that has a kitchen in the back: Every Monday the shop hosts a lunch break cooking class, based on new books and seasonal foods.
Ada's Technical Books
Nerdy in the best way possible, Ada's caters to the geeks and coders of the city's growing tech scene, but does so with an understated, old-school Seattle hipster edge. It's an airy space full of subway tiles and carefully curated science titles, including hard-to-find technical manuals, beautiful astronomy tomes, and a wide range of science fiction. Scan their calendar for events like women scientist meet-ups and lock-picking classes.
Sea Ocean Books
Seattle has a deep maritime culture and a big fishing scene, and Sea Ocean Books captures that by stocking hard-to-find historical accounts and modern nautical books. It was initially founded 20 years ago on the owner's personal collection of seafaring stories. They say hours are "by appointment or chance," but 10-6 Monday to Saturday is your safest bet.
Open Books
Open Books, Seattle's longstanding poetry bookstore, is a home and a launch pad for Seattle's poetry scene. The store keeps it weird and progressive with art shows and listening parties. The shelves are stocked with progressive local books like Tess Gallagher and Lawrence Matsuda's collaborative Boogie Woogie CrissCross, a book of poetry based on their three-year long e-mail exchange while she was in Ireland and he was in Seattle.
Left Bank Books
Nestled in a corner of bustling Pike Place Market, Left Bank Books is downtown's best place to expand your mind. Walk in and you'll be transported from the bustle of Seattle's tourist hub to a self-identified anarchist collective, which stocks books ranging from feminist theory to graphic novels about the labor movement. They're a small-scale publishing house, too, and this year, they're helping Books to Prisoners, a Seattle-based non-profit that mails books to inmates, publish a compilation of letters they've received over the years in order to highlight the importance of literacy.
Third Place
The name Third Place comes from sociologist Ray Oldenburg, who said that everyone needs three places in life: home, work, and a third place for socializing and sharing ideas. The shop, which has grown to three locations around town, is just that. It's a goldmine for used books—try to catch their twice-yearly sale in June and November—and the kind of place where you could lose a whole day perusing. The Ravenna location has a cozy, hidden basement bar that's the perfect place for holing up with a book, especially on stormy Seattle days.
Kinokuniya Seattle
Seattle's International District, on the south side of town, is home to a shocking number of excellent hole-in-the-wall dumpling restaurants and hidden five-star ramen spots. Kinokuniya, an American outpost of one of Japan's largest bookstores, is a hidden treasure trove of its own. Hidden behind a block-wide Asian grocery store, Uwajimaya, it holds a wide variety of anime and manga, along with Japanese language books. Even if you can't read Japanese, it's worth perusing for the aesthetic alone.
Alphabet Soup
The best children's book stores are quirky spaces filled with things to explore, and Alphabet Soup, on the main drag of the family-oriented Wallingford neighborhood, is just that. A funky little house, it's stacked with kid's classics, like "Harold and the Purple Crayon," along with new, progressive children's books that touch on subjects like race and gender. There are plenty of pint-sized chairs, so kids can post up and get comfortable.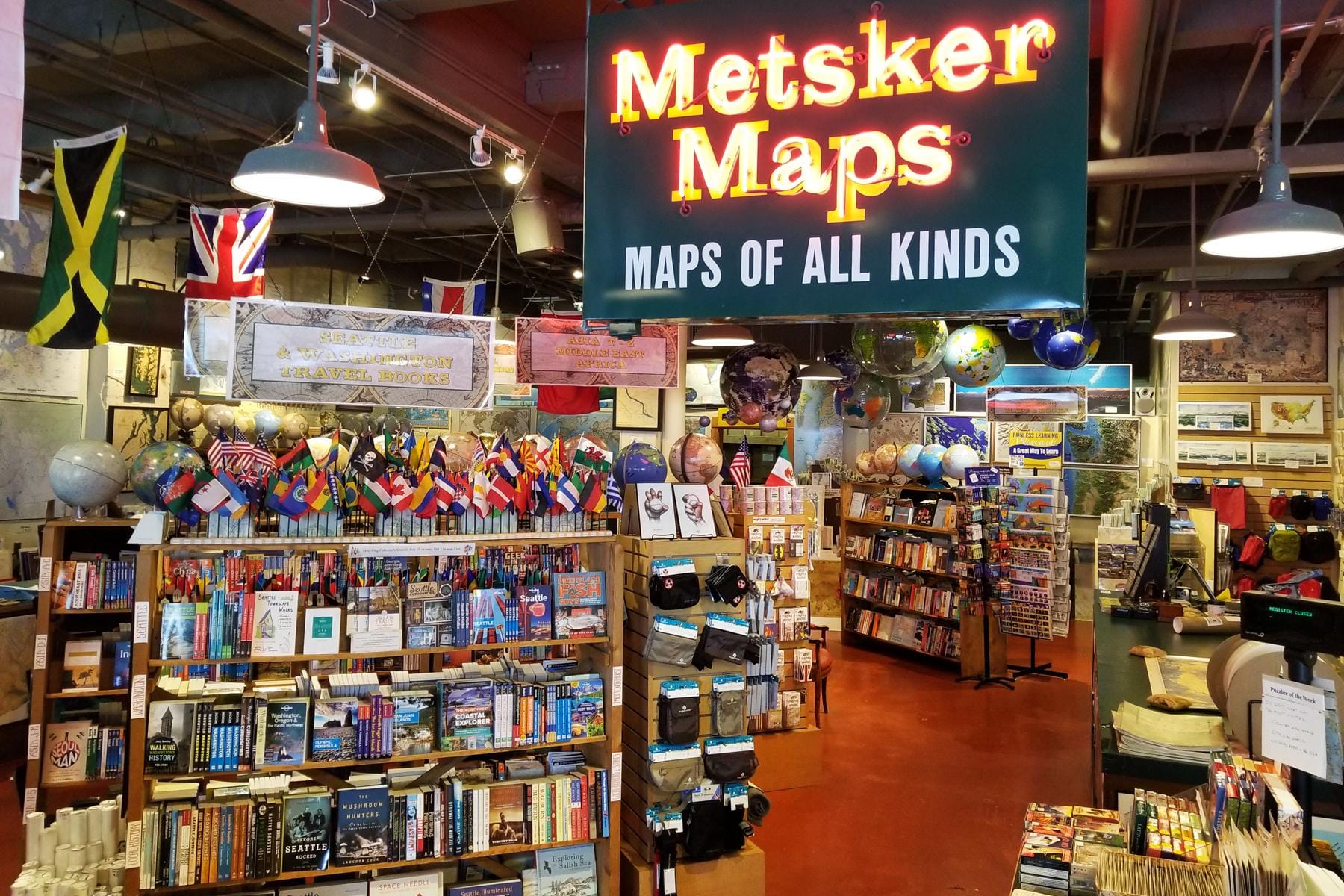 Metsker Maps
Wanderlusty? Metsker Maps, on the edge of the Pike Place Market, will either make that travel itch much better or much worse. Founded as a map store by cartographer Charles Metsker in 1950, the shop has expanded to encompass everything about travel, including a huge range of guide books and adventure narratives. Plus, if you want to get really geographically dorky, they stock a plethora of books about maps, mapmaking, and exploring.
Phinney Books
Phinney Books owner, Tom Nissley, might have the best bookseller origin story of all time. After working in Amazon's books department for a decade, he was selected to compete on Jeopardy. He won. And then kept winning, eventually becoming the third-highest winner of all time, which allowed him to quit his job and write a book. And when his neighborhood bookstore went up for sale, he bought it with his winnings and turned it into a cozy shop with a wide-ranging collection. Coming from Amazon, he realized he could do what the big online retailers couldn't: build a thriving local community based around events and conversations, including an ever-growing Resist List book club, which sprung up after the 2016 election.
Amazon Books
Amazon, which is now the biggest employer in the city, has gotten a bad rap as a bookstore destroyer, because its online model has moved reader traffic away from brick and mortar stores. Because of that, there was some uproar when the company opened their first physical bookstore in Seattle's University Village. Whatever your feelings on the future of book selling may be, Amazon has applied what they've learned from internet shopping in an interesting way. The store is curated based on popularity metrics, including books they know Kindle readers obsessively rush through in three days or less. It's worth visiting, if even to just see how the internal Internet brain of book shoppers plays out in real life.