PHOTO:
Jacob Creswick | Unsplash
Grand Hyatt Washington
1000 H St. NW, Washington, District of Columbia 20001, USA
The airy, contemporary atrium lobby provides a sweeping welcome to this recently renovated, monstrous hotel (DC's third largest), located near the trendy Penn Quarter. Designed with the business traveler in mind, its rooms are comfy and relatively large, its service impeccable, and its amenities plentiful. It's the perfect choice for conventioneers, marathoners, families, and anyone else wanting a hassle-free stay in a supreme location.
This is the only hotel in the city directly connected to a metro stop (Metro Center).
room
The modern, fresh rooms have been recently renovated with state-of-the-art amenities, including outlets on headboards, iHome clock, LG 52" TVs, and a Starbucks coffeemaker. The signature Grand Hyatt beds are comfy and the full-length mirrors a plus. Rooms face either the atrium or the street.
YOU SHOULD KNOW The Grand Club Level costs more, but with it you can access a complimentary lounge with four food displays daily plus complimentary non-alcoholic beverages.
Photo: Congressional Suite Living Space
Photo: Grand Club Living Space
bathroom
The updated bathrooms are fairly standard in a luxury hotel sort of way, with tub/shower combos and June Jacobs spa products.
Photo: Atrium Lobby
lobby
Grandiose and filled with light, the atrium lobby invites lingering, whether for small meetings, reading the morning paper over coffee, or simply people-watching. A white marble floor, refined palette of tan and mustard yellow with accents of green, contemporary armchairs and little round tables, and a stunning multistory chandelier add to the sophisticated ambiance. But there's more going on here. Lobby shops include a gift store, a Starbucks, and the signature restaurant, Cure. And, with access to the Metro Center metro station, the lobby is a bustling throughway for locals, rushing to or from work.
Photo: Atrium Lobby
gym
A new fitness room is being built, slated to open January 2018.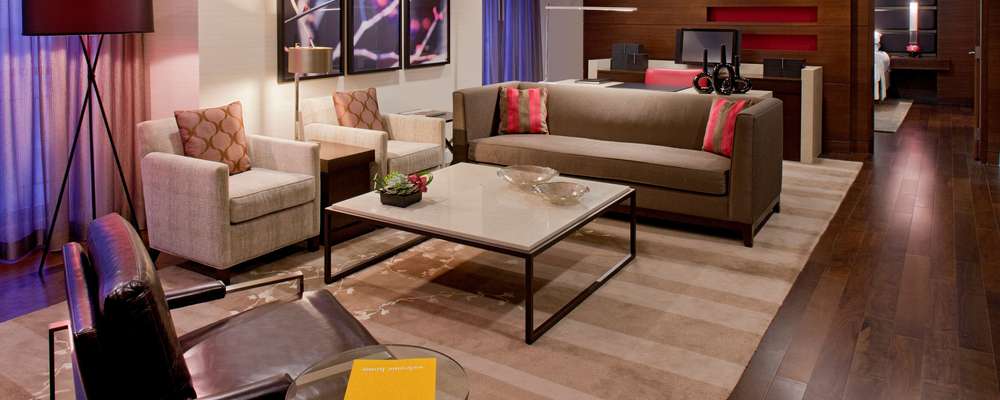 Photo: Presidential Suite Living Space
dining
Cure Bar & Bistro offers lunch and dinner, Cure presents locally seasonal produce with a focus on the age-old tradition of curing (spicing, drying, salting, and smoking) foods. Cabinet, the breakfast and brunch menu features savory and sweet focusing on locally sourced foods--and the buffet is a good bet.
Photo: Presidential Suite Living Space
LOCATION
Getting Around
The hotel's enviable location in the heart of downtown, with the convention center and MCI Center just steps away, makes it easy to access many of the city's main sights. Your best bet for public transportation is Metro, with the Metro Center metro station located directly beneath the hotel.
Restaurants
Momofuku CCDC (2-min walk) is Celebrity chef David Chang's popular DC version of his noodle empire, featuring buns (pork, brisket, shrimp, shitake mushroom), snacks (pork jerky, Old Bay pork rinds), and his famous ramen; weekend brunch includes bottomless Bellinis. Check out its sister bakery, Milk Bar, serving the likes of crack pie, compost cookie, and birthday cake truffles. Fig & Olive (3-min walk) is a trendy spot in CityCenter for Mediterranean small plates, plus pasta, fish, and meat. Succotash (5-min walk) is Chef Edward Lee's bold restaurant in a gorgeous historic bank building, featuring an upscale, innovative menu of southern and Korean fare.
Bars
Denson Liquor Bar (10-min walk) is a subterranean watering hole in a beautiful art-deco space offering classic cocktails. Proof (6-min walk) is a stylish wine bar popular among local foodies and oenophiles.
WHY WE LIKE IT
Even though it's enormous, the Grand Hyatt still manages to have a personal, home-away-from-home feel. Take Robert the Bellman, for example. He's been here during the hotel's entire 30-plus-year existence and everyone--regulars walking down the street, repeat guests--knows him. That sums up the friendly, we'll-take-care-of-you persona of this downtown favorite.
QUICK FACTS
897 rooms, including 26 suites and 25 ADA
HOTEL INFO
Phones: 202-582–1234;800-233–1234