Scott Suchman
Washington, D.C. may not have the same culinary cachet as New York or San Francisco, but the city is quickly making a name for itself as an up-and-coming foodie destination. In the past year alone, the city has seen a dizzying number of buzzworthy restaurant openings, and indeed the dining scene has never been better or more exciting. Next time you head to the nation's capital, no matter what historic neighborhood you're in, you'll find no shortage of stellar eats. Here are our picks for where to eat in Washington, D.C. now.
by Emily Wasserman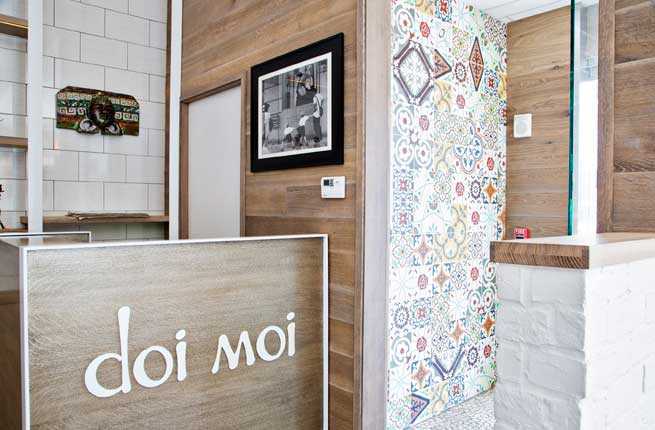 Scott Suchman
Doi Moi
Literally translated as "new changes," Doi Moi holds true to its name. Located in up-and-coming Logan Circle, the restaurant pays homage to the culinary traditions of Southeast Asia with a focus on Thai and Vietnamese flavors. Chef Haidar Karoum whips up curries, skewers, and noodles made with authentic ingredients, and dishes range from phet (spicy) to phet mak (really spicy). Try the bo nu'o'ng xa (lemongrass-and-garlic-marinated hanger steak) or sample a seafood selection with the gaeng kheiyu hoi chell, featuring seared scallops in green curry with Thai basil and heart of palm. Don't miss the restaurant's soft-serve cones for dessert; flavors include pandan, rosewater, or swirl.
Bill Feeney
Etto
You'll feel as if you've been transported to Naples at Etto, a new addition to D.C.'s vibrant 14th Street strip. Named for the Italian measurement etto (a quarter-pound), the restaurant offers a variety of cocktails and small plates in addition to its authentic, wood-fired pizzas. Cozy up with a glass of housemade vermouth and tuck into a slightly charred cotechino pizza with creamy fontina cheese and egg, or opt for a lighter selection with the Gilda "Radner" salad with anchovy, olive, and pickle. Finish the meal with chef Amy Morgan's homemade ice cream, or cut into a slice of the "chocolate salami," a cocoa confection studded with nougat and lightly dusted with powdered sugar.
Courtesy of Ripple
Ripple
It's a farm-to-table affair at Ripple, an upscale destination in relatively quiet Cleveland Park. California native Marjorie Meek-Bradley honed her skills at Thomas Keller's Michelin-starred Bouchon, and concentrates on using fresh, seasonal ingredients sourced from local farms. The menu changes daily, but look out for the cured salmon, plated alongside smoked egg yolk, crème fraiche, and pickled mustard. To go all out, indulge in the Roseda Farms New York strip with sweet corn pudding, fried green tomatoes, and bacon. The restaurant also features a gourmet grilled cheese bar with creations like the "rich e rich" with hand-sliced prosciutto and truffle butter, and the "always sunny" with peppers, onion, apple, and gruyere.
Matt Allen
The Red Hen
Located in the historic Bloomingdale neighborhood, The Red Hen is the brainchild of longtime friends Michael Friedman, Michael O'Malley, and Sebastian Zutant. Chef Friedman's time spent abroad influences his Italian-themed dishes, plates of modern comfort food with a European twist. Starters include a smoked-ricotta crostini with balsamic brown butter and truffle honey, and citrus-cured king salmon with spicy horseradish cream, capers, and crispy potatoes. Don't miss the restaurant's standout pasta dishes, including the saffron fettuccine with braised chicken and mustard breadcrumbs; or baked semolina gnocchi with hazelnut pesto. The Italian-inspired eatery also features larger plates, including wood-grilled chicken "fra diavolo" with kale, fingerling potatoes, and currants.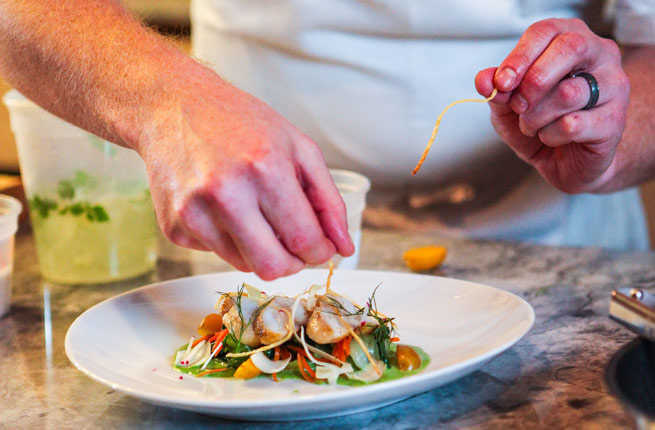 Juan Carlos Briceno
Table
Visitors feel like they're entering a chef's personal kitchen at Table, where chef-owner Frederik de Pue's finely crafted menu offers inventive fare inspired by local produce. The menu changes seasonally, but first course selections include foie gras mille-feuille with sweet cherries and Serrano ham, and yellow tail sashimi with lychee and chartreuse dressing. For the main course, opt for the wild bass with yellow tomato saffron sauce, or sample the pig tail orecchiette pasta with parmesan chardonnay sauce. Save room for dessert; the sinful chocolate cremeux with toasted marshmallow ice cream is the perfect sweet ending.
Rose's Luxury
It's an intimate affair at Rose's Luxury, a tiny Capitol Hill restaurant serving eclectic tapas dishes. While Rose's is best known for its small plates, family-style dishes also offer more for those who arrive with an appetite and some friends. Meat lovers will enjoy the smoked brisket with white bread, horseradish, and slaw, while seafaring folk can opt for the lemongrass-shellfish stew with fennel salad and garlic bread. Small plates lean toward the unusual, with inventive flavor combinations and ingredients. Try the strawberry-tomato pasta with ricotta and red onion, or dip house baked sourdough into homemade goat's milk ricotta and vegetable salad. For complete privacy while dining, book a room ahead of time on the restaurant's Roof Garden. One seating a night begins at 6:30 p.m., and features a rotating menu with chef specials.
Greg Powers Photography
nopa Kitchen + Bar
For a lively dining experience in the heart of Penn Quarter, stop by nopa Kitchen + Bar. The new, 160-seat American brasserie boasts rustic, industrial-style décor with private dining spaces and inventive dishes from executive chef Greg McCarty. Charcuterie, cheese, and seafood receive special attention, as guests can order from a raw bar that includes oysters on the half shell, shrimp cocktails, and a chilled seafood tower. Entrees are no less impressive, with slowly cooked salmon and black truffle dashi, and a pork chop with apricot mustard. For those who want to hunker down with a burger, the restaurant offers that, too, served with Vermont white cheddar, crispy applewood-smoked bacon, and handcut fries.
Patrick Onofre
Chez Billy
Authentic French cuisine in an intimate neighborhood setting is what you'll find at Petworth's Chez Billy. The restaurant boasts a rich history, located in a space that used to be a seafood and steak restaurant for African American intellectuals, Congressmen, journalists, and diplomats. Now, visitors can stop by Chez Billy for handcrafted cocktails, an extensive wine selection, and French dishes that keep D.C. eaters coming back for more. Sample hors d'oeuvres like rillettes de truite fumée (smoked trout rillettes with crème fraiche and trout roe), or the golden tomato gazpacho with saffron, feta, and mint. Classic French entrees include mussels with fries, and beef bourguignon with mashed potatoes, bacon, and pearl onions.
Courtesy of Lupo Verde
Lupo Verde
Housed in a two-story building on bustling 14th Street, Lupo Verde serves up rustic Italian fare in an authentic setting. Visitors can sample tasting plates at gleaming wooden tables or enjoy a glass of housemade vermouth at a marble-topped bar. Cheese, small plates, and charcuterie round out the menu; visitors can choose from an extensive selection of cheeses and an impressive collection of meats, including homemade lardo or pancetta and 18-month aged prosciutto. End the meal with classic Italian gelato or granita, or opt for one of the restaurant's richer desserts. The chocolate tort will not disappoint, and guests can also sample the pizza dolce with hazelnut spread and mixed-berry confit.
Scott Suchman
Woodward Table
Historic ambiance and seasonal American fare make Woodward Table one of D.C.'s hottest new eateries. Housed in the city's timeless Woodward Building, the restaurant is a block away from the White House and boasts an exhibition kitchen and a contemporary dining room with a hearth. The menu is crafted from local, seasonal ingredients and takes on a decidedly American feel. Guests can chow down on a charburger with bacon, cheddar cheese, and a sunny-side up egg, or smoked pork barbecue with jalapeno coleslaw and sweet potato fries. Entrees evoke national flavors and feature dishes like Carolina trout with crayfish and dirty rice, and braised corned beef brisket with Colcannon potato and beef jus. For dessert, go with the "WTF Doughnuts"; the puffy, golden dough balls are served with Earl Grey anglaise, chocolate mint, and strawberry tarragon.