Flock and Rally
Despite how it sounds, the "path of totality" is not a term related to geometry or Star Trek. But it does allude to something spectacular: this summer's full solar eclipse. Thanks to the path's August 21 trajectory, the lower 48 states will get the planet's best exposure to the galactic phenomenon. While cities from coast to coast ready their plans for throngs star-gazing travelers, Columbia, South Carolina is going above and beyond. The capital city lies perfectly within the path of totality, so it will see the East Coast's longest, 100-percent solar eclipse. Starting at 2:41 p.m. that Monday afternoon, Columbia's metro area will go dark as night for just over 2.5 minutes.
As a prime viewing destination (with special eclipse glasses!), the city expects as many as a million tourists over that weekend. But not to worry—Columbia is on top of their game, and planning an array of eclipse-related events and experiences for all manner of astronomy lovers. Already the city has a growing gamut of activities on its Total Eclipse Weekend website, and here's a rundown of the region's weeklong highlights, plus a few practical tips.—Kelsy Chauvin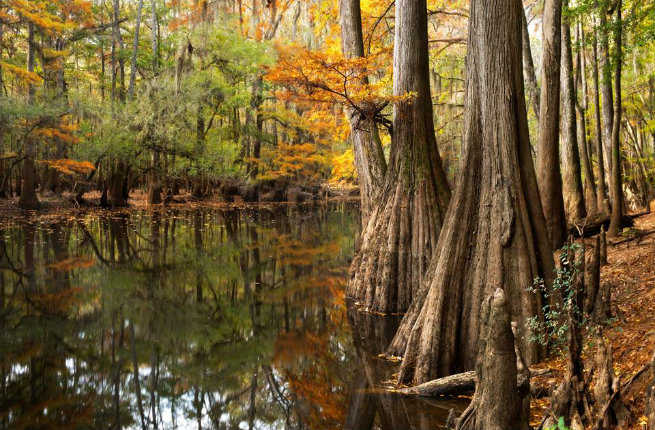 Flock and Rally
Congaree is the state's only national park, located about 20 minutes from downtown Columbia. The National Park Service is hosting a free day-of-eclipse "Shadows and Science in the Wilderness" ranger-led viewing event inside the park. Sesquicentennial State Park, about 13 miles northeast of Columbia, will also host a day-of viewing event. It's one of several campground areas for overnight visitors, along with the South Carolina State Fairgrounds and Siesta Cove Marina on Lake Murray. Over the weekend prior to the eclipse, neighboring Cayce will host hour-long history walking tours along Congaree Creek.
PLAN YOUR TRIP: Visit Fodor's Columbia, South Carolina Guide
Flock and Rally
A dose of Tron-like public art called Southern Lights debuts Saturday, August 19, shining a spectrum of lasers between two Congaree River bridges. In keeping with the sci-fi theme, the South Carolina Philharmonic will host a space-themed Musiclipse ticketed concert Sunday afternoon, August 20, at the Koger Center—leaning heavy on the Star Wars score. The night of Thursday, August 17, the Jasper Project local arts outfit is twice staging Syzygy: The Solar Eclipse Plays, six 10-minute plays written by local authors for the occasion.
Read More: 11 Amazing Places to See the Solar Eclipse in August
Flock and Rally
There's never been a better weekend to get scientific, and the South Carolina State Museum is hosting educational programs all weekend. But the top ticket is the museum's Solar Eclipse Day event with native-Carolina astronaut Charles Duke, one of 12 earthlings ever to walk on the moon. The museum is putting on lots of other "Pre-Eclipse Weekend" events and exhibits for all ages, including access to the telescope gallery and Boeing Observatory, and a special planetarium eclipse show. Alternately, enjoy a truly earthly perspective watching the eclipse with residents of the Riverbanks Zoo, open all weekend and on the big day.
PLAN YOUR TRIP: Visit Fodor's Columbia, South Carolina Guide
Flock and Rally
Feast both your eyes and your appetite on Columbia's gastronomic specials that weekend. Motor Supply Company Bistro, one of the state's top restaurants, will host a VIP Lunch and Viewing Party from noon to 3:30 p.m. on eclipse day, with a craft-cocktail open bar and dishes to match the excitement of the once-in-a-lifetime buzz. Go rural by joining the Low Country Boil and Paella Party at City Roots, the three-acre organic farm hosting this afternoon farm-to-table event, live music and all. Beer lovers, don't miss Benford Brewery's special-release Carolina Blackout beer. Wine lovers should drift west to Lexington's Mercer House Estate Winery for weekend and day-of jazz and wine and food tastings.
Read More: 11 Amazing Places to See the Solar Eclipse in August
Flock and Rally
Rock 'n' roll sparks up the weekend with EclipseFest 2017 at the Music Farm Columbia Saturday night. Sports fans should score advance tickets to the eclipse-day Columbia Fireflies minor-league baseball game. The Columbia Speedway across the river in Cayce will host the Eclipse-Eve Drive-In movie night, plus the day-of Soda City Viewing Festival from 10 a.m. to 5 p.m. Another easygoing option is to pack your folding chairs and a cooler for Solar 17 day at Lake Murray, home to a wide-open viewing area where you can kick back in your eclipse glasses and let the universe entertain you.
PLAN YOUR TRIP: Visit Fodor's Columbia, South Carolina Guide
Flock and Rally
As of May, hotel rooms for any budget are still available over eclipse weekend. But Kelly Barbrey of Experience Columbia says it's wise to book a room now, either downtown or in neighboring towns like Cayce, Irmo, or West Columbia. While you're at it, make reservations at some of Columbia's chef-driven restaurants like Motor Supply Company Bistro, Alodia's, or Cola's. Since several of the limited-ticket events also are nearly sold out—like astronaut Charles Duke's eclipse-day appearance at the State Museum—pick up yours soon.
Considering the next total solar eclipse won't pass over South Carolina until 2078, this year's festivities may be the best odds to witness such a rare astronomical wonder. Jumpstart those plans!
Read More: 11 Amazing Places to See the Solar Eclipse in August