Daniel Krieger
There was a time when dining in New York City was synonymous with dining in Manhattan, but all that feels like ancient history now. In the past decade, Brooklyn has become the city's culinary incubator, the borough where innovative chefs create food trends that go on to take over the rest of the city, the country, and even the world. Thanks to the diverse population, there's a dizzying array of cuisines—from West Indian to Middle Eastern to dim sum to Mexican—so finding top-notch global eats is as easy as hopping on the subway. You won't find legendary institutions like Nathan's Famous or Di Fara Pizza on this list of our favorite eateries—we think of them as places to get a quick bite, and we love them for that—but you will find a collection of outstanding locations where you can sit, have a proper meal, and taste the best of what Brooklyn has to offer.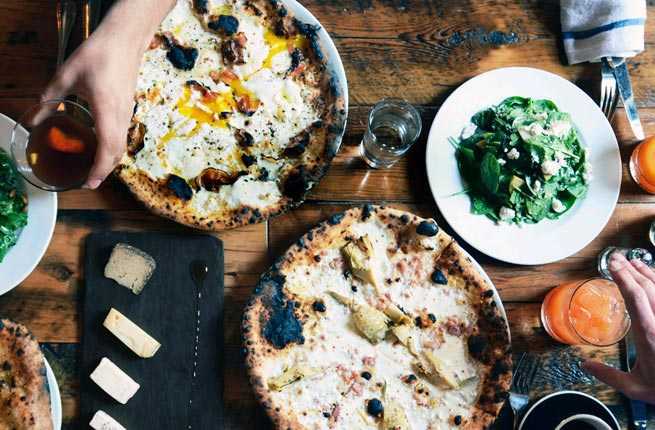 Courtesy of Barboncino
WHERE: Crown Heights
Sometimes a pizza parlor is more than just a spot for a bite to eat; it's a gathering place, a place to warm your bones night after night. Barboncino is that and more. Here, friends meet for specialties like the standout Neapolitan pizza (order the "Arugula") and the famous veal and pork meatballs topped with Parmesan and for the convivial bar scene. Settle in with the after-work crowd and you'll feel like a Crown Heights local, or stop by for late-night drink specials. Tuesday is jazz night.
PLAN YOUR TRIP: Visit Fodor's Brooklyn Travel Guide
Black & Steil
WHERE: Red Hook
For a taste of Maine in Brooklyn, head to the Red Hook Lobster Pound, where legendary lobster rolls are served with just a touch of mayo. There are variations on the classic, including "Connecticut style" (served warm, with butter) or "Tuscan style " (vinaigrette instead of mayo), as well as lobster dinners, lobster bisque, lobster mac and cheese, and a few non-crustacean options.
PLAN YOUR TRIP: Visit Fodor's Brooklyn Travel Guide
Jennifer Arnow
WHERE: Windsor Terrace
The name refers to the small grocery that used to occupy the space, which has been completely transformed into an intimate restaurant serving inventive fare for breakfast, lunch, and dinner. The marble bar in the front room is a convivial spot for drinking or dining; there are tables in the back room and outside on the patio in warm weather. The daily-changing menu might include anything from breakfast gnocchi to a skate po'boy to hanger steak with bone marrow, or lighter snacks like homemade charcuterie or deviled eggs with chicken liver and cocoa nibs.
PLAN YOUR TRIP: Visit Fodor's Brooklyn Travel Guide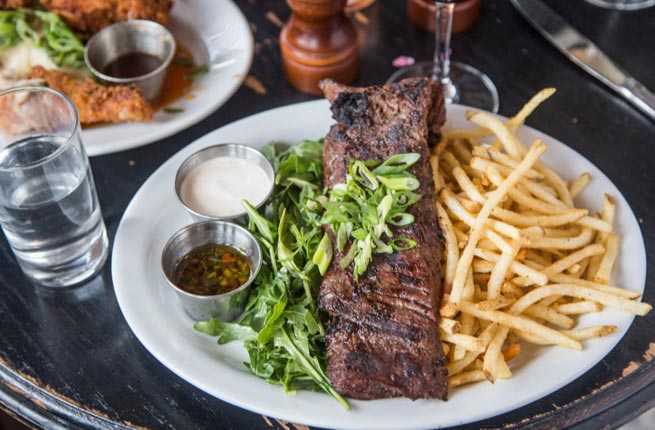 Courtesy of Walter's
WHERE: Fort Greene
A sister restaurant to Williamsburg's Walter Foods, this buzzy bistro has a seasonal menu, a comely crowd, and rosy-hued lighting that gives the space a glamorous vibe. Stop in for a cocktail after a day in Fort Greene Park, or come for a heartier repast courtesy of Walter's raw bar, satisfying main dishes (the fried chicken with garlic mashed potatoes is a consistent winner), and market-fresh veggie sides.
PLAN YOUR TRIP: Visit Fodor's Brooklyn Travel Guide
Michael Wilkin
WHERE: Williamsburg
The team behind nearby Maison Premiere operates this Parisian-style brasserie serving escargots, coq au vin, and other French bistro classics. Diners sit at rustic wooden tables, and the walls are collaged with vintage French newspapers. Come for brunch if you've been searching for the perfect eggs Benedict: The version here is drizzled with hollandaise and accompanied by salad and home fries (there are no reservations at brunch, so come early or expect to wait).
PLAN YOUR TRIP: Visit Fodor's Brooklyn Travel Guide
Noah Fecks
WHERE: Brooklyn Heights
The key to this perpetually popular restaurant's success lies in its use of ultra-fresh ingredients, sourced from local purveyors and presented with style in an upscale-casual space that honors its neighborhood's historical roots. There's always an oyster special, along with a selection of small plates like octopus with chorizo, duck egg with farro, and carrots with sunflower and candied garlic. The main courses, among them roast chicken and a sizable pork chop, tend to be hearty, though whole fish, fresh from the market, is on the menu as well. Dessert options include a sticky date cake, Vermont cheeses, and rich, sweet wines.
PLAN YOUR TRIP: Visit Fodor's Brooklyn Travel Guide
Andrew D'Ambrosi
WHERE: Carroll Gardens
Seafood specialist Bergen Hill has earned a cult following among the neighborhood's discerning diners (many of the city's top food writers call the neighborhood home). Chef Andrew D'Ambrosi, a memorable Top Chef contestant, combines precisely cut raw fish with nontraditional flavors (perhaps tuna with green olive, currant, and jalapeño or poached octopus with onion, raisin, and harissa).
The toasts are a must—crunchy bread topped with lobster salad or perfectly seasoned roasted eggplant. The best seat is at the tiny chef's bar, where he might tell you about a recent trip to Barcelona or slide you a sample of his latest creation. The wine list is mostly old-world and adventurous; cocktails lean alternately classic and interpretive.
PLAN YOUR TRIP: Visit Fodor's Brooklyn Travel Guide
Elliot Black
WHERE: Prospect Heights
Part of the charm of this acclaimed eatery is the location: It's a jewel box tucked into a corner of two otherwise residential brownstone blocks. The small space—with a surprisingly ample bar—is inviting, with live greenery and leather banquettes. The menu makes use of herbs grown in the owners' rooftop garden and includes fresh takes on comforting staples like tender sautéed skate and flavorful roast chicken. Weekend brunch is equally creative—think pork belly artichoke hash and brioche French toast—while Monday burger night is a deal with a happy hour–price Angus classic that may be the neighborhood's best.
PLAN YOUR TRIP: Visit Fodor's Brooklyn Travel Guide
Courtesy of Vinegar Hill House; Photo by Ingalls Photography
WHERE: DUMBO
DUMBO's top dining destination is well worth the sloping walk up from the waterfront. Those who make the trek are rewarded with candlelit tables, seasonal menus, and a twinkling rear patio lined with cherry trees. Word gets out about a scene this good, so the wait for one of the forty tables can be considerable, particularly during weekend brunch. Bide your time at the cozy bar, which pours potent cocktails, local beer, and wine by the glass.
PLAN YOUR TRIP: Visit Fodor's Brooklyn Travel Guide
Mary Robnett
WHERE: Carroll Gardens
When Frank Castronovo and Frank Falcinelli opened this pioneering Italian-American restaurant in a former social club, Carroll Gardens was a culinary backwater. Much has evolved in the decade-plus since, but what hasn't changed is the small but well-conceived menu of shareable salads (many with vegetables roasted or marinated with the Frankies' own Sicilian olive oil), handmade pastas like the cavatelli with hot sausage and browned sage butter, and crusty sandwiches that ask to be split and shared. When the weather's nice, try to score a seat in the gravel-lined backyard.
PLAN YOUR TRIP: Visit Fodor's Brooklyn Travel Guide
Nicole Franzen
WHERE: Greenpoint
Tattooed servers wait tables at this prime spot on the corner opposite McCarren Park where chefs take fanciful (and successful) liberties with traditional bistro fare. Popular dishes include the Five Leaves burger with pickled beets and harissa mayo, truffle fries, and ricotta pancakes served at weekend brunch, which can be a mob scene but worth braving if you can't get here early. The stylish place was inspired by actor Heath Ledger, a Greenpoint fixture who had plans to start a restaurant with the owners before his untimely death; funding from his estate went toward opening it. The sidewalk tables are excellent for people watching.
PLAN YOUR TRIP: Visit Fodor's Brooklyn Travel Guide
Courtesy of Meadowsweet; Photo by Evan Sung
WHERE: Williamsburg
Amid Williamsburg's culinary landscape of casual, comfort food-centric bistros with rock-and-roll soundtracks, this restaurant and bar feels thoroughly grown-up. Chef-owner Polo Dobkin serves New American cuisine in an airy space with blond-wood accents. The striking mosaic floor was preserved from the original 1890 building, at one point a kosher cafeteria.
The sophisticated dishes might include crispy baby artichokes peeking out of a beautifully arranged mound of arugula and topped with shaved Parmesan; the plancha marina entrée contains impeccably cooked shrimp, scallops, squid, and monkfish served with aioli. Save room for dessert—the pastry chef likes to cut loose, drizzling ice cream with olive oil or sprinkling marcona almonds on a lemon ice cream tart.
PLAN YOUR TRIP: Visit Fodor's Brooklyn Travel Guide
Courtesy of Rucola; Photo by Daniel Krieger
WHERE: Boerum Hill
Magnificently prepared seasonal vegetables, in sides, salads, appetizers, and pastas are the focal point of the menu at this dark-wood Italian restaurant, but don't overlook entrées that range from roast chicken to perfectly prepared branzino or a leg of lamb. Dining at the communal table in the center of the restaurant is fun; opt for bar seating or the few two-tops for a more intimate meal. The cocktail menu has intriguing concoctions, and dessert usually includes at least one pie selection from Four & Twenty Blackbirds.
PLAN YOUR TRIP: Visit Fodor's Brooklyn Travel Guide
Paul Thorburn
WHERE: Park Slope
Roughly translated as "the great beyond," al di la has been consistently packed since it opened in 1998, and it's easy to understand why: perfectly prepared dishes from Northern Italy served at affordable prices in a relaxed atmosphere. The warm farro salad with seasonal ingredients and goat cheese is perfectly al dente; the hand-pinched ravioli are deliciously homemade; and meatier entrées like braised rabbit, pork loin scaloppine, and charcoal-grilled young Bo Bo chicken are highlights. The wine bar is a good spot to wait for a table.
PLAN YOUR TRIP: Visit Fodor's Brooklyn Travel Guide
Remy Amezcua
WHERE: Greenpoint
Its past as a glass factory inspired Glasserie's warm, romantic atmosphere, and details like rare light fixtures and prints of original electric bulbs abound. Owner Sara Conklin spent her childhood in the Middle East, and her experiences there influence the farm-to-table cuisine. (The chef, Sara Kramer, worked at several of Andrew Tarlow's Brooklyn restaurants.) Pair the Persian Gold cocktail (a gin and tonic with saffron) with the phyllo pastries and Syrian cheese coated in za'atar herbs, then order a few more small plates to share.
PLAN YOUR TRIP: Visit Fodor's Brooklyn Travel Guide
Courtesy of Fletcher's Brooklyn Barbecue
Fletcher's Brooklyn Barbecue
WHERE: Gowanus
This urban BBQ joint is worth a visit for a lesson in Brooklyn-style barbecue (call it a hybrid of Texas, Carolina, and Asian styles). Try the slow-smoked St. Louis ribs, pulled pork, or Texas-style beef hot links—everything is made in small batches, which means that meats run out on a daily basis, so have a backup in mind. The sides are excellent, too, including classics like coleslaw, collards, and baked beans.
PLAN YOUR TRIP: Visit Fodor's Brooklyn Travel Guide
Linda McKee
WHERE: Ditmas Park
Pizza is the thing at Wheated, and the menu lists nearly twenty Neapolitan-style pies—all named after neighborhoods in Brooklyn. There are several white (no sauce) and vegan options, but meat eaters should try one with Faicco's sweet fennel sausage, which can be added to any order. Add a kick to your pie with locally produced Mike's Hot Honey (available for sale) and the owner's blend of ground roasted Thai chili pepper. Start with a seasonal salad (large enough to share). The cocktail menu has creative options that stand up to pizza, but there is beer and wine as well.
PLAN YOUR TRIP: Visit Fodor's Brooklyn Travel Guide
Courtesy of Bunna Café
WHERE: East Williamsburg
The best way to sample the diverse flavors, many quite spicy, of Ethiopian cuisine at this stellar restaurant are the combination platters—for one or to share—though you can also order individual dishes. If the delicious, seasonal duba wot (spiced pumpkin) is available, definitely include it in your platter. Everything is served with injera, a sourdough flatbread used to scoop up the various stews. The drink menu includes traditional t'ej (honey wine), cocktails, and wine and beer from Ethiopia and elsewhere. The namesake bunna—Ethiopian coffee brewed with cardamom and cloves—is worth a try, too. There's a special menu for brunch.
PLAN YOUR TRIP: Visit Fodor's Brooklyn Travel Guide
Mary Robnett
Tatiana Restaurant and Night Club
WHERE: Brighton Beach
There are two prime times at Tatiana's: day and night. Sitting at a boardwalk-side table on a summer afternoon, enjoying the breezes and the views of the Atlantic while eating lunch alfresco, is a quintessential Brighton Beach experience. After dark, a flashier crowd arrives, especially on weekends when Tatiana's hosts an extravagant floorshow, with plenty of dancing, costumes, and acrobatics.
The menu has a bit of everything: The Ukrainian specialties, like the sweet and savory vareniki, a pierogi-like dumpling that's considered Ukraine's national dish, are especially good, as are the herring, the homemade lox, and the caviar platters. Vodka can be ordered like wine—by the bottle. No sneakers are allowed in the evenings.
PLAN YOUR TRIP: Visit Fodor's Brooklyn Travel Guide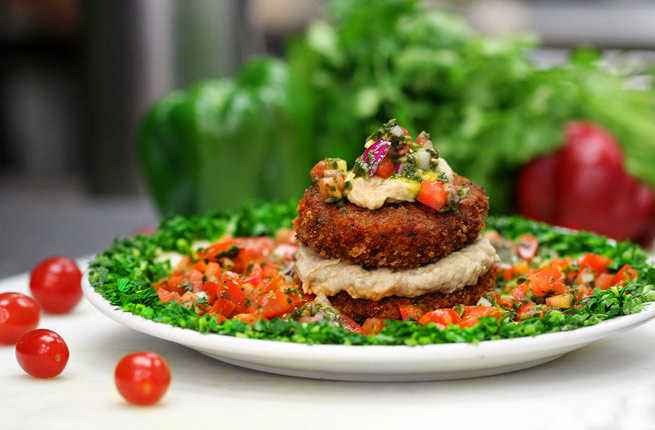 Courtesy of Tanoreen
WHERE: Bay Ridge
This is the restaurant that put Bay Ridge on the foodie map when it first opened in 1998, and chef-owner Rawia Bishara's refined Palestinian dishes—a tribute to her rich Middle Eastern heritage—continue to draw crowds and accolades. Vaulted ceilings and a glass-enclosed atrium are a refined backdrop for the inventive interpretations of homestyle meals.
Don't miss dishes like the cauliflower with tangy pomegranate molasses, the delectable eggplant napoleon, and anything made with lamb (but especially the freekeh bel lahmeh, a type of ancient grain prepared with perfectly seasoned lamb). The signature dessert, knafeh—baked sweet cheese in phyllo dough, topped with rosewater and pistachios—requires a worthwhile ten-minute wait while it bakes.
PLAN YOUR TRIP: Visit Fodor's Brooklyn Travel Guide
Miguel Herrera
WHERE: Cobble Hill
The accent at this diminutive restaurant with exposed-brick walls and ample bar space is on Spanish tapas with Moorish and Jewish influences. Choose among many tasty small plates, including eggplant with cheese, fried artichokes, and a daily selection of savory croquettes. The suckling pig is excellent, especially when accompanied with a glass of sangria in the pretty garden area.
PLAN YOUR TRIP: Visit Fodor's Brooklyn Travel Guide
Daniel Krieger
WHERE: Red Hook
The smell of barbecue will have your mouth watering even before you get in the door of this cavernous hall. Head for the counter to order meats by the pound, chicken, sandwiches, tacos, and sides. The beef rib, served on the bone, is a giant, Flintstones-style delight. There's live music Friday and Saturday nights.
PLAN YOUR TRIP: Visit Fodor's Brooklyn Travel Guide
Deidre Schoo
WHERE: East Williamsburg
A neighborhood groundbreaker since it opened in 2008, this restaurant in a former garage is a must-visit, especially for pizza connoisseurs. The menu emphasizes hyper-local ingredients—there's a rooftop garden—and the wood-fired pizzas have innovative combinations of toppings like fennel, pork sausage, and pistachio. There are also pastas and meaty mains, along with a vegetarian-friendly option or two. In summer service extends to a hip patio tiki bar.
Roberta's is wildly popular, so either come early or try for a table at lunch or brunch, which isn't as hectic. Blanca, the two-Michelin-starred tasting-menu-only ($195, Wednesday–Saturday) restaurant on Roberta's property serves innovative New American food. It's by reservation only.
PLAN YOUR TRIP: Visit Fodor's Brooklyn Travel Guide
Jennifer Arnow
WHERE: Park Slope
The rustic Italian farmhouse decor, Mediterranean wines, and romantic, candlelit atmosphere at this renowned neighborhood restaurant will transport you to another land even before you try the food. The menu is inspired by Italy, with hints of Spain and Portugal, and organic ingredients and naturally raised, free-range meats are used in dishes like braised rabbit with olives, capers, and prosciutto or pine nut–crusted rack of lamb. Pastas and baked desserts are made in-house.
PLAN YOUR TRIP: Visit Fodor's Brooklyn Travel Guide
Liz Maney
WHERE: Carroll Gardens
Though it's named after an old Brooklyn telephone code, Nightingale 9 takes its culinary inspiration from "long distance": Vietnam. This smartly designed Smith Street favorite is a must for lemongrass-grilled pork chops or the steamed rice crêpes called banh cuon, stuffed with minced pork, chicken pâté, and cucumber. Chef Rob Newton visits Vietnam often and brings back authentic recipes that he sometimes reimagines with his Arkansas childhood in mind, such as smoked pork sausage served with rice cakes and shrimp paste. Catfish is fried with turmeric and spices and served with a unique combination of dill and peanuts.
PLAN YOUR TRIP: Visit Fodor's Brooklyn Travel Guide
Jennifer Arnow
WHERE: Prospect Heights
Whether it's because of the miniscule size of the restaurant or the habit-forming flavors of the noodle bowls, there's always a crowd outside this ramen storefront. Since opening in 2011 as an offshoot of Manhattan's Morimoto, Chuko has become a Prospect Heights institution with a small, reliably tasty menu—the signature ramen comes in a simple selection of broths and toppings.
The Brooklyn flagship has since spawned Bar Chuko, a block away, which has a wider selection of izakaya small plates—Japanese bar food like yakitori skewers and clams with XO sauce. Wander over there if the mother ship is mobbed or to enjoy a shochu cocktail while you wait.
PLAN YOUR TRIP: Visit Fodor's Brooklyn Travel Guide
Jennifer Arnow
WHERE: Williamsburg
Entering this restaurant on a rather barren block feels like walking into a modern farmhouse. Whitewashed walls, wood in geometric patterns, and a terra-cotta floor set the tone for Brooklyn-meets-Mediterranean fare, which means Tuscan-kale Caesar salads and wood-fired breakfast pizza with pancetta, fontina, salsa verde, and an egg. The food is sourced as locally as possible, and the wine list features many organic bottles from France and Italy. Ask for a seat near the open kitchen if you want to see what the chefs are up to, or sit on the other side and watch the bartenders shake cocktails using herbs from the rooftop garden.
PLAN YOUR TRIP: Visit Fodor's Brooklyn Travel Guide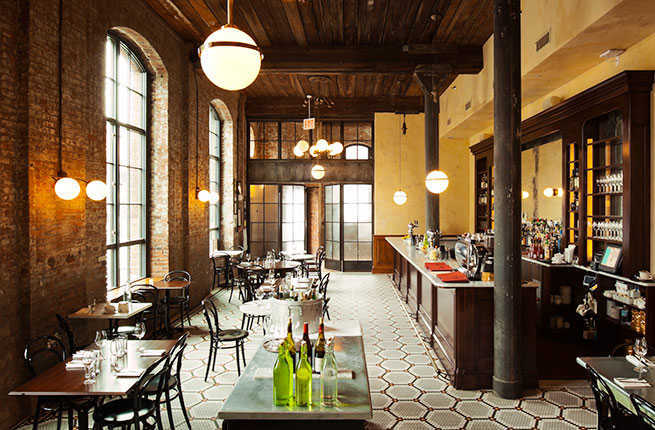 Matthew Williams
WHERE: Williamsburg
The largest of Andrew Tarlow's Williamsburg restaurants (which include Diner and Marlow & Sons), Reynard has all the hallmarks of a Tarlow venture. Farm-to-table fare highlights the season's freshest ingredients, and everything is made in-house, even the granola. The grass-fed burger is always available, but the rest of the menu changes often enough that you'll want to come back to try it all.
PLAN YOUR TRIP: Visit Fodor's Brooklyn Travel Guide
Jennifer Arnow
WHERE: Greenwood Heights
The changing menu at this homey, candlelit restaurant is short but always stellar. The chef has an expert hand, whether exploring unexpected flavor combinations like candied bacon alongside shaved fennel and watermelon or putting together his rave-worthy cheeseburger with duck-fat fries. The Sunday Supper (for just $32) is a favorite: It's a set, multicourse menu featuring anything from fried chicken and hush puppies to sausage-and shrimp-studded gumbo.
PLAN YOUR TRIP: Visit Fodor's Brooklyn Travel Guide
Sidney Bensimon
WHERE: Greenpoint
Warm and intimate Selamat Pagi brings a little Bali to Brooklyn. The exotic flavors of kaffir lime leaf, coconut oil, lemongrass, and chili transform local organic produce and proteins into nasi goreng (vegetable fried rice), coconut meatballs, chili-glazed chicken wings, and other palate-tingling delights. The daily campur (small-plates selection) is good if you want to sample everything. Candle light, white walls, and plants in ceramic pots set a romantic tone that makes this a great date spot—as long as the object of your affection likes spicy food.
PLAN YOUR TRIP: Visit Fodor's Brooklyn Travel Guide
Mel Barlow
WHERE: Williamsburg
The word "diner" might evoke a greasy spoon, but this trendsetting restaurant under the Williamsburg Bridge is nothing of the sort. Andrew Tarlow—the godfather of Brooklyn's farm-to-table culinary renaissance—opened it in 1999 and launched an entire movement. The restaurant occupies a 1927 dining car, and foodies cram into the tiny booths to sample the daily changing menu. Your waiter will scrawl the offerings on your paper tablecloth: Expect two or three meat options, a fish or two, and veggies (asparagus in spring, delicata squash in fall) from farms in the Greater New York area.
PLAN YOUR TRIP: Visit Fodor's Brooklyn Travel Guide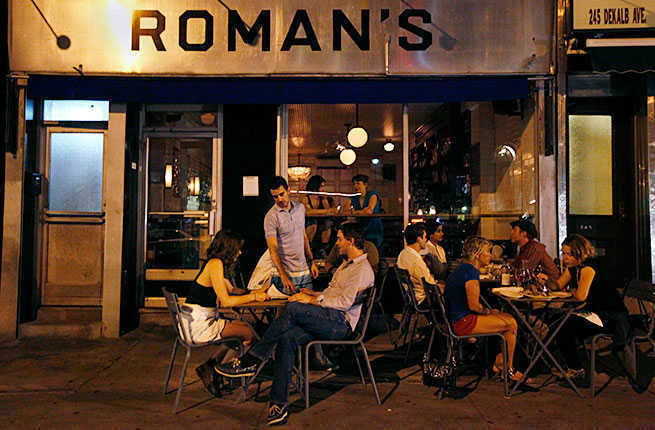 Polina V. Yamshchikov
WHERE: Fort Greene
Part of an all-star Brooklyn restaurant group that includes Williamsburg favorites Diner and Marlow & Sons, this seasonally focused eatery has an Italian accent. Menus change daily and include farm-fresh fare like wintry fennel salads or pork meatballs in brodo, or delicacies like artichoke-studded house-made spaghetti in summer. When weather permits, request one of the candlelit alfresco tables: There's no better perch from which to soak up the Fort Greene scene.
PLAN YOUR TRIP: Visit Fodor's Brooklyn Travel Guide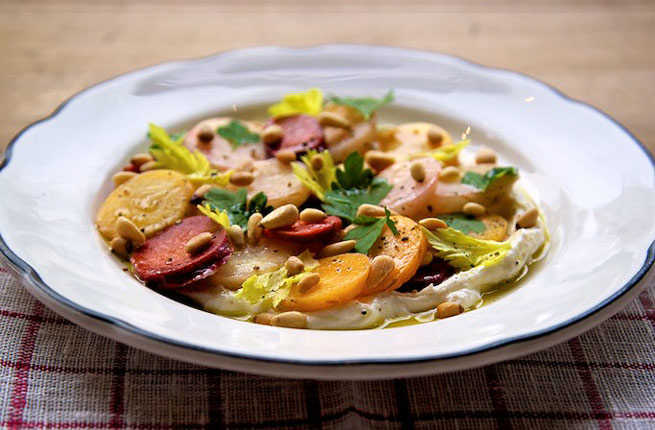 Tom Kearney
WHERE: Ditmas Park
This rustic-chic farm-to-table American restaurant put Ditmas Park on the culinary map when it opened in 2006, and it continues to draw local regulars as well as an in-the-know crowd from Manhattan and beyond. The vegetarian-friendly, locally sourced menu changes seasonally, although the burger and award-winning fries with curry mayo are staples. Everything, including the bread, bacon, and pickles, is made in-house.
Weekend brunch is especially popular—try the "adult grilled cheese" or the smoked pollock cakes, and don't miss the chocolate bread with sea salt or the spicy Bloody Mary. In warm weather tables are set out in the backyard. Check the website for wine dinners and other events.
PLAN YOUR TRIP: Visit Fodor's Brooklyn Travel Guide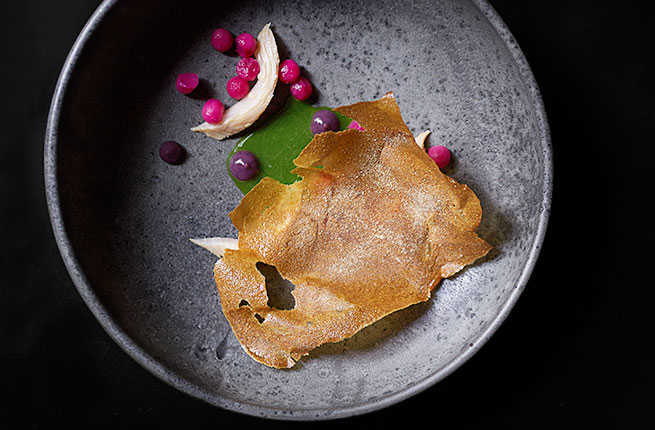 Signe Birck
WHERE: Greenpoint
Greenpoint's only Michelin-starred restaurant is also the world's only Michelin-starred restaurant without a wine list. Instead, Luksus—hidden behind Tørst craft beer bar—offers beer pairings with its five-course tasting menu (no à la carte). Founder and chef Daniel Burns, an alum of Copenhagen's highly regarded Noma restaurant and star chef David Chang's momofuku empire, serves Nordic-inspired dishes using seasonal, local ingredients. Watch as the chefs prepare cod head on knakbrød and squab with salted plum, served from an open kitchen. The restaurant only seats twenty.
PLAN YOUR TRIP: Visit Fodor's Brooklyn Travel Guide
Mary Robnett
WHERE: Cobble Hill
The mood is convivial at this low-ceiling trattoria where diners sit at the mellow bar, intimate tables for two, or a communal table. Spaghetti and meatballs, lasagna, and tagliatelle with Brussels sprouts rank among the perennial favorites. Things take a fanciful turn at brunch, at which rabbit meatballs and carrot polenta might liven up the grits, and lemon curd, ricotta, and pistachio spice up the French toast. If nostalgia for the King of Rock overcomes you, order the Elvis pancake—the giddy medley of bacon, peanut butter, banana, whiskey butter, and maple syrup will get you all shook up in no time.
PLAN YOUR TRIP: Visit Fodor's Brooklyn Travel Guide
Courtesy of The HotHouse
WHERE: Bedford-Stuyvesant
Fried chicken is nearly ubiquitous in Bed-Stuy, but no one does it better than The HotHouse, sister restaurant to Peaches, just a few blocks east. One look at your crispy, juicy "hot chicken"—a specialty in Nashville, made with a spice rub either before or after it's breaded—and it's clear you're in for a delicious meal. Here it's served "regular, hot, or extra hot," and paired with traditional Southern sides such as collard greens and creamy grits. Come late to lunch or early for dinner, and you'll avoid the wait.
PLAN YOUR TRIP: Visit Fodor's Brooklyn Travel Guide
Mel Barlow
WHERE: Williamsburg
With its green-and-white-striped awning, you might easily mistake this buzzy bistro for an old-timey grocery store, but this is a wood-paneled dining room packed nightly with foodies for remarkable locavore cuisine. Part of the Andrew Tarlow empire, Marlow & Sons serves food that sounds simple until you take that first bite.
A starter the menu lists as burrata with radishes, for example, emerges from the kitchen as a complex dish of melt-in-your-mouth cheese with thin slices of the root vegetable and a crunchy topping of golden raisin bread toasted with olive oil. The entrées are equally inspired, thanks to the creative use to which the chefs put fresh, seasonal ingredients. The must-do dessert, the salted chocolate caramel tart, represents decadence at its flawless best.
PLAN YOUR TRIP: Visit Fodor's Brooklyn Travel Guide
Courtesy of Pok Pok Ny
WHERE: Columbia Waterfront District
The name of the New York outpost of Andy Ricker's famed Portland, Oregon, restaurant is slang for a mortar and pestle (from the sound they make). The options go well beyond the dishes typically found on Thai restaurant menus: Knockouts include charcoal-roasted whole chicken, pork belly and pork curry, and smoky eggplant salad, but it's hard to go wrong (and the servers give excellent guidance).
PLAN YOUR TRIP: Visit Fodor's Brooklyn Travel Guide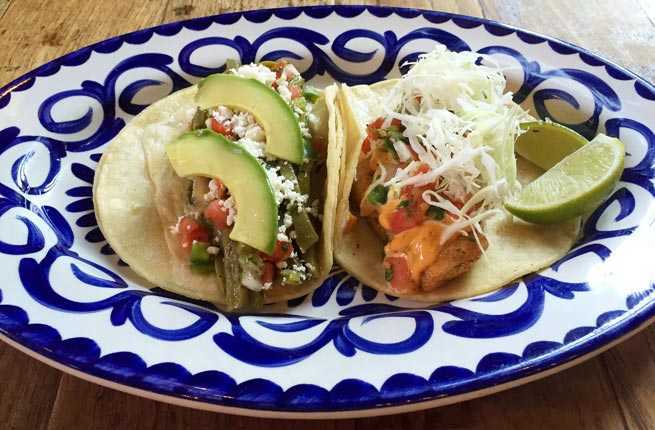 Courtesy of Chavela's
WHERE: Crown Heights
Open Chavela's wrought-iron doors and you'll find a boisterous Mexican restaurant with a colorfully tiled bar, where diners order margaritas and micheladas by the pitcher. Pair your drink with the Plato Don (a substantial dish of steak, chicken, or veggies, plus rice, beans, guac, tortillas, pico de gallo, and queso fresco) or the especiales del día. Weekend brunch draws a crowd, so come during the week if you can, when the lunch specials are half-price and include egg dishes.
PLAN YOUR TRIP: Visit Fodor's Brooklyn Travel Guide
Mary Robnett
WHERE: Greenpoint
The people behind this atmospheric restaurant (including actor Bill Murray's son Homer) are intensely creative, and it shows. Witty details abound, in both the decor (reclaimed wood and a disco ball) and the menu, which includes memorable dishes like "anchovies that have been sitting by a fire" and bucatini with kale pesto and bacon.
PLAN YOUR TRIP: Visit Fodor's Brooklyn Travel Guide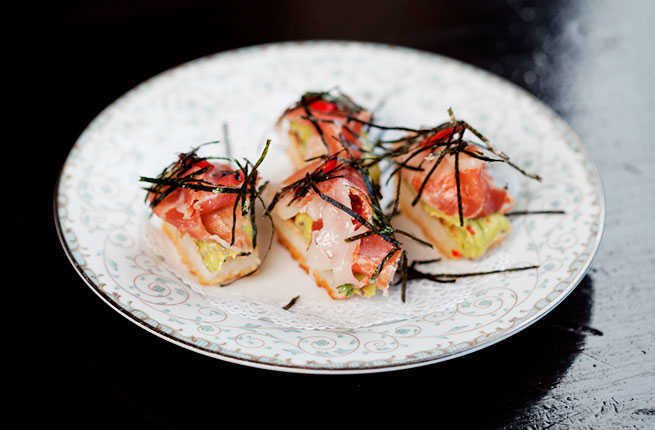 Anne Leighton Massoni
WHERE: Park Slope
Top Chef alumnus Dale Talde has created a showstopping menu of Asian-American comfort foods at this casual neighborhood restaurant. Taste the bold flavors of staples like the crispy pretzel pork and chive dumplings, tangy Kung Pao chicken wings with cilantro and peanuts, Filipino pork shoulder with pickled papaya, and Korean fried chicken with a kimchi yogurt sauce cooled by sliced grapes. If the Filipino halo-halo dessert is on the menu, you're in for a sugar rush: It's shaved ice with sweetened condensed milk, coconut, tapioca, seasonal fruit, and Cap'n Crunch. Distract yourself with a cocktail at the bar if there's a wait for a table.
PLAN YOUR TRIP: Visit Fodor's Brooklyn Travel Guide
Jennifer Arnow
WHERE: Williamsburg
This modest spot grills high-quality meat and fish, all sustainably and ethically sourced, at very reasonable prices. The sides, ordered à la carte, deserve special attention: The spinach gratin is dependably hearty, and the seasonal special of delicata squash with manchego (cheese from sheep's milk) is divine. Come early or risk a long wait, though you can get a drink from the owners' bar, Spuyten Duyvil, next door. St. Anselm is also open for brunch on weekends.
PLAN YOUR TRIP: Visit Fodor's Brooklyn Travel Guide
Courtesy of Aurora
WHERE: Williamsburg
Handmade pastas, exceptional antipasti, and wonderful brunch have earned homey Aurora a loyal following. Most ingredients are locally sourced, though the mozzarella and burrata hail from Italy. Ricotta, black truffles, and prosciutto di Parma elevate the eggs Benedict at brunch, and the French toast comes stuffed with apple compote and topped with Amarena cherries. The trattoria's main dining room is inviting enough, but angle for a seat in the enclosed garden (heated in winter), where lush ivy covers the brick walls.
PLAN YOUR TRIP: Visit Fodor's Brooklyn Travel Guide
Fodors Travel
East Harbor Seafood Palace
WHERE: Sunset Park
For a traditional dim sum brunch experience, visit this Sunset Park Chinatown institution. Not much English is spoken, so be ready to take a guess and point at whichever plates look good as servers wheel them on carts through the cavernous restaurant. Local families with young children pack this place; the atmosphere is chaotic but great fun. Arrive early on weekend mornings, or expect a long wait.
PLAN YOUR TRIP: Visit Fodor's Brooklyn Travel Guide
Courtesy of Paulie Gee's
WHERE: Greenpoint
When it comes to pizza there's stiff competition, but Paulie Gee's serves outstanding gourmet pies with all kinds of creative toppings—the idea to put Mike's Hot Honey on pizza is just one of many strokes of genius. The extensive list of offerings includes the "Anise and Anephew" (Paulie Gee's personal favorite) made with braised fennel, Berkshire guanciale, and fresh mozzarella, plus a full page of vegan pies. The handmade wood-fired oven is from Naples's famed oven-maker Stefano Ferrara. The average wait time for a table on Friday or Saturday night is an hour.
PLAN YOUR TRIP: Visit Fodor's Brooklyn Travel Guide
Jennifer Arnow
WHERE: Prospect Heights
A Prospect Heights institution since before the neighborhood gentrified, this Caribbean restaurant has a tiny ground-floor kitchen and a steep staircase leading up to an equally small dining room that feels like a crow's nest. The Islands does the area's West Indian heritage proud with signature jerk dishes that are at least two-alarm spicy. Generous portions (a "small" plate is plenty) of chicken, shrimp, goat, and oxtail come with rice and salad—an authentic and delicious low-frills meal.
PLAN YOUR TRIP: Visit Fodor's Brooklyn Travel Guide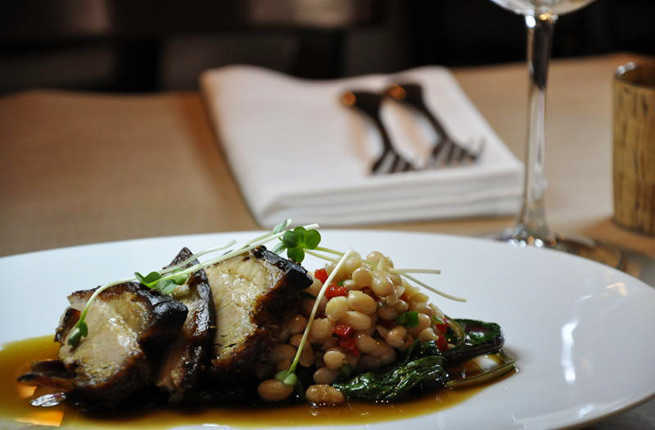 Courtesy of Le Petit Oven
WHERE: Bay Ridge
Much about this intimate candlelit French bistro, tucked off the beaten restaurant-path of 3rd Avenue, is a surprise, including the fact that its chef-owner, Katarzyna Ploszaj, was born and raised on a farm in Poland, not France. Perhaps the best revelation, though, is the constantly changing menu, which features a small selection of seasonally inspired entrées. Depending on the season, there might be dishes like succulent, crispy duck confit with creamy cabbage and roasted potatoes or homemade bread pudding with walnuts and salted caramel sauce for dessert.
PLAN YOUR TRIP: Visit Fodor's Brooklyn Travel Guide
Loris Pignoletti
WHERE: Clinton Hill
Don't let the unassuming air at this intimate restaurant on a leafy, largely residential block fool you: There is some serious cooking going on here. Case in point: Just try the crispy butternut squash dressed in a surprisingly delicate coffee mayonnaise or house-made cavatelli topped with shaved Parmesan and black truffles. On the weekends, brunch means oxtail burgers and frittatas and neighborhood regulars mingling with shoppers from the nearby Brooklyn Flea.
PLAN YOUR TRIP: Visit Fodor's Brooklyn Travel Guide
Alice Gao Photography
WHERE: Williamsburg
Williamsburg's melting-pot aspirations past and present express themselves with intelligence and flair at this Japanese-Jewish fusion restaurant. Chefs Sawako Okochi and Aaron Israel, both veterans of top New York City restaurants, wanted to explore their respective roots, but in merging these two divergent cuisines, they advanced something utterly unique.
The menu revolves around plates meant for sharing, among them sake kasu challah, traditional Jewish bread infused with sake lees and served with a sweet, slightly tangy raisin butter; matzo-ball ramen with foie gras dumplings; and the popular lox bowl, a sort of deconstructed salmon avocado roll. The permutations here are so numerous and satisfyingly intricate that it takes multiple visits to fully grasp what's transpiring.
PLAN YOUR TRIP: Visit Fodor's Brooklyn Travel Guide
Jennifer Arnow
WHERE: Williamsburg
Modeled on Tokyo's intimate brasseries, this hidden Japanese restaurant serves no sushi: They specialize in exquisitely composed small plates, best enjoyed as part of the eight-course omakase (chef's tasting menu), though you can also order à la carte. Instead of a dining room, guests are seated in private booths separated by bamboo curtains, so other diners are audible but not visible. The gracious waiters can recommend sake to pair with your meal. This might be the closest to Tokyo you can get in Brooklyn.
PLAN YOUR TRIP: Visit Fodor's Brooklyn Travel Guide