Robin Caiola
Summer is a season of leisure when things slow down a bit, but not in New York City, where the restaurant scene is heating up with a slate of culinary newcomers. Among this season's highlights, look for upscale bar bites and long-awaited reopening from veteran chefs churning out freshly made pastas, Peking duck, and heaping bowls of ramen. For your next meal in New York, head to any of these 10 hot spots. And for more info on summer in the city, check out our Summer 2014 Guide to NYC.
by Kate Donnelly
Kate Donnelly is a freelance writer based in New York. She's the founder of the creative collaborative From Your Desks. She's a Contributing Editor at Fathom and her work has appeared in Bon Appetit, Forbes, The Huffington Post and Refinery 29. She travels for the food. Follow Kate on Twitter @k8bdonnelly.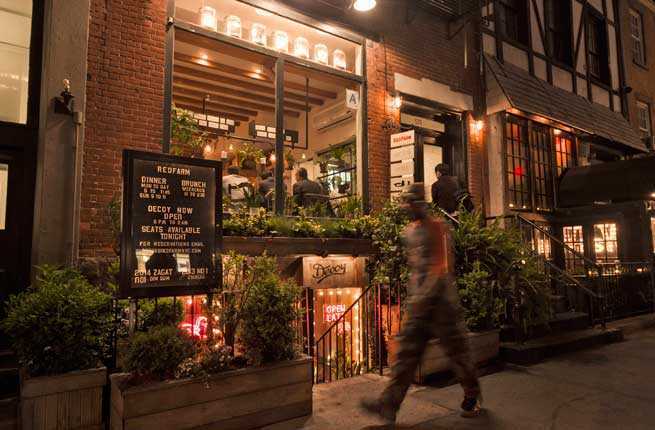 © Evan Sung
Decoy
Just below the hip, bustling farm-to-table flagship RedFarm is chef and dim sum master Joe Ng's laundromat-turned-Peking-duck-temple, Decoy. The cozy, 22-seat space is outfitted with communal tables and dark wood finishes. Reservations fill up early with only two prix-fix seatings a night (and a max of 24 ducks). Just nibbling? The bar offers inspired cocktails like the Sitting Down for Dinner (duck-fat-washed George Dickel, lemon, egg white, and red wine) and upscale bites such as soup dumplings and roast duck wraps. The late-night set can snack on dumplings and jalapeno poppers served until 2 am.
Daniel Krieger
Ivan Ramen
Be prepared to wait at chef Ivan Orkin's inexpensive, innovative Lower East Side outpost of Ivan Ramen. Practice your slurping technique at the ramen bar counter with help from the cool, comic-y mural "The Art of The Slurp." The menu is divided into general categories of cold, crisp, warm, and, of course, ramen. Sample the "1,000 Year Old Deviled Egg" (hen and duck), Japanese fried chicken, fried whole prawns, and one of the five steamy ramen bowls, including the Triple Pork Triple Garlic Mazemen with tonkotsu broth, pork chashu, and whole wheat noodles. Pile up and slurp away.
Courtesy of Myriad Restaurant Group
Bâtard
Restaurateur Drew Nieporent's (Nobu, Tribeca Grill) long-awaited upscale Bâtard (short for the Burgundy wine Bâtard-Montrachet) is a handsome 65-seat space of wood and golden copper touches in Tribeca. Diners have a choice of two, three, or four courses (no a la carte menu). In the kitchen, chef Markus Glocker melds a European fused menu with hints of his native Austria. Consider dishes like ocean trout with cured cucumber and sour cream; black-olive tortellini; and an earthy rabbit bouillabaisse. Still hungry? Try the caramelized milk bread with fennel yogurt, blueberries, and brown-butter ice cream for dessert.
Alice Gao Photography
Barchetta
Chef Dave Pasternack (Esca) is at the helm of Barchetta, which is Italian for "little boat." The Mediterranean seafood centered menu offers charred octopus, Atlantic surf clams, and fresh assorted crudos like golden spotted bass and diver scallops. Main courses include selections like local grilled porgy (served whole) with rosemary and capers, along with poultry and meat dishes. The handsome 91-seat dining room offers up a clean aesthetic with white oak tabletops, 1950s Danish-style school chairs, and leather banquettes. The local art peppered around the room is from neighboring Chelsea galleries.
Noah Fecks
Bar Primi
Perched on an East Village corner, Bar Primi, chef Andrew Carmellini's casual neighborhood spot, is the place to find excellent homemade pasta. The bi-level space is dressed with brown leather banquettes and communal oak tables perfect for standouts like rustic spaghetti pomodoro and linguini with four cloves of garlic and breadcrumbs. As for the evolving seafood specials, if the light, flakey branzino is on the menu, don't hesitate—they sell out quickly. The patio will undoubtedly be a warm-weather hot spot.
Battman
The Pavilion
Inside the long-awaited neo-classical Union Square, The Pavilion is a blend of greenery coupled with a walnut bar, French bistro ambiance, and local ingredients plucked from the neighboring greenmarket. Wet your whistle with a Park Side, made with dark rum, local pollen, lime, mint, and guava foam. Chef Mario Urgiles' simple, straightforward menu of staples includes organic kale Caesar salad; beef carpaccio with baby arugula; and pappardelle al pesto. For desert, the textured, colorful chocolate beet cake is a nice way to cap off the meal. The sprawling 90-seat patio holds high appeal for the leisurely crowd.
Daniel Krieger
Black Seed Bagels
The 11-seat Nolita outpost of Black Seed Bagels churns out hand-rolled, wood fired bagels—a marriage of New York and Montreal styles. The results are a salty, sweet palate pleasing experience. Purists can dress their bagels with hearty, textured spreads from tofu cream cheese to smoked bluefish. The sandwich set should opt for a traditional salmon, cream cheese, red onion, tomato, and capers concoction, or the unique tobiko spread with salmon and butter lettuce.
Robin Caiola
Tavern on The Green
The highly-anticipated renovation of the 1934 Central Park landmark Tavern on the Green is finally complete. The grand unveiling by owners Jim Caiola and David Salama revealed a lofty, reworked 700-seat space quite different from its predecessor. Chef Katy Sparks' expansive modern menu centers on a hefty mix of grills, hearth ovens and planchas. Expect farm-raised, sustainable, and artisanal ingredients, and menu items like grilled local-squid, Atlantic hake with Montauk clams, and a New York strip. The outside patio will undoubtedly be the place for al fresco dining.
Courtesy of Bacchanal
Bacchanal
Inside the Bowery's renovated Sohotel is Chef Scott Bryan's Bacchanal, touted as American "casual fine dining" and covering the culinary regions of Italy, France, and Spain. The contemporary menu centers on various riffs on crudo, fresh pastas, grilled seafood a la Spanish octopus with eggplant caviar, and roasted meat dishes. As its name suggests, Bacchas, the Roman God of Wine, plays a key role in the wine program (around 450 bottles) coupled with boozy libations courtesy of Saxon + Parole's Naren Young. For a refreshing sip of summer, try the Rosé Cobbler.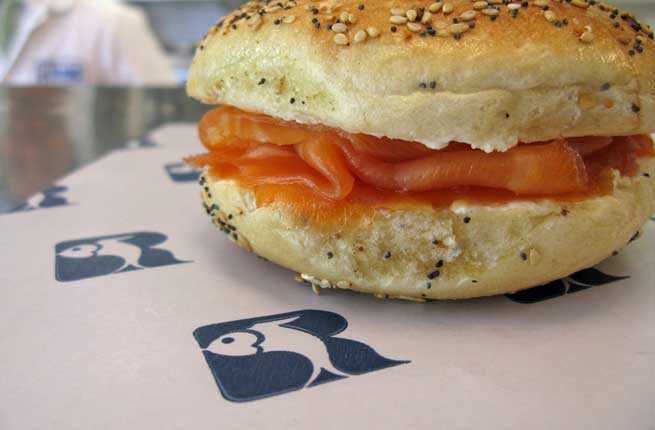 Courtesy of Russ & Daughters
Russ and Daughters Café
Only a few blocks from its iconic 1914 storefront, Russ and Daughters has opened its first full-service 65-seat café, doling out various high-quality delights like smoked whitefish chowder, pastrami cured salmon, and pickled herring. Of course, noshing on classic options like latkes and matzo ball soup never disappoints. The retro tiled, black-and-white room is an homage to old family photos and vintage ads. Sip on dill-infused vodka as you wait for your caviar to arrive.