Daniel Krieger
There's plenty of buzz in the ever-evolving New York restaurant world. This fall is no exception, with the splashy reopenings of the famed Rainbow Room and the venerable Palm Court at the Plaza Hotel. The latest crop of Big Apple eateries, spread around Manhattan, takes on dishes like fried chicken, wood-fired pizzas, frogs' legs, and eggs. The locales vary from the bustling, hip Lower East Side, to boutique hotels, to dressier Uptown spots and include well-known chefs and restaurant groups and smaller mom-and-pop operations. Read on for this season's 10 most exciting newcomers.
By Kate Donnelly
Atsushi Tomioka
The once-revered Upper East Side institution Park Avenue Café has reopened and will change its Flatiron menu and décor with the four seasons. Start off with a Park Avenue Autumn Manhattan—a blend of rye, Jamaican rum, sweet vermouth and a house-made amaro with autumn spices. The space, by AvroKO, employs a nautical theme with warm wooden tables and red leather banquettes. Restaurateur Michael Stillman (Quality Meats) brought in chefs Zene Flinn (of the original) and Benkei O'Sullivan (ABC Kitchen) to create a casual "market driven grill" of pork chops, halibut, and seared diver scallops and a few old classics like broccoli sprinkled with Cheetos.
Nick Solares
Referred to by The New York Times as "The Restaurateur Who Invented Downtown," Keith McNally brings his expertise to Cherche Midi, one of the hottest new restaurants on the Bowery. The brasserie, considered the feminine version of Minetta Tavern, one of the best steakhouses in the city, serves satisfyingly large and expertly-prepared cuts of prime rib—and a lauded prime rib burger—as well as its own take on traditional French fare, which includes sautéed foie gras, frogs' legs, and lobster ravioli. Cozy and petite, the space is decorated like a cute French bistro, from the globe lights and worn-in chairs to the bread that arrives to the table in its own wicker baskets.
Donny Tsang
Who's counting calories? Chef Sarah Simmon's subterranean Lower East Side Birds and Bubbles is the place for pairing crispy southern-style fried chicken and champagne. In fact, the Splitty Split includes a half chicken and half bottle of bubbly and complements sides like the creamy mac 'n' cheese with biscuit remoulade. The narrow, brick-exposed, 63-seat dining room is warm and homey. If the weather cooperates, nab a seat in the raised deck for prime outdoor dining.
Daniel Krieger
The culinary trio of Mario Carbone,Rich Torrisi, and Jeff Zalaznick (Carbone, Torrisi Italian Specialties) take their warm, low-lit bistro Dirty French to The Ludlow Hotel. Commence the evening at the handsome bar with a classic cocktail (think pastis) and a dozen oysters and watch the hip crowd fill the room. The aesthetics feature leather banquettes, subway tiles, and antique French mirrors. The cuisine leans on Moroccan, French and New Orleans influences like Provençal with porgy, green tomato, and cajun spices. Hungry? Share the hearty, delicious cote de boeuf or chicken and crepes.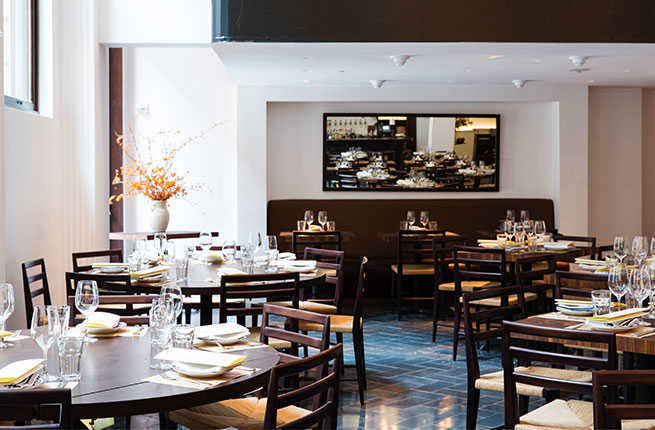 Alice Gao Photography
Restaurateur Danny Meyers and chef Nick Anderer try their hand at thin, traditional Roman-style pizza at Marta inside the Flatiron's Martha Washington Hotel. The bustling 150-seat space is dressed in walnut wood tones accompanied by a custom-built grill and massive pizza ovens to fire the satisfying, straightforward margarita or salsiccia (mozzarella, pork sausage and crimini mushrooms). Rabbit meatballs and octopus salad are standouts. The lamb chops and beer-brined half chicken are cooked via the old Italian tradition of alle brace—over fiery embers. You certainly won't be disappointed with the result.
Couresy of Mulino a Vino
Tucked in the basement of an unassuming apartment building, the new, romantic wine-focused Mulino A Vino is helmed by Michelin-starred Italian chef Davide Scabin. Here's how it works: there's a choice of 50 options (bottle or glass) to pair with your meal, and dishes come in three sizes (small, medium, large). You can't go wrong with the hearty Mulino's Polpetta (Mamma's big meatball, baby spinach with blue cheese, endive and a "secret squeezed" sauce), or you can stick with a classic pasta bolognese. Don't miss the decadent "Tribute to Manhattan" cheesecake, which sinfully utilizes peanut butter and blueberry jelly.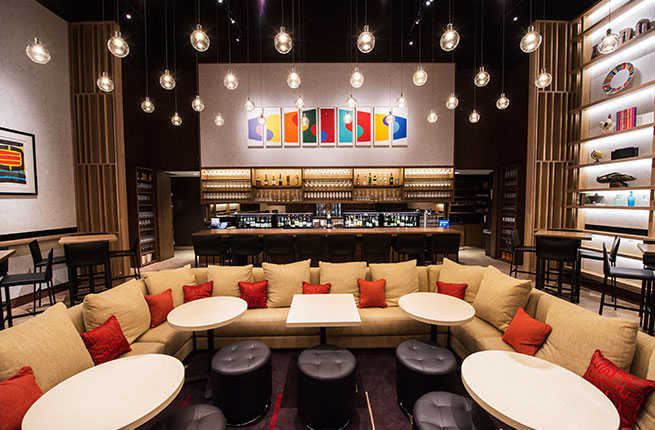 Daniel Krieger
Housed in an airy, modern space with a friendly neighborhood lounge vibe, Aldo Sohm Wine Bar is a marriage between the Austrian sommelier of Le Bernardin, Aldo Sohm, and its revered chef Eric Ripert. The elegant, vibrant 70-seat spot is perfect for the post-work rush that delights in an extensive wine menu (including reasonably-priced bottles and local wines) and food staple classics like French cheeses and charcuterie plates presented on a custom-designed lazy Susan. Don't miss the pastas (including truffles) and the warm baked portobello and baby beets skewers.
Jennifer Arnow
In trendy Nolita, it's all about organic and locally-sourced eggs at the small 32-table "breakfast all day" Egg Shop helmed by chef Nick Korbee. Expect a range of sandwiches like the healthy reformer (egg whites and feta), decadent Benedicts and a meatier steak and egg (sunny side up). You can always create your own sandwich from a hearty list of ingredients. For sides, stick with hashbrowns, buttermilk biscuits, and fried chicken. Of course everything goes well with a Bloody Mary—and bacon salted rim—or a mimosa. The late-night weekend set will appreciate the late hours (the kitchen closes at 1 a.m.) to offset a pending hangover.
Noah Fecks
Chef Thomas Chen (who trained at Eleven Madison Park) has embarked on Tuome, a casual, friendly 45-seat East Village restaurant that melds American and Chinese cuisines. There's a concise variety of bold, Asian-accented plates (labeled small and big) that include oxtail, soft-shelled crab, skate with pea shoots, and chicken with charred lettuce. The cool, rustic space debuts wood floors and recycled materials like 1920s German wool spools and late-1800s reclaimed light fixtures from a Philadelphia milk company.
Margaret Zakarian
The timeless, iconic marble and palm tree-clad room at The Palm Court has undergone a grand, sparkling restoration. For now, the space is in soft opening mode, serving breakfast with witty New York-themed menu items entitled "The Plaza Continental" and "The New Yorker" and includes inspired entrees like shakshuka (baked eggs, cumin and stewed tomatoes). Come late fall, small bites, cocktails, and the upcoming afternoon tea will evolve under the watchful eye of chef Geoffrey Zakarian (The Lambs Club).