Andykazie | Dreamstime.com
Let's face it: New York City is expensive. With the average price for a night in a city hotel hovering around $250, it can be hard not to break the bank when you're visiting. Fortunately, not everything in New York costs a lot of money; in fact, there are plenty of free activities around the five boroughs. No matter what time of year you visit, we've got you covered with plenty of fun activities that won't force you to empty your wallet. From a visit to the Brooklyn Botanical Garden to brewery tours, here are the top 20 free things to do in New York City.
By Annie Bruce
Kobby_dagan | Dreamstime.com
Curving along Gansevoort Street in the Meatpacking District to West 34th Street, between 10th and 12th Avenues, the High Line takes visitors through the city on the road less traveled. Dating back to 1934, the abandoned freight rails have been transformed into a public park, filled with gardens, art displays, and select special events, such as this winter's Snow Sculpt-Off. During warmer months, visitors can take free, guided walking tours on Tuesdays and Saturdays to learn more about the High Line's history.
PLAN YOUR TRIP: Visit Fodor's New York City Travel Guide
Dmitro2009 / Shutterstock
On Friday evenings from 4 pm to 8 pm, UNIQLO sponsors free visits to the Museum of Modern Art. The pass, supported by the Japanese clothing company, lets visitors view all galleries, exhibits, and films during their trip. Located in Midtown, MoMA features a wide range of permanent and rotating collections, with everything from Monet to Matisse. It's recommended that visitors arrive early at the museum, because as the evening continues, crowds tend to grow.
PLAN YOUR TRIP: Visit Fodor's New York City Travel Guide
Andykazie | Dreamstime.com
No trip to New York is complete without a visit to this 843-acre public park. Designed by Frederick Law Olmsted and Calvert Vaux, the sprawling beauty makes you forget you're in a crowded city. No matter the season, Central Park offers plenty for visitors to see, from the Shakespeare Garden to Strawberry Fields, a tribute to John Lennon. As you stroll through the forest terrain, keep an eye out for the iconic Alice in Wonderland and Balto statues. To go more in-depth during you visit, you can take a free welcome tour of certain areas of the park, including the northern welcome tour, southern welcome tour, and heart of the park tour.
PLAN YOUR TRIP: Visit Fodor's New York City Travel Guide
littleny / Shutterstock
Formerly called the eighth wonder of the world, the Brooklyn Bridge gives the more than 4,000 pedestrians who cross it each day a stunning view of the city's skyline and waterfront. The just-over-one-mile walk from Manhattan to Brooklyn (or vice versa) gives you a chance to spot the Statue of Liberty, the Empire State Building, the Chrysler Building, the World Trade Center, and much more. Once you've made it across, stop off at Brooklyn Bridge Park, a 1.3-mile oasis along the East River.
PLAN YOUR TRIP: Visit Fodor's New York City Travel Guide
Colin D. Young / Shutterstock
On Tuesdays, Saturdays (from 10 am to 12 pm), and additional select dates and times throughout the year, the Brooklyn Botanic Garden is free of charge for visitors wishing to explore the various gardens and exhibits. Located in Prospect Park, the Botanical Garden features the stunning Japanese Hill-and-Pond Garden, Cherry Esplanade, Shakespeare Garden, and Cranford Rose Garden, among many others.
PLAN YOUR TRIP: Visit Fodor's New York City Travel Guide
Courtesy of Brooklyn Brewery
Tour the Brooklyn Brewery and SingleCut Beersmiths
If you're looking for a chance to look behind-the-scenes at one of the city's famous breweries, now is the time. The Brooklyn Brewery, located in Williamsburg, hosts a wide range of free tours on Saturdays and Sundays. All you need to do is pick up a free ticket (maximum of two per person) an hour or an hour-and-a-half prior to the tour you'd like to take and make sure to bring your ID. Outside food is allowed and you'll also get the chance to purchase beer tokens during your visit to the brewery, which first opened its doors in 1988. Another option is SingleCut Beersmiths in Queens. Stop by the company's Tap Room five minutes before 3 or 4 pm on Saturdays and Sundays for a 20-minute tour around the facilities. No reservations are necessary at this Astoria-based brewery.
PLAN YOUR TRIP: Visit Fodor's New York City Travel Guide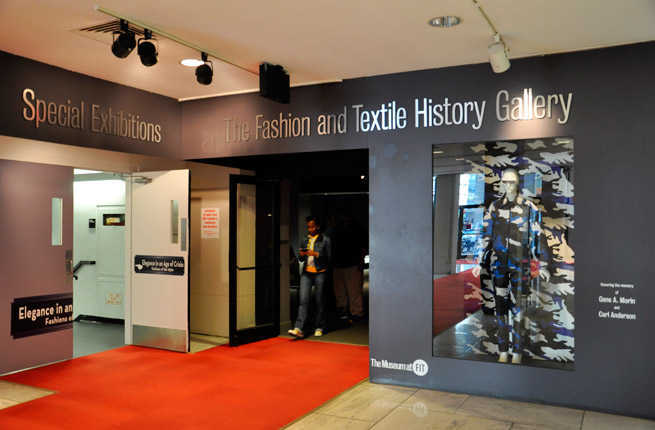 Sainaniritu | Dreamstime.com
Museum at the Fashion Institute of Technology
Museum admission prices can be expensive in the city, but fortunately the Museum at the Fashion Institute of Technology is free year-round. With a mix of permanent and rotating exhibits, the museum houses work from designers such as Dior, Chanel, and Balenciaga. With more than 4,000 pairs of shoes, 50,000 clothing pieces and accessories (dating back to the 18th century), and 30,000 textiles (dating back to the 5th century), there is plenty to see here. Be sure to stop by the Gallery FIT to view work from up-and-coming students and faculty members as well.
PLAN YOUR TRIP: Visit Fodor's New York City Travel Guide
View Apart / Shutterstock
Federal Reserve Bank of New York
While registration often needs to be completed 30 days in advance, it's worth it to explore the inner workings of the Federal Reserve Bank for an hour. On the visit, you'll get to travel five stories beneath the bank to sneak a peek at the gold reserves—the largest in the world, with more than 7,000 tons of gold. You can learn about the entire Federal Reserve System during the weekday tours, offered at select times throughout the day.
PLAN YOUR TRIP: Visit Fodor's New York City Travel Guide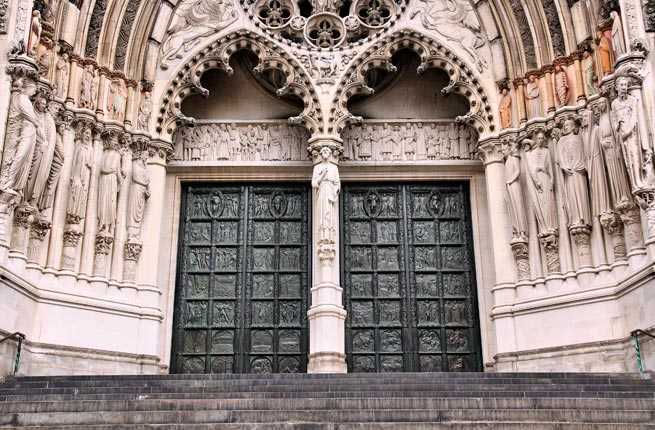 Tupungato / Shutterstock
The Cathedral Church of St. John the Divine
Construction on this Manhattan marvel—which is known as the largest cathedral in the world—dates back to 1892. With services held throughout the week, visitors are allowed to stop by the Cathedral Church of St. John the Divine anytime to look around the facilities, which are filled with plenty of interesting historical tidbits—Reverend Dr. Martin Luther King, Jr. famously preached here in 1956. While official tours cost a small fee, you can roam the 11.3-acre grounds or marvel at the Romanesque, Gothic, and Byzantine styles that make up the building free of charge.
PLAN YOUR TRIP: Visit Fodor's New York City Travel Guide
Christopher Penler / Shutterstock
Riding the Staten Island Ferry
Enjoy a 25-minute trip from Manhattan to Staten Island via this Staten Island Ferry. The ride offers views of the Statue of Liberty, Ellis Island, and the skyline, as it takes you from Whitehall Street in lower Manhattan to St. George on Staten Island. More than 22 million people travel on the ferry each year, with about 109 trips per day. With five boats on rotating schedules (four on weekends), you can catch the ferry regularly throughout the day.
PLAN YOUR TRIP: Visit Fodor's New York City Travel Guide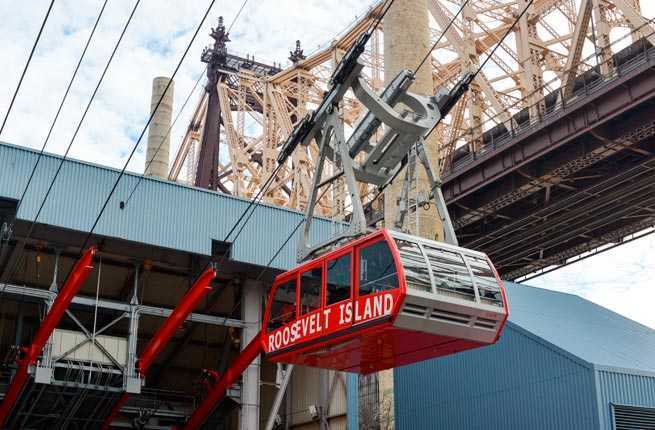 Felix Lipov / Shutterstock
Take the Roosevelt Island Tram
You only need to bring your MetroCard (which you've already paid for if you have a multiday pass) to hop aboard the Roosevelt Island Tram for a ride. The tram system opened in 1976 and can carry 125 people at once across the East River. You'll reach a peak height of 250 feet on your journey, which only lasts about three minutes, despite traveling 3,140 feet. You can catch the tram at the Manhattan station at 2nd Avenue between 59th and 60th Streets. And you can't beat the view.
PLAN YOUR TRIP: Visit Fodor's New York City Travel Guide
Nate Dorr
Socrates Sculpture Park in Queens
What was formerly a landfill and illegal dumpsite was transformed into a place to view sculptures and installations starting in 1986. Located in Long Island City, the Socrates Sculpture Park features rotating exhibits and annual events, such as the kite flight and bike parade. While you're there, you can explore by taking your own self-guided tour or learn more through one of the artist-led tour programs. In the summer, you can also catch live performances, such as Shakespeare in the Park or The Metropolitan Opera's Summer Recital Series, on select dates.
PLAN YOUR TRIP: Visit Fodor's New York City Travel Guide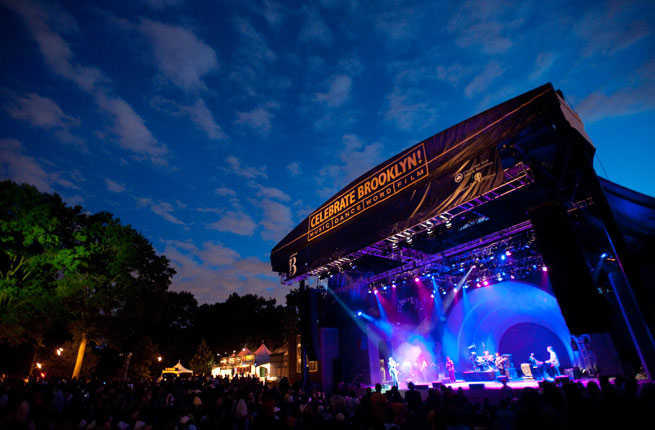 Ryan Muir
Concerts at Prospect Park
Head to Brooklyn on a summer evening to catch a free concert in Prospect Park, courtesy of the Celebrate Brooklyn! program. Since its founding in 1979, more than 2,000 musical acts have have performed at the Prospect Park Bandshell, which draws 250,000 people each summer to watch. Come early to get a seat at the Bandshell, which holds 2,000, or sprawl out on the lawn—picnicking is encouraged.
PLAN YOUR TRIP: Visit Fodor's New York City Travel Guide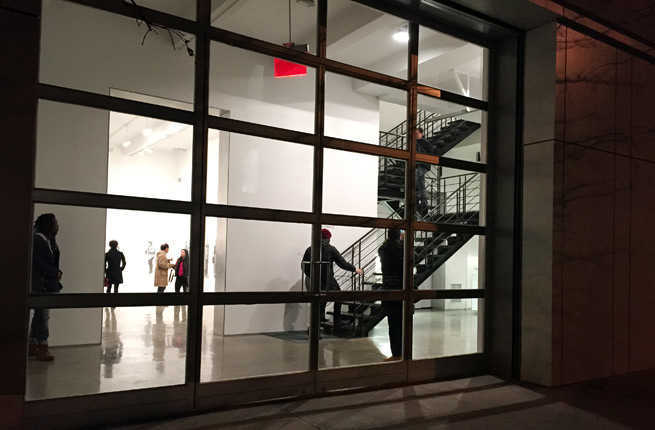 Mary Robnett
The best way to see a wide range of art at no cost is to explore Chelsea galleries. With most spaces located between 22nd and 27th Streets, west of 10th Avenue, you'll get your share of the cultural experience. And for an extra-special trip, attend one of the Thursday night openings with free wine. The galleries rotate on a fairly regular basis, so you're guaranteed a new adventure each time you go.
PLAN YOUR TRIP: Visit Fodor's New York City Travel Guide
Walking Tours With the Big Apple Greeter
There are plenty of guided ways to explore the city for free. If you want to get a local perspective, you can sign up for a tour with Big Apple Greeter. Since 1992, the company has paired visitors with locals to show them around various boroughs and institutions throughout the city. The program is made up of more than 300 volunteers who take on about 7,000 visitors each year. You can also opt for the Crossroads of New York Walking Tour, a 90-minute journey to learn more about Union Square and the surrounding area. Tours leave every Saturday at 2 pm from the Abraham Lincoln Statue on 16th Street. And if you want to dive deeper into a particular location, you can often find guided tours of hot spots across the city. The Brooklyn Bridge Park, for example, has docents teach visitors about the park's history and environmental development on regularly run tours.
PLAN YOUR TRIP: Visit Fodor's New York City Travel Guide
Rorem | Dreamstime.com
Be a Part of The Tonight Show or Late Show Studio Audience
From the Tonight Show with Jimmy Fallon to Live with Kelly and Michael, you have plenty of opportunities to watch TV unfold in front of you by grabbing free tickets to studio tapings. The earlier you can book tickets online the better, but there's also time to grab standby seats, if you can't reserve in advance. For Late Night with Seth Meyers, standby tickets are available at 9 am at the NBC Experience Store near Rockefeller Plaza. Standby tickets for The Tonight Show are given out at 9 am near the "NBC Studios" marquee. Line up for Live with Kelly and Michael standby tickets starting at 7 am on the corner of West 67th and Columbus Avenue; Good Morning America standby tickets are given out at 44th Street and Broadway; and The Late Show with David Letterman standby tickets are given out at 11 am.
Insider Tip: You can also watch Seth Meyers or Jimmy Fallon rehearse their monologues on the afternoon before the show tapings. Either wait at the NBC Experience Store at 12:30 pm for Meyers tickets or reserve tickets online for Fallon.
PLAN YOUR TRIP: Visit Fodor's New York City Travel Guide
Jennifer Arnow
Dive Into the Astoria Park Pool
During the summer months, it's easy to find a free place to swim. Stop by Astoria Park Pool in Queens for a lazy summer day at the city's largest and oldest pool (dating back to 1936). Once you're done swimming, you can stroll around Astoria Park along the East River. You can also try Hamilton Fish Pool in Manhattan, which features an Olympic-sized swimming area, McCarren Park Pool in Brooklyn, which is more popular than ever following recent renovations, or the calmer Douglas and DeGraw Pool in Brooklyn, which features a wading pool.
Insider Tip: New York City public pools don't allow food, electronic devices, or newspapers, so plan to leave the snacks and reading materials at home.
PLAN YOUR TRIP: Visit Fodor's New York City Travel Guide
Victor Maschek / Shutterstock
After officially opening its doors in 1913 (the terminal drew a crowd of 150,000 on the first day alone), Grand Central Terminal has become an iconic New York City landmark, which has been featured in movies such as North by Northwest and Eternal Sunshine of the Spotless Mind. More than 750,000 people pass through the terminal everyday to admire the imitation French limestone and constellations painted by Paul Helleu on the ceiling of the main concourse.
PLAN YOUR TRIP: Visit Fodor's New York City Travel Guide
Irwin Seow
Outdoor Summer Movies Along the Hudson River
There's no better way to watch a movie than with the city skyline as the backdrop. Over the summer, New York offers a number of free outdoor film screenings in various locations throughout the city. You can enjoy popcorn and candy along the Hudson River with River Flicks, come early to grab a lounge chair on the lawn near the South Street Seaport, or even check out a French flick with Films on the Green in parks across the city. Rooftop Films offers U.S. and world premieres of films (typically accompanied by a filmmaker Q&A) at locations across the city, including the Coney Island Beach or the JCC's roof in Manhattan.
PLAN YOUR TRIP: Visit Fodor's New York City Travel Guide
Chriscintron | Dreamstime.com
From May through October, you can take a trip down the Hudson River on one of the Downtown Boathouse's free kayaks on weekends and select days throughout the week. With all the instructions and safety equipment included, it's easy to take advantage of this aquatic activity, held at Pier 26, just north of Battery Park City. If you're interested in learning more, The Downtown Boathouse offers free paddling and safety classes as well.
PLAN YOUR TRIP: Visit Fodor's New York City Travel Guide