Sangaku | Dreamstime.com
Thanks to the National Parks Service, many of the Big Apple's historic sites are federally protected, collectively attracting more than 12 million yearly visitors. In addition to the city's monuments, memorials, heritage centers, and destinations tied to our country's founding, there are glorious recreational spaces. Here's a look at the city's extraordinary collection of unforgettable sites.—Kelsy Chauvin
Hamilton Grange
One of the most prominent military officers, lawyers, political philosophers, and war heroes ever to call New York home was Alexander Hamilton. In addition to being the first U.S. Treasury Secretary and a proud New Yorker, Hamilton was a highly intelligent "self-made man"—that is, a rare founding father not born into wealth. In 1802, he had this two-story wood frame home built for his family, naming it the Grange after his grandfather's Scottish estate. The house was twice relocated, suffering some architectural alterations and restorations. It's been protected as a national memorial since 1962.
PLAN YOUR TRIP: Visit Fodor's New York City Guide
Sangaku | Dreamstime.com
Governors Island
At the center of New York Harbor is this 172-acre island, a vital piece of land for four centuries of the city's military, political, and economic history. From the earliest Dutch days, Governors Island was used as a trading post and strategic defense base, which brought about the massive star-shaped Fort Jay, the circular Castle Williams, and other large Army and Coast Guard structures. Its famous visitors (for vastly different reasons) have included Ulysses S. Grant, Mikhail Gorbachev, Ronald Reagan, Rocky Graziano, and Walt Disney. It was designated a national monument in 2001. Today, most New Yorkers know Governors Island as a summer playground, accessible only by ferry for biking, picnics, or to kick back in Hammock Grove.
PLAN YOUR TRIP: Visit Fodor's New York City Guide
NPS
African Burial Ground
In the city's earliest years until about 1794, both enslaved and free Africans were laid to rest in a small area of lower Manhattan in the heart of today's Civic Center. The African Burial Ground was rediscovered in 1991 upon excavation for a new federal building. Historians estimate as many as 20,000 burials may have occurred here, likely making it the largest Colonial-era cemetery for people of African descent. The protected site became the 123rd U.S. national monument in 2006 and is now a solemn green space where the remains of 419 individuals are interred. It's marked by a 25-foot-tall etched granite monument that symbolizes the Middle Passage and other elements of the African diaspora.
PLAN YOUR TRIP: Visit Fodor's New York City Guide
Moussa81 | Dreamstime.com
Stonewall Inn
In June 2016, the NPS and President Obama announced the new Stonewall National Monument—the city's newest U.S. landmark—in time for the city's annual lesbian, gay, bisexual, and transgender Pride Month. Encompassing the Stonewall Inn and Christopher Park, this pocket of Greenwich Village was home to the one of the first L.G.B.T. uprisings in the country, on June 28, 1969, which served as a pivotal event in the gay civil-rights movement. The designation makes Stonewall the first U.S. national monument to L.G.B.T. rights, and preserves the area's heritage as a community gathering place famous the world over.
PLAN YOUR TRIP: Visit Fodor's New York City Guide
Iofoto | Dreamstime.com
Statue of Liberty & Ellis Island
One of America's most celebrated national monuments, "The Statue of Liberty Enlightening the World" is virtually synonymous with New York City. The 305-feet tall copper statue was installed in New York Harbor in 1886 as a gift of friendship from France, earning its national historic designation in 1924. Just across the water is Ellis Island, through which 12 million immigrants passed over the course of six decades. It was added to Lady Liberty's designation in 1965, and together they now attract well over 4 million tourists every year.
PLAN YOUR TRIP: Visit Fodor's New York City Guide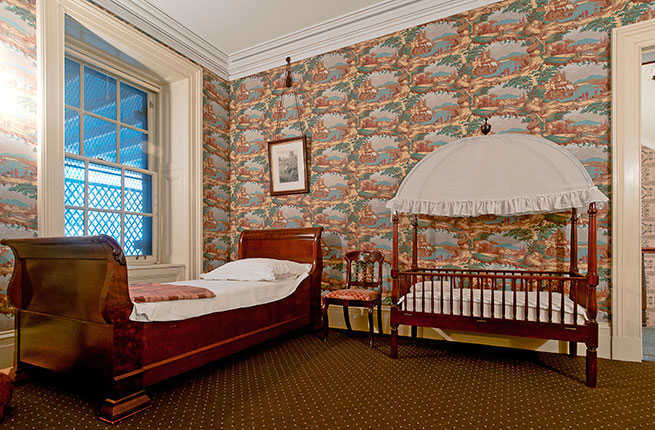 NPS
THEODORE ROOSEVELT BIRTHPLACE
Of the four presidents born in the Empire State, only Theodore Roosevelt was born in the city. The 26th POTUS lived at 28 E. 20th Street from his birth in 1858 through age 14. In a curious fate, the original house was razed in 1916 to make way for a new retail structure. But upon his death in 1919, the Women's Theodore Roosevelt Association purchased the site and rebuilt the Roosevelt Birthplace precisely as it once was. Roosevelt's wife, Edith, and other family donated furnishings to more authentically complete the replica, which became a national historic site in 1966. New Yorkers and tourists alike appreciate the townhome's heritage.
Insider Tip: Be sure to call ahead for a tour since space is limited.
PLAN YOUR TRIP: Visit Fodor's New York City Guide
Kmiragaya | Dreamstime.com
Castle Clinton
Close both in history and proximity to the Statue of Liberty and Ellis Island, Castle Clinton occupies the southernmost tip of Manhattan in Battery Park. The "castle" opened in 1811 as a fortification (then called the West Battery) erected to fend off the British. Castle Clinton originated as an artificial island just off the shore until landfill eventually encompassed it. Designated a national monument in 1946, the circular brick fortification has served as a theater, immigration station, aquarium, and today as both a museum and the departure point for visits to Liberty and Ellis Islands.
PLAN YOUR TRIP: Visit Fodor's New York City Guide
Sepavo | Dreamstime.com
Federal Hall
Wall Street is famous for much more than just the stock market. It was along this prominent arterial where George Washington took the very first presidential oath of office in 1789, at Federal Hall. The original structure stood from 1700 to 1812, serving as New York City Hall, then as the first U.S. congressional capitol. Federal Hall National Memorial as it stands today opened in 1842 and is made of Tuckahoe marble. It served first as the country's Customs House for 20 years, then as a sub-treasury building. The NPS now operates tours and exhibits inside the classical building.
Insider Tip: Don't miss a visit to the colossal bronze George Washington statue that adorns the southern steps.
PLAN YOUR TRIP: Visit Fodor's New York City Guide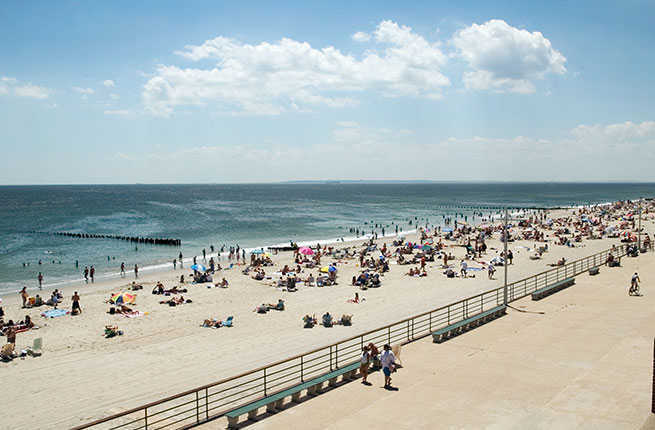 NPS
Gateway National Recreation Area
Three "geographical units" form the 27,000-acre national recreation area known as Gateway. It spans wetlands, beaches, forts, and even an airfield: Floyd Bennett Field, New York's first municipal airport, opened in 1932. Exploring such an expansive area requires some advance planning, so check out the Gateway website of the NPS to decide if you'd rather spend time at Brooklyn's Canarsie Pier; Queens's Fort Tilden and Jacob Riis Park; Staten Island's Great Kills Park and Fort Wadsworth; or even head to New Jersey's Sandy Hook.
Insider Tip: Check out more NPS sites with A Breathtaking Look at Every U.S. National Park.
PLAN YOUR TRIP: Visit Fodor's New York City Guide
Bigapplestock | Dreamstime.com
LOWER EAST SIDE TENEMENT MUSEUM
Walking around Manhattan's Lower East Side today, with its cramped apartment buildings and narrow sidewalks, you can imagine how crowded the neighborhood must have felt a century ago when millions of immigrants called it home. That concept is made far more real at the Lower East Side Tenement Museum, a national historic site. The main attraction of the museum is a brick building at 97 Orchard Street, where an estimated 7,000 people from more than 20 countries lived between 1863 and 1935. Thanks to a lazy owner who boarded up the building during the Great Depression, this modest tenement was sealed until 1988, forming a residential time capsule that is today one of New York's most fascinating historical museums. Note: Because of the building's "preserved" state, it is officially condemned. Visitors can only view the site on guided tours; reservations are essential.
PLAN YOUR TRIP: Visit Fodor's New York City Guide
NPS
GENERAL Grant's Tomb
This neoclassical granite tomb is the final resting place for the 18th President, General Ulysses S. Grant, and his wife Julia. Built in 1897 in upper Manhattan's Riverside Park, "Grant's Tomb" fell into disrepair during the 1960s and '70s, but eventually was restored and rededicated in 1997. Visitors today can view the mausoleum and the Grants' red granite sarcophagi at the General Grant National Memorial from Wednesday through Sunday.
PLAN YOUR TRIP: Visit Fodor's New York City Guide