robert cicchetti / Shutterstock
Whether your sights are set on a botanical garden or a beer garden, there's no lack of fair-weather fun to be had in New York this spring. The Tribeca Film Festival anchors a season of cultural musts that span from highbrow art exhibitions worth screaming for (Munch paintings, anyone?) to come-as-you-are music festivals in Brooklyn. And with the crack of the bat at Yankee Stadium and Citi Field, New York is back in the ballgame—and buzzing with these 25 things that are essential as flowers blooming this season. —Zachary Laks
Pigprox | Dreamstime.com
Theater
In a town where all Broadway talk mentions Hamilton, this season welcomes a few new players on the scene that are set to mix up the buzz. Looking particularly at the play revivals heading to the Great White Way, anticipation is running high for Ivo van Hove's quick return to Broadway (after recently closing A View From The Bridge in February) with a new production of Arthur Miller's The Crucible (running now through July 17) starring Saoirse Ronan, Ben Whishaw, and Sophie Okonedo. Summoning the ghosts of family tumult and addiction, Eugene O'Neill's masterpiece, Long Day's Journey Into Night, returns to the boards on April 3 in a new production anchored by Jessica Lange and Gabriel Byrne.
PLAN YOUR TRIP: Visit Fodor's New York City Guide
Courtesy of Brooklyn Academy of Music
RadioLoveFest
A three-day tribute to all things public radio, RadioLoveFest returns for its third year to the Brooklyn Academy of Music (March 10–12). A convention for listeners of WNYC throughout the city, the festival brings the station's most prized lineup of programs to the stage, including live tapings of the shows Wait Wait…Don't Tell Me!®, Death, Sex & Money, and The Moth. Pending a schedule that has yet to be announced, fans of the station can expect plenty of ancillary events throughout the festival that will include live music, film screenings, and talkbacks.
PLAN YOUR TRIP: Visit Fodor's New York City Guide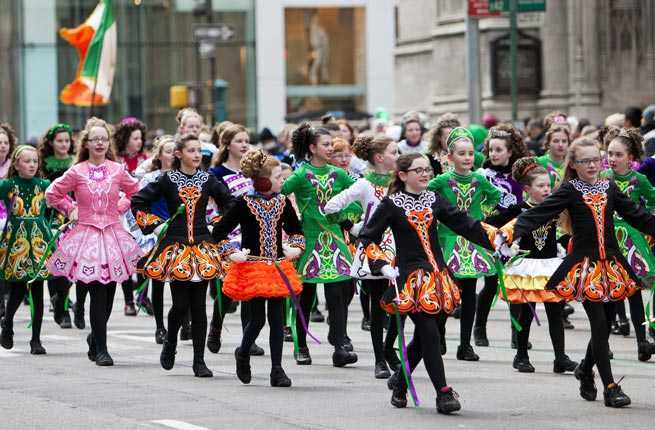 Stuart Monk / Shutterstock
St. Patrick's Day
Bagpipes sound off as New York City brims with toasts to the Irish and their many admirers on St. Patrick's Day. The city continues its annual holiday parade up Fifth Avenue from 44th Street all the way to 79th Street, featuring plenty of Irish marching bands, step dancers, and even a few chance encounters with a leprechaun. If you're looking for a truly authentic night at an old-time Irish pub, make your way down to the McSorely's in the East Village where its timeless charm has endeared since 1854.
PLAN YOUR TRIP: Visit Fodor's New York City Guide
Courtesy of The Met Breuer; Photograph by Ed Lederman
The Met Breuer
A banner moment for New York's most iconic institution of art and culture, The Metropolitan Museum of Art will unveil The Met Breuer, its new satellite space in the shell of the old Whitney Museum, on March 18. An unprecedented extension of the Met, the Marcel Breuer–designed building was acquired to further expand The Met's contemporary and modern collection. Expect door-busting crowds in the museum's inaugural season with high-profile openers that include Unfinished: Thoughts Left Visible, a provocative collection of unfinished works of art spanning from the Renaissance to the present day, along with a monographic exhibition of Indian artist Nasreen Mohamedi.
PLAN YOUR TRIP: Visit Fodor's New York City Guide
Courtesy of Macy's Inc.
Macy's Flower Show
Bedecking one of the world's largest stores in petals, Macy's continues its annual Flower Show this spring (March 20–April 3). Attracting gawkers by the droves, New York's top shopping destination showcases native flora found across the country in playful creations that relate to this year's theme, America the Beautiful. Special events throughout the two weeks include live music, kids' activities, and flower-centric seminars. More information and a schedule of events will be announced sooner to the opening of the festival on macys.com.
PLAN YOUR TRIP: Visit Fodor's New York City Guide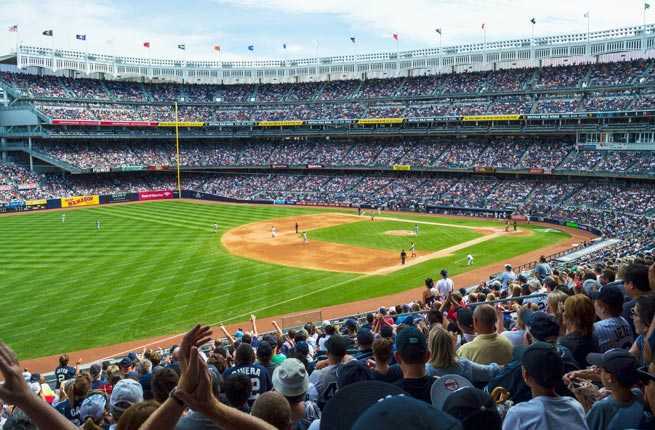 Andykazie | Dreamstime.com
Baseball Games
Regardless of where your allegiances lie, the city is batting a thousand with two state-of-the-art baseball stadiums: Yankee Stadium and Citi Field. Upgrading their dining options from the classic hot dog and pretzel, the two parks surprise with top-notch food stalls by way of Mario Carbone and Rich Torrisi's Parm and Brother Jimmy's BBQ at Yankee Stadium, and Shake Shack and Blue Smoke at Citi Field. The Yankees' season begins April 4 at home against the Houston Astros, with the Mets' home opener on April 8 against the Philadelphia Phillies—though when the food's this good, does it really matter who's playing?
PLAN YOUR TRIP: Visit Fodor's New York City Guide
Josekickaha | Dreamstime.com
Easter Parade and Bonnet Festival
New York's Easter Parade and Bonnet Festival celebrates the spring holiday in grand fashion, harkening back to a 19th-century tradition of well-heeled women who brought their "A-game" to Sunday church. Outrageous and festive bonnets bob up and down on the heads of women and men as the annual pageant returns on March 27. The parade route only spans eight blocks on Fifth Avenue from 49th Street to 57th Street, which means curbside spots go quickly. Make sure you plan to arrive early.
PLAN YOUR TRIP: Visit Fodor's New York City Guide
Leungphotography | Dreamstime.com
New York Philharmonic
Cultural influences harmonize at David Geffen Hall this spring, as the New York Philharmonic ushers in new talent while continuing its repertoire of standbys. The orchestra's Spanish Nights (March 30–April 5) program is a standout this season, with the return of 29-year-old piano virtuoso Joyce Yang infusing a Latin energy into the hall with gypsy tunes and flamenco beats. And for the old guard, Bernard Haitink conducts Mahler's final masterpiece, Symphony No. 9 (April 14–19).
PLAN YOUR TRIP: Visit Fodor's New York City Guide
Bhofack2 | Dreamstime.com
Ramp Season
The city's frenzied obsession with ramps, a leek-like vegetable only found in the wild, is sure to return this season as insatiable gourmands scour the city for this treat. With a short growing season and supply coming from foraging, ramps tend to be in short supply at the city's farmers' markets, gourmet grocery stores, and restaurants. Craving the chance to taste the rare cousin to the onion? A quick Google search will tell you where to find them on menus, but know that Mario Batali's restaurants tend to feature the ingredient every year, and the East Village restaurant OIJI even serves pickled ramps.
PLAN YOUR TRIP: Visit Fodor's New York City Guide
Courtesy of Tribeca Film Festival
Tribeca Film Festival
Prime time for fans of New York's sophisticated film scene, the Tribeca Film Festival (April 13–24) infiltrates lower Manhattan with a roster of flicks destined for greatness. Now in its fifteenth year, screenings fill up fast for events that range from independent film screenings with Hollywood A-listers to documentaries and shorts. This year's festival opens with The First Monday in May, a documentary that looks at The Metropolitan Museum of Art's most-attended Costume Institute exhibition in history, China: Through the Looking Glass.
PLAN YOUR TRIP: Visit Fodor's New York City Guide
Brian Geltner
Brooklyn Folk Festival
Stripped bare of Auto-Tune and overamplification, the Brooklyn Folk Festival (April 8–10) is now in its eighth year. The three-day festival features 30 music performances and events that include square dancing, swing dancing, film screenings, and the banjo-toss contest where frustrated musicians vie to throw a banjo farthest into the Gowanus Canal. Music lovers can expect plenty of folk, blues, and bluegrass throughout the festival, with a few traditional Irish and Balkan music sets as well.
PLAN YOUR TRIP: Visit Fodor's New York City Guide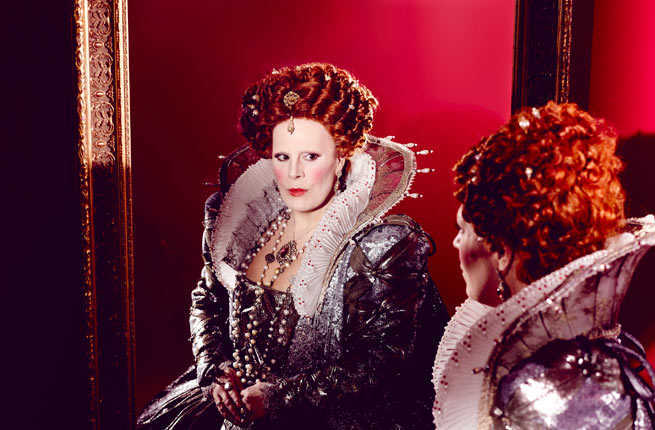 Sondra Radvanovsky as Elisabetta; Photographed by Kristian Schuller/ Metropolitan Opera
Metropolitan Opera
Spectacle and theatrics summon the awe of 4,000 operagoers nightly at the ever-regal Metropolitan Opera. Representing one of the most refined and consistent evenings of culture in the city, the Met stage is home to the world's best singers. Under Peter Gelb's much-touted reign, productions continue to impress with their heightened dramatics, luring directors from Broadway and Hollywood. This season marks the return of Puccini's Madama Butterfly (select dates through Apr 12), in a much-lauded production by the late Anthony Minghella.
PLAN YOUR TRIP: Visit Fodor's New York City Guide
Artexpo New York 2016
Hovering over the Hudson River on Pier 94, it's sink or swim for artists who descend from around the world to showcase their work at Artexpo New York (April 14–17). Billed as the world's largest fine-arts marketplace and now in its 38th year, hundreds of contemporary painters, sculptors, and illustrators enter into the juried expo in addition to selling their pieces on the main floor. A magnet for the art industry and homeowners looking to invest in new décor, the expo expects to welcome more than 25,000 attendees this year.
PLAN YOUR TRIP: Visit Fodor's New York City Guide
Paul Kolnik
New York City Ballet
New York City Ballet sources a string of greatest hits from its repertory this spring season at Lincoln Center. Moves (April 22–May 5), a revolutionary silent dance piece choreographed by Jerome Robbins in 1959, returns this season. Running in rep with Moves, settle in for a night of inspired movement at Alexei Ratmansky's Pictures at an Exhibition, a piece created for the ballet in 2014 that fuses ten dancers with projections of Wassily Kandinsky's Color Study Squares with Concentric Circles and Modest Mussorgsky's Pictures at an Exhibition piano score.
PLAN YOUR TRIP: Visit Fodor's New York City Guide
Courtesy of Brooklyn Botanic Garden; Photo by Liz Ligon
Sakura Matsui Cherry Blossom Festival
Celebrating 35 years of annual blooms, the Sakura Matsuri Cherry Blossom Festival (April 30–May 1) at the Brooklyn Botanic Garden returns this season. Sixty events and performances fill out the two-day festival, marking the end of Hanami, the Japanese seasonal tradition of blossom appreciation. The pink-and-white petals set the scene for favorite events that include a cosplay fashion show, Japanese folk dance, and origami demonstrations.
PLAN YOUR TRIP: Visit Fodor's New York City Guide
Oneinchpunch | Dreamstime.com
Bike Month
Arguably the best way to explore the city, biking is now more than ever an integral part of New York's transportation system. It's estimated that 200,000 cyclists take to New York City's 1,000 miles of bike lanes daily—a staggering number, considering 485 miles have been added since 2007. Among the many events New Yorkers partake in to celebrate National Bike Month in May, TD Five Boro Bike Tour (May 1) remains a highlight on the first Sunday of the month. The largest charitable bike ride in the country, upwards of 32,000 cyclists revel in the cordoned-off streets for a joy ride that connects all five boroughs.
PLAN YOUR TRIP: Visit Fodor's New York City Guide
Courtesy of Collective Design; Photo by Scott Rudd
Collective Design
Whether you prefer clean lines or bursts of color, there's bound to be something to please every eye among the more than 20 presenters at the fourth annual Collective Design fair, May 4–8. An amalgamation of art and design sourced from internationally renowned and emerging galleries, the fair takes over an expansive 70,000 square-foot event space in West SoHo. Plan to spend the better part of an afternoon meandering through the various international exhibits, designed to inspire viewers through interactive programming in addition to being a world-class exhibition of modern luxury living.
PLAN YOUR TRIP: Visit Fodor's New York City Guide
Courtesy of Frieze New York; Photograph by Marco Scozzaro
Frieze New York
Importing one of the United Kingdom's most prestigious art events stateside, frieze magazine continues its art-fused transformation of Randall's Island Park for a third year during Frieze New York (May 5–8). Gathering some of the art world's most bold-faced names, the weekend-long festival is an amalgamation of curated work, site-specific creations, installations from galleries both local and abroad, and a few standout restaurants from New York (including Frankies Spuntino, Roberta's Pizza, El Rey, and Cosme) serving their greatest hits from stalls. While staged with the intent of selling work, Frieze New York has emerged as a cultural event, attracting thousands of visitors to browse the expansive collections and pop in to the event's lauded talks.
PLAN YOUR TRIP: Visit Fodor's New York City Guide
Courtesy of Five Boro Craft Beer Fest
Five Boro Craft Beer Fest
Tapped as New York's premier beer fest, the Five Boro Craft Beer Fest (May 6) highlights the best of the local craft beer scene. Come prepared for a marathon day of suds as a select group of forty or so small-batch breweries tout over a hundred craft beers at The Well in Williamsburg, Brooklyn. The perpetually sold-out event goes for an all-inclusive approach, with unlimited 2-oz. tastings of the beers, high-end bites from local restaurants and food trucks, and a 5-oz. souvenir tasting glass.
PLAN YOUR TRIP: Visit Fodor's New York City Guide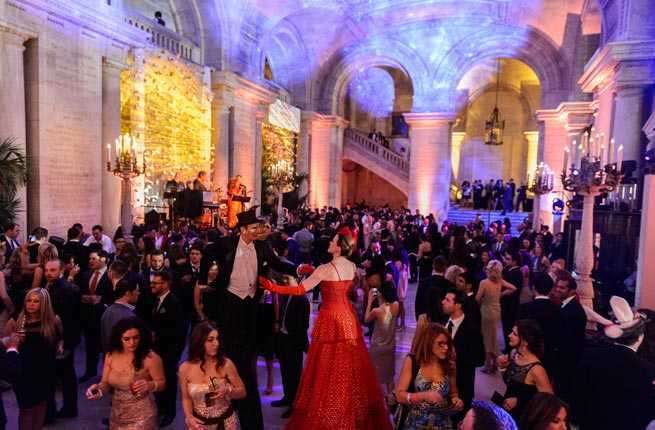 Courtesy of Manhattan Cocktail Classic
Manhattan Cocktail Classic
Riding the ever-rising wave of craft-cocktail popularity, the Manhattan Cocktail Classic (May 15–19) returns after last year's hiatus to crown 2016's ultimate drink. The annual event keeps the spirits flowing for five days with plenty of parties, workshops, and dinner pairings intended to education and entertain. For those looking for the true toast of the festival, the Opening Night Gala welcomes more than 3,000 revelers to a three-hour cocktail bacchanal, as interactive mixing stations, live music, plenty of small bites, and cocktails of every variety imaginable line the room.
PLAN YOUR TRIP: Visit Fodor's New York City Guide
Courtesy of The Frick Collection; Photo by Michael Bodycomb
The Frick Collection
The stately, stunning Frick Collection remains a must for any survey of the city's art scene, especially this spring as a new exhibition, Van Dyck: The Anatomy of Portraiture, is unveiled. Running March 2 through June 5, the showcase is being billed as the most comprehensive exhibition ever organized on Anthony van Dyck (1599–1641), with more than 100 works spanning the portraitist's career.
PLAN YOUR TRIP: Visit Fodor's New York City Guide
Courtesy of Neue Galerie
Neue Galerie
Located on New York's Museum Mile, the Neue Galerie specializes in early 20th-century German and Austrian art. The gallery is housed in an architectural work of art, the ornate Louis XIII-style William Starr Miller House on 86th Street and Fifth Avenue. Built for industrialist William Starr Miller, the estate was repurposed as an art gallery by Ronald Lauder (son of Estée Lauder), opening to the public in 2001. Garnering early praise, Munch and Expressionism (now through June 13), provides an in-depth look at Edvard Munch's influence in German and Austrian culture—and of primary importance, the opportunity to see The Scream (1895) in person.
PLAN YOUR TRIP: Visit Fodor's New York City Guide
Littleny | Dreamstime.com
Museum of Modern Art
The Museum of Modern Art (MoMA) kicks off the spring season with Edgar Degas: A Strange New Beauty (March 26–July 24), a retrospective on the French artist best known for portraying ballerinas in their natural surroundings. The exhibition arrives as a highlight of the museum's lineup, featuring approximately 120 rarely seen monotypes as well as dozens of related paintings and sketches of urban life. For something a little more unconventional, Marcel Broodthaers: A Retrospective continues through May 15, showcasing the Belgian poet-turned-artist's eclectic span of work through 200 pieces—most notably repurposing mussel shells, eggshells, and books of his own poetry.
PLAN YOUR TRIP: Visit Fodor's New York City Guide
Mkopka | Dreamstime.com
Coney Island
Coney Island's Luna Park (home to The Cyclone) kicks the summer fun into gear early this year as the park opens its gates for the first thrills of the season on March 20. Continuing on weekends through Memorial Day weekend, thrill-seekers are sure to meet their match with a turn on the surprisingly forceful Electro Spin coaster, amping up for the 90-degree vertical drop into a 100-foot vertical loop on the park's newest signature roller coaster, Thunderbolt. Independently owned yet interwoven with Luna Park is Deno's Wonder Wheel Amusement Park, keeper of the great Wonder Wheel Ferris wheel built in 1920. The ride offers a choose-your-own-adventure premise, with white cars offering a calm rotation while red and blue cars swing freely on a curved track in the wheel—a classic Coney Island charm.
PLAN YOUR TRIP: Visit Fodor's New York City Guide
Courtesy of Washington Square Outdoor Art Exhibit; Photo by Rebecca MB. Pearson
Washington Square Outdoor Art Exhibit
Anchoring the heart of Greenwich Village on Memorial Day weekend and the week following (with a similar schedule over Labor Day, as well) the Washington Square Outdoor Art Exhibit (May 28–June 5) sets up on University Place. A more enriching and sophisticated event than the city's usual street fairs (no mozzarepas or complete bedding sets found here), stroll among the hundreds of exhibitors ranging from NYU students to local stalwarts with plenty of paintings, photography, jewelry, woodcraft, and sculptures for sale.
PLAN YOUR TRIP: Visit Fodor's New York City Guide