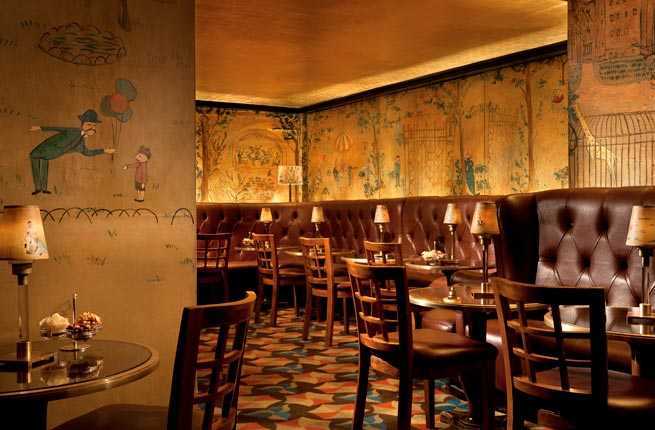 Don Riddle Images/Rosewood Hotels and Resorts
New York City has been a literary bastion for over 200 years, and the city's watering holes bear witness to that history. Poets and writers from all over the world have flocked to New York to find inspiration in the city's streets and cultural institutions, not to mention the cafés, taverns, bars, and bistros where they gather to exchange ideas. From New York's oldest bars to upscale hotel restaurants to modest cafes, here are ten spots to visit when you want to soak in a literary atmosphere.
by Laura Itzkowitz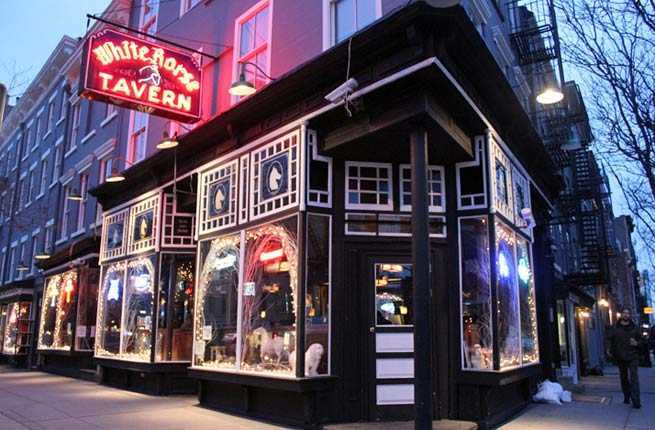 White Horse Tavern
WHERE: West Village
The White Horse Tavern holds the distinction of being the bar where Welsh poet Dylan Thomas drank himself to death, taking 18 shots of whiskey and dying the next day of alcohol poisoning. His portrait hangs in the bar along with a plaque and newspaper articles commemorating him. Thomas was far from the only writer to get intoxicated at the White Horse Tavern. Beat writers Allen Ginsberg and Jack Kerouac often drank there. So did New York School poets John Ashbery and Frank O'Hara, as well as James Baldwin, Anaïs Nin, and Norman Mailer. The bar has been around since 1880 and it's still a popular spot today.
Insider Tip: Rumor has it that Kerouac overstayed his welcome so many times that someone scrawled "Kerouac, go home!" above the urinal in the bathroom.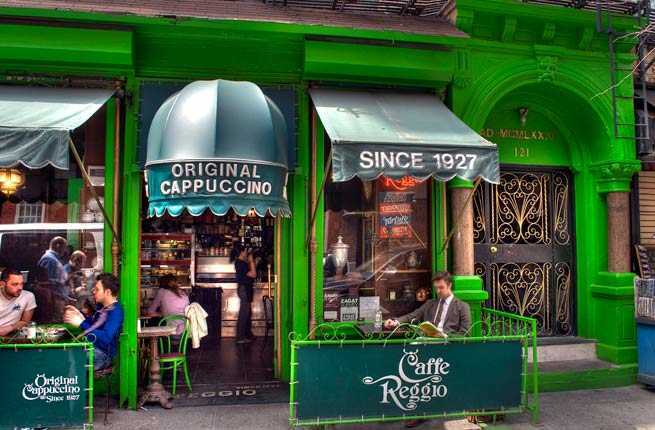 Caffe Reggio
WHERE: Greenwich Village
A Greenwich Village institution, Caffe Reggio supposedly introduced the cappuccino to America. It's been around since 1927, though it feels decidedly older, with ornately carved wooden benches, marble tables, school of Caravaggio paintings, and an antique espresso machine. It served as the backdrop for fictional bohemians in Inside Llewyn Davis and was a true favorite of the Beat writers, especially Jack Kerouac and Gregory Corso.
Insider Tip: Today you're likely to find bohemian NYU students and professors hanging out here. The café stays open late serving coffee, wine, and beer.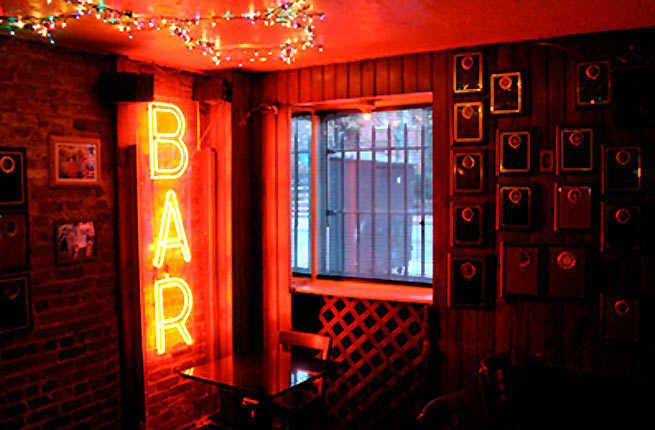 Courtesy of Kettle of Fish
Kettle of Fish
WHERE: West Village
Originally opened on MacDougal Street in 1950, Kettle of Fish has moved twice, taking its raucous history with it. The bar has always welcomed intellectuals, writers, and musicians, including Bob Dylan, Kerouac, and Corso. Once, after a long night of drinking, Kerouac left the bar and was beat up by a couple of thugs, who broke his nose and arm. Joyce Johnson, his girlfriend at the time, wrote about it in her memoir. Kettle of Fish currently resides at 59 Christopher Street, where it draws equal numbers of creative types and sports fans.
Insider Tip: For more Greenwich Village history, visit the Stonewall Inn next door, which witnessed the birth of the gay rights movement.
Courtesy of Algonquin Hotel Times Square
Blue Bar at the Algonquin Hotel
WHERE: Midtown West
Since its opening in 1902, the Algonquin Hotel's Blue Bar and Round Table restaurant have welcomed Nobel laureates, editors, and distinguished women writers, like Dorothy Parker, Gertrude Stein, Simone de Beauvoir, Helen Hayes, and Maya Angelou. The hotel's first owner, Frank Case, envisioned it as a cultural and literary bastion, and drew writers and artists in by ensuring a daily luncheon for them. It was here that The New Yorker was born, and the hotel still provides guests with a free copy of the magazine to this day. A renovation completed in 2012 ensured that contemporary writers—like Junot Diaz, who recently visited—have the Wi-Fi access and modern amenities they need.
Insider Tip: The hotel holds Meet the Author events that are open to the public. Check their Facebook page for updates.
Courtesy of Fairmont Hotels & Resorts
Palm Court at the Plaza Hotel
WHERE: Midtown West
A symbol of the Roaring Twenties, the decadent Palm Court at the Plaza Hotel was one of F. Scott Fitzgerald's favorite New York haunts. He and Zelda stayed in the lavish hotel, and he set a key scene from The Great Gatsby there. It is also the setting for the Eloise children's book series about a little girl who lives at the hotel. In keeping with its storied history, the Palm Court serves Fitzgerald Tea for the Ages with finger sandwiches, scones, and pastries. For kids, there's an entire Eloise-themed menu.
Insider Tip: Admire the enormous fountain in front of the hotel, which Fitzgerald jumped into fully clothed, not wanting to be outdone by Zelda, who had jumped into the fountain at Union Square.
Don Riddle Images/Rosewood Hotels and Resorts
Bemelmans Bar
WHERE: Upper East Side
Bemelmans Bar at the Carlyle Hotel—a classic old-school cocktail bar dating back to 1930—is one of NYC's best hotel bars. It's named for Ludwig Bemelmans, author of the Madeline children's books and artist for The New Yorker, Vogue, and Town & Country. Instead of getting paid for his work, Bemelmans painted the whimsical murals in exchange for room and board at the hotel for himself and his family for a year and a half. Visitors coming for a drink can admire his charming scenes of Central Park, ice-skating elephants, and picnicking rabbits.
Insider Tip: In addition to literary guests, Bemelmans Bar has hosted a long list of distinguished politicians, visiting royals, and socialites.
Minetta Tavern
WHERE: Greenwich Village
Restaurateur Keith McNally's Minetta Tavern is a clever revival of the original bistro opened in 1937. The interior pays homage to Old New York, with red leather banquettes, a black-and-white checkered floor, an oak bar, and framed photos of renowned guests. Ernest Hemingway, Ezra Pound, Dylan Thomas, Eugene O'Neill, e. e. cummings, and other literary luminaries and vagabonds have graced Minetta with their presence. The menu is full of the classic tavern fare Hemingway would have enjoyed tucking into.
Insider Tip: Be sure to see the original fresco depicting Greenwich Village life in the back room.
McSorley's Old Ale House
WHERE: East Village
Joseph Mitchell, who wrote about people and places on the fringes of society for The New Yorker, immortalized McSorley's Old Ale House in a series of portraits collected in his book McSorley's Wonderful Saloon. A true man's pub, McSorley's—which was established in 1854—didn't admit women until 1970. Grab a beer (they only offer two kinds, McSorley's Light and McSorley's Dark) and breathe in the history and the scent of over a century's worth of spilt ale soaked into the wood.
Insider Tip: McSorley's can be quite a rowdy scene on Friday and Saturday nights. Come on weekdays if you prefer a calmer atmosphere.
Old Town Bar
WHERE: Gramercy
The Old Town Bar has won many accolades and celebrated many milestones, including the 100th anniversary of its giant porcelain urinals in 2010. The bar features mahogany throughout, tin ceilings, classic black and white tiles, and New York's oldest dumbwaiter, which carries food from the upstairs kitchen down to the bar. This unpretentious, dark bar on East 18th Street dates back to 1892, but has a clientele of modern literary greats. Patrons have included Frank McCourt, Seamus Heaney, Nick Hornby, and Billy Collins.
Insider Tip: The neighborhood is full of historic charm. Nearby, in Gramercy Park, you can see the National Arts Club, the Players Club, and the birthplace of Teddy Roosevelt.
Hungarian Pastry Shop
WHERE: Morningside Heights
To see writers working in their natural habitat, head uptown to the Hungarian Pastry Shop, on Amsterdam Avenue between 110th and 111th Streets. This laid-back café has been popular with literary-minded students, professors, and writers from nearby Columbia University since it opened in the 1960s, and it seems as though the café is a living relic of that time. It's cash-only, has no Wi-Fi or electrical outlets for laptops, and serves old-fashioned pastries and bottomless cups of coffee. The Hungarian Pastry Shop embraces its literary reputation, displaying the book jackets of its regulars framed on the walls. Woody Allen filmed a scene from his 1992 movie Husbands and Wives here.
Insider Tip: The bathroom's walls have long been scrawled over with high-minded political and intellectual graffiti. Though it was painted over last year, patrons began leaving new messages immediately.