Laura Itzkowitz
New York City is renowned for its many museums and galleries, but there's an abundance of art all over the city that you can walk right past without noticing. You can find some of the city's best art in the depths of the subway, in unmarked SoHo lofts, and on the street—you just have to know where to look. Though this is far from an exhaustive list, here are ten of New York City's most surprising and thought-provoking art installations that are hidden in plain sight.
by Laura Itzkowitz
THE NEW YORK EARTH ROOM
WHERE: SoHo
Would you ever expect to find a piece of New York City's prime real estate filled wall-to-wall with 280,000 pounds of dirt? Probably not, but that's exactly what The New York Earth Room is. Commissioned by the Dia Foundation in 1977, earthworks artist Walter De Maria's minimalist installation is hidden in an upstairs loft, behind a door with only a small plaque indicating its existence. The soil has never been removed or changed, and a musky smell permeates the place. Yet it's oddly moving, especially if you think of it as a reminder of what the city once was.
Insider Tip: Hurry, the New York Earth Room will be closed for the summer from June 16 until September 14.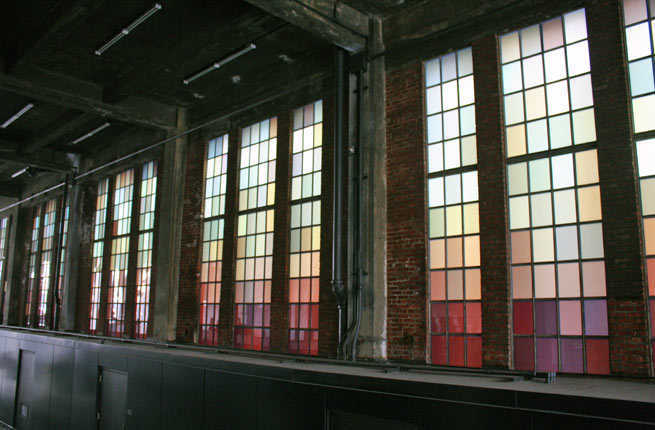 THE RIVER THAT FLOWS BOTH WAYS
WHERE: Chelsea
Since its opening in 2009, The High Line has been a beloved park and a major player in Chelsea's art scene, hosting temporary exhibitions by Ed Ruscha, JR, El Anatsui, and other important contemporary artists. Yet many people walk by Spencer Finch's installation on the High Line without noticing it. In the Chelsea Market passage, Finch installed a grid of colored glass blocks representing a 700-minute journey on the Hudson River. He photographed the river once every minute and chose the color of each glass block by pulling one pixel from each photo, arranging them chronologically. The installation's title is a literal translation of the Native American name for the Hudson, referring to the river's natural flow in two directions.
Insider Tip: You won't have trouble finding art in Chelsea. Gagosian Gallery and David Zwirner exhibit some of the art world's biggest stars, but there's plenty to see in all the galleries lining the blocks between 14th and 30th Streets.
7,000 OAKS
WHERE: Chelsea
Joseph Beuys, lauded as one of the most important German artists of the latter half of the 20th century, began his 7,000 Oaks installation in 1982 as part of documenta 7 in Kassel, Germany. Beuys envisioned the project as a mission to bring about environmental change and urban renewal, planning to plant 7,000 trees around the city, each with a four-foot tall basalt column beside it. Dia picked the project up in 1988, planting five trees of different varieties with basalt columns on West 22nd Street in Chelsea. They planted 18 more trees in 1996, each paired with a basalt stone. See if you can spot them all in between gallery hopping and strolling on the High Line.
Insider Tip: Be sure to stop by Dia:Chelsea on West 22nd Street.
FraukeFoto/Flickr [All Rights Reserved]
TIMES SQUARE SOUND INSTALLATION
WHERE: Times Square
With all the bright lights and crowds, Max Neuhaus's subtle installation is easy to miss, but once you discover it, it feels like your little secret. Stand on the grates in the little pedestrian triangle on Broadway between 45th and 46th Streets, and you'll hear harmonic, but unidentifiable sounds emanating from below. Neuhaus created the site-specific installation in 1977—inspired by Times Square as it was then—and it is now a permanent installation thanks to the Dia Foundation.
Insider Tip: For a more tranquil and surreal Times Square experience, go just before midnight, when the crowds have dispersed slightly and Midnight Moment transforms the entire square into an art installation for a few minutes every night.
TIMES SQUARE MURAL
WHERE: Times Square
One of the most surprising finds you're likely to come across in New York City is Roy Lichtenstein's mural in the 42nd Street-Times Square subway station—and if you don't look up you'll miss it amid the hustle and bustle. When the MTA's Arts for Transit program commissioned the famed pop artist to create a public mural, he jumped at the chance. A native New Yorker who took the subway since childhood, Lichtenstein created a six-foot long mural depicting a futuristic vision of New York in his signature brightly colored style. He assembled it in 1994 (three years before his death) and donated it to the city.
Insider Tip: Lichtenstein fans can find his work around the city, at MoMA, the Met, and Gagosian Gallery.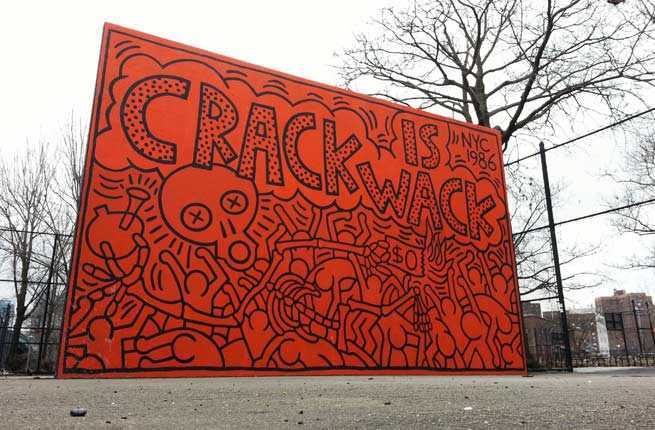 CRACK IS WACK
WHERE: East Harlem
New York City was a very different place in the 1980s, when up-and-coming artist Keith Haring was making street art. Haring painted this "Crack is Wack" mural on the handball court at East 128th Street and Harlem River Drive as a warning against the citywide crack-cocaine epidemic of the late 80s. Though he created the mural illegally, it was quickly put under the protection of the Parks Department. It was restored in 2007 and remains one of Haring's best-known works.
Insider Tip: Haring has several works of art around NYC, including a mural in the West Village's Carmine Street pool and an altarpiece inside the Cathedral of St. John the Divine.
Laura Itzkowitz
WHIRLS AND TWIRLS (MTA)
WHERE: Midtown
If you rush too quickly through the 59th Street-Columbus Circle subway station, you might see a blur of vibrant colors without realizing what the work really is. In fact, the amazingly precise mural is the work of Sol LeWitt, famous for his enormous, geometric wall drawings. Made of 250 porcelain tiles in six colors, this mural is LeWitt's permanent site-specific wall drawing for the MTA. He created the proposal in 2004, completed the drawings and models for the project, and specified the colors before his death in 2007. The mural was completed in 2009.
Insider Tip: For more art at Columbus Circle, check out the Museum of Arts and Design. Robert, the restaurant atop the museum, boasts fantastic views of Manhattan.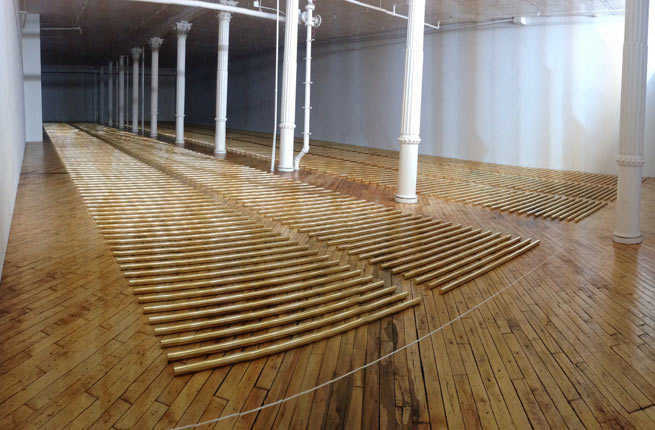 finitor/Flickr [All Rights Reserved]
THE BROKEN KILOMETER
WHERE: SoHo
Just two blocks south of The New York Earth Room, Walter De Maria has another permanent installation. Upstairs in a SoHo loft, 500 highly polished brass rods are laid out on the floor in five rows of 100 rods each. If laid together end-to-end, they would measure 3,280 feet—one kilometer. The entire work is 45 feet wide and 125 feet long, and it's quite impressive to see such a massive space empty except for the rods. De Maria created The Broken Kilometer in 1979 as a companion piece to his Vertical Earth Kilometer (1977) in Kassel, Germany. The Dia Foundation maintains it, along with The New York Earth Room.
Insider Tip: Today people come to SoHo to shop, but it used to be an artists' neighborhood with spacious, cheap studios. You can still find many art galleries lining the streets.
Laura Itzkowitz
BUSHWICK COLLECTIVE MURALS
WHERE: Bushwick
To see where NYC's young, up-and-coming artists are creating art, you'll have to get off the beaten path and make the trip to Bushwick. The neighborhood is quickly changing—like nearby Williamsburg before it—but still affordable enough for artists to rent studio space in former warehouses. Concentrated on and around Troutman Street, the Bushwick Collective is a collection of murals by street artists covering several blocks and constantly growing. Joe Ficalora, a Bushwick native, started the initiative to bring color to this industrial area, where he has many memories. He works to connect artists with building owners who grant them permission to paint on their walls.
Insider Tip: After an afternoon of street art viewing, join the artists and locals at Roberta's Pizza, one of NYC's best spots for al fresco dining.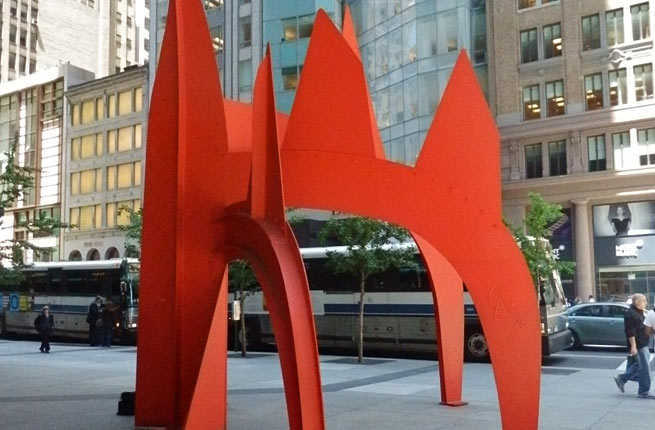 SAURIEN
WHERE: Midtown East
Alexander Calder is best known for his delicate mobiles and wire sculptures, but he has also created many monumental sculpture installations around the world. Saurien, known as a "stabile," seems to spread its spider-like neon orange legs across the sidewalk in front of the IBM building in Midtown. Its bright hue and playful nature contrasts humorously with the glassy gray skyscraper.
Insider Tip: Many of Calder's mobiles and wire sculptures can be seen at the Whitney and the Guggenheim, two museums that display the art of America's greatest collectors.