© Erik Kabik/erikkabik.com
The Las Vegas Strip has long been the goliath of the hospitality universe, home to 15 resorts with more than 3,000 rooms. Recently, however, several properties have tried to scale down and personalize the experience for visitors who don't like feeling lost in the shuffle. Smaller wings at existing hotels, upscale rebrandings, and repurposed properties in the shadows of their gigantic neighbors are all offering a more intimate experience. To be fair, these wouldn't qualify as boutique hotels anywhere else, but in a "bigger is better" city like Las Vegas, these properties are offering truly unique experiences.
by Steve Friess
Steve Friess is a freelance writer based in Ann Arbor, Mich. From 1996 to 2011, he lived and covered Las Vegas for dozens of major publications including Conde Nast Traveler, The New York Times, The L.A. Times and Travel + Leisure. He was author of three guidebooks about Las Vegas including the first and only one for LGBT travelers, Gay Vegas. And yes, he is aware it gets cold in Michigan. Follow Steve on Twitter: @stevefriess.
Caesars Entertainment
The Cromwell
The 188-room Cromwell, which opened this spring after a $186 million makeover of the ultra-seedy Barbary Coast, trades heavily on its status as, at least by Vegas standards, a "boutique" hotel. The Cromwell's small size allows for sit-down check-in stations, complementary coffee and flavored waters on every guest floor, free daily newspaper delivery, and a fabulous, cozy 11th floor rooftop pool with great views of the Bellagio Fountains. The decadent Parisian décor bespeaks intimacy, with dim-lit hallways leading to rooms of textured lavender wallpaper, furniture resembling vintage leather-studded luggage, and a one-way shower glass that doubles as a full-length mirror in the room. One thing that is big at the Cromwell: Giada, the spectacular 260-seat Italian restaurant from celebrity chef Giada De Laurentiis.
Insider Tip: Unique among casino-resorts here, guests are treated to free breakfast at a buffet in the casino bar area that includes an omelet station, fresh-squeezed juice, and an impressive oatmeal bar.
Caesars Entertainment
Nobu Hotel
Nestled at the center of the sprawling, 4,000-room Caesars Palace is an oasis in the form of the renovated, rebranded tower now known as Nobu Hotel. The famed Japanese chef and restaurateur's first hotel has 181 rooms designed by Rockwell Group to evoke Far East zen, complete with cherry blossom art, rosemary-and-white-tea Natura Bissé bath products, and oversized walk-in showers with multiple showerheads and a teak stool. Check-in sets the tone, with complimentary green tea in a lobby adorned with hand-carved blocks of wood from three types of Japanese wood. Co-owner Robert DeNiro is a frequent guest.
Insider Tip: Guests receive priority seating at the adjacent 12,775-square-foot Nobu Restaurant and lounge, the largest of the namesake chef's 30 eateries worldwide. Also available only to Nobu room guests is a 24-hour, in-room dining menu featuring highlights from the Nobu menu.
Courtesy of Mandarin Oriental, Las Vegas
Mandarin Oriental Las Vegas
The 47-story non-gaming Mandarin Oriental Las Vegas boasts just 392 rooms (there are also 20 floors of private residences) in a gleaming silver tower. Veteran hospitality designer Adam Tihany brings all the elegance and Asian touches you'd expect from a Mandarin, most notably ubiquitous geometric shapes and lines as well as headboards fashioned from mother of pearl. Shanghai Tang makes the toiletries, Frette supplies the plush bathrobes, and French molecular gastronomy pioneer Pierre Gagnaire provides the property's luxury dining at Twist.
Insider Tip: The 23rd-floor Mandarin Bar has become one of the hippest places on the Strip to have a cocktail and watch the sun set or, this being Vegas, rise.
Courtesy of MGM Resorts International
SkyLOFTS at MGM Grand
The 29th and 30th floors of the gigantic MGM Grand boast 51 two-story flats appointed like modern loft apartments, complete with an average of eight TVs per unit, 24-hour butler service, 15 different styles of pillows to choose from, a champagne-bubble tub, and a shower-turned-steam room. Guests are fetched from the airport in Rolls-Royce Ghost limos and whisked through a private entrance and up a VIP elevator to be greeted by the butler to familiarize them with the many high-tech gizmos therein. Most impressive is the Crestron environment console from which guests control the climate, lights, TV, and drapes.
Insider Tip: Guests of the SkyLOFTS get their own business cards and personalized stationery during their visit.
Courtesy of MGM Resorts International
Hotel32 at Monte Carlo
Perhaps only in Vegas would a fire that engulfed the upper floors of a casino-resort become an opportunity to reposition a property, but it is from that auspicious event—in which nobody was hurt—that these 50 rooms would become "a boutique hotel atop Monte Carlo." Occupants of the other 2,950 rooms are decidedly excluded from the private elevator and on-floor "suite assistant," as well as access to the private lounge where free drinks, breakfast, snacks, and evening hors d'oeuvres are served. Hotel32 guests are also entitled to free clothes pressing and shoe shines, and the rooms are equipped with Keurig machines as well as Kiehl's bath amenities.
Insider Tip: A proprietary Hotel32 app lets guests order drinks poolside, buy tickets, or request turndown service. Guests without mobile devices, in fact, can borrow them from the property for free, too.
Courtesy of MGM Resorts International
Four Seasons at Mandalay Bay
The original hotel-within-a-hotel on the Strip is the Four Seasons, which elegantly occupies floors 35 to 39 of the Mandalay Bay. With 400 rooms, including 81 suites, it's now on the large side of the "boutique" trend but all the hallmarks are there, from the separate entrance and check-in, to two secluded restaurants including Charlie Palmer Steak that is open to all, but caters to Four Seasons guests. The Four Seasons Las Vegas also boasts a quiet private pool where attendants will spritz water on sunbathers upon request.
Insider Tip: The Four Seasons positions itself as an upscale, kid-friendly antidote to Sin City, with children's menus in the restaurants and board games and DVDs available from the house library, as well as complementary popcorn and soda at check-in.
Courtesy of Palms Casino Resort
Palms Place
Palms Place is technically a 58-story, 599-suite luxury condominium building, but on any given day, most of the owners open their fully appointed, hardwood-floored units for rent. Palms Place is connected to the always-trendy Palms Casino-Resort by a covered walkway, so it's close enough to the action without being immersed in it. The tower's Drift Spa & Hammam offers Vegas' only Turkish co-ed steam bath.
Insider Tip: The Sunday Pajama Brunch from 10 a.m. to 4 p.m. at Simon Restaurant & Lounge on the sixth floor is among Vegas' trendiest events. The menu ranges widely from stuffed French toast to fresh-rolled sushi to cotton candy.
© Erik Kabik/erikkabik.com
HRH All-Suite Tower at Hard Rock
Sensing that some once-young hipsters were aging out of the traditional rock 'n' roll conceit of the Hard Rock Hotel & Casino, the owners spent new $750 million on a 374-suite tower with its own porte-cochère, concierge, and a VIP lounge adorned with a photo of a 1970s-era Bruce Springsteen holding his finger to his mouth, as if to tell visitors they're now in on a secret. The HRH tower caters perfectly to its clientele, complete with hardwood planks in the foyer, dimpled black porcelain walling, a gigantic cast-iron tub-for-two, and the requisite nostalgia-inducing classic rocker photos. In line with the music-centric theme is the most impressive in-room tech feature: wall panels that allow guests to slide in their iPods and play it through speakers throughout the suite. Or, use the touch screen to select from one of the preset, ever-changing song lists.
Insider Tip: Reliquary Spa, also in the HRH Tower, is known for its 1,500-square-foot Roman Bath and a gym where women can take a stripper class.
Courtesy of Rumor Boutique Hotel
RUMOR
RUMOR, the product of a $4-million makeover of a defunct Palm Springs-style hotel across the street from the Hard Rock Hotel, has replaced the SoCal vibe with a charcoal-and-deep-purple color palate, a white marble lobby, and chrome accents. The unusual layout—150 suites in low-slung buildings that surround a lush courtyard—allows for a certain intimacy and solitude that's rare elsewhere in Vegas.
Insider Tip: RUMOR is known as being among the most pet-friendly Vegas offerings and proves it with Yappy Hour, a third-Thursday open invitation for guests and locals to congregate with their pooches on the courtyard green for appetizers, live DJ music, and a complimentary bag of doggie treats.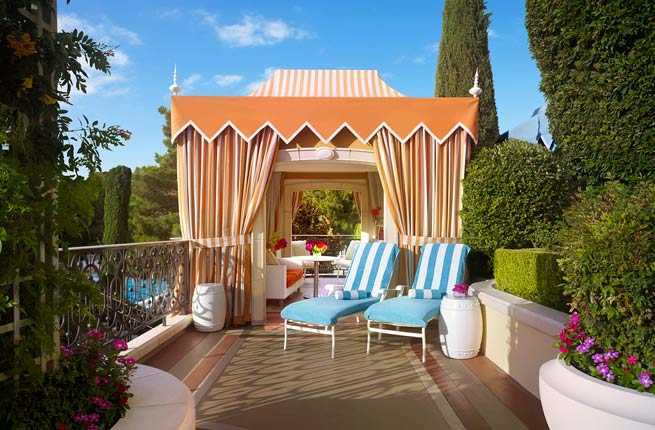 Barbara Kraft
Tower Suites at Wynn
Steve Wynn has said his biggest regret about his masterwork, Bellagio, was that it was too big, wide, and impersonal. So when he built Wynn Las Vegas, he made the building tall and skinny to reduce walking distances and left a southerly column as an exquisite sub-hotel known as the 296-unit Tower Suites. Tower Suites guests are given white-glove treatment that includes a separate entrance and check-in, access to a Tower Suites pools and private terrace, and daily breakfast for two at Tableau. The suites are adorned in sleek cream and beige tones with expansive bathrooms that boast super-large Turkish bath towels and a proprietary line of lemongrass-scented toiletries called Bambu.
Insider Tip: The ground floor of the Tower Suites feature the Fairway Villas that open onto the Tom Fazio-designed Wynn Golf Course. Wynn himself lives in the 4,500-square-foot villa, featured in Architectural Digest.