Hotel EMC2
228 E. Ontario St., Chicago, Illinois 60611, USA
Why We Like It
Though there's a hotel on nearly every corner in downtown Chicago, Streeterville has become generally home to more worn-in properties over the years. Which is why this fancier boutique newcomer definitely stands out—and not just because of it's excessively opulent facade. You can't beat the location, which is just steps away from Michigan Avenue and Navy Pier, making this a good location for leisure tourists and families. However, if you're after amenities, the property keeps it pretty minimum (there's no pool or spa), which means this is a good place for those who plan on using the property for a good night's rest rather than a staycation.
Bearing somewhat of luxe vintage meets high-tech design, this hotel is more upscale than its aging neighbor properties, but in a friendly way. Quirky details can be found throughout, from robots delivering room service to complimentary steampunk brass amplifiers to play music from your smartphone.
YOU SHOULD KNOW Meet your digital concierges: Leo and Cleo, the two room service robots that deliver complimentary small goods like bottled water or toothbrush to your room. Place an order with the front desk and have your camera ready—the robots will arrive autonomously to your room and it's a sight to be seen.
room
In classic boutique property style, rooms are well-decorated but on the smaller side—which means the glass shower is most noticeably in the center of the room. That said, luxe mid-century modern aesthetics like handsome brown leather headboards with brass-encased art and plush beds fitted with white down bedding more than make up for it with a more sumptuous feel. Plug in with smart televisions that connect with room's complementary Amazon Alexa, which also works to alert you when you put in room service requests. Small items for sale are peppered throughout like tote bags and books, which you can read during your stay then take home if you want to finish.
Request a South-facing room for a better view of the city skyline.
bathroom
A narrow glass standing shower outfitted with brass accents and Korres bath products greets you when enter the room, serving as an aesthetic partition into the room. If privacy is a concern, a long curtain can be extended from the bedroom closet to wrap around the shower—but admittedly, the shower is still basically in the center of the room. Still, the bathroom is thoughtfully designed with Deco-inspired brass and marble accents and a a large vanity mirror that lights up for primping.
lobby
Service noticeably stands out here, as a concierge will greet you and give you tips on the way to the front desk for check-in. The design skews somewhat upscale steampunk as a nod to the overall theme of art-meets-science, along with smart elevators that take you directly to your floor. Seating is limited, so it's best to meet any waiting guests in the adjacent ground-floor restaurant, the Albert.
gym
Because the property is new, the fitness center is stocked with the latest equipment including: cardio machines, free weights, Xerball medicine balls, a boxing bag and speed bag.
dining
Named after the Albert who almost needs no introduction—Einstein—the Albert plays up the property's art-meets-science theme with an eclectic menu of elevated contemporary American dishes within a sleek modern dining room featuring a mishmash of two-floors of bookcases.
People also liked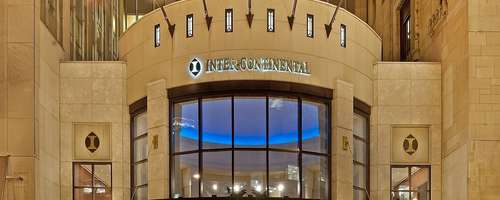 $$ | 505 N. Michigan Ave.
Once a 1920s athletic club, this hotel boasts historic character and a... Read More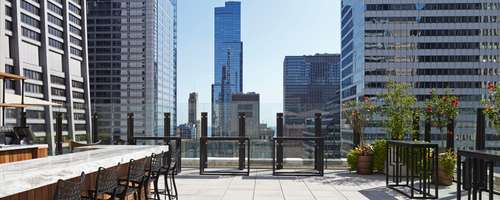 $$ | 100 W. Monroe St.
Open since 2015, this Hyatt Centric property boasts a rooftop lounge a... Read More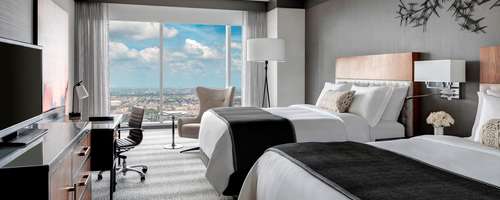 $$ | 465 North Park Drive
Filled to the brim with fun surprises, this hotel features a kid-frien... Read More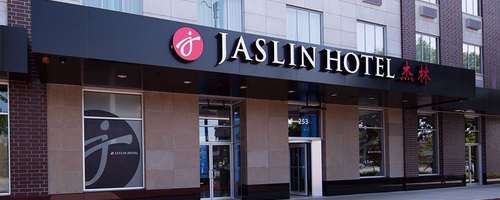 $$ | 246 W. Cermak Rd.
Chinatown's first and only boutique hotel is stylish and cozy. Read More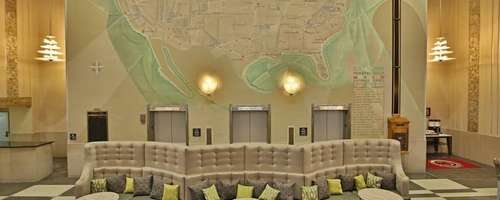 $$ | 68 E. Wacker Pl.
Adorned with Art Deco detailing, this Hampton Inn opened in 2015 in th... Read More
LOCATION
Getting Around
Buses run along nearby Michigan Avenue and adjacent streets, and it's about a 9-minute walk to the Grand Red Line El stop. Taxis are frequent in this area, or you can use a ride-hailing app like Lyft or Uber to pick up a car.
Restaurants
Chains abound, but it's always better to stick local. For high-end, check out nearby GreenRiver (2-minute walk), which has excellent views of Lake Michigan from the 18th floor. Do-Rite Donuts & Chicken, Beatrix and Yolk (2-minute walk each) are great for breakfast and lunch. And if you're in the mood for something a little lighter, swing by Lyfe Kitchen (1-minute walk) for health-inspired fare.
Bars
The best concentration of bars is a short 12-minute walk to River North along Hubbard and Kinzie Streets, where you'll find cocktail lounges like Three Dots & A Dash and Untitled Supper Club, Mexican gastropub El Hefe, and craft beer spot Public House.