Courtesy of The Field Museum
Traveling to Chicago can be daunting—especially with children in tow. With jam-packed streets, crowded restaurants, and towering skyscrapers, it seems difficult to find kid-friendly places and events. But if you take a second look through America's Windy City, you'll find plenty of fun, engaging activities for kids. Parents will like the wealth of learning opportunities, too. Here are our top 10 picks for things to do with kids in Chicago.
By Emily Wasserman
Courtesy of The Field Museum
Sue the T.rex greets children and their families at the entrance of the Field Musuem, the only museum in Chicago that includes both natural science and culture. Children can see life-sized dioramas of the earth before dinosaurs, get an inside look at how mummies were made, and use magnifying glasses to view authentic animal specimens. By the end of their visit, they'll feel like a real paleontologist. (Admission: adults—$15, children ages 3-11—$10, seniors and students—$12. Hours: 9 am— 5 pm daily; last admission at 4 pm)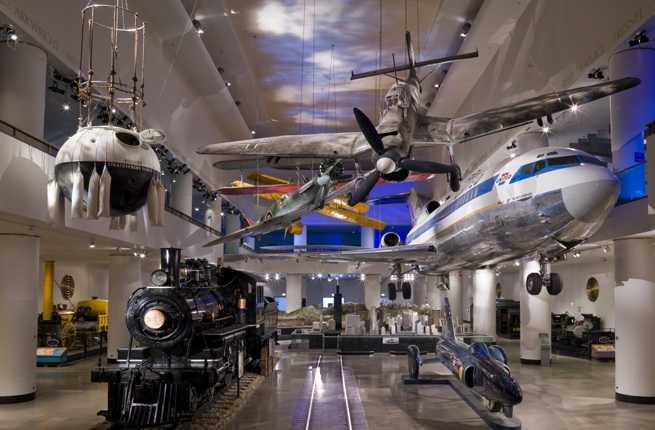 Courtesy of the Museum of Science and Industry
Museum of Science and Industry
Boredom is impossible at the Museum of Science and Industry, one of the largest science museums in the world. The museum boasts 14 acres of hands-on exhibits and over 35,000 artifacts, enough to entertain a young Einstein. The museum also offers discounted admission rates to Illinois locals and 52 free admission days a year. Also, you can use the museum's website to find exhibits and activities based on your child's age. (Admission: adults—$18, children ages 3-11—$11, seniors—$17. Hours: 9:30 am—5:30 pm daily)
Courtesy of Navy Pier
It's impossible to miss Navy Pier, with its 150-foot Ferris wheel and endless attractions. Kids can take a ride on the pier's flying swings, play a round of mini-golf, or check out the pier's new remote control boats. The brave at heart can visit "The Maze," a 4,000 square foot virtual maze filled with surprising twists and turns. Navy Pier also offers rickshaw bike rentals (fully equipped with free locks, riding maps, and safety gear) so you can pedal around as a family. (Admission: free, except for rides and other attractions. Summer hours: 10 am—10 pm Sunday-Thursday, 10 am—midnight Saturday-Sunday)
Courtesy of Chicago Botanic Garden
Only a few miles away from the city in Glencoe, IL, the Chicago Botanic Garden provides a peaceful oasis away from the hustle and bustle. Kids and their parents can enjoy one of many year-round family activities, including nightly concerts with family musicians, kite-making workshops, and a model railroad garden with miniature trains, buildings, and bridges. (Admission: free. Summer hours: 7 am—9 pm daily; fall and winter hours: 8 am—sunset daily)
Just steps away from Chicago's biggest skyscrapers, the Lincoln Park Zoo takes children on a mini-safari. Kids can watch lions and tigers roam the zoo's savanna, visit one of the many primate rooms, or listen to birds in the tropical rainforest. In summer, "Sleep Under the Skyscrapers: Outdoor Campout" events let children ages 5-12 and their families campout at the zoo overnight, and see animals after hours. (Admission: free. Hours: vary by season. Memorial Day-Labor Day, 10 am—5 pm or 5:30 pm on weekends; September-October, 10 am—5 pm; November-March, 10 am—4:30 pm; April-May, 10 am—5 pm)
Located in the heart of Chicago, Millennium Park offers children and their families a variety of fun activities. Children can look at their reflection in "The Bean," a giant, bean-shaped silver sculpture in the middle of the park, or enjoy interactive arts, crafts, and games. Live music and dance performances round out the park's attractions, and will have the whole family singing and dancing together. The park's summer "Family Fun Festival" is filled with hands-on activities for children, like this year's daily performances by Wiggleworms and reading circles for children and their families. (Admission: free. Hours: open daily from 6 am—11 pm)
Courtesy of Shedd Aquarium/Brenna Hernandez
Dolphins and penguins aren't native to Chicago—but that's exactly what you'll find at the Shedd Aquarium. Children can touch stingrays, get eye to eye with beluga whales, and watch daily aquatic shows. Walking through the museum and its wide range of animal species will make kids feel under the sea. Shedd accepts "CityPASS," a ticket that reduces admission to Chicago's top five attractions by almost half, and lets you skip the long lines. (Admission: prices vary with admission package. Hours: fall and winter, 9 am—5 pm Mondays-Fridays, 9 am—6 pm Saturdays, Sundays, and holidays; summer, 9 am—6 pm daily)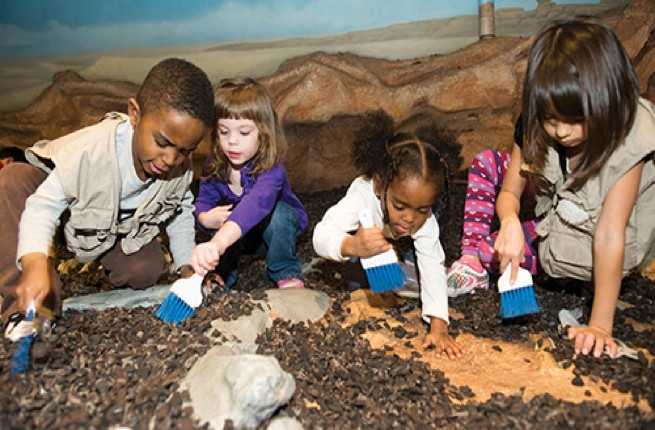 Courtesy of Chicago Children's Museum
Chicago Children's Museum
Located on Navy Pier, Chicago's Children's Museum offers fun for all ages. Children can dig for dinosaur bones, climb through a schooner, create their own artwork, or play in the museum's tree houses. For children younger than five, the museum created special infant and toddler crawl areas and programs tailored to their age group—these have different hours though, so check the website. (Admission: adults and children—$14; seniors—$13; children under one and members—free. Summer hours: Sunday-Wednesday, 10 am—6 pm; Thursday-Saturday, 10 am—8 pm)
Courtesy of John Hancock Observatory.
Kids who aren't afraid of heights can enjoy a birds-eye view of Chicago at the John Hancock Observatory. The Observatory is accessed by elevators that ascend 1800 feet per minute—the fastest elevators in North America. Once at the top, children can get a 360 view of Chicago, see four neighboring states, and even walk outside the building—all at 1,000 feet above the ground. (Admission: adults ages 12 and over—$18, children ages 3-11—$12, children under 3—free. Hours: 9 am—11 pm daily, last admission at 10:30 pm)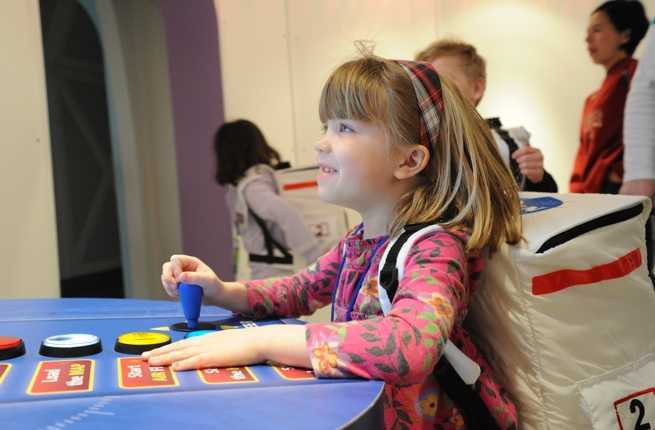 Courtesy of Adler Planetarium
Children take a trip to outer space at the Adler Planetarium, the first planetarium in the Western Hemisphere. The planetarium's domed theaters transport you through the cosmos, and simulate in 3-D what it's like to be in outer space. Exhibitions about the solar system are both educational and engaging, as children can walk through models of the planets and view world-renowned space artifacts. (Admission: adults—$12, children ages 3-11—$8, students—$10, seniors—$10. Hours: 9:30 am—6 pm daily)