The Royal Hawaiian, a Luxury Collection Resort
2259 Kalakaua Ave., Honolulu, Hawaii, 96815, USA, Waikiki and Diamond Head, Hawaii, USA
Dreamstime
Why We Like It
This historic Hawaiian hotel is located on the former playgrounds of royalty, and the hotel does everything to make guests feel like they are just as revered. Nearly every bit of the hotel is Instagram-worthy, thanks to its signature pink color cast along the beautiful blues of the ocean, sky, and pools. Great dining options and a kid-friendly nature also make this a splurge-worthy vacation option.
There's nothing like the legendary "Pink Palace of the Pacific," and the reopening of the renovated Mailani Tower has injected new life into the iconic hotel set on 14 acres of prime Waikiki Beach. Originally built for luxury-cruise passengers, the Royal Hawaiian—the second-oldest hotel in Waikiki behind the Moana Surfrider—is now outfitted with modern comfort amid historic elegance, with a unique blend of luxury and tradition. It's hard to beat the romance and architectural detailing of the historic wing, with its canopy beds, Queen Anne–style desks, and color motifs that range from soft mauve to soothing seafoam. If you want a lanai for sunset viewing, though, rooms in the oceanfront tower are your best bet. As the original guests weren't interested in an ocean view after spending weeks on the high seas, the garden-view rooms are the largest in the historic wing and can often be had for a fraction of the price of other rooms. Ask about garden-view suites and indulge!
room
The hotel is divided into three sections of rooms--the newly built Mailani Tower, the Historic Wing, and the Prestige Suites. Guests of the Mailani Tower enjoy ocean views, private lanai, contemporary decor, spacious rooms, and club-level amenities. The Historic Wing is full of decor and furnishings inspired by the 1920s and features rooms with either ocean view or garden view and also has a club access option. The four Prestige Suites feature elegant decor, ocean views, and the ability to sleep two to four people.
bathroom
Historic Wing bathrooms include marble countertops and shower tiles, with tub/shower combos and darker colors throughout. Mailani Tower bathrooms look much more contemporary, with mosaic tile decor and modern fixtures. Bathroom amenities from Gilchrist & Soames include sewing and dental kits, in addition to the standard shampoos and soaps.
lobby
The partially open-air lobby is large, offering plenty of room for check in and some seating options. The rugs and furnishings are a bit outdated, however, and could use a refresh to give this Luxury Collection hotel a more luxurious feeling. The arch ways of the lower lobby open up to ocean views, making for a nice welcome. For those staying in the Mailani Tower, a separate check-in experience awaits in that wing.
pool
The quiet Malulani Pool is a small, round pool surrounded by a stone sun deck, loungers, and umbrellas in the hotel's signature pink. It also has an adjacent hot tub that looks similar. The Helumoa Playground, shared with neighboring Sheraton Waikiki, is a large freeform pool surrounded by lava rock, waterfalls, and includes a 70 foot water slide and nearby hot tub.
Skip the pool cabanas and rent an umbrella chair set (one umbrella and two lounge chairs) right on the beach for $40 and enjoy food and non-alcoholic beverage service without having to leave the beach.
spa
The Abhasa Spa offers a unique option among Waikiki spas, a tropical garden to relax in and receive treatments. Treatments include massage, facial treatments, body treatments, waxing, and salon services, with plenty of tropical elements throughout.
gym
The gym isn't very large, but contains a few of each standard type of cardio machine, as well as a small weight room.
dining
Classy dining meets beachfront casual comfort at Azure where the freshest catches from Hawaii's waters have a starring role on the dinner menu. Surf Lanai serves up breakfast and lunch (including breakfast buffet) full of local ingredients in a casual, yet classy beachside setting. Desserts, breads, confections, and other Instagram-worthy baked goods are available all day at the Royal Hawaiian Bakery. The Mai Tai Bar offers a unique experience, dining in a private beachfront cabana under the stars, along with oceanfront patio dining for lunch and dinner.
The hotel also offers the oceanfront Aha'aina Luau on Monday and Thursday nights, a real treat. Those staying in the Mailani Tower have access to the Mailani Lounge for continental breakfast and refreshments. In addition, room service is available 24 hours a day.
drinking
The Mai Tai Bar offers lovely outdoor drinking and dining, with lots of umbrella drinks and organic cocktails to accompany ocean and sunset views along with live entertainment in the evenings.
People also liked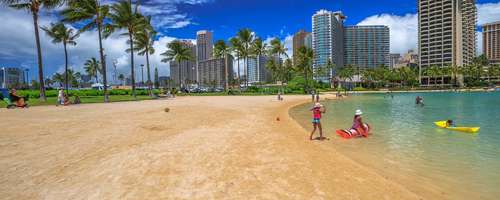 $$ | Honolulu | 1525 Rycroft St
The Pagoda Hotel makes for a great affordable option in the middle of... Read More
$$ | Waikiki and Diamond Head | 2299 Kūhiō Ave, Honolulu, HI 96815
From the moment you arrive at The Laylow, it's obvious that the... Read More
$$ | Honolulu | 2058 Kuhio Ave
A $30 million renovation and rebranding of Maile Sky Court in 2017 bro... Read More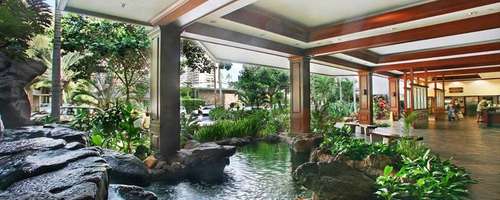 $$$ | Waikiki and Diamond Head | 201 Ohua Ave., Honolulu, Hawaii, 96815, USA
Families and active travelers love the convenience and action of this... Read More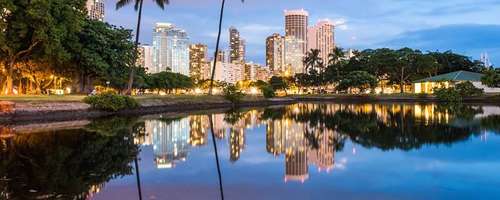 $ | Waikiki and Diamond Head | 320 Lewers St., Honolulu, Hawaii, 96815, USA
A trellised open-air lobby of Italian marble, a koi pond, hanging egg... Read More
LOCATION
Getting Around
Waikiki and surrounding areas are easily reachable from the airport by cab or rideshare. There is plenty to do in these areas without ever leaving (walking, biking, taking the bus, or hailing a car), so a rental car is only necessary if you want to explore other parts of the island. Valet-only parking is $40 per day.
Restaurants
One of Chinatown's standout spots is trendy The Pig and the Lady (18-min drive), a Vietnamese/Asian fusion restaurant with creative dishes that appeal to a variety of palates. They are even able to modify many of their menu items to meet the dietary needs of vegetarians. Their dessert menu is quite stunning, featuring island flavors and a rotating soft serve program, as is their cocktail menu full of quirky drink names and ingredients.
Have a picky group with you? Stop by Honolulu's newest Whole Foods Market Queen (13-min drive) to pick up a variety of groceries, or stop by one of the variety of eateries inside this two-story complex. Options include their classic salad and hot bars, a banh mi counter, poke bar, and a non-dairy frozen banana stand. Don't leave without loading up on ice cream mochi from Bubbie's--but good luck making out of the store before eating all of them! Pro tip: Though you can find Bubbie's all over the island, Whole Foods manages to keep it perfectly stored so that the mochi exterior is as soft and luscious as possible. Try as many as you can here, you'll fall in love with most of them.
Bars
Though MAC 24/7 (6-min drive) is definitely a great place to grab a meal, especially breakfast, it's their cocktails that we really love. Last call is at 3:30 a.m., so you can enjoy a nightcap with your late-night pancakes before heading back to your hotel. Fruity cocktails like the Frozen Mo'o and Lava Lava Rocks fill that island cocktails craving. They also have a great reverse happy hour from midnight to 3 a.m. (except Friday and Saturday), as well as a regular daily happy hour from 2 to 5 p.m.
Enjoy live jazz music with your cocktails at Lewers Lounge (3-min walk) inside Halekulani Hotel. Music happens every night of the week from 8:30 p.m. to midnight (and until 12:30 on weekends). It's a great option for dessert and a nightcap. Be sure to try the "Lost Passion," a tequila/passionfruit/champagne concoction that will get you in the island spirit.
QUICK FACTS
HOTEL INFO
Phones: 808-923–7311;866-716–8110