Chalet Kilauea
19-4178 Wright Road, Volcano, HI 96785, US
Why We Like It
This property is tranquil and posh at the same time, and you can tell how much care has been put into making these rooms a real experience in and of themselves. It has a very high end vibe for reasonable prices, and we love that it's so eco-friendly.
This beautiful, intimate hotel focuses on bringing the outside in through natural elements and unique artistry. The grounds are small, which makes getting around easy and the limited service aspect of this boutique hotel helps to ensure that guests have plenty of privacy. The beautiful koi pond surrounded by bamboo clusters brings an added element of natural beauty to this affordable luxury getaway.
Each room is a bit different, and all but one have stairs (one of the rooms has a spiral staircase). A chat with staff can help match you with the perfect room for any special needs. And though the main building with four rooms is very quiet, the Deluxe Room with one queen and one full bed is perfect for families with kids.
room
Each room at this small, artsy hotel is full of very polished versions of natural elements as a way for guests to experience the surrounding rainforest, even while they're inside. Each room is treated as its own art piece, paying special attention to lighting and minimizing clutter. The lush, comfy beds, as well as other elements of each room, are hand crafted by hotel staff, and you can see how much care and pride they take in this property. There are five rooms, each with a different personality and layout.
YOU SHOULD KNOW Volcano can be a very damp place with a lot of rainy days. There are dehumidifiers in each room that are a necessary evil (they throw off the design and eco-friendly nature of the place a bit) and if the noise doesn't bother you, be sure to leave them running.
bathroom
The bathrooms are very eco-friendly, utilizing only showers and no bathtubs. However, it's hard to remain eco-friendly while visiting because the shower is so incredible, you'll never want to step out from under the waterfall shower heads. They really feel like outdoor showers thanks to all of the beautiful stone elements throughout.
lobby
The lobby is small and unassuming and doesn't really reflect the posh nature of the rooms. A standard lobby desk along with a few items for sale including personal care items, postcards, souvenirs, and ponchos for the rain are about all there is to it. The lobby is open until 5 p.m. After that, the on-call staff is available via text message or phone.
pool
There is an outdoor hot tub available for guests to use, which is nice to take advantage of on chilly Volcano nights.
dining
There is no on-site dining or bar, but guests can purchase wine and beer in the lobby when it's open. Each room has a wet bar with mini fridge, microwave, and sink, so it's easy to reheat leftovers or small food items that you bring in.
People also liked
$$$ | The Kona Coast | 69-425 Waikoloa Beach Dr
Dolphins swim in the lagoon; pint-size guests zoom down the 175-foot w... Read More
$$ | 75-6040 Alii Dr, Kailua-Kona, HI 96740
These beautiful vacation condos, managed by Outrigger and by Wyndham,... Read More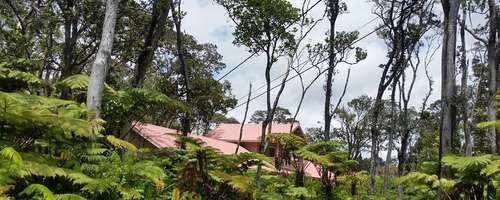 $$ | 19-4034 Old Volcano Rd, Volcano, HI 96785
This small, but cheery inn is home to four rooms set amongst five acre... Read More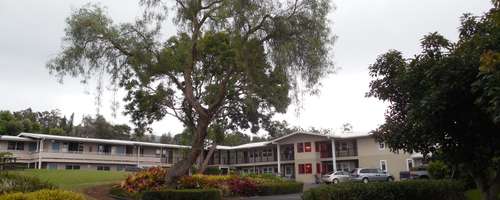 $$ | 65-1300 Kawaihae Rd
One of the only boutique hotels in the Waimea area, anyone looking for... Read More
$$ | 98 Apapane Road
Arnott's Lodge walks the line between campsite, hostel, and budg... Read More
$$ | 29-2715 Kaiwiki-Homestead Rd, Pepeekeo, HI, 96783
Drive through lush rainforests and winding roads to find a former yoga... Read More
LOCATION
Getting Around
To fully explore Volcano and the rest of the island, you'll need a rental car.
Restaurants
Kilauea Lodge and Restaurant (2-minute drive) makes some really tasty cocktails and food, and the staff is even warmer than their local fish dishes. Ohelo Café (3-minute drive) offers heavier, more traditional American and Italian fare in the form of wood-fired pizzas, upscale meat dishes, and a chef's table option.
Bars
Volcano Winery (9-minute drive) offers tastings of their island inspired, island grown wines every day of the year for a small fee. Thai Thai Bistro & Bar (3-minute drive) offers up local brews for a great price, tropical cocktails for a decent price, and a Flaming Thai Thai with an extra little kick.
QUICK FACTS
HOTEL INFO
Phones: 808-201-6809