Arnott's Lodge
98 Apapane Road, Hilo, HI 96720, US
www.facebook.com/arnottslodge/
Why We Like It
Arnott's gives a great option for budget travelers and makes it really easy to explore the island with local experts without having to rent a car, something that not a lot of other budget hotels on the island offer. It's also a great place to meet and get to know other travelers in their cozy, laid back atmosphere.
Arnott's Lodge walks the line between campsite, hostel, and budget hotel. With a variety of accommodations that range from a lawn for camping to a deluxe suite with garden views, private bathroom, and kitchenette, there's something for any budget traveler here. The proximity to Hilo beaches and the ability to join in with their adventure tours for an additional fee makes this one of the few island options where a rental car isn't a requirement.
Arnott's is within a very short walking distance from two of the east side of the island's quietest beaches, Chalk's and Brown's, favorites among locals. If you're looking for a relaxing day, hoof it to one of these spots or one of the other beaches and tide pools in the area.
room
These aren't luxury digs, so the décor is outdated and there can be a bit of a mustiness because of the proximity to the ocean, but rooms are generally very clean and welcoming.
YOU SHOULD KNOW Full service daily cleaning is not included in the price of the room, only daily trash removal and toilet paper changing. For daily cleaning you will need to add an extra charge. Also, most of the accommodation options do not include air conditioning (not unusual on the island) – be sure to pay attention when booking your room if you require it.
bathroom
Bathrooms also vary in size, some shared and some private and quite large, based on your room type.
YOU SHOULD KNOW This lodge is only available to travelers, no locals allowed – proof of an outward bound airline ticket is required at check-in.
lobby
The check in desk is a simple large open window near the common areas.
dining
There is no on-site restaurant, but some of the rooms have fridges and kitchens. There's also a dining area in the common areas if you want to bring food in and relax.
People also liked
$$$ | The Kona Coast | 69-425 Waikoloa Beach Dr
Dolphins swim in the lagoon; pint-size guests zoom down the 175-foot w... Read More
$$ | 75-6040 Alii Dr, Kailua-Kona, HI 96740
These beautiful vacation condos, managed by Outrigger and by Wyndham,... Read More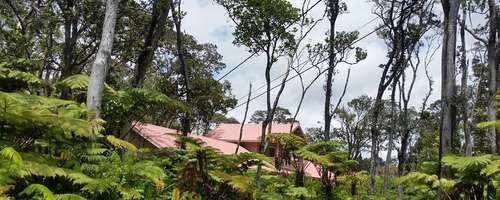 $$ | 19-4034 Old Volcano Rd, Volcano, HI 96785
This small, but cheery inn is home to four rooms set amongst five acre... Read More
$$ | 19-4178 Wright Road
This beautiful, intimate hotel focuses on bringing the outside in thro... Read More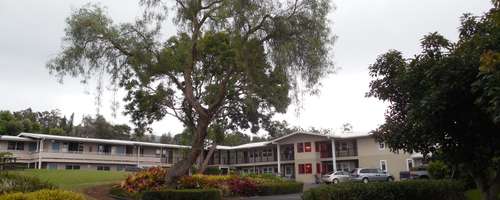 $$ | 65-1300 Kawaihae Rd
One of the only boutique hotels in the Waimea area, anyone looking for... Read More
$$ | 29-2715 Kaiwiki-Homestead Rd, Pepeekeo, HI, 96783
Drive through lush rainforests and winding roads to find a former yoga... Read More
LOCATION
Getting Around
If you're staying in Hilo for most of your trip and utilizing Arnott's adventure services, you could just take a cab or ride share to and from your lodgings. If you want to get around a little more, you might want to rent a car, but Arnott's is well located, so you could conceivably use ride shares and cabs a lot of the time to get in and out of downtown. Arnott's also has bike rentals available, which make for a great option.
Restaurants
Ken's House of Pancakes (5-minute drive) is a tourist and local favorite, with great breakfast and their famous Sumo plates (that come complete with a gong bang) that are not for the faint of heart. If you're looking for fast food without having to drive through a place you have back home, stop by Verna's Drive Inn (5-minute drive) for Hawaiian on your way out for the day.
Bars
With mostly Kona Brewery beers on tap and a standard bar full of liquor, Hilo Town Tavern (11-minute drive) is your best bet for rubbing elbows with locals at this semi-dive bar that has live music, sports on a few screens, and a couple of pool tables. Coqui's Hideaway (6-minute drive) has a fun sports bar that hosts live music, free pupus during happy hour, and a game room.