Fodor's Expert Review

Sugarloaf Lodge

17001 Overseas Hwy., Sugarloaf Key, Florida 33042, USA See on Map
Family owned and operated since 1973, this is just the kind of side-of-the-road place you might imagine when conjuring images of a Florida Keys motel from that era. Nothing much as changed, and that's the way their guests like it. In fact, they love it. It's not at all about affluence or premium furnishings, it's about family, friends, being by the water, and enjoying the richness of what those elements together offer.
room
Think antiquated, in a charming way. Get your old school key at the front desk, then drive to your room and park right in front. Open the door and pause. It's like stepping back in time. Wood paneling. Carpeting. Cool vintage sconces. A hand-painted mural featuring a tropical scene. It's surreal--and wonderful. The only thing that jolts you into the present is a small flat screen TV. But what will probably capture your attention first is the water view, right out your sliding glass door. Every room has one, along with a small refrigerator (which is also important, obviously).
All first floor patios look identical, so if you're coming and going out your sliding glass door, pay attention to which room is yours. Room numbers are not only on every front door, but also high above the sliding glass doors.
bathroom
Remember your elementary school bathroom with its very low-to-the-ground toilet, plain tile, and flickering fluorescent lighting? It's here, in all it's glory. It's plain and simple, but everything works and it's clean. There's just no looking good in that mirror though, but hey, you'll look great by the patio door with all that natural light. Another nice feature is a second sink outside the bathroom door. Tissue, soap, and shampoo are provided.
lobby
This will be your first introduction to the Sugarloaf Lodge, and it's an honest one. Pull into the parking lot and you can't miss the big white building with its funky red roof and carport-style overhang (great for when it's raining). Walk in the glass doors and be greeted as soon as you enter. If other guests are checking in, it will be a tight fit, as the one-person reception desk is right near the door. Grab a local paper, a few tourist brochures, a souvenir t-shirt with their Tiki bar printed on the front, and you're good to go.
YOU SHOULD KNOW The lobby is open from 8 a.m. to midnight but someone is always on call. If you're arriving late, let them know.
pool
Now, we're talking modern. Take a dip in their large, heated, free-form pool surrounded by green grass (a rare sight in the Keys), a wide deck, aluminum lounge chairs, stately palms, and even a few small palapa huts. You might wish it were on the water, but with its privacy fence and landscaping, you'd never guess you were in the parking lot.
Unlike most resorts, the pool has no specific hours. A dip in the moonlight, under the amazing blanket of stars, is about as good as it gets.
dining
Once a sit-down restaurant with water views, Sugarloaf Pizza is now carry-out or delivery only. How's the food? Pretty darn good--and it's priced right. Along with the best pizza in town, you can get hot or cold subs, tacos, burgers, seriously great homemade chili, and more. How about a Caesar with blackened fresh mahi-mahi? You can get that, too. Also, they do breakfast. After getting your free coffee under the Tiki, walk over and buy a homemade muffin, or try the quiche du jour.
Call in your order, pick up your food, then take it over to eat at the beach by the Tiki. There are tables and chairs, and the views of Sugarloaf Sound are postcard beautiful, especially at sunset.
drinking
What luck. You can walk out your door and be at the local hot spot in 30 seconds. Their Tiki Bar really is an authentic tiki hut, on their private sand beach, right next to the water. Christmas lights are strung from side to side and there's live music by local musicians every night. Trivia night is Tuesdays--get in on the action and win prizes.
YOU SHOULD KNOW While the Tiki Bar is only open till 11 p.m., if you're an early-to-bed person with a room on that end of the building, you'll hear it.
activities
Sugarloaf Marina is right next door and they offer a bevy of charter boat services, like backcountry fishing on the flats, diving Looe Key National Marine Sanctuary, and sport fishing offshore. They also have a ramp so you can bring your own boat and keep it at Sugarloaf Lodge for free (really!). Rent kayaks, take a kayak tour, or a beach trip to a private island in the refuge. Not into boating? Yoga classes are offered three times a week; Sky Dive Key West is right next door in case you want to jump out of an airplane; or channel your creative side with a painting class each Thursday. Seriously--this place is cool.
LOCATION
Getting Around
You'll need a car to get anywhere in this part of the Lower Keys. Uber and taxi service should be available. Key West airport is 25-minutes away.
Restaurants
Mangrove Mama's (5-minute drive) is casual and cramped, but the seafood is generally good. Fish Tacos and Lobster Reuben are fan favorites. The Square Grouper (8-minute drive) is no doubt the best restaurant in the lower Keys and beyond. Try the creamy New England clam chowder or the fresh cracked conch. Geiger Key Marina and Fish Camp (12-minute drive) is off the beaten path and worth finding, especially for their weekend-only breakfast.
Bars
My New Joint (8-minute drive) is a beatnik style bar with hip drinks and great munchies. You'll find it on the second floor of the Square Grouper. Sit under the Tiki at Gieger Key Marina (12-minute drive) and listen to live music while you sip cold beers on the water. Boondocks Grille & Draft House (14-minute drive) has it all--mini golf, full liquor bar, live music, and food--you guessed it... under a big Tiki.
WHY WE LIKE IT
Unassuming, a bit funky, and definitely nostalgic, this lodge offers the chance to experience the Old Keys, before chain hotels and fancy-pants coffee. This is how it used to be, people--back when families would pile in the back of the station wagon, without seat belts, and drive all night to arrive in paradise. If you get it, and like that, then get here fast. If you're a complainer (and you know who you are), keep on driving. We'll be at the Tiki Bar, toasting our good fortune to have found this place.
People also liked
$$ | 57784 Overseas Highway
With complimentary use of a motorized skiff, a hot sit-down breakfast,... Read More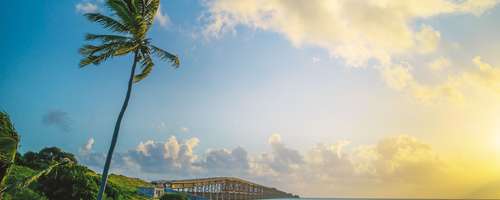 $$ | 57612 Overseas Highway
It's got the word "resort" in the name, but really, this is a ten-room... Read More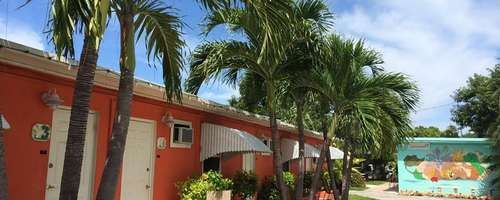 $ | 5000 Overseas Highway
It's not on the water and it doesn't offer a view, but the location is... Read More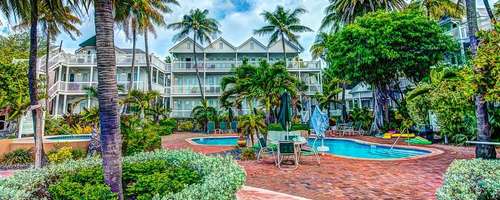 $$ | 1500 Alberta Street
With its tin gabled roofs, white picket railings, and French doors tha... Read More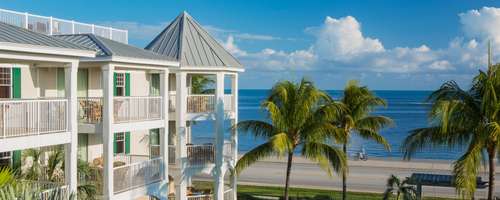 $$ | 3675 South Roosevelt Blvd
This rather sleepy property may not have a slew of activities like oth... Read More