Fodor's Expert Review

Captain Pip's Marina & Hideaway

1410 Overseas Hwy., Marathon, Forida 33050, USA See on Map
If you love old school-style Florida resorts, this is the real deal, and it's right on the bay. There's a marina so you can easily book a charter or rent a boat for fishing, snorkeling, and diving. Already have a boat? Bring it, and keep it right behind your unit. The property is simple, it doesn't pretend to be anything else, and it provides easy access to what the Florida Keys is all about--the water.
YOU SHOULD KNOW Captain Pip's has good bones but some may still find it a little rough around the edges--that's a big part of its charm.
room
Forget the small guest room, book a one-or two-bedroom in one of their colorful, waterfront apartment-style buildings. All units have been updated with new furniture (nice!), new baths, tiled or hardwood floors, curtains, a/c units, and kitchens. Is that a stainless steel French-door fridge in the Marlin unit? Yes-sir-ee! Don't worry, you'll still get the old school feel with the exposed, painted brick walls and wood paneling (which is actually rare Dade County Pine). Units have useful extras too, like a cooler, beach towels, coffee, creamer, and sugar.
Water views go a long way to make your soul happy, so does renting a boat at up to 30% off, a special for guests.
Photo: This is the common area for our Marlin Building Guest. This building has 1 guest room and 1 large apartment. Waterviews, next too pool.. Check out our website www.captainpips.com to see individual rooms.
Photo: This is the outside common area for our Dolphin Building Guests. This building has 2 guest rooms and 2 apartments. Waterviews and a dock. Check out our website www.captainpips.com to see individual rooms.
bathroom
Not even sure we can classify Captain Pip's as "old school" anymore as the bathrooms have been updated with travertine tile and a modern vanity. You'll also find fluffy towels, shampoo and conditioner, and a hair dryer.
YOU SHOULD KNOW Walls can be thin. You have been warned.
lobby
It's a shed! It's a shack! It's... the office! If the door is open to the colorful shed, they're in. You'll see it as soon as you drive up. Park on the pea rocks, wipe your feet, and step inside. Rumor has it that a new lobby is being constructed, complete with a Captain Pip's shop, but it won't be ready till early 2018.
Photo: Enjoy our chilled and heated pool. Great place to sunbath while enjoying the beautiful bay view.
pool
Take a dip in their new pool that overlooks the Florida Bay. It's a good size and the deck has plenty of lounge chairs for sunning. Fill your cooler from the room with drinks (just not glass) and bring it with you, and soak in those beautiful bay views.
Whatever the season, the water will be just right, because this pool has a heater and a chiller.
Photo: This restaurant is within walking distance from our sister location Knights Key Inn. It boost the best Family Fun Day in the Keys.
dining
Walk over to Porky's Bayside for breakfast, lunch, or dinner--seven days a week. If you're heading out on a boat, order a boxed lunch the day before, and pick it up in the morning, starting at6:30 am. Every day is a different food special but our favorite is Monday, for beer butt chicken. There's live music nightly and Sunday afternoons. They smoke their own BBQ on the premises daily. If you want to grill your own dinner, or catch of the day, each building has its own community bbq.
grounds
There aren't really grounds here, it's all pea rocks. Everywhere you go, from the marina, to the bike rentals, and the restaurant, you'll be walking over pea rocks. But, there's a reason. Water is a premium on these islands so instead of trying to keep grass green, resorts and residents use these popular, white, stone pebbles instead.
LOCATION
Getting Around
The nice thing about staying at Captain Pip's is that you can walk to a few local restaurants and attractions. But, US1 is a busy highway, so to play it safer, drive your own car, call a cab or use an Uber, especially if you need to get to the other side of the road.
Restaurants
For seafood and Greek food, head to the 7-Mile Grill (2-minute walk). Dine on the water at Lazy Days South (2-minute drive) where the fish sandwich is always fresh and hanging over the bun. Takara Japanese (2-minute drive) is a nice change of pace. Don't be fooled by the outside--the food scores high marks from regulars.
Bars
For a different kind of experience, take a drive to No Name Pub (26-minute drive). Look for key deer along the way and bring a dollar bill to staple to the wall. Marathon Grill & Ale House (4-minute drive) is a fun sports bar with good bar food. Sunset Grille & Raw Bar (2-minute drive) is a huge tiki bar at the foot of the seven-mile bridge. It's the perfect place to sip a cocktail, people watch, and catch the sunset.
WHY WE LIKE IT
Captain Pip's just feels so natural and relaxing. It provides you the chance to blend in with the locals and get an authentic taste of what it's like to live in the Florida Keys. Walk to your boat, walk to dinner, play cornhole (bean bag toss) by the bay. It's that kind of place. While this style of property isn't for everyone, if you tend to lean toward the unpretentious side of life, you'll fit right in. Plus, its location puts you just a little north or a little south from everything. We think you'll embrace all that Captain Pip's is, and all it has to offer. It really is a hidden gem.
People also liked
$$ | 57784 Overseas Highway
With complimentary use of a motorized skiff, a hot sit-down breakfast,... Read More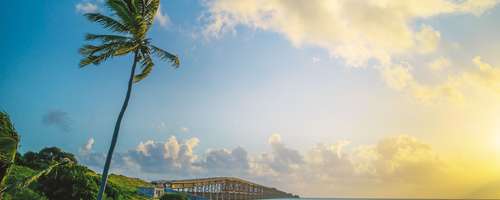 $$ | 57612 Overseas Highway
It's got the word "resort" in the name, but really, this is a ten-room... Read More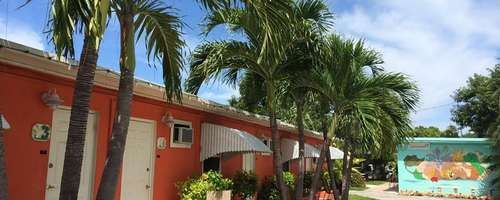 $ | 5000 Overseas Highway
It's not on the water and it doesn't offer a view, but the location is... Read More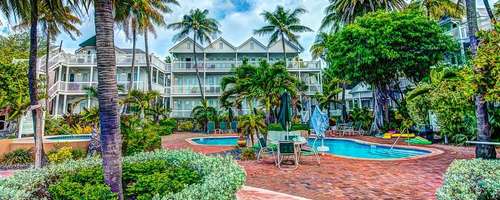 $$ | 1500 Alberta Street
With its tin gabled roofs, white picket railings, and French doors tha... Read More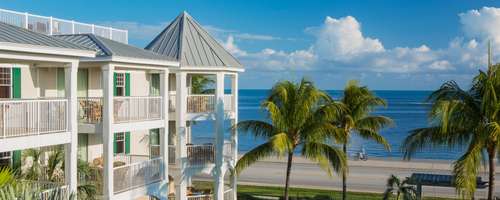 $$ | 3675 South Roosevelt Blvd
This rather sleepy property may not have a slew of activities like oth... Read More