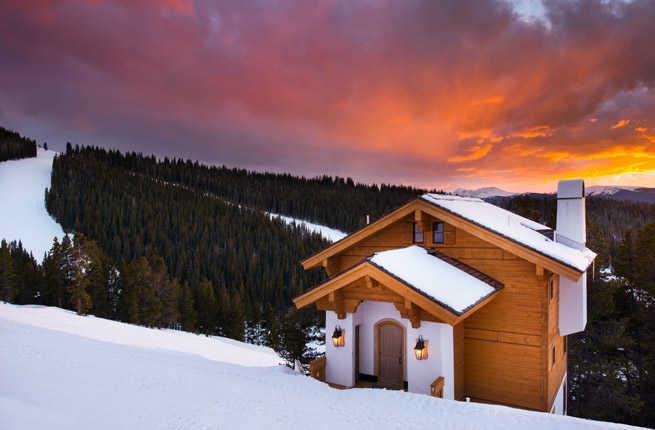 Ric Stovall, Vail Resorts
Vail Mountain has been attracting domestic and international travelers since it opened in 1962, and today it stands as one of Colorado's most popular destinations and a world-renowned ski resort. It may seem unnecessary to make a case for going to Vail in winter, but this year there are more reasons than ever to visit, from festive events throughout the season to new après-ski spots for feasting and imbibing. If you're heading to Vail anytime soon, here are 10 things you absolutely can't miss. —Amber Gibson
Jack Affleck, Vail Resorts
Vail Mountain
The mountain is why Vail exists, and with more than 5,200 acres of developed ski and snowboard terrain and 31 lifts, it truly offers something for every interest and ability. In January alone, Vail Mountain received 54 inches of snow, meaning the resort will have fantastic trail conditions long into the season and right up until its April 10 scheduled closing date. There are several ski-in, ski-out accommodation options, including The Arrabelle at Vail Square–a RockResort (rooms from $400), a favorite for its heated bathroom floors, ice-skating rink, and complimentary GoPro camera rentals.
PLAN YOUR TRIP: Visit Fodor's Vail Guide
Daniel Milchev, Vail Resorts
Burton US Open Snowboarding Championships
From February 29 through March 5, get an up-close and personal view of Olympic-level slopestyle and halfpipe snowboarders competing at the 34th Burton US Open Snowboarding Championships, the longest-running snowboard event in the world. Entry to all of the thrilling competitions is free, kicking off with the Junior Jam halfpipe event for boys and girls ages 14 and under to earn a spot to compete with the pros, and Burton will demo all of their newest 2016 equipment for spectators. Stay for the free evening concerts and don't miss the US Open Broomball tournament or the grand finale halfpipe finals on Saturday.
PLAN YOUR TRIP: Visit Fodor's Vail Guide
Connor Walberg, Vail Resorts
CarniVail
A New Orleans–style Mardi Gras celebration hits Colorado during CarniVail from February 6–9. Bridge Street turns into a somewhat tamer version of Bourbon Street that's family-friendly with lots of flair. Local restaurants will serve gumbo, jambalaya, étoufée, beignets, and king cake with plenty of colorful plastic beads passed around for revelers. The festivities kick off with the world's highest-elevation lowcountry crawfish boil at Eagle's Nest, with live entertainment from Johnny Schleper and Friends. Dress to impress in your best Mardi Gras getup for the Fat Tuesday float parade through Vail Village and the crowning of CarniVail's King and Queen.
PLAN YOUR TRIP: Visit Fodor's Vail Guide
Courtesy of The Sebastian – Vail – A Timbers Resort
Hot Chocolate
The signature hot chocolate ($17) at The Sebastian Vail – A Timbers Resort is as theatrical as it is delicious. Piping hot cardamom, star anise, and clove-spiced hot chocolate is poured over a gold-dusted sphere of Valrhona milk chocolate tableside at Leonora restaurant. As the chocolate orb melts, housemade marshmallows and crunchy chocolate pearls float to the top to garnish your drink. Each week, new gourmet flavors ($13) debut, from dark chocolate truffle raspberry and dulce de leche to peppermint white hot chocolate. Adults can add a boozy kick with a shot of Bailey's.
PLAN YOUR TRIP: Visit Fodor's Vail Guide
Jack Affleck, Vail Resorts
Ski-biking
Biking is not just for summer anymore. Explore the mountain at night while ski-biking with a group of adventure seekers and steer down the mountain with a headlamp leading the way. These nocturnal tours are available Tuesday through Saturday, until April 2 for skiers and snowboarders who are comfortable on blue and black runs. You'll have short skis strapped on your feet for balance, but once you get going, lift your feet up (just keep your hands on the handlebars) and it feels just like biking. Swivel the back bike skate to navigate back and forth across the slippery snow.
PLAN YOUR TRIP: Visit Fodor's Vail Guide
Ric Stovall, Vail Resorts
Game Creek Chalet
The four-bedroom, five-bath Game Creek Chalet is the mountain's best-kept secret. Take the Snowcat up to Vail's only on-mountain lodging option in Game Creek Bowl and enjoy the serenity of having the whole mountain to yourself come dusk. Ski right to your door and stargaze from the hot tub after a long day on the slopes. You can hire a private chef and you'll have your own personal concierge from the Arrabelle to assist with grocery shopping, ski lessons, or mountain tours. This fairytale Alpine hideaway is surprisingly affordable for large families and groups (from $1,200 in winter).
PLAN YOUR TRIP: Visit Fodor's Vail Guide
Dan Davis, Vail Resorts
Ski and Snowboard School for Women
Women of all ages and abilities can improve their skiing in small groups with the new Women's Ultimate 4 Ski initiative. These small-group lessons for up to four women are a great chance for ladies to learn from female instructors in an encouraging and safe environment. Lessons are available February 13–20 and March 13–April 2, 2016. Request Ruth DeMuth as your instructor—she is not only very patient but will have you laughing all the way down the mountain. More advanced skiers can join former U.S. freeskiing champion Kim Reichhelm for a ski adventure clinic February 8–11.
PLAN YOUR TRIP: Visit Fodor's Vail Guide
Scott Cramer Photography
Gourmet Eats
Open since the summer of 1977, Sweet Basil (average main $36) has been the gold standard in Vail's dining scene. The contemporary American menu includes many plates to be shared, like Alsatian tarte flambée and foie gras mousse. Entrées include creative touches, like red snapper with mole negro and roasted carrots or madras curry on lamb t-bones. On the mountain, refuel midday at The 10th (average main $25), where you can free tired feet from ski boots and slide into furry slippers to enjoy a multicourse lunch. Lobster salad is great for lighter appetites while chicken and pheasant pot pie is the quintessential hearty mountain meal.
PLAN YOUR TRIP: Visit Fodor's Vail Guide
Jack Affleck, Vail Resorts
EpicMix
The EpicMix app works across all of Vail's resorts and allows you to effortlessly plan, track, and share your on-mountain experiences using wireless radio frequency technology. Measure the vertical feet you've skied along with progress from ski school lessons and unlock pins for exploring new areas of the mountain. Speed demons can race against Lindsey Vonn's times and compete against friends and family in various challenges. See real-time lift line wait times and download photos taken by the EpicMix photo team directly to your phone. Share the pictures, along with your ski and snowboard accomplishments across social networks without even touching your phone.
PLAN YOUR TRIP: Visit Fodor's Vail Guide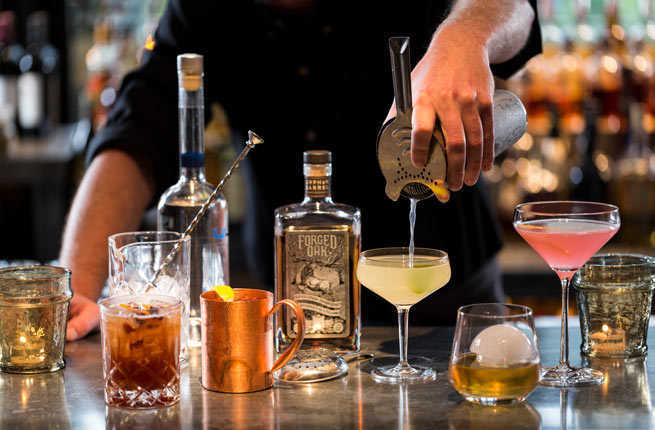 Courtesy of Four Seasons Resort and Residences Vail
Après-ski Cocktails
The Four Seasons Resort Vail spent $2.5 million to transform a former arrivals lounge into Vail's hottest new cocktail bar debuting this winter. At The Remedy, take a seat around the fireplace and enjoy floor-to-ceiling mountain views and live local music while sipping your après-ski tipple of choice. There are cocktails ($14) and Colorado craft beers on tap, but the real showstopper is the whiskey cart, wheeled up tableside to concoct pre-Prohibition style drinks like Manhattans and Old Fashioneds. Labeled "potions" and "elixirs" on the menu, they claim to cure whatever might ail you.
PLAN YOUR TRIP: Visit Fodor's Vail Guide