Kellie Cushing
Head east from Los Angeles, past where the outlet malls and casinos dim in the rearview mirror. A dusty, pencil-straight stretch of California Highway 111 draws a fine line in the desert before it reaches a sea of rosy neon and yellow lights. That last stretch hasn't changed much in the 50 years since Hollywood glitterati occupied the desert oasis, since Frank Sinatra turned Palm Springs into his personal rumpus room. It's been overgrown by newly constructed shopping plazas, mega-sized casinos, and a raft of tourist traps, but envisioning the Palm Springs of the Sinatra era—the Rat Pack '50s and '60s—takes only a little imagination and a little more digging beyond the surface.
For instance, the famous Ingleside Inn and Melyvn's Restaurant sit behind Palm Springs' main drag, a little more than a block away from a gaggle of T-shirt stores and $6 scoops of Ben & Jerry's ice cream. The hotel's claustrophobically small entrance has a narrow one-lane drive, the only way into the beautifully kept restaurant where Sinatra's bar stool remains and the Chairman of the Board's face adorns every drink napkin. It's also not far from a newly built parking lot that could park a flotilla of modern SUVs.
Paradoxically, Palm Springs celebrates its swinging '60s heritage with towering concrete plans for its future. Rapid growth from chain hotels and boutique shopping centers overshadows landmarks that once hosted the Rat Pack, Elvis and Priscilla, and Bob Hope, yet its history is never far from view—those names are etched into the concrete downtown along the walk of stars and written in the street signs on nearly every corner.
Thankfully, Sinatra's style can still be found all over the town if you know where to look.—Aaron Cole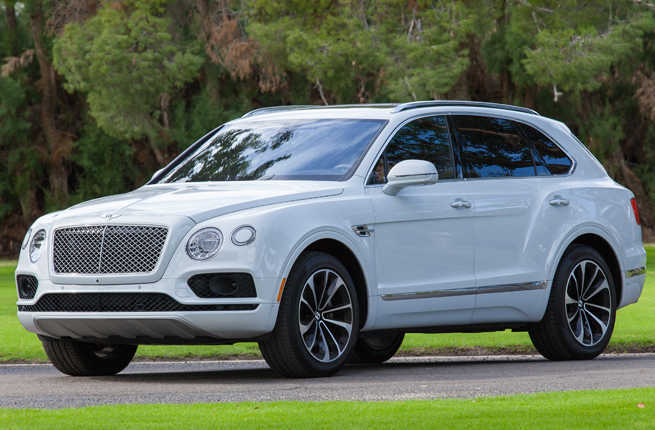 Kellie Cushing
What to Drive
Exploring Palm Springs and looking for Sinatra's legacy in a 2017 Bentley Bentayga—the first SUV from the British luxury automaker—isn't uncouth. One of Sinatra's most famous and iconic cars was a 1958 Cadillac Eldorado Brougham that was among the most exclusive and advanced cars of its day. Like the modern-day Bentley, Sinatra's Eldorado Brougham was also one of the most comfortable rides and sported a 6.0-liter V-8 planted underneath its long hood. Our $275,180 Bentayga also sported one of the most exclusive interiors and comfortable rides, albeit with a 6.0-liter W-12 that makes 600 horsepower engine under the hood. With sharp exterior lines and soft quilted interior hides inside, the Bentayga may be the epitome of what Sinatra meant when he said that if you've got style, "you stand out a mile."
Price: $231,825 (including $2,725 destination)
Specs: 6.0-liter W-12, 600 horsepower, 664 pound-feet of torque; 8-speed automatic; all-wheel drive; 0-60 mph in 4 seconds; 187 mph top speed.
Big ideas: Seats four to seven people; trying to out-regal the Land Rover Range Rover; Bentley's first SUV, ever; a soulmate to the new Audi Q7 and upcoming Lamborghini Urus; a dizzying array of unique specifications and exterior colors; superlative performance; supremely quiet and quick.
The bottom line: Bentley's first-ever SUV is worthy of its name and price, and is one of the most decadent cars on the road today—and that's before we've mentioned the power massaging chairs, custom-made picnic baskets, or available $170,000 Mulliner Tourbillon watch planted in the dashboard.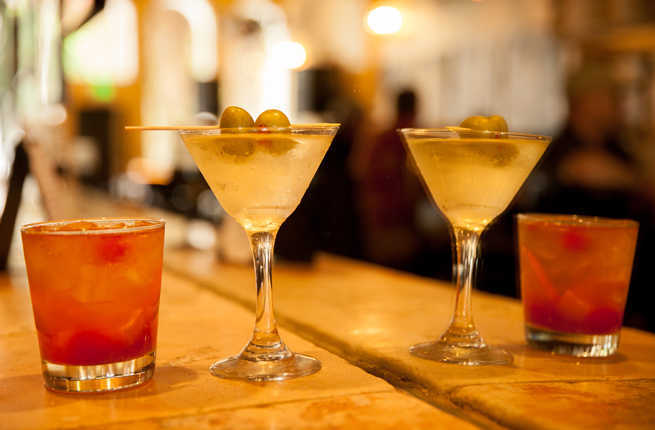 Kellie Cushing
Melvyn's at the Ingleside Inn
Talk to Brian Ellis, the maître d' at Melyvn's for 43 years. He's served eight presidents, from Richard Nixon to Donald Trump. Today's young crowd frequents the restaurant on Friday and Saturday nights, but Sunday brunch is still old school. The conversation with Ellis inevitably swings to the man on the napkin—a fresh-faced Sinatra looks up underneath every drink—and Ellis' eyes light up.
"He used to line up the waiters and throw hundreds at them," he says. He waves off stories that Sinatra used to tuck twenties underneath the chairs and into the corners at the restaurant for the cleaning crew to find.
"They were hundreds," he says.
The dimly lit, stone-colored bar provides refuge from the unrelenting Palm Springs sun, but it's not far from the Ingleside's famous pool and courtyard that bask in the desert heat.
The restaurant and hotel aren't reinventing themselves as much as they're being rediscovered. On a recent Saturday, a young couple were hanging streamers from the stage for their wedding, Ellis was telling regulars the dining room was closed to host the party, and the front desk attendant was waving in new arrivals.
"When I started here, I used to say the average age of the clientele was 'deceased,'" Ellis says.
Now, weeknights are full of young customers, which Ellis says he doesn't mind ("They don't bitch about the prices") and the iconic hotel has new life, even after its famous owner Mel Haber died this year.
When you go: Boozy rye whiskey meets sweet orange and cherries in the bar's famous Old Fashioned and can't be missed. Need an untraceable line to call your bookie or girlfriend? It's in the men's room. No, really. There's a payphone in the men's restroom.
200 W. Ramon Road
760-325-2323
PLAN YOUR TRIP: Visit Fodor's Guide to Palm Springs and the Desert Resorts
Kellie Cushing
Twin Palms
Frank Sinatra's Palm Springs home nestles in a copse of similarly styled homes, beneath two towering palm trees and beside a carefully manicured lawn with freshly planted flowers.
Sinatra's Desert Modernism-inspired house was built in 1947 and designed by E. Stewart Williams—who also designed the Palm Springs Art Museum— and it's a Class 1 historical site, but lacks any signs or markings that indicate its significance.
Beneath deep overhangs and simple architectural lines, the Sinatra home opens on occasion to visitors and tourists. It's always available to overnight guests willing to shell out the thousands of dollars to walk where Sinatra, Ava Gardner, Mia Farrow, and Lana Turner all walked.
It's not hard to imagine Sinatra's clothes strewn across the circular drive after one of his and Gardner's famous fights, nor is it hard to imagine how the elegantly styled home could provide refuge away from the Hollywood bustle.
When you go: If you can secure a tour, find the cracked bathroom sink where Sinatra infamously fired a champagne bottle toward Gardner during a heated argument. Thankfully, he missed.
1148 E. Alejo Road
877-318-2090
PLAN YOUR TRIP: Visit Fodor's Guide to Palm Springs and the Desert Resorts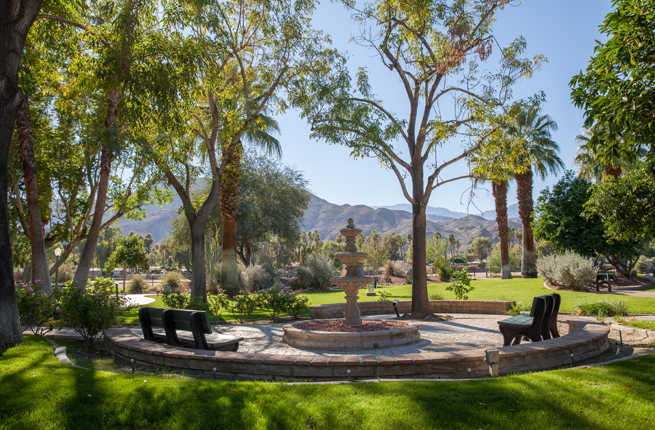 Kellie Cushing
Michael S Wolfson Park
This small city park burrows between Frank Sinatra and DaVall drives. It was a famous oasis for Sinatra and Dinah Shore, and it's easy to see why.
The tiny green island near the Whitewater Wash has multiple picnic benches and a single fountain in the middle. Lush and green with a few orange trees dotting the grounds, locals seek afternoon shade from the crushing hot desert sun at Wolfson Park.
The park also attracts frequent bikers starting the Butler-Abrams bike trail, which runs along the wash and provides stellar views of the nearby mountains and golf courses near Rancho Mirage.
The postage-stamp-sized park is far enough away from the downtown drag that afternoon sunsets won't be spoiled by excess noise or light—perhaps the reason Sinatra preferred the park in the first place.
When you go: An audible greeting from Sinatra and Shore at the entrance of the park welcomes visitors in their typical classy fashion.
70103 Frank Sinatra Drive, Rancho Mirage
760-324-4511
PLAN YOUR TRIP: Visit Fodor's Guide to Palm Springs and the Desert Resorts
Kellie Cushing
The Purple Room Supper Club
The Purple Room Supper Club has changed owners and names (it was once called The Trinidad) since it first opened in 1960, but its mystique has stayed intact.
An impressive crystal chandelier above and small tableside lamps barely light the dark room, which hosts nightly shows. Sunday's weekly performance, "The Judy Show" is a drag sendup of Judy Garland and her guests—perfect for the rowdy room.
When Michael Holmes acquired and renovated club in January, his aim was to revert the small room into the raucous venue it was for the Rat Pack in the 1960s. Giant pictures of Sammy Davis Jr. and Sinatra adorn the walls beside famous quotes like "Alcohol may be man's worst enemy, but the Bible says love your enemy" and serve as signposts for guests unclear on the club's mission. (Hint: It's still about having a great time.)
When you go: Doors to The Purple Room Supper Club open at 4 p.m., and the room fills up quickly. Booking tickets in advance for a show or making reservations is highly recommended. You should probably order the Steak Diane when you're there, because the '60s.
1900 E. Palm Springs Canyon Drive, Palm Springs
760-322-4422
PLAN YOUR TRIP: Visit Fodor's Guide to Palm Springs and the Desert Resorts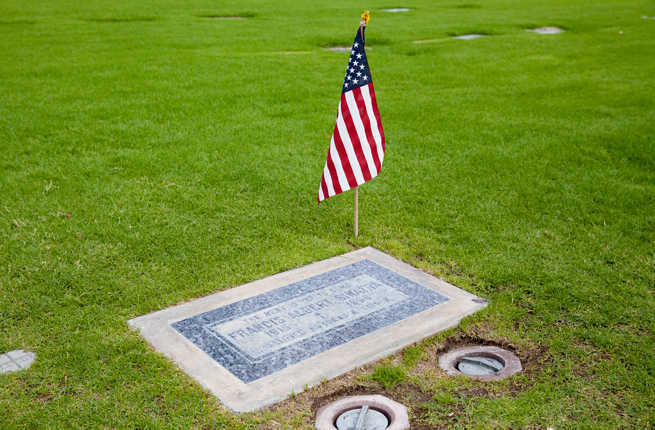 Kellie Cushing
Desert Memorial Park—Frank Sinatra's family gravesite
Unlike Graceland's elaborate tribute to the "King," Sinatra's internment is a much more subdued affair for the "Chairman."
A simple headstone marks Sinatra's resting place at the south end of the park, which is located in the Palm Springs Cemetery District. The park's immaculate grounds are also the final homes for Sonny Bono, Frankie Randall, and various other celebrities.
Frank Sinatra is buried near other members of the Sinatra family including Vincent Mazzola (Frank's uncle), Natalie "Dolly" Sinatra (Frank's mother), and Anthony Sinatra (Frank's father).
The central office offers a map and locations of other graves of interest if you're up for reliving sepia-colored memories from the '60s. On what would have been Sinatra's 100th birthday in 2015, faithful fans lined up to leave bottles of Jack Daniels on the singer's gravesite, but on a recent afternoon, only a small American flag decorated the site. It's worth finding, even if you have to look hard for it.
When you go: The cemetery is open to the public and is easily accessible, but cemetery staff ask that visitors do not disturb grounds workers. Most questions can be answered at the main office if necessary.
31705 DaVall Drive, Cathedral City
760-328-3316
PLAN YOUR TRIP: Visit Fodor's Guide to Palm Springs and the Desert Resorts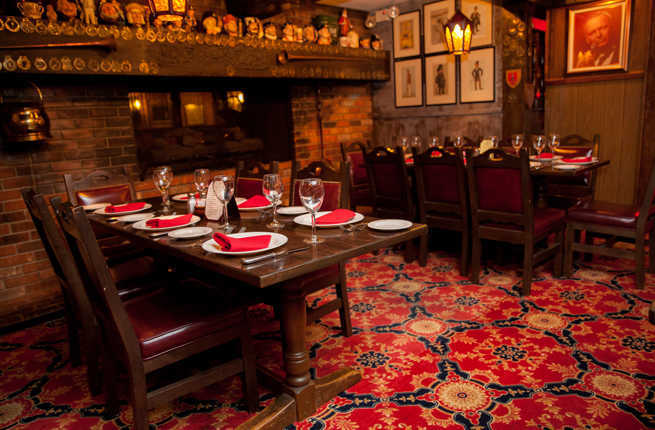 Kellie Cushing
Lord Fletcher Inn
Michael Fletcher is extremely protective of his guests and restaurant. The famous steakhouse that his father opened more 50 years ago has hosted countless celebrities in its history—and still does today. Privacy and discretion are central to his customers.
The interior décor wouldn't be out of place in an English countryside. Warm wood and leather wrap around the large dining room and fireplace, which seems booked every night that it's open. (It opens at 5 p.m Tuesday to Saturday and stops seating around 8 p.m.)
The menu boasts English favorites like Yorkshire pudding, rack of lamb, and prime rib. A full bar serves the customary cocktails that Sinatra would have likely ordered before, during, and after dinner, but also traditional English pints—cask-conditioned and delicious—are on offer.
It's easy to see why Lord Fletcher Inn was one of the singer's favorite places to eat—it's not far from the drive that bears his name. Lord Fletcher Inn is cozy, comfortable, and extremely delicious. Bring an appetite, the food is generously sized and reservations are a must.
When you go: You can find Frank's traditional spot near the fireplace relatively easily—a portrait of Sinatra hangs above the chair. Don't expect to sit there, though. It's entirely likely that Frank's fourth and final wife, Barbara, will be occupying the table.
70385 California Highway 111, Rancho Mirage
760-328-1161
PLAN YOUR TRIP: Visit Fodor's Guide to Palm Springs and the Desert Resorts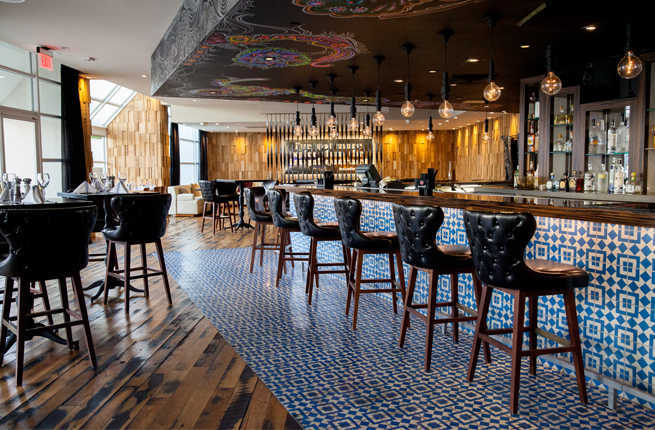 Kellie Cushing
During Sinatra's heyday, the Hard Rock Hotel in Palm Springs may very well have been one more travelers' motel or resort with a pool—that much we're sure of. The corporate structure makes no allusions to a deep history or connection with the Rat Pack or their ilk. Instead, the hotel sports Lady GaGa's scooter in the lobby and other kitsch that you'd expect to find in hotels with the Hard Rock name.
So, what's it doing on our list? It's a modern take on the Palm Springs getaway that put the town on the map in the first place.
While we have a fondness for what originally drew celebrities into Palm Springs (it was within a two-hour drive of Hollywood, a contractual mandate for stars of the time), the Hard Rock brings a new crowd in today.
The hotel's location makes it an easy walk to Palm Springs' central shopping district and drag, and a 10-minute walk to Village Pub—one of the city's best nightlife spots.
It's not the Hotel California, a rustic Spanish-style lodge, nor the Ingleside Inn—but the Hard Rock is where you're likely to find the new blood coming into Palm Springs for many of the same reasons Sinatra and others escaped here more than 50 years ago.
When you go: The pool at the Hard Rock is just as lively and rambunctious as you'd expect. We don't imagine another Marilyn Monroe will be spotted here like she reportedly was in 1949 at the Racquet Club, but the Hard Rock pool is the place to see and be seen.
150 S. Indian Canyon Dr., Palm Springs
760-325-9676
PLAN YOUR TRIP: Visit Fodor's Guide to Palm Springs and the Desert Resorts
Kellie Cushing
Dinah Shore Residence
The Big Band singer and talk show host once owned one of Palm Springs' most famous homes, designed by renowned architect Donald Wexler (Wexler went on to design the Palm Springs airport and the Canyon Country Club).
Shore's home is among dozens located in the northern neighborhoods of Palm Springs that typify the era and attitude of Palm Springs from the age of the Rat Pack. The ramblers were meant to maximize the mountain views with large windows and shield the blazing sun with deep overhangs. Their contemporary architecture and structures are far less formal than other celebrity enclaves, and the natural colors blend better into the scenic landscape.
The Shore house is a frequent stop for the walking tours around the neighborhood, and like the Sinatra home, it's available for booking at thousands of dollars per night. The dramatic lighting at night drapes the home's simple, mid-modern lines, and bathe the pool in a sumptuous glow.
When you go: It's nearly impossible to see all 1.3 acres of the Shore estate from the street, but many hikes around the neighborhood into the hills and up to the Palm Springs tramway offer better views of the estates. Bring a bottle of water and walk, if you can.
432 Hermosa Road, Palm Springs
818-621-0157
PLAN YOUR TRIP: Visit Fodor's Guide to Palm Springs and the Desert Resorts
Kellie Cushing
Tramway Gas Station/Palm Springs Visitor's Center
The first building that welcomes visitors to Palm Springs today may have been known to Sinatra in the Sixties as the Enco service station, the first stop on the way into town from Los Angeles.
The wedge-shaped building now is home to the visitor's bureau and is the gateway to the Palm Springs tram that runs all the way up the mountains, and was designed in 1965 by Albert Frey, who also sculpted the impressive Palm Springs city hall.
Inside, countless brochures and pamphlets boast Palm Springs' new identity as a cultural hub, artist refuge, or recreational playground, but there's also valuable information about the Agua Caliente Band of Cahuilla Indians and nearby Indian Canyons.
Before making the hike (or drive, if you prefer) up to the tramway station, the visitor's center is a good primer on the city's layout and neighboring locales like Rancho Mirage, Cathedral City, Indio, Palm Desert, and the San Jacinto mountains.
When you go: The visitor's center and Destination Palm Springs downtown are invaluable resources for first-time visitors. Don't just pick up pamphlets, talk to the longtime greeters who can steer you from the tourist traps and into the local hotspots.
2901 N. Palm Canyon Dr., Palm Springs
760-778-8418
PLAN YOUR TRIP: Visit Fodor's Guide to Palm Springs and the Desert Resorts