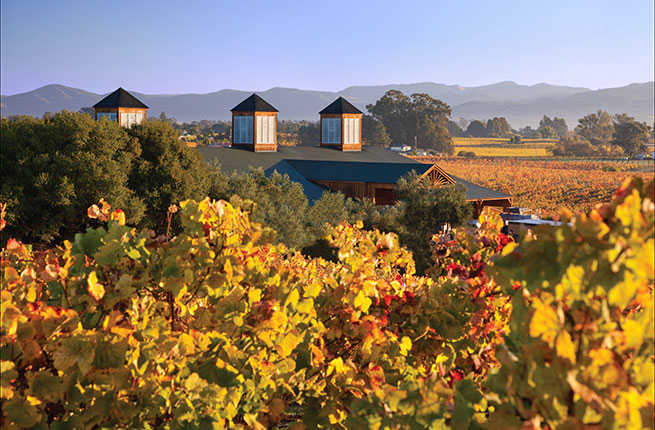 Monica Elling
Napa is an easy place to navigate even for first-timers, as many of the most familiar and largest wineries located right off of Highway 29 and Silverado Trail, with prominent signage to welcome guests. However, many of the best wineries in the valley are still family owned and appointment-only, often tucked away from the major highways. Don't be shy. Pick up the phone for a chance to try exquisite, soulful wine and have a truly unique Napa Valley experience.—Amber Gibson
Stags' Leap Winery
WHERE: Napa
Often confused with the much larger Stag's Leap Wine Cellars, this boutique winery was one of California's earliest wine estates, perhaps most famous for its petite sirah. The manor house, a 19th-century Victorian-era mansion, has just been restored and is now open to the public. Winemaker and general manager Christophe Paubert has curated new experiences, including a heritage library tasting, vineyard tour, and apothecary garden experience. Here you'll learn the history of the property and enjoy a seated sensory tasting featuring aromatic elements selected from the garden that bring out flavors and aromas in Stags' Leap estate wines.
PLAN YOUR TRIP: Visit Fodor's Napa and Sonoma Guide
Ehlers Estate
WHERE: St. Helena
Ehlers Estate produces certified organic wine solely from hand-picked estate-grown grapes. Winemaker Kevin Morrisey describes the 1886 cabernet blend as both "macho" and "floral"—an apt description for this full-bodied yet balanced flagship red wine. Early risers can visit at 9:30 am for an unusual pairing of freshly baked Bouchon Bakery croissants with sauvignon blanc, merlot, cabernet franc, and cabernet sauvignon wines. Who needs coffee?
PLAN YOUR TRIP: Visit Fodor's Napa and Sonoma Guide
Summers Estate
Where: Calistoga
This family winery may be small, but it's the world's largest producer of Charbono, an esoteric Italian grape varietal that's low in tannins. Summers makes a rosé and deep red wine with Charbono along with zinfandel, merlot, and petite sirah on their 25-acre estate. After tasting, enjoy a light lunch in their picnic area or play bocce ball.
PLAN YOUR TRIP: Visit Fodor's Napa and Sonoma Guide
Mars Lasar
WHERE: Napa
Tom Gamble is a third-generation farmer, growing grapes on 175 acres in the heart of Napa Valley. He'll take you on a hayride with a glass of rosé to show you the vineyards he is so proud of. With so much hard work put into tending the vines year-round, a true expression of terroir is of utmost importance to Gamble and winemaker Jim Close, who keeps wines as separate as possible through fermentation in order to better layer flavors when blending. Gamble Family Vineyards makes several single-vineyard varieties, including a white Bordeaux-style Heart Block sauvignon blanc. "It's a more versatile wine than chardonnay," Gamble declares. The marmalade aroma, creamy mouthfeel, and citrus flavor with savory minerality elevate this beyond other Napa Valley sauvignon blancs. Compare the soft and herbaceous Family Home knoll-top cabernet sauvignon with the stronger, black fruit tannins of the Cairo version from the valley floor.
PLAN YOUR TRIP: Visit Fodor's Napa and Sonoma Guide
Monica Elling
WHERE: Napa
The southernmost winery in the southernmost Napa Valley AVA epitomizes Carneros, with foggy mornings and a cool afternoon breeze. Stand on the terrace swirling pinot noir or chardonnay and look across the bay all the way to San Francisco's financial district. Bouchaine is dog-friendly, with water bowls and treats available for four-legged visitors, and guests are welcome to explore the vineyards right outside. Winemaker Chris Kajani invites you to pick grapes right off the vines to taste and relax for as long as you like on the patio and in the gardens.
PLAN YOUR TRIP: Visit Fodor's Napa and Sonoma Guide
Swanson
WHERE: Rutherford
Taste six to eight small-lot wines that are only available at the winery when you visit Swanson Vineyards. These appointment-only tastings include a few food pairings too, and more than just warm nuts and cheese. Think chardonnay with caviar and crème fraîche on a potato chip and a chocolate bonbon infused with cabernet sauvignon or merlot.
PLAN YOUR TRIP: Visit Fodor's Napa and Sonoma Guide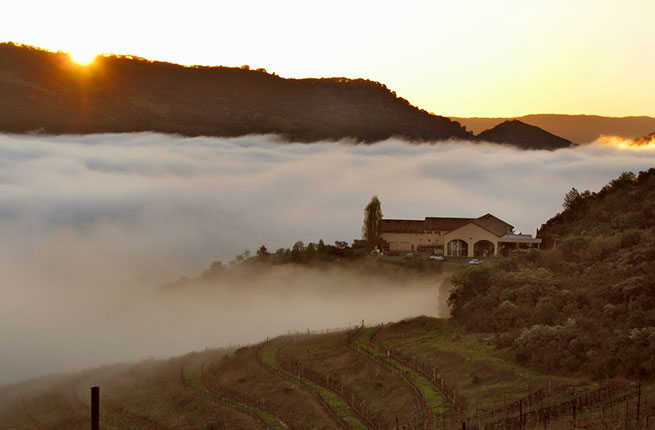 Antica
WHERE: Napa
Antinori is a legendary name in Italy—the family can trace its winemaking roots back 26 generations to 1385. Today, the Antinoris own 10 estates across Italy and one in Napa Valley. Piero Antinori first visited Napa Valley in 1966 and purchased the Antica property 20 years later. Today, his eldest daughter, Albiera, is the president of the company, the first time Antinori has had a female leader. They started making wine in Napa only recently (2004 was the first commercial release) so Antica is still a hidden gem. Visits are by appointment only and the wine club has fewer than 200 members. Call ahead and they'll welcome you for a tour and tasting including crisp chardonnay, poised pinot noir, and robust Townsend single-vineyard cabernet.
PLAN YOUR TRIP: Visit Fodor's Napa and Sonoma Guide
Stony Hill Vineyards
WHERE: St. Helena
Picturesque Stony Hill Vineyard focuses almost entirely on white wine (a rarity in Napa Valley), producing just 4,000 cases a year, predominantly chardonnay aged in neutral oak barrels. The little bit of cabernet sauvignon they do make is restrained, with low alcohol. Winemaker Mike Chelini has been at Stony Hill for more than 40 years, longer than any other winemaker in the valley. The vineyard is surrounded by state parks, and the winemakers are very protective of their secluded land, using all of their own equipment to harvest in order to avoid potential contamination. Make an appointment and taste gewürztraminer, chardonnay, white riesling, and semillon dessert wine on the patio, perhaps even with owner Sarah McCrea, who continues her parents' legacy in making refreshing, elegant wines.
PLAN YOUR TRIP: Visit Fodor's Napa and Sonoma Guide
Goosecross Cellars
WHERE: Yountville
This charming boutique winery on the valley floor in Yountville just opened a new tasting room last year. New owner Christ Coors Ficeli completely renovated the property and hired Bill Nancarrow, former director of winemaking for Duckhorn, to lead winemaking operations. Nancarrow has added new blends including Anser and Branta, Latin for "white goose" and "black goose." Anser is a whimsical blend of pinot gris, riesling, and sauvignon blanc, while Branta is a powerful, brooding blend of petit sirah, zinfandel, and syrah.
PLAN YOUR TRIP: Visit Fodor's Napa and Sonoma Guide
Amici Cellars
WHERE: Calistoga
What started as a few friends crushing grapes for fun in the 1990s has blossomed into a full-blown winery, although production is still small—just 8,000 cases. Even first-time visitors will feel like old friends just casually enjoying wine. Amici is best known for their Russian River pinot noir and single-vineyard chardonnay, cabernet franc, and cabernet sauvignon. You can watch the winemaking team in action while tasting the fruits of their labor in the barrel room, and you might even be offered a barrel sample of a not-yet-released wine.
PLAN YOUR TRIP: Visit Fodor's Napa and Sonoma Guide