The Sixties are back splashier than ever at this tastefully, whimsically restored motel diagonally across from the Luther Burbank Home & Gardens. The owners of the popular Spinster Sisters restaurant around the corner, who've been collecting midcentury-modern furniture for years, have put their collection to good use decorating the Astro, which opened a tad earlier than scheduled to house victims of the October 2017 Wine Country fires and first responders. A design-lover's delight where something different catches the eye every few seconds, the two-building motel sits on the edge of the SOFA (South of A Street Arts District) neighborhood across Santa Rosa Avenue from two tattoo and piercing parlors that add further local color.
YOU SHOULD KNOW The Spinster Sisters and the Astro are contributing to the renaissance of a formerly grungy neighborhood; it's pretty safe here these days and the motel is a charmer, but if you're not the type to be feelin' the funk, the surrounding area may put you off, especially at night (if you're even mildly adventurous, though, you'll be fine).
room
Each room is individually decorated in midcentury-modern, some with Sputnik chandeliers and vintage Eames chairs and accessories like pottery, old cameras, and wooden ice buckets. Original 1960s art decorates some walls, but overall the look is spare. Built-in benches in some rooms are good for storing luggage, and all rooms have flat-screen TVs and refrigerators but no coffee makers or microwaves.
Rooms in the south building, nearest the lobby/office, were completely renovated just before the Astro opened, and look the hippest, though the ones in the other building aren't far behind.
bathroom
Bathrooms in the newer wing have walk-in showers (rain shower heads) lined with ceramic tiles in an angular pattern and palette that screams 1960s. Combination basins and countertops formed of green-tinted concrete are separate from the toilet and shower and have large oval mirrors and Sputnik wall-mounted lights with bright-white bulbs. The bathrooms in the older wing are a little less spiffy but have period accents as well, and 14 of them have combination tubs and showers with clever curtains with a sightseeing theme.
lobby
A bright space in the front of the property with a swank midcentury-modern desk, a slim burlwood coffee table, and a classic presidential portrait of John and Jackie Kennedy and kids Caroline and John John serves as the office and check-in space and a place to wait for Uber and Lyft drivers to arrive. A lounge at the back of the property decked out like a 1960s living room is a more lobby-like hangout.
YOU SHOULD KNOW The design of the second-floor railings mimics a circa-1960s circuit board; stand on the second floor and you'll see that the garden courtyard's sidewalk and other elements do the same.
dining
Guests at the Astro break their fasts with Flying Goat Coffee, a local brand, along with baked goods and fresh fruit. It's a good way to get the day going, though it's not meant to count as even a Continental breakfast.
LOCATION
Getting Around
The Astro is about a mile southeast of the Railroad Square Historic District and about a mile or so from the nearest exits off U.S. 101 from the north or south. With quick highway access except during commute hours, it's easy to pop north to Healdsburg and Geyserville wineries and west to ones in Sebastopol and other towns. Sonoma County Transit buses stop near the motel, and ride-hailing service is speedy.
Restaurants
The Spinster Sisters (5-minute walk) is known for inventive Modern American dishes with mostly locally sourced ingredients. The restaurant serves breakfast (popular weekend brunch), lunch, and dinner. Hop in the car to join Peruvian locals enjoying a taste of back home at Sazon Peruvian Cuisine (5-minute drive), a strip-mall restaurant. Bistro 29 (4-minute drive) near City Hall is a cozy spot for classic French.
Bars
Craft beers and well-chosen wines are poured at the long horseshoe bar at The Spinster Sisters (5-minute walk). Astro staffers also recommend Jackson's Bar & Oven (4-minute drive) for a well-crafted cocktail, the Beer Baron Bar & Kitchen (4-minute drive) for craft beers and bourbon, and Russian River Brewing Company (4-minute drive) for Pliny the Elder and other beloved brews.
WHY WE LIKE IT
Cute as can be and loaded with style, the Astro looks and runs like the labor of love it is for its owners and staff. You'll pay way more in Healdsburg for rooms that in some cases aren't as nice as the ones here, and the small SOFA arts neighborhood is refreshingly unpretentious. You will be doing without a pool, gym, spa, and other amenities, however. On the other hand, after all the rooms' furniture and accessories are cataloged, you'll be able to purchase just about any item that catches your fancy.
QUICK FACTS
HOTEL INFO
Phones: 707-200-4655
People also liked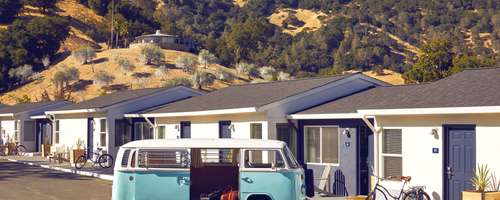 $$$ | 1880 Lincoln Ave.
A 1947 roadside motel renovated in midcentury-modern style, the family... Read More
$$$ | 875 Bordeaux Way
A world unto itself, the Tuscan-inspired Meritage supplies all the exp... Read More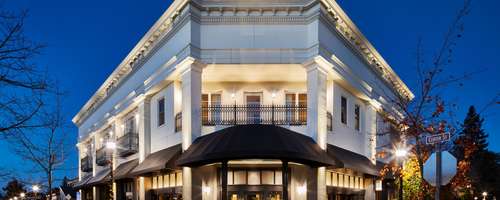 $$ | 131 North St.
A remarkable Relais & Châteaux property a block north of Healdsburg Pl... Read More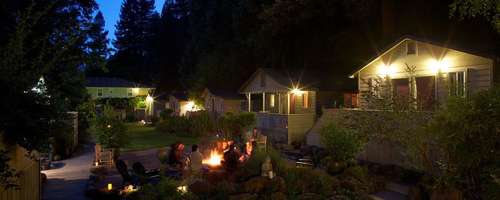 $$ | 14880 River Rd.
Redwoods on a steep slope tower above this tidy roadside complex of si... Read More
$$ | 1140 Rutherford Rd.
New owners spent two years renovating this two-story hacienda-style pr... Read More
$$ | 896 W. Napa St.
A giant pepper tree and a few palms tower over the garden courtyard of... Read More