There's nothing quite like the sights, sounds, smells, and tastes of the Venice Boardwalk and this hotel gives you a front row seat to all of it. Literally in the heart of the action, the hotel is surrounded by tattoo parlors, head shops, street performers and a healthy dose of crazy. Adventurous travelers with love for the mayhem stay at this 30-room brick abode and soak in the California sun as it glares off the Pacific (right across the street).
room
In direct contrast to its surroundings, the rooms exude a laidback vibe with ocean breezes seeping their way through the windows. All the rooms have full kitchens, which inspire longer term stays and come equipped with fully stocked coffeemakers and free Wi-Fi. Not all the rooms have ocean views, but the ones that do are spectacular.
The hotel shuts down at midnight, but if you're arriving late, there's an after-hours check-in system--just let the hotel know in advance.
bathroom
The bathrooms are wrapped in blue tile and come with ESA bath products and sport rain showerheads.
lobby
One might call the lobby "actually just a counter to check in at," because that's literally all it is.
The hotel has beach cruisers that they lend out free of charge.
dining
The hotel doesn't have a restaurant nor do they offer room service of any kind.
LOCATION
Getting Around
The nearest train station is a 15-minute drive to the Downtown Santa Monica Station. The train can take you to Hollywood, Downtown LA or even Universal Studios. Walking around Venice is a mix of crazy, incredible and sights you can't un-see, but worth going nonetheless. If you want to take a taxi or Uber, it'll be easier if you walk a block to Pacific Avenue (where there's more street traffic). Walking around the Venice at Boardwalk at night isn't always the best idea. There's a healthy police presence--but be aware of your surroundings.
Restaurants
In the immediate vicinity, there's a Rey's Pizza and Café Venicia. Figtree's Café (6-minute walk) is a health-conscious lunch and dinner spot. If you're willing to walk a little further, you can stroll past Muscle Beach to James' Beach (11-minute walk) that was made famous in the movie I Love You, Man for its incredible fish tacos.
Bars
Venice Ale House (8-minute walk) is a beer lover's paradise. Townhouse Venice (7-minute walk) is a bar that dates back to 1915 and houses The Del Monte speakeasy as well with live music, DJs, burlesque, and more.
WHY WE LIKE IT
A mix of the strange and wonderful, this hotel is in the middle of the Venice Boardwalk and gives tourists a real window into life on Venice Beach. The rooms here are great, spacious and have full kitchens. as well as incredible views. There's no parking, so renting a car and staying here can be a pain, but if you want to walk or hail a ride, there's no shortage of restaurants, bars and attractions nearby. Typical guests are on the younger and more adventurous side, which isn't surprising considering some of the craziness outside the front door.
People also liked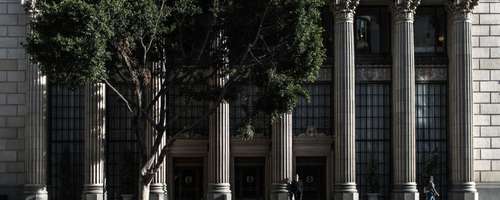 dining
design
with a pool
best for nightlife
best service
$$$ | 649 S Olive St.
Close your eyes and imagine an Italian-themed hotel. You're prob... Read More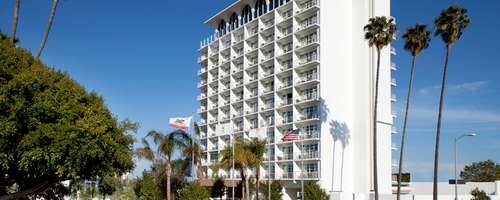 $$$ | 1224 Beverwil Dr.
An Italian getaway in the middle of Los Angeles, Mr. C Beverly Hills o... Read More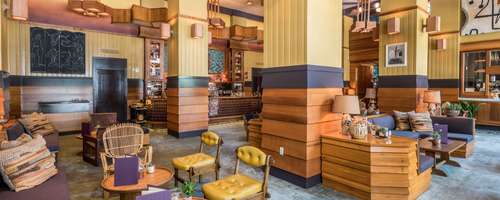 $$ | Downtown Los Angeles | 416 W. 8th St.
Despite being smack-dab in the middle of what was once a forgotten blo... Read More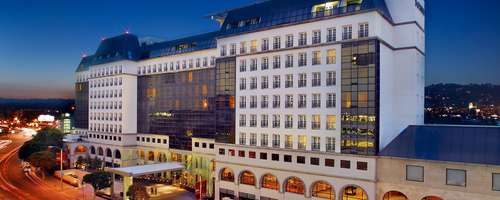 $$$
Combining French sensibilities with Hollywood glamour, the Sofitel is... Read More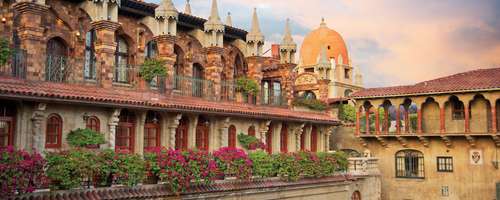 $$$
The best things in life come with a wait. In the Mission Inn's c... Read More
$$$
You'd be excused to think that this Century City hotel is used s... Read More