The Standard
8300 Sunset Blvd., Los Angeles, California 90069, United States
The Standard
Why We Like It
Simply put, this place is a really good time. While The Standard won't blow you away with service, they will make sure that you're highly entertained--any night of the week. The hotel attracts a young and creative crowd who like being in the middle of the city and all its nightlife. It's just all around cool here, and that's exactly what makes this hotel a great place to stay.
Situated in the heart of the Sunset Strip, The Standard Hollywood has a reputation for being a party hotel--and this reputation is well earned, my friends. The hotel prides itself on entertaining its young creative guests with nightly DJs, live acoustic music, pop-up pool parties and secret nightclubs. The focus for this hotel is fun, so bring a swimsuit, sunglasses and dancing shoes to enjoy the party.
room
Modern furniture and designer curtains play up the hotel's frisky feel. Depending on what side of the hotel you're on, you'll get pool/city views or views of Sunset Boulevard from your balcony. All rooms have Nude Speakers--which are equipped with a blue tooth connection for you to play your own music from your phone or laptop.
If you want to bring your dog to the hotel, there's no fee!
bathroom
Showers are lined with either brown or white circular tiles and the glass has a handy hole so you can set your water temperature without getting wet--seriously, though, you don't realize how great this is until you've had it.
lobby
The very chic lobby features low comfy couches, white shag carpeting and hanging mod chairs. Behind the reception desk is an empty aquarium where actual human models pose--or do whatever they want (sometimes just sit there). The incredibly white lobby also has movie screening nights, rotating art installations and nightly DJs.
Bring your eyeglass prescription with you, as there's a Warby Parker right inside the hotel. Get new shades for cheap and they might be at your front door by the time you get home.
pool
Surprisingly, the pool is no longer hosting Vegas-style pool parties. However, there's still a fun vibe on the famous blue-AstroTurfed deck. Ping-pong tables and a variety of other games and activities are strewn about the sundeck for people to play with. The pool also hosts a monthly movie-screening series.
dining
Alma is the hotel's main restaurant and serves seasonal California cuisine 24-hours/day. The diner-styled space is also known for their delicious Sunday brunch.
drinking
Off the lobby, the Cactus Lounge is a small sitting area with wicker chairs and a full bar. In the lobby, DJs spin nightly except for Wednesday's acoustic nights. But if you're looking for the real see-and-be-seen crowd, you'll have to sneak through the kitchen and into the club called Mmhmmm--and no, this isn't Stefon on SNL. It's an actual club. World-famous DJs and live bands perform here for an A-list crowd a couple times a week.
YOU SHOULD KNOW It is not easy to get into Mmhmmm and staying at the hotel won't guarantee you entry, either. Ask the front desk for help--but don't expect any favoritism.
People also liked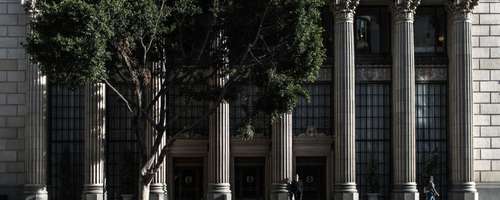 dining
design
with a pool
best for nightlife
best service
$$$ | 649 S Olive St.
Close your eyes and imagine an Italian-themed hotel. You're prob... Read More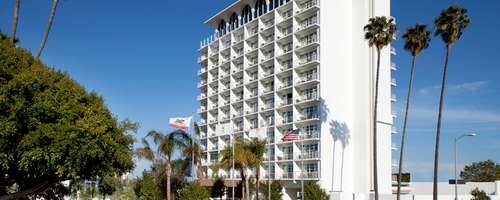 $$$ | 1224 Beverwil Dr.
An Italian getaway in the middle of Los Angeles, Mr. C Beverly Hills o... Read More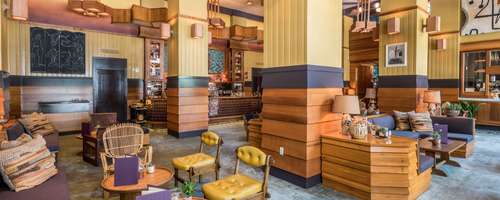 $$ | Downtown Los Angeles | 416 W. 8th St.
Despite being smack-dab in the middle of what was once a forgotten blo... Read More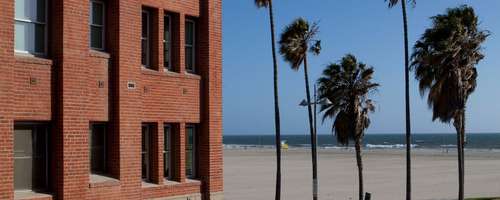 $$
There's nothing quite like the sights, sounds, smells, and taste... Read More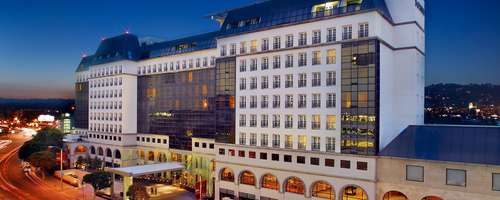 $$$
Combining French sensibilities with Hollywood glamour, the Sofitel is... Read More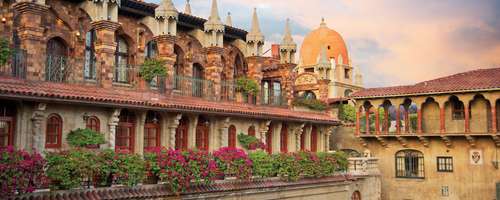 $$$
The best things in life come with a wait. In the Mission Inn's c... Read More
LOCATION
Getting Around
This part of the Sunset Strip is a little spread out, but it's still very walkable to restaurants, bars, and shopping. Getting a taxi is easy, as is Uber or Lyft. The closest train station is at Hollywood/Highland, which isn't exactly walkable, but if you catch a ride there, the train can take you to downtown, Universal Studios, Koreatown or Santa Monica.
Restaurants
There is no shortage of restaurants close by the hotel. Cabo Cantina (1-minute walk) is across the street and has insane happy hour deals to go along with cheap and delicious tacos. If you want something a little nicer, and with amazing celebrity sightings, make a lunch reservation at the Chateau Marmont (7-minute walk).
Bars
If you want to get wild, head over to the Saddle Ranch Chop House (3-minute walk), but just remember the mechanical bull gets harder to stay on with each drink. One of the biggest celeb bars in LA is The Tower Bar (2-minute walk) at the Sunset Tower Hotel--make a dinner reservation to guarantee entry because you're not getting in any other way.
QUICK FACTS
HOTEL INFO
Phones: 323-650–9090