Mama Shelter Los Angeles
6500 Selma Ave., Los Angeles, California 90028, USA
Mama Shelter
Why We Like It
Mama has one goal--to make sure you have fun at her hotel. And with a great rooftop, plenty of games, in-room "entertainment" and so much more, it would be hard to leave the place without a smile. The location is ideal for walking around Hollywood with endless bar, restaurant and club options nearby. Sure, there's no pool, or gym or spa, but there is a flirty, creative crowd who are simply there to have a good time--and really, what else can you ask for when you're on vacation?
Kitschy, fun, and cool is just how Mama would want us to describe the hotel--and, so, that's just what we'll do. Since Mama knows best, she would tell you that this funky Hollywood hotspot is tailormade for creative individuals who want their hotel to be a little frisky. Between the super social rooftop, parlor games downstairs and free porn in the rooms (yeah), Mama Shelter is set up for salaciousness.
room
The reasonably priced rooms come with myriad playful accents. There are Star Wars masks over the light fixtures, movie scripts to read that follow Oscar season and iMac computer monitors for your in-room entertainment. With free Wi-Fi, the monitors allow guests to stream Netflix. There's also the free porn.
If you're looking for things to do in the area, the hotel provides a helpful guide to get you around.
bathroom
If you stay in one of Mama's suites, you can expect a wide-open bathroom with standalone sinks and freestanding bathtubs--wide open as in there's no door--it's just part of the room. Most bathrooms are appointed with white subway tiles and come with Absolution bath products. Standard bathrooms are fully enclosed.
lobby
An ultra-fun lobby comes complete with table top games, an extra-long foosball table, candy machines and low chalkboard ceilings. There is also a monitor with rotating photos that guests can upload from their rooms--keep it PG-13, kids.
Mama's shop is also in the lobby where you can buy Mama branded items like candles and condoms.
dining
Mama's main restaurant is past the lobby where long banquettes find diners morning, noon and night chowing down on a creative and contemporary international menu. Next to the restaurant is a coffee bar and pastry shop as well. The rooftop menu is a mishmash of burgers, sandwiches, salads and sides.
YOU SHOULD KNOW There's no room service at the hotel, but you can order food to go from the restaurant.
drinking
Mama's rooftop is the highlight of the hotel. Besides fabulous views, drinkers and diners can post up against the glass-walled edges or playfully flirt with strangers from an array of day beds. Downstairs, the large, front bar has a long happy hour from 3-7pm, tabletop board games and a DJ that spins from Thursday through Saturday.
YOU SHOULD KNOW At night, the roof is a bustling scene that can get packed--so post up early to ensure a spot.
People also liked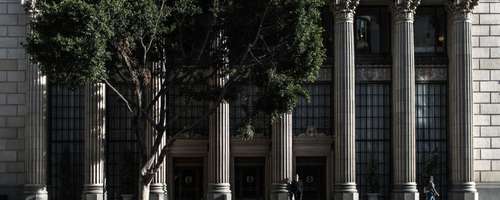 dining
design
with a pool
best for nightlife
best service
$$$ | 649 S Olive St.
Close your eyes and imagine an Italian-themed hotel. You're prob... Read More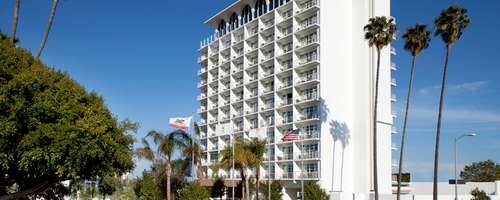 $$$ | 1224 Beverwil Dr.
An Italian getaway in the middle of Los Angeles, Mr. C Beverly Hills o... Read More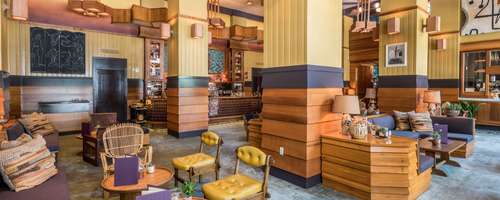 $$ | Downtown Los Angeles | 416 W. 8th St.
Despite being smack-dab in the middle of what was once a forgotten blo... Read More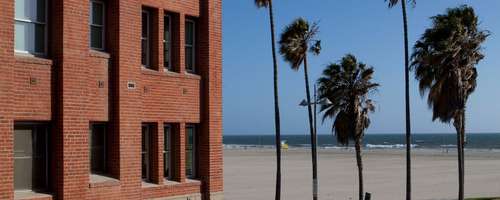 $$
There's nothing quite like the sights, sounds, smells, and taste... Read More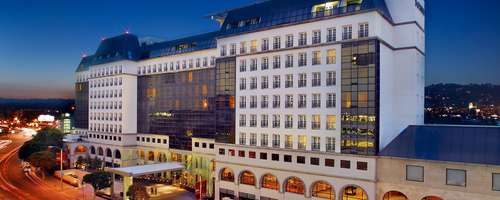 $$$
Combining French sensibilities with Hollywood glamour, the Sofitel is... Read More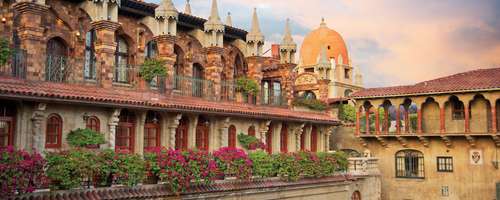 $$$
The best things in life come with a wait. In the Mission Inn's c... Read More
LOCATION
Getting Around
Mama likes it when you walk, and she makes it particularly easy when the hotel sits between Sunset and Hollywood Boulevard. Within minutes you can find bars, clubs, shops, restaurants and attractions. If you want to get around the rest of the city, the Hollywood/Highland metro stop is only a 15-minute walk. Hailing an Uber or Lyft ride is also a cinch, as this area is heavily trafficked. Though it's considered safe, walking around Hollywood at night can sometimes attract a crazy element. Just keep your wits about you.
Restaurants
For juicy burgers and great craft beers, head over to Stout Burgers & Beer (2-minute walk). If you want Hollywood history to go along with your steak, check out Musso & Frank Grill (7-minute walk) before you hit the Hollywood bars and clubs.
Bars
Music lovers can walk to the Hotel Café (3-minute walk) and watch indie bands play in a tight room. Like margaritas and cheap tacos? Check out Cabo Cantina Hollywood (7-minute walk) for a wild night.