Hotel Indigo Los Angeles Downtown
899 Francisco St., Los Angeles, California 90017, USA
Why We Like It
This hotel embodies LA's secret history while giving its customers every modern amenity. Rooms are spacious with spectacular views (minus any balconies), and the hotel's food and drink options make it easy to stick around on the oft-rainy LA night. With its proximity to LA Live, an endless array of food, drink, shopping, and tourist spots, the hotel is in the perfect position to make your LA stay as adventurous as possible.
Tucked away in a corner of one of the busiest entertainment centers in Downtown Los Angeles, Hotel Indigo is a brand spanking new high-rise hotel that combines all the luxuries of modern travel with a nod to LA's roaring 20s history. The hotel is part of a sprawling development that includes 1,500 condominiums and provides business and adventure travelers with a hub for all LA has to offer.
Did you know that there is a secret tunnel system under Downtown LA that serviced the city's speakeasies during Prohibition? Ask the concierge about touring the tunnels and they can set you up with a variety of tour options for around $85 a person. Make sure you book 48-hours in advance.
room
Leading to the rooms, travelers are met with exposed brick wallpaper and photographs of paparazzi from Hollywood's golden age. Once in the well-appointed rooms, guests are treated to hardwood floors, Art Deco stylings, mini lounge couches, and sprawling views of the LA skyline.
YOU SHOULD KNOW Even though the views are stunning, there aren't any balconies to give you the full sense of vertigo you might be looking for.
bathroom
Jonathan Adler products adorn green counter tops across from walk-in showers. Nothing about the bathrooms will blow you away, but the black & white checked floors are nice and they're super clean and new.
lobby
The lobby is the heart of the Indigo where a bustling scene commences nightly by the bar or adjacent restaurant. High ceilings give way to massive murals depicting La Fiesta de Las Flores from the 1920s, an annual LA floral festival that also celebrates the city's Mexican-American heritage. Whimsical carpets, a brass wagon-wheel chandelier, and newsprint-patterned furniture recalls a prohibition era of secrecy and celebration.
pool
A chic, salt-water pool rests under the shadows of overhanging high-rises and gives off a desert vibe that might be found in the opulent hotels of Dubai. Cabanas by the pool are first-come-first-serve.
gym
A decent-sized gym will give work-out fiends plenty to sweat about with standard cardio machines, free weights, and treadmills.
dining
Walking through distinctive subway tunnel arches, diners will find themselves inside Metropole Bar + Kitchen, which prides itself on its New American cuisine that features fresh takes on old classics for breakfast, lunch, and dinner.
Bringing your dog to the hotel? Well, they've got dining options here, too. There is a $35 pet fee, but make sure you ask about the "Doggy Social Hour." Beyond the free bowl of filtered water and milk bone, you can buy your dog $5 bites that include jerky, chicken, dog bones, and more.
People also liked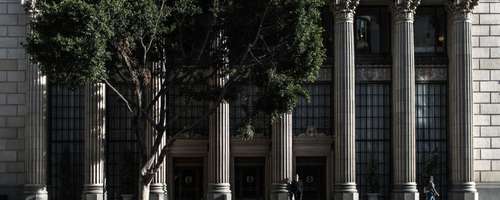 dining
design
with a pool
best for nightlife
best service
$$$ | 649 S Olive St.
Close your eyes and imagine an Italian-themed hotel. You're prob... Read More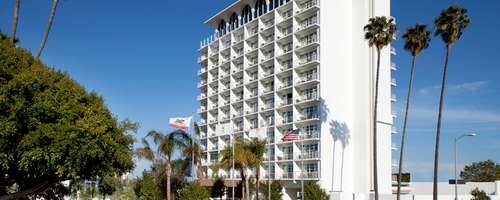 $$$ | 1224 Beverwil Dr.
An Italian getaway in the middle of Los Angeles, Mr. C Beverly Hills o... Read More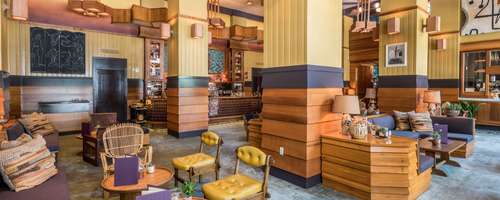 $$ | Downtown Los Angeles | 416 W. 8th St.
Despite being smack-dab in the middle of what was once a forgotten blo... Read More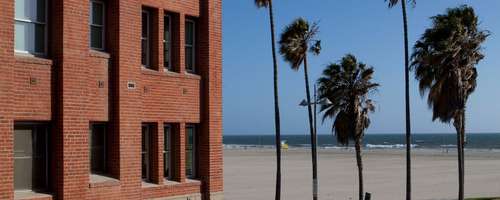 $$
There's nothing quite like the sights, sounds, smells, and taste... Read More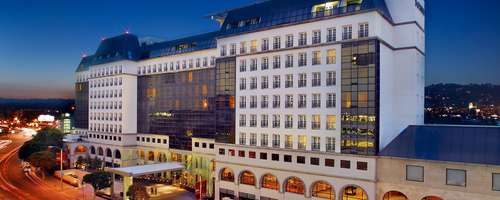 $$$
Combining French sensibilities with Hollywood glamour, the Sofitel is... Read More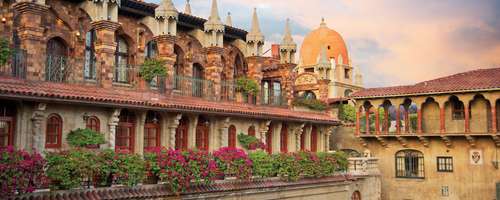 $$$
The best things in life come with a wait. In the Mission Inn's c... Read More
LOCATION
Getting Around
This area of LA is incredibly walkable but if you're looking to go to the rest of the city, there's a metro stop about 8-minutes away. Don't bother catching a cab, there's an endless sea of Uber and Lyft drivers just waiting to cheaply drive you around the area.
Restaurants
Looking for some Italian on your LA-cation? Try Bottega Louie (9-minute walk) for sumptuous pastas and pizzas. Want to continue down the road of LA's Mexican heritage? Check out B.S. Taqueria (9-minute walk) for a new take on tacos--if you like spicy, you'll love this place.
Bars
If you want to take Hotel Indigo's Prohibition themes to their natural next level, head over to Cole's (6-minute drive), where you'll find hidden speakeasy The Varnish serving classy clientele behind a secret wall. A little closer is a whiskey-lovers dream at Seven Grand (9-minute walk), home of LA's best brown liquor collection.
QUICK FACTS
Room Service
Yes. 6am-11pm
Valet Parking,Parking Lot
HOTEL INFO
Phones: 1-213-232-8800