Knight Rise by James Turrell, Photo ©Sean Deckert
Golf, spas, and Major League Baseball spring training are just some of the things Scottsdale is best known for, but there's much more to this lovely Arizona city. Visitors will find stunning hotels, innovative restaurants, impressive cultural institutions, and natural beauty. Ready to PLAN YOUR TRIP? Read on to discover 10 reasons to visit Scottsdale. —Michael Alan Connelly
10-reasons-scottsdale-thumb
Four Seasons Resort Scottsdale
Four Seasons Resort Scottsdale at Troon North
Anyone looking to soak up the magnificent scenery of the high Sonoran Desert should head directly to Four Seasons Resort Scottsdale at Troon North, which sits close to 3,169 foot-high Pinnacle Peak and its popular hiking trail. A resort in every sense of the word, the property features a spa, bi-level pool, three restaurants, one bar, access to two golf courses at Troon North, and adobe casita-style rooms with fireplaces and balconies or patios. It's a bit of a drive from downtown Scottsdale, but that's the point.
PLAN YOUR TRIP: Visit Fodor's Scottsdale Guide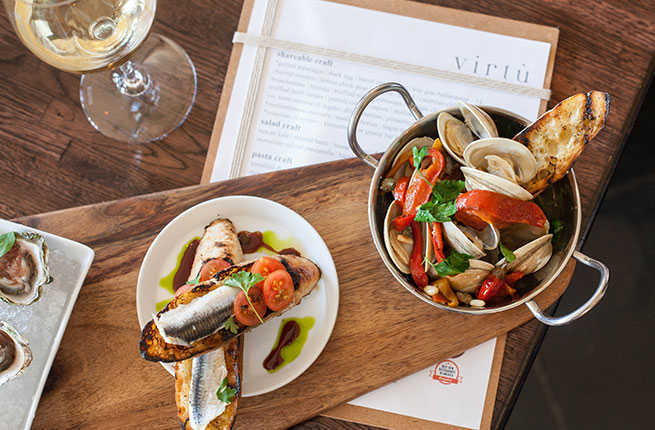 Awe Collective
Virtù Restaurant
Named after the Machiavellian term for achieving excellence, three-year-old Virtù is an intimate eatery specializing in Mediterranean-inspired cuisine and craft cocktails. Although the menu changes weekly or even daily, you can expect a selection of handmade pastas, Arizona-grown produce, fine imported seafood, and drinks made with fresh-pressed juices and uncommon spirits such as basil-infused grappa and blueberry-infused Amaro Montenegro. Two popular plates to order if they're on the menu: charred octopus with chickpeas and chili butter, and asparagus topped with a duck egg, feta, bacon candy, and a foie gras hollandaise. If the heat isn't too intense, try to nab a table outside on the charming patio.
PLAN YOUR TRIP: Visit Fodor's Scottsdale Guide
Courtesy of McDowell Sonoran Conservancy
McDowell Sonoran Preserve
It wouldn't be Scottsdale without the Sonoran Desert, the best of which you can experience at the McDowell Sonoran Preserve. Spanning nearly 30,000 acres, the preserve offers a variety of activities for outdoor enthusiasts: self-guided hiking, guided hiking, mountain biking, rock climbing, bird watching, horseback riding, and wildflower viewing. There are nearly 170 miles of trails to tackle here; Lost Dog Wash Trailhead is a fairly gentle 4.5-mile round-trip that's perfect for novices, while Tom's Thumb Trailhead is a bit more rigorous. No matter which section you visit, however, you'll be able to enjoy vast expanses of untouched desert and a wide variety of wildlife.
PLAN YOUR TRIP: Visit Fodor's Scottsdale Guide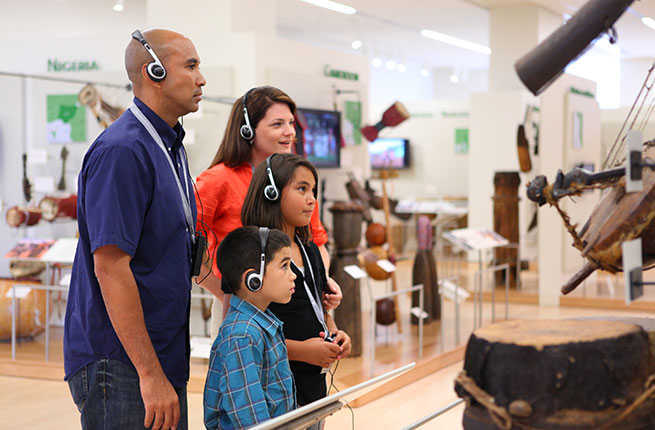 Musical Instrument Museum
Musical Instrument Museum
In a league of its own, the Musical Instrument Museum has a collection of more than 15,000 instruments and artifacts from more than 200 countries. It would be easy to spend an entire day exploring the permanent collection, which is arranged geographically, with each country exhibit including short video clips of historic and contemporary musical performances. The museum also houses a state-of-the-art music venue that hosts roughly 200 artists each year, so be sure to check the calendar for evening events.
PLAN YOUR TRIP: Visit Fodor's Scottsdale Guide
Mark Boisclair Photography Inc.
Hotel Valley Ho
Located in downtown Scottsdale, Hotel Valley Ho was a celebrity hot spot when it opened in the '50s, attracting the likes of Bing Crosby, Tony Curtis, and Zsa Zsa Gabor; Richard Wagner and Natalie Wood even got married here. Revamped and reopened in 2005, the property remains a popular spot for visitors and locals, who come for the pool parties and throwback glamour. The newer Tower rooms offers a more contemporary design, while the historic Hotel section features an irresistible midcentury modern design paired with modern amenities.
PLAN YOUR TRIP: Visit Fodor's Scottsdale Guide
Knight Rise by James Turrell, Photo ©Sean Deckert
SMoCA
Located in Old Town Scottsdale, the Scottsdale Museum of Contemporary Art is Arizona's only permanent arts institution dedicated to contemporary art, architecture, and design. Formerly a movie theater, this minimalist building houses four main galleries that match the footprints of the cinemas. Free on Thursday and after 5 pm on Friday and Saturday, a visit to SMoCA makes for a pleasant pre-dinner activity, which is easy given its manageable size. One thing not to miss is Arizona-based artist James Turrell's "Skyspace" Knight Rises, a permanent installation in the sculpture garden that invites viewers to gaze up at the sky through a circular opening surrounded by lighting that effectively alters one's perception of the color of the sky.
PLAN YOUR TRIP: Visit Fodor's Scottsdale Guide
Andrew Pielage Photography
Taliesin West
Situated in the foothills of the McDowell Mountains, Taliesin West is the former winter residence and school of architect Frank Lloyd Wright, who established it in 1937. Home to the Frank Lloyd Wright Foundation and Taliesin, The Frank Lloyd Wright School of Architecture, Taliesin West spans 600 acres and offers visitors a fascinating look at Wright, who built this place as a sort of utopian desert paradise for himself and his students. Aside from the architect's former living quarters, Taliesin West also includes two theaters, a music pavilion, and the Sun Trap—sleeping spaces surrounding an open patio and fireplace. A variety of tours are offered daily; opt for the three-hour behind-the-scenes option if you're an architecture buff.
PLAN YOUR TRIP: Visit Fodor's Scottsdale Guide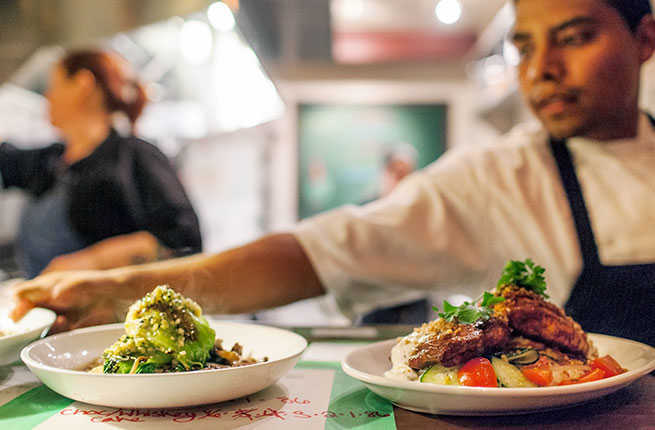 Jill Richards Photography
FnB Restaurant
Sure, you can enjoy traditional southwestern cuisine just about anywhere in Scottsdale, but in-the-know foodies flock to FnB for cuisine that delights and surprises. Helmed by chef Charleen Badman and manager/beverage director Pavle Milic, this globally influenced, critically acclaimed spot highlights the best Arizona has to offer on its food and drink menus. It may come as a surprise to learn that Arizona has a robust agricultural sector, but the proof is in the dishes made with ingredients culled from top local farmers and purveyors. One major highlight here is the wide selection of Arizona wines, which showcase the state's blossoming viticulture industry.
PLAN YOUR TRIP: Visit Fodor's Scottsdale Guide
Gabe Mikesell/Hays Collection
Scottsdale Museum of the West
Although its trademarked claim as "the West's most Western town" has been challenged in the past by Cave Creek, Scottsdale reasserted itself with the opening of Western Spirit: Scottsdale's Museum of the West in January 2015. Through art exhibitions, multimedia presentations, displays of Western artifacts and memorabilia, films, lectures, and other programs, the museum paints a surprisingly thorough and nuanced history of the Old West, both in Arizona and as a larger region. Highlights include Courage and Crossroads and Confluence of Cultures in the American West, two exhibits that feature gorgeous historic and contemporary depictions of the people and landscapes of the region.
PLAN YOUR TRIP: Visit Fodor's Scottsdale Guide
nkbeer.com
LDV Wine Gallery
Arizona's winemakers aren't found anywhere near Scottsdale, but the LDV Wine Gallery brings the tastes of their estate to the center of town. Founded in 2007, LDV grows Rhone varietals at a high altitude in the southeastern part of the state; at the tasting room, you can sample wine flights of viognier, grenache, petite sirah, and some blends. Try to time your visit to coincide with one of the winemaker dinners, or nights when local chefs are invited to serve small plates paired with the wines being served.
PLAN YOUR TRIP: Visit Fodor's Scottsdale Guide