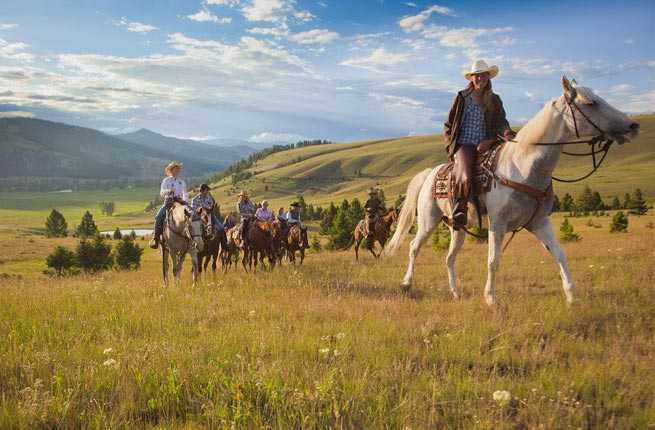 Courtesy of The Ranch at Rock Creek
Have you ever dreamed of actually riding off into the sunset? Whether you're an experienced equestrian or a want to fulfill a John Wayne-inspired Western fantasy—perhaps working for a week as a ranch hand or simply soaking up stunning, horse-country vistas—these 10 American resorts offer trips that cater to your inner cowboy (or cowgirl). From exploring gentle trails in beautiful Big Sky country to roping cattle on a real-deal dude ranch in Arizona, these trips offer travelers a (temporary) home on the range. Get ready to shout "giddyup!"
By Alexis Korman
Alexis Korman is a freelance wine, food, and travel writer based in New Orleans. She is also Contributing Food Editor at Wine Enthusiast Magazine and founder of blog City City Bang Bang. Follow her on Twitter @lexisips.
Courtesy of Seven Lazy P Ranch
WHERE: Choteau, Montana
Situated along the eastern side of the Rockies in a spectacular area known as the Rocky Mountain Front, Seven Lazy P Guest Ranch is a stunning 1,200-acre property, family-owned and -operated for more than 50 years. With room for just 20 cowboys-in-training, expect an intimate, convivial atmosphere that's enhanced by the ranch's well-trained and gentle mountain horses, which guide guests on trails "east, west, and crooked."
Insider Tip: Stays include lodging in Western-themed log cabins, three square meals a day, and as much horseback riding as you can handle.
PLAN YOUR TRIP: Visit Fodor's Missoula, Kalispell, and Northwest Montana Guide
Courtesy of Triple Creek Ranch
WHERE: Darby, Montana
Here's where rugged meets refined: Triple Creek Ranch is a Relais & Châteaux property, nestled in the Bitterroot Mountain Range of the Northern Rockies. In 23 luxuriously appointed log cabins, guests can soak up the cowboy atmosphere while also indulging in a little R&R. And there's plenty of room to ride: The property boasts 26,000 acres and dozens of activities, including cattle drives, team penning, and Western horsemanship events.
Insider Tip: Since you'll likely work up an appetite while roping steer, sustenance can be found in your cabin (there are stocked mini-bars and treats like fresh-baked cookies and fruit).
PLAN YOUR TRIP: Visit Fodor's Missoula, Kalispell, and Northwest Montana Guide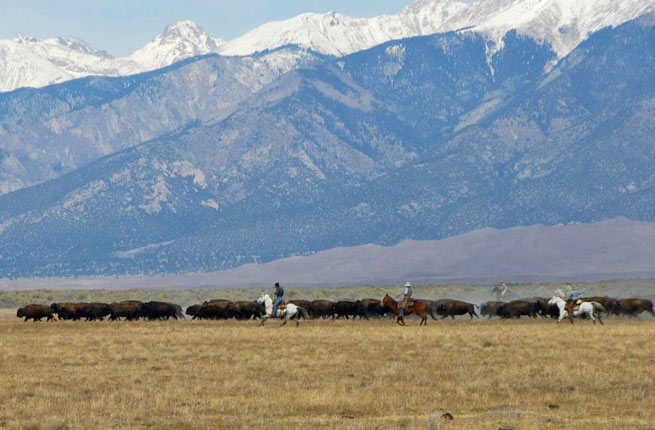 Karen Myers
WHERE: Mosca, Colorado
Owned by The Nature Conservancy, the 15-room Zapata Ranch is also a 103,000-acre working bison, cattle, and guest ranch located on the eastern wall of the San Luis Valley of Southern Colorado, bordering the Great Sand Dunes National Park and Preserve. In addition to custom-made equestrian experiences (think trail-free riding alongside the roaming bison herd) and the opportunity to take part in day-to-day ranch work, guests can enjoy hikes along the sand dunes, or can simply watch birds with the property's naturalist.
Insider Tip: Foodies will love the gourmet cuisine on site, including property-raised bison and beef, and special excursions, like a ride into the Sangre De Cristo Mountains on horseback followed by camping under the stars.
PLAN YOUR TRIP: Visit Fodor's Colorado Guide
Courtesy of The Ranch at Rock Creek
WHERE: Phillipsburg, Montana
Make sure to pack your boots and spurs, because guests can learn how to rope, gather cattle, and barrel race, or just drink in the stellar views of 6,600 acres of rugged Montana wilderness at The Ranch at Rock Creek, located on the outskirts of Philipsburg. Visitors can choose a sumptuous log cabin or "rough it" in one of eight luxury canvas tents under the big Montana sky, equipped with gas fireplaces and full private baths.
Insider Tip: In addition to trail riding on horseback, fly-fishing, and hiking, guests can have a true, old-timey Western experience—a ride in a horse-drawn stagecoach.
PLAN YOUR TRIP: Visit Fodor's Montana Guide
Courtesy of The Resort at Paws Up
WHERE: Greenough, Montana
With a property 60 square miles larger than Manhattan, visitors can find solitude and style at The Resort at Paws Up, a working cattle ranch boasting the largest equestrian center in Montana (it's 22,000 square feet), along with 28 glamorous, Western-themed vacation homes and 30 tents designed for serious glamping. In addition to a variety of equestrian experiences, cowboy wannabees can work a cattle drive led by seasoned ranch hands or take a private roping lesson.
Insider Tip: Don't miss the Chuckwagon Dinner, which takes guests in a horse-drawn wagon to the Blackfoot River for a meal cooked over a campfire (a local banjo player or cowboy poet sets the mood).
PLAN YOUR TRIP: Visit Fodor's Missoula, Kalispell, and Northwest Montana Guide
Jeremy Bustos/StudioThisIs
The Lodge & Spa at Brush Creek Ranch
WHERE: Saratoga, Wyoming
Guests get wild at The Lodge & Spa at Brush Creek Ranch, a luxurious resort set amid a century-old working cattle ranch near Saratoga in South-Central Wyoming. Bordering a million acres of federal wild lands, the 15,000 acre property offers custom horsemanship experiences—like wrangling and barrel racing—or day rides at a variety of experience levels. Burgeoning buckaroos can take short, early morning rides for an outdoor breakfast near the banks of Brush Creek or hit a gallop on the cattle range alongside (real) working cowboys.
Insider Tip: Don't miss a trek on horseback through the Brush Creek bison paddock, which ends at the historic Robbers' Roost (a band of thieves once hid out here until discovered by a local sheriff).
PLAN YOUR TRIP: Visit Fodor's Wyoming Guide
Courtesy of Travaasa Austin
WHERE: Austin, Texas
City slickers will love Travaasa Austin, a rustic fitness retreat located just 25 minutes by car from the state's capital, in the heart of Hill Country. Nestled against 210 acres of the Balcones Canyonlands Preserve and overlooking Lake Travis, the resort offers 70 guestrooms tucked into the hills, a three-acre farm, horse stables, and an 11-room spa. In addition to equestrian encounters and dozens of daily activities like archery and two-stepping classes, cowboy apprentices can saddle up for a mechanical bull workout, complete with cowboy hats and country songs.
Insider Tip: One of the resort's most popular activities is the chicken-keeping course, where guests learn about raising, handling and caring for a backyard flock.
PLAN YOUR TRIP: Visit Fodor's Hill Country Guide
Courtesy of Tanque Verde Ranch
WHERE: Tucson, Arizona
Set in a stunning desert landscape of some 60,000 acres, Tanque Verde Ranch is the country's largest dude ranch, boasting an upscale feel with unique outdoor adventure opportunities. And with no TVs, visitors can get an authentic cowboy experience, taking daily trail rides on horseback through varied landscapes on one of the ranch's more than 160 horses. Weekly "Cowboy Cookouts" feature barbecue and live music under the stars.
Insider Tip: Trivia lovers will appreciate that Nickelodeon's "Hey Dude" TV show—which first aired in 1989—was filmed on the gorgeous property.
PLAN YOUR TRIP: Visit Fodor's Arizona Guide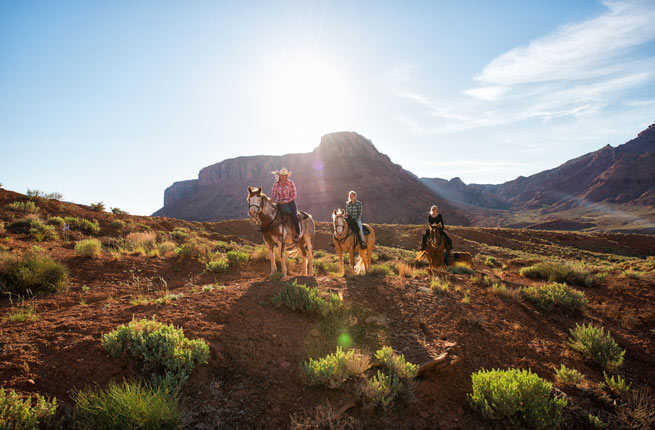 Courtesy of Sorrel River Ranch Resort & Spa
Sorrel River Ranch Resort & Spa
WHERE: Moab, Utah
The Sorrel River Ranch Resort & Spa beckons nature lovers with 160 prime acres set on the banks of the Colorado River, and views from the wood-accented, Western art-filled rooms are breathtaking. The working ranch features horseback riding for beginners and advanced riders alike, with expert wranglers leading guests along trails in the stunning Colorado River Valley. Rafting, kayaking, rock climbing, and ATV tours are also on the agenda for those seeking adventure in the great outdoors.
Insider Tip: Don't miss the Bourbon Cowboy treatment at the ranch's tranquil spa: Guests can undo the rigors of riding with a sugar-and-bourbon scrub followed by a 50-minute massage.
PLAN YOUR TRIP: Visit Fodor's Fodor's Moab and Southeastern Utah Guide
Courtesy of Vista Verde Ranch
WHERE: Steamboat Springs, Colorado
Located just north of Steamboat Springs, Colorado, Vista Verde Guest Ranch is a classic dude ranch experience with high-end touches, like artfully rustic log furniture made from wood harvested on the property. Each cabin has a hot tub perfect for soaking sore muscles after long days hitting the trail on horseback: Serious cowboys come for the cattle round-ups in September, offering an adults-only environment with all-day rides through a 16,000-acre area, roping cattle from their summer pasture.
Insider Tip: The property offers a full-size, heated indoor riding arena for year-round horseback adventures, along with a mare barn for pregnant mares and foals.
PLAN YOUR TRIP: Visit Fodor's Steamboat Springs and Northwest Colorado Guide