European in flavour, the Ivy at Verity is an 1850's chocolate factory reborn as a sumptuous boutique hotel with its own flower shop, deluxe bedding and huge rooms overlooking a private courtyard. While the hotel is small and intimate, offering only four rooms, the service is personalized. Complimentary breakfast is delivered to your door at 8 a.m. by the staff at George, the Ivy's winning restaurant.
YOU SHOULD KNOW The small number of rooms mean you must book as early as possible. Even then, luck and prayer are necessary. The pool, spa and fitness facility are only for women.
room
Each of the four rooms are spacious and unique, with king-sized Hastens beds made in Sweden. They boast 4K curved TVs, computer tablets, desks, comfy arm chairs with foot stools, French doors onto the balcony and charming chandeliers that look like tree branches with fairy lights. Wi-Fi is included in the room rate.
The air conditioning is quiet--no small thing in a renovated factory building, where ventilation can be noisy.
bathroom
Roomy and pristine, the bathrooms have deep soaking tubs, heated floors and Bulgari toiletries. Some have marble. Everyone gets luxurious towels and kind lighting.
There is a bar with a selection of homemade bath salts!
lobby
Behind its red-brick exterior, the lobby is brimming with character. The exposed brick is painted orange in places, and covered with interesting art. There is a communal honour bar spread over a 19th century French marble pastry table, where they offer an assortment of drinks and treats. The red Persian carpet and comfy sofas make it homey.
pool
Part of the hotel's Sweetgrass Spa, the pool is a "ladies only" situation. Sorry gents. Using ozone instead of chlorine, the water is infused with extra oxygen to re-energize your body and reduce skin sensitivities. Swimmers can also enjoy the Jacuzzi and an infrared sauna.
spa
Sweetgrass Spa is the hotel's women's-only oasis, brimming with fresh flowers. There are mani-pedi stations, OPI nail products, nine treatment rooms, an inviting spa lounge and hydrotherapies, including an ozonated pool.
gym
Clean as a whistle, this well-appointed gym is part of the hotel's 15,000 square-foot spa complex. It has everything you can imagine to tone the body, as well as fresh flowers and lots of light.
YOU SHOULD KNOW The fitness facility is exclusively for women, like the spa and pool, but the concierge can arrange access to a local gym for any male guests at the hotel.
dining
You're in luck. The Ivy is attached to George Restaurant--prized citywide for its cuisine and ambiance. George provides the free continental breakfast--yogurt,granola, boiled egg, croissant or muffin, juices, and coffee, cream--delivered right to your room.
drinking
The drinks are in the lobby, in an open bar that operates on the honour system. Alternatively, step into George for a bevvy. We recommend The Vesper, made with gin, and the egg-white enhanced New York Sour.
LOCATION
Getting Around
There's a public "pay and display" parking lot directly across Queen Street, as well as an underground lot nearby at the St. Michael's Hospital. The hotel is only a 5-minute walk to the subway station, and it's situated on the Queen Street streetcar line. However, you're within walking distance of most main attractions.
Restaurants
Why go anywhere else when George Restaurant is in the lobby? Renown for its gourmet tasting menus of either five, seven or ten courses, this temple of fine dining even has enviable vegetarian and gluten-free options. Mains include tuna, duck, lobster, hen and more. The service is excellent, as is the overhead fairy lighting in the courtyard dining area.
Bars
The CC Lounge and Whiskey Bar(10-minute walk) is a posh and clubby night spot with over 100 whiskey labels behind the bar, as well as cocktails and comfort food. Or, head over to the Banknote Bar (12-minute walk) for craft beer, Guinness, televisions, and turn-of-the-last-century decor.
WHY WE LIKE IT
Suitable for modern European royalty, the Ivy is the perfect small hotel for a quiet stay in T.O. One fully expects to see a duchess lounging on a lobby sofa, recovering from a minor cosmetic procedure. The spa, fitness area and pool are open to women guests, exclusively, so there's a strong feminist ethos underpinning the hotel. Note the in-house flower shop. We love the location in Toronto's historic Corktown are, near the Distillery District, the St. Lawrence Market and downtown boutiques.
People also liked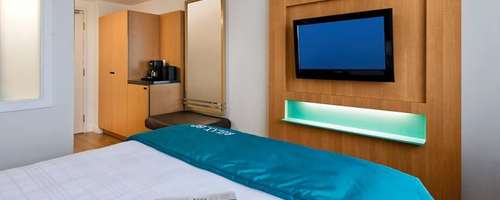 $$
Great value, ideal location--the Bond Hotel is hip and youthful, locat... Read More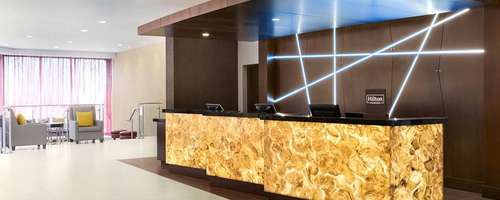 $$
Renovated and relaxed, the DoubleTree on Dixon Road is now an airport... Read More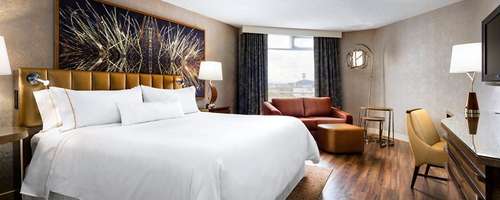 $$
Basking in the success of their top-down renovation, the Westin is onc... Read More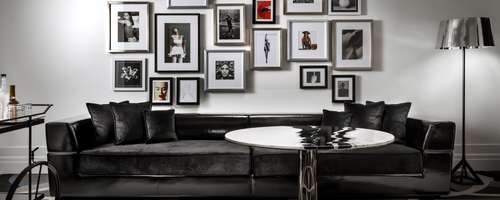 $$$
A dazzling newcomer, Bisha is a luxury hotel that delivers design-forw... Read More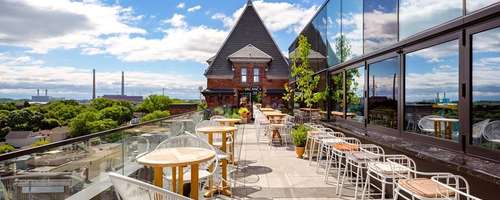 $$
This 127-year-old landmark is a lovely tribute to Toronto's mercantile... Read More
$$
Part of a small chain of luxury hotels in North America, this upscale... Read More