Gladstone Hotel
1214 Queen St. W, at Gladstone Ave., Toronto, Ontario, M6J 1J6, Canada, Toronto, Ontario, Canada
Why We Like It
We applaud the historic restoration and the hotel's dedication to local artists. The Gladstone is an interactive experience, not just a hotel, if you pre-select your room and read up about the artist who designed it. We love the eclectic charm of each room, and the thriving arts program unfolding on the lower floors. The Gladstone also gets street cred for being the oldest continually operating hotel in Toronto.
If Andy Warhol and Lady Gaga dreamed up a hotel together, this would be it! The Gladstone has 37 artist-designed rooms--all of them quirky and fun--above the hotel's busy art galleries and community event spaces. The red-brick Victorian building from 1889 was respectfully restored, including he original hand-operated elevator--one of three still working in Toronto. Each guest room is a distinct artist's vision, featuring one-off furnishings and everything from felt walls to vintage steamer trunks and peacock feature headboards. There are bicycles to borrow and free yoga classes.
Go online to pre-select your room. It's an essential step to ensure you enjoy your stay. The decor is so radically different in each room that you'll need to pick one that suits your taste and level of adventure. If you need a king-sized bed, book early.
room
With no two rooms alike, their decor themes range from a 1970s rec room to a teen queen palace. Cue the felt and peacock features. One room has a pixilated ceiling, while another is a Victorian dollhouse. Located on the top two floors of the hotel, the guest rooms have big arched windows and 12'-tall ceilings. Ear plugs are provided, but noise isn't usually a problem.
Wi-Fi is free, and you can use a Samsung Galaxy tablet during your stay.
bathroom
The Victorian water closets are small, but at least you can enjoy organic body products by Pharmacopia. We recommend the verbena soap. Guests get standing shower stalls, floating shelves and fluffy towels.
YOU SHOULD KNOW It's a tight squeeze in most of the bathrooms, and tubs are rare.
lobby
Restored to respect its "old bones", the lobby features a curved wooden reception desk, original flooring, wooden bannisters and brick walls. There's art on every surface of the hotel, and the lobby is no exception. It's alive with architectural details, including the wrought-iron electric elevator from 1904.
gym
Guests of the Gladstone get free passes to visit the nearby 99 Sudbury Gym. Just remember to bring photo I.D.
Addicted to downward dog? There are free yoga classes on Wednesday mornings. Also, the hotel lets guests borrow bicycles, while quantities last.
dining
Breakfast is served in the lobby cafe--a casual space with blackboard menus, exposed stone walls and big arched windows. The coffee is a hit, as is the house burger and fries. But the magic happens at Melody Bar, just off the lobby, where there are creative dishes like smoked tofu salad and sriracha lettuce wraps.
The late night menu is good until 12 a.m. Get the chickpea burger!
Photo: Black & White Patterns. Gladstone Hotel. Toronto #photography #photooftheday #photographylovers #pattern #blackandwhite #blackandwhitepattern #patterndesign #gladstonehotel #toronto #torontolife #gladstonehoteltoronto
Photo: Toronto Landmarks: Gladstone Hotel and Streetcars! . . . . . . . . . . #ferrertravels #ferreradventures #gladstonehotel #gladstonehoteltoronto #torontostreetcar #torontostreetcars #torontolandmark #torontolandmarks #torontothegood #torontothegreat #torontothesix #torontotransitcommission #torontotransit #torontotransitphotography
drinking
Melody Bar has a rotating wine list, classic cocktails and the level of mixology you'd expect from such an arty property. Local craft beer is on tap, along with other popular labels.
People also liked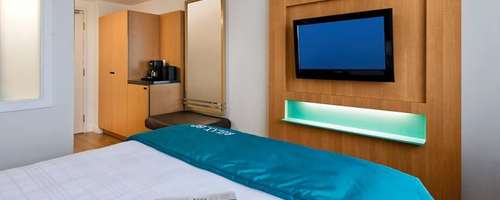 $$
Great value, ideal location--the Bond Hotel is hip and youthful, locat... Read More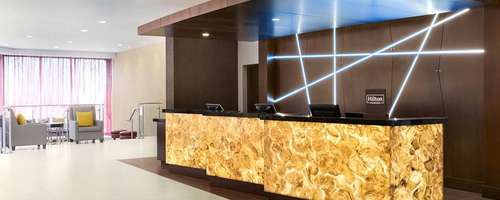 $$
Renovated and relaxed, the DoubleTree on Dixon Road is now an airport... Read More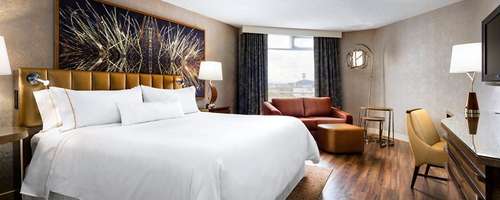 $$
Basking in the success of their top-down renovation, the Westin is onc... Read More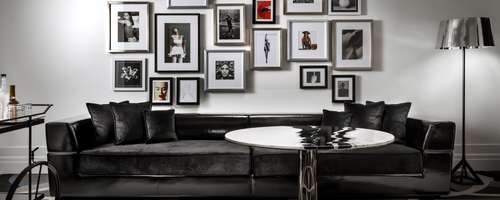 $$$
A dazzling newcomer, Bisha is a luxury hotel that delivers design-forw... Read More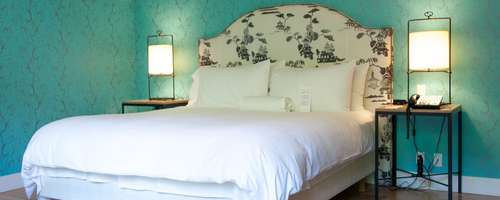 $$
European in flavour, the Ivy at Verity is an 1850's chocolate factory... Read More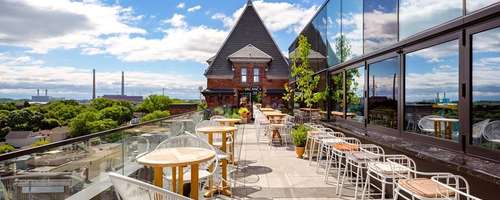 $$
This 127-year-old landmark is a lovely tribute to Toronto's mercantile... Read More
LOCATION
Getting Around
There's a self-serve parking lot ($25/night, plus tax) a couple of blocks away, but try to leave the car at home. There is enough public transit at the Gladstone's doorstep, and you can walk downtown if you have the time.
Restaurants
Dandylion (3-minute walk) serves copious amount so of veggies with each dish, in casual surroundings, while Julie's Cuban Restaurant (10-minute walk) is a great option for tapas, avocado-based salads, mango and tropical cocktails.
Bars
Right next door, Nuit Social (1-minute walk) is disarmingly casual, making the modern stained-glass bar stand out all the more while servers deliver big boards of home-made charcuterie, olives and cheese. Their happy hour is a legendary place for low-key art networking. For a classic British pub with style, try Dog and Bear (7-minute walk), and enjoy the velvet bar stools while sitting your pint.