This 127-year-old landmark is a lovely tribute to Toronto's mercantile past. The Broadview Hotel, located in the city's historic east end, was recently reimagined as a 58-room boutique hotel. Guest rooms are modern and comfortable, with stylish flare and vinyl record players. Many rooms and the rooftop bar have stunning view of the Don Valley River and the Toronto skyline.
YOU SHOULD KNOW Phoning the front desk can be trying, with loud background music drowning you out, then less-than-polished answers to your inquiries.
room
Yes, that's a wrap-around headboard! How fun! Each guestroom is unique, outfitted with luxury Italian linens, a vinyl record player, stocked mini bar, Eurotop king beds, a 40" TV, bathrobe and slippers, evening turndown, plus complimentary Wi-Fi, tea and coffee. Rooms feature a vinyl record player and a selection of L.P.s. Space isn't abundant, so bring your carry-on case.
Get a King Corner room, at 400 square-feet, with two walls of windows. These rooms are more spacious and bright, with great views.
bathroom
White marble, black floor tiles, clean simplicity--what's not to like? The Broadview's bathrooms are elegant and understated, sticking to the "black and white" theme. We love the fancy upscale bath products, Graydon Skincare--a local brand that sources organic, plant-based ingredients from Canadian growers and manufacturers.
YOU SHOULD KNOW Not all guest rooms have bath tubs. You have to ask for a tub, if you want one, when reserving a room.
lobby
The lobby is discrete and welcoming (i.e. smallish). A pair of gleaming brass elevators dominate, along with the marble floor and an antique telephone. The reception area isn't a hub so much as an artery, leading people to the spacious public event rooms and the hotel restaurants.
dining
An ode to clubby bistros, The Civic is the hotel's popular restaurant and gathering spot for casual dining. Think red leather booths and vintage wallpaper. Regulars rave about the wine cellar, the duck confit and the Broadview Salad. Room service, however, comes from Cafe + Bar, located in the lobby, where the updated alehouse atmosphere is arty and the menu features sandwiches, pasta, soups and more.
Wisely, they serve breakfast until 2 a.m.--perfect for hung-over wedding guests.
drinking
The Broadview's Rooftop terrace is "the" place for Toronto's culture workers to mingle after CD launches and video game releases. It boasts a 360-degree glass facade and a large pyramidal skylight. Sitting at communal tables and bar stools, guests sip creative cocktails and share plates of apps.
YOU SHOULD KNOW Mini bars are well stocked with booze, but the rates are ridiculously high--even for a hotel--so plan ahead. There's a convenience store directly across the street.
LOCATION
Getting Around
There are two public parking lots directly across the street, and valet service ($35 per day). The hotel is on the Queen Street street car line, so it's easy to get downtown in 10 minutes. Cabs and Ubers are easily obtained, also.
Restaurants
You're steps away from Ruby Watchco (1-minute walk), an exciting new restaurant by celebrity chef Lynn Crawford. Don't let the unassuming facade fool you--it's great. Get the prix fixe menu. Or, just as close, there's the Brickwork Ciderhouse (1-minute walk), loved by locals for it's open kitchen, salads, baked brie and pork belly ribs.
Bars
You won't do better than The Rooftop, but if you must stumble outside, go to the Eastbound Brewing Company (1-minute walk) for their stout, ales, and home brews. I'll Be Seeing You (2-minute walk) is another great option for craft beer, board games and cocktails. Ask for a Disappearing Unicorn.
WHY WE LIKE IT
Visiting friends who live in The Beaches? Or hipsters in Leslieville? This hotel in the east end of Toronto couldn't be better located. Near the Don Valley Parkway, it's easy to access yet slightly removed from the bustle of downtown. We love the Broadview's storied past, the 127-year-old architecture and the modern, creative decor. The hotel's public spaces are always booked, bringing a diverse and unexpected clientele to the restaurants and bars--including the spectacular rooftop bar with its views of the Don Valley River and the Toronto skyline.
People also liked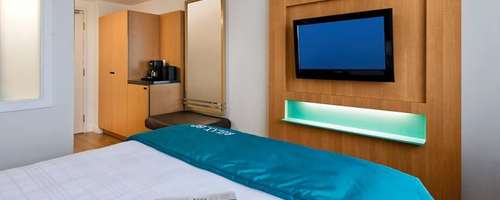 $$
Great value, ideal location--the Bond Hotel is hip and youthful, locat... Read More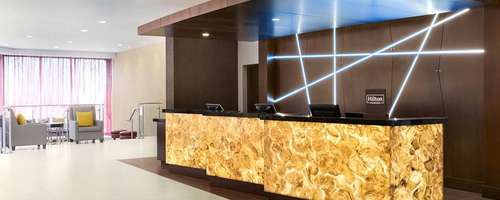 $$
Renovated and relaxed, the DoubleTree on Dixon Road is now an airport... Read More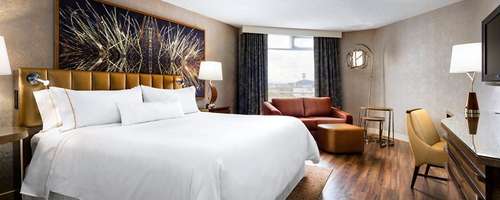 $$
Basking in the success of their top-down renovation, the Westin is onc... Read More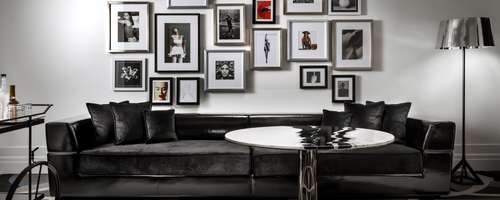 $$$
A dazzling newcomer, Bisha is a luxury hotel that delivers design-forw... Read More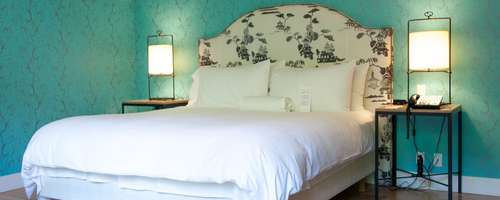 $$
European in flavour, the Ivy at Verity is an 1850's chocolate factory... Read More
$$
Part of a small chain of luxury hotels in North America, this upscale... Read More