Graubünden Ferien/Andrea Badrutt
Switzerland often tops quality-of-life surveys thanks to the country's emphasis on wellness and health. It's no surprise, then, that spas have a long history there—for centuries, the Swiss have been bathing in the many natural springs that bubble from the country's rugged terrain. Many hotels have their own spas that guests are free to use, although treatments usually cost extra. Soaking in the warm waters of a thermal bath or getting a massage is the perfect way to relieve sore muscles after skiing, hiking, or biking in the nearby mountains. Today's Swiss spas combine European wellness practices with modern therapies and global treatments from counties like Japan, Russia, and Turkey. Many are modernized to show off impressive contemporary design and feature floor-to-ceiling windows and other architectural elements to accentuate the beautiful views of the Alpine scenery.—Meredith Bethune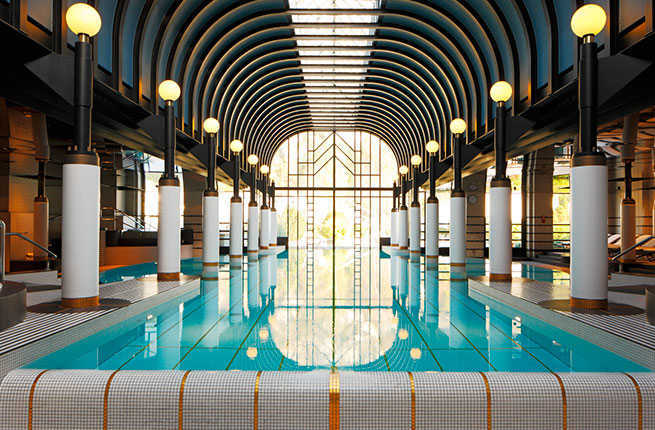 Courtesy Victoria-Jungfrau Collection
Victoria-Jungfrau
WHERE: Interlaken
This sleek property was built in 1865, but it's been updated for a more contemporary feel. The property's renowned spa by ESPA offers a variety of massage treatments based in both Eastern and European techniques and traditions. Alternatively, the Sensai Select Spa specializes in regenerative therapies using the healing waters of Japanese springs. Try a body exfoliation treatment performed with silk gloves.
PLAN YOUR TRIP: Visit Fodor's Switzerland Guide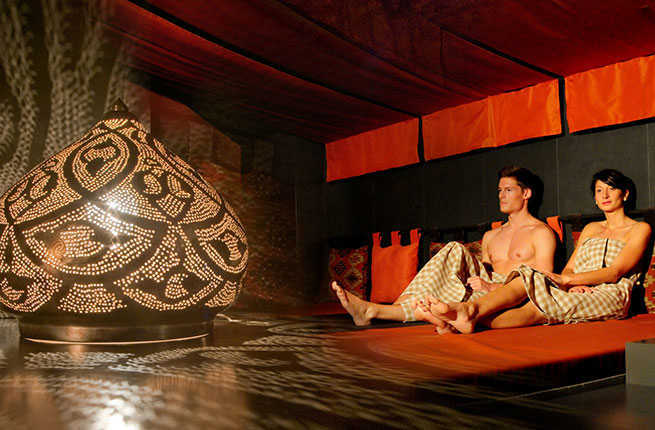 Courtesy of Oktogon Hammam
Oktogon Hammam
WHERE: Bern
Located in an octagon-shaped building that was once a gasworks, this three-story spa was created in the Middle Eastern hammam tradition. Each guest is given an exfoliation mitt and traditional Pestemal (linen sheet). Seven rooms in the wet bathing section include an herbal steam room, rigorous body scrubbing, and laying on warm stones. There's also an optional oil massage. On the third-floor dry area, guests can relax on cushions and mats or sip tea at the spa café.
PLAN YOUR TRIP: Visit Fodor's Switzerland Guide
Courtesy of Clinique La Prairie
Clinique LaPrarie
WHERE: Montreux
This medi-spa's history may date back to 1931, but it offers cutting-edge therapies and equipment for achieving holistic wellness. The medical center has 30 different specialists ranging in areas from cardiology to psychology. Set in the picturesque village of Clarens on the shores of Lake Geneva, the sparkling white spa has views of the mountain peaks. There are 15 treatment rooms, an indoor swimming pool, a Kneipp course, sauna, an ice fountain, and a relaxation room.
PLAN YOUR TRIP: Visit Fodor's Switzerland Guide
Graubünden Ferien/Andrea Badrutt
Bogn Engiadina
WHERE: Scuol
The springs of this Alpine town have been enjoyed by bathers since 1369. Bogn Engiadina is one of Europe's most famous spas, with a serene blue interior and six pools (both indoor and out) that range in temperatures from warm to cool. The Roman-Irish bath in particular alternates between dry heat and warm, humid air. The saunas, solariums, steam rooms, and massage center provide further relaxation activities.
PLAN YOUR TRIP: Visit Fodor's Switzerland Guide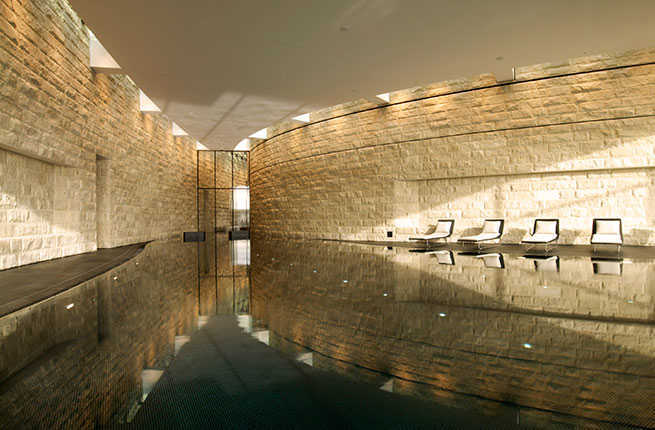 Peter Hebeisen
Dolder Grand
WHERE: Zurich
Perched on a hilltop overlooking the city, this shimmering structure crowned with soaring turrets dates from 1899. The interior was completely updated in 2007 with a stylish new spa. Start your treatment in the circular meditation room with walls covered in more than 9,000 pieces of mirrored tiles. The pool area incorporates both European and Japanese influences, and includes a cold room and sunaburo (a bed filled with warm pebbles). There's also an aroma pool, steam bath, kotatsu foot bath, solarium, and relaxation rooms. Branch out from traditional massage with a bamboo shiatsu treatment that uses rhythmic tapping to stimulate the body and relieve stress.
PLAN YOUR TRIP: Visit Fodor's Switzerland Guide
Courtesy of Tschuggen Hotel Group
Tschuggen Grand
WHERE: Arosa
The ultramodern glass facade of this spa, which is built into the side of the mountain, is one of the most striking in the country. Designed by renowned Swiss architect Mario Botta, the sail-shaped glass and steel structures house a 5,000-square-foot complex with pools, treatment rooms, a fitness room, and saunas. Consider booking an ultra-hydrating facial with Clarins products; it's the perfect après-ski treatment to combat the effects of wind and dry mountain air.
PLAN YOUR TRIP: Visit Fodor's Switzerland Guide
© 2015 Stefano Candito
Palace Luzern
WHERE: Lausanne
After landing in Switzerland, make an appointment for an anti-jet lag massage at this elegant facility on a hill overlooking Lake Geneva. This traditional oasis even has an international bent, offering a Finnish sauna and Moroccan hammam in addition to the pool and silent duvet room for further relaxation.
PLAN YOUR TRIP: Visit Fodor's Switzerland Guide
Courtesy of Sole Uno Wellness World in the Parkresort Rheinfelden
Sole Uno
WHERE: Rheinfelden
Located about 20 minutes outside of Basel, this mountain town became a spa destination after natural salt deposits were discovered here during the 19th century. This welcoming facility offers three saltwater pools where guests float weightlessly as if they're in the Dead Sea. Besides the typical treatment rooms, there are saunas, hammams, and a Russian banya. Try an invigorating Russian birch treatment or get a massage on the warm sand bed, which is said to loosen especially tight muscles.
PLAN YOUR TRIP: Visit Fodor's Switzerland Guide
Courtesy of Tschuggen Hotel Group
Carlton Hotel
WHERE: St. Moritz
Anyone can purchase a day pass to experience the spa at this exceptionally luxurious hotel in the glitzy town of St. Moritz. Carlo Rampazzi designed the space with soothing blues and earth tones, spanning three floors with spectacular mountain views. There's a pool, sauna area with steam bar, caldarium, hydro-massage showers, and a lounge with a fireplace. Try the Padabhyanga treatment, incorporating warm herbal oils used to harmonize and revitalize the feet. There's also a special Swiss circulation massage focused on relieving sore legs after snow hiking, skiing, or long flights.
PLAN YOUR TRIP: Visit Fodor's Switzerland Guide
Courtesy of La Reserve Geneva
La Reserve Geneva
WHERE: Geneva
Tucked into a 10-acre park on the shores of Lake Geneva, the interior of this facility is evocative of a luxe African lodge. The spa specializes in innovative anti-aging treatments from the Nescens brand like lipomassage, cell regeneration, and facial tissue regeneration. There's also an indoor pool, hammam, sauna, and fitness center.
PLAN YOUR TRIP: Visit Fodor's Switzerland Guide