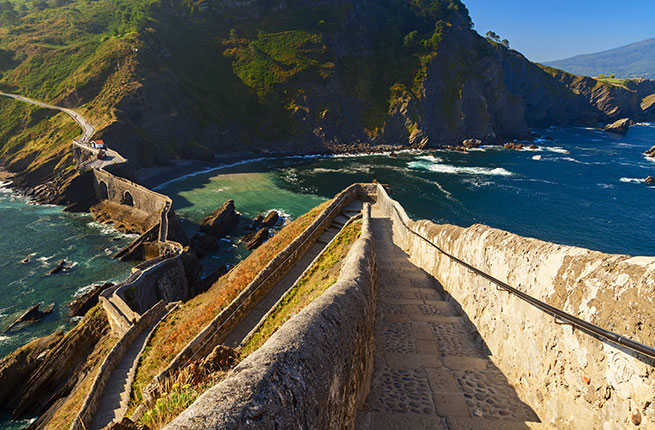 Lorenzobovi | Dreamstime.com
With the surging popularity of the ancient Camino de Santiago, many trekkers, nature lovers, and religious pilgrims are seeking alternate routes. Among the most stunning is Camino del Norte along northern Spain's Atlantic coastline, from Basque Country to Galicia. With the ocean to the north and the Cantabrian Mountains to the south, the Camino del Norte creates a corridor into a different Spain, one with Celtic designs, bagpipes, and hard cider. It is a path dotted with colorful traditional fishing villages and seaside chapels dedicated to Mary as their protector of hearth, home, and boats. Here are the top 15 coastal highlights for this trek. –Beebe Bahrami
Greg64g | Dreamstime.com
BIARRITZ AND THE BASQUE COAST
This French Basque town offers the most panoramic view of the Pyrenees and Cantabrian Mountains and the northern Iberian coast. Long before Biarritz was the Belle Époque destination for Europe's well-heeled, or for the world's top surfers, it was a medieval fishing village, then whaling town. Near the path through Bayonne, it was also a stop for English and French pilgrims arriving from Bordeaux. The best vantage point for the expansive view is at Rocher de la Vierge, Biarritz's rocky outcropping with a statue of Mary surrounded by crashing waves and accessed via a footbridge from the mainland.
Insider tip: If you are walking the coastal Camino from here, regionally called the Voie Littoral, the trail is well marked from the smaller settlement of Bidart on the coast just south of Biarritz. This coastal route has become very popular among locals as well as visitors in recent years. In Hendaye, pilgrims cross the Pont St-Jacques (Saint James Bridge) and over the border into Irún, were they continue onto the Camino del Norte in Spain. This begins some of the most rugged and steep—and beautiful—sections of the entire path.
PLAN YOUR TRIP: Fodor's Basque Country, Gascony, and Haute Pyrenees Guide
Dzmitry Melnikau/Shutterstock
The famous food scene in San Sebastián was assured long before recent celebrity chefs put the city on the map, given its nearness to inland gardens and the fresh catch from the open ocean. A magical setting between rocky outcroppings, river, and the sweeping crescent-moon beach of La Concha, San Sebastian runs parallel to Biarritz as a destination among 19th-century royalty and glamour-seekers alike. A bird's eye view of the city's enticing setting is visible upon approach on the Camino del Norte.
Insider Tip: The trek from San Sebastián to Bilbao, another Basque city celebrated for its food and art but whose gaze is toward its river, the Nervión, rather than the ocean, has a lot of steep ascent and descent and is challenging but also some of the Camino del Norte's most rewarding. In Bilbao, enjoy the beautifully preserved medieval city center for its warm atmosphere and food and the Guggenheim for its modern art.
PLAN YOUR TRIP: Fodor's Bilbao & Basque Country Guide
Lorenzobovi | Dreamstime.com
"Castle rock" in Basque, visitors reach Gaztelugatxe's rocky island outcropping by a stone bridge that looks like a transplanted piece of the Great Wall of China leading to the 10th-century hermitage of St. John the Baptist. The trail to the bridge is a wild footpath that descends through pine forest and ferns. While many miracles unfolded here, the first assured the others: this is the fabled place to which the giant St. John traveled in just three footsteps from Bermeo, 10 kilometers away. The other miracles attribute curative powers to the site and make it an important local pilgrimage.
PLAN YOUR TRIP: Fodor's Bilbao & Basque Country Guide
Dennis_dolkens | Dreamstime.com
SAN VICENTE DE LA BARQUERA
A dramatic narrowing of mountain to sea, the snowcapped mountains of the Picos de Europa Natural Park form a backdrop to San Vicente's fortified 13th-century castle. San Vicente is a fishing town that sits below the castle, looking out onto a harbor, beaches, and the ocean. According to legend, the Virgen de la Barquera, the town's Mother Mary and patroness, arrived here on a small boat that sailed without crew or oars. She has since resided in the hermitage on a hill overlooking the ocean, a wooden votive boat hanging from the ceiling.
PLAN YOUR TRIP: Fodor's San Vicente de la Barquera
Estivillml | Dreamstime.com
SANTILLANA DEL MAR AND ALTAMIRA
Considered one of the prettiest villages of Spain, Santillana has preserved its medieval atmosphere with its 12th-century Romanesque cloister and collegiate church of Santa Juliana. Juliana was a southern Italian saint martyred in AD 304. In the 8th century monks brought her remains here and built the monastery to house her relics. The surrounding village is a huddle of timber and stone homes accentuated with balconies and cobblestone passageways. Two kilometers away through green rolling hills is Altamira Cave, a Paleolithic painted cave dating to between 15,000 to 18,000 years ago, where prehistoric hunter-gatherers created their own sacred chapel with animated images of bison, horses, and deer.
PLAN YOUR TRIP: Fodor's Galicia and Asturias Guide (includes Cantabria)
Beebe Bahrami
Few outside of Spain or even Asturias know about the hamlet of Vidiago and its remote and pristine beaches. Vidiago is surrounded by protected natural lands and trails meandering through thick pine and oak forest, seaside cliffs, and formations called bufones (blow holes), that as the tides shift shoot sudden geysers of salt water meters high into the air from subterranean stone channels. Two kilometers off the Camino through Vidiago is an even more remote and magical feature, the 3,500-year-old petroglyph of Peña Tu. This vertical gray-brown rock juts out from the surrounding forest and bears an engraved image of a radiating being—perhaps a sun god—surrounded by smaller human stick figures and numerous red dots. This Bronze Age monument may mark an ancient burial ground.
Insider tip: Finding Peña Tu from signs posted on the main road through Vidiago can be tricky. Ask for help if needed, for it isn't as well marked as the Camino itself and passes into narrower footpaths in thick forest; some turns don't seem like footpaths at all. Be sure of your next steps before going deeper.
PLAN YOUR TRIP: Fodor's Galicia and Asturias Travel Guide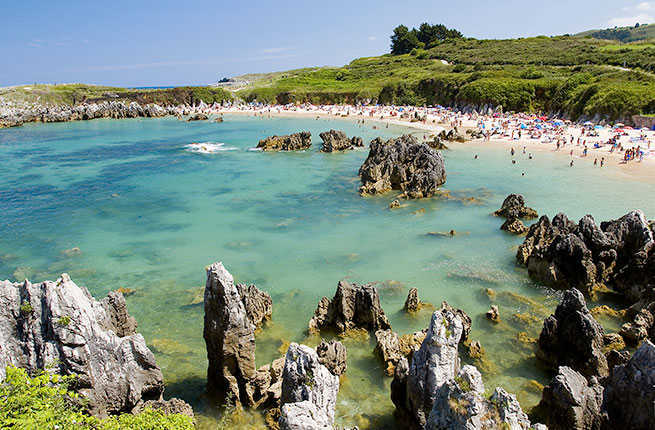 Natursports | Dreamstime.com
Popular for sun, salt air, and good seafood, Llanes's appealing harbor is lined with colorful fishing boats and homes with timber and stucco walls painted in bold colors of cobalt, burnt orange, fern green, and sunflower yellow. Founded in the 8th century as a whaling and cod-fishing center, Llanes has several holy guardians of its deep sea fishing life, the most famous being the Virgen de la Guia. Her gray granite hermitage stands atop the highest hill, and many fishermen visit her and make offerings before setting out to sea.
Insider tip: Don't miss the weekly farmers' market on Tuesdays.
PLAN YOUR TRIP: Fodor's Galicia and Asturias Travel Guide
alvaher/Shutterstock
RIBADESELLA AND TITO BUSTILLO
An active fishing town built on both sides from where the Sella River empties into the Atlantic Ocean, the eastern side of Ribadesella is its oldest half, founded in the 8th century. There you'll find tightly clustered homes painted rainbow colors lining the cobblestone streets. This is where the weekly market sets up every Wednesday. The fishermen's chapel, dedicated to Mary and, like in Llanes, also called La Guia (the guide), is at the farthest end of a promenade around the harbor skirting the old town. On the other side of the river is Ribadesella's wide beach, the Playa Santa Maria, lined with ornate 19th-century mansions.
Insider tip: Walking distance from town and upriver is the Paleolithic cave of Tito Bustillo. Discovered in 1968 and most famous for its gallery of painted horses, prehistoric peoples came here up around 12,700 years ago and earlier, attracted by the rich environment of ocean, river, mountains, valleys, and protective caves.
PLAN YOUR TRIP: Fodor's Galicia and Asturias Travel Guide
Lviani | Dreamstime.com
It was from Oviedo in the early 9th century that King Alfonso II made the first documented royal pilgrimage to Santiago de Compostela. Oviedo boasts three of Spain's rare pre-Romanesque churches from the 8th and 9th centuries—San Julian de los Prados, Santa María del Naranco, and San Miguel de Lillo—and its medieval town center revolves around its Gothic cathedral, all surrounded by vibrant cafés serving the region's hard cider, Spanish wines, and farm-to-table food.
Insider tip: The pre-Romanesque church of San Julian de los Prados is featured in the film Vicky Cristina Barcelona.
PLAN YOUR TRIP: Fodor's Oviedo Guide
Botond | Dreamstime.com
Cudillero is nestled between a steep slope and the open ocean. As with other coastal Asturian settlements, the lifeblood here has long been fishing and commercial maritime work. So much so that the festival dedicated to Mary here is more elaborate than most. All year, a bronze sculpture of Mary rests underwater in the harbor, but once a year in early September, fisherman attired in wetsuits and scuba gear bring her up and carry her through town. She is then returned to her watery abode, where she will continue to protect the town and its inhabitants.
PLAN YOUR TRIP: Fodor's Galicia and Asturias Travel Guide
An important medieval whaling town, Luarca remains a deep-sea fishing community but of smaller catch. The round harbor is anchored with colorful fleets and waterfront restaurants serving fresh fare just off the boats. At the highest pinnacle looking out to sea is Luarca's Marian chapel dedicated to La Señora del Rosario. Every August 15 she is celebrated and thanked for her numerous seafaring and life-saving miracles, many in living memory. Most of the festivity concentrates around the wharf and on the boats.
Insider tip: Luarca holds its farmers' and crafts market every Wednesday along the town's river.
PLAN YOUR TRIP: Fodor's Galicia and Asturias Travel Guide
Arocas | Dreamstime.com
Puerto de Vega is a small hamlet with a serious fishing fleet, and early-rising visitors can see the fish market in action as the boats return from a night at sea. Harborside cafes serve just-off-the-boat catch. The town was recognized in 1995 for its environmental and cultural preservation efforts, and this section of the Camino del Norte passes through some of the most pristine coastline.
Insider tip: On approach to Puerto de Vega, hikers pass through the diverse ecosystem of the Playa de Barayo, which is reached via a steep descent along the banks of the Barayo River through a pine and fern forest. On the other side, upon leaving the village, trekkers will reach Playa de Frejulfe, a sandy beach popular with surfers.
PLAN YOUR TRIP: Fodor's Galicia and Asturias Travel Guide
Beebe Bahrami
Five kilometers inland, through coastal Navia, lies the Castro Coaña, one of the most intact Celtic settlements of this northwestern region. Around 2,200 years old, Coaña is built on a strategic hill overlooking the rolling green valley and the Navia River flowing out to the Atlantic. The homes are mostly round stone structures that once had thatched roofs. Thousands of Celtic castro sites dot the northwestern corner of Iberia.
Insider tip: In Ribadeo, the Camino del Norte as walked by most modern pilgrims heads inland to join the Camino Francés at Arzua. But pilgrims can continue to skirt the coast to A Coruña, where the Camino Inglés (English Camino), leads inland to Compostela. This can be done by many means, but perhaps the most modern and romantic, after walking, is on the regional narrow-gauge railroad, the FEVE, which can be caught all along the coast, including at Navia, Ribadeo, and Viveiro, onward to A Coruña.
PLAN YOUR TRIP: Fodor's Galicia and Asturias Travel Guide
Migel/Shutterstock
Celtic in origin, the old center of Viveiro has layers of remains from the 12th to 18th centuries. Often during restoration or new construction work, older remains are dug up, from Roman-era structures to medieval skeletons under the central square. Viveiro's patron saint is San Roque, who stands on the highest precipice overlooking the bay, protecting the town from illness and disaster. A town depending on both fishing and tourism, it has both for good reason: the deep harbor protects the fishing fleets and gives visitors Covas beach, one of the area's longest and calmest sandy beaches.
Insider tip: Foot trails through Viveiro can take trekkers both into the interior via the river, or along the coast toward Barqueiro and Ortigueira.
PLAN YOUR TRIP: Fodor's Galicia and Asturias Travel Guide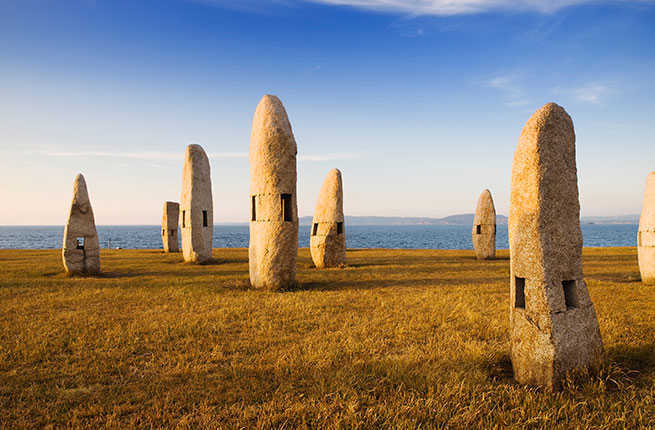 Ramonespelt | Dreamstime.com
Always connected to seafarers—from Celts to Phoenicians, Romans, and the English—A Coruña is a proudly Galician seaside town that is central to shipping and large-scale fishing. It is animated by an engaging town center with lively social, food, and surf scenes and the ancient Roman Tower of Hercules.
Insider tip: This marks the beginning of the Camino Inglés, the English road to Santiago de Compostela, where many pilgrims from the British Isles traditionally arrived by ship and then proceeded inland for 75 kilometers.
PLAN YOUR TRIP: Fodor's A Coruña Guide