Caravan Cinema
Calle Posta 11, Bilbao, Basque Country 48005, Spain
Why We Like It
There are many pensions in the Old Quarter but few with as much style or refinement as Caravan Cinema. It is a simple yet splendid designer option for those who are happy to be in one of the best locations in town without the add-ons of a larger hotel.
Hiding within the enchanting Old Quarter of Bilbao is a movie lover's paradise unlike any other. This boutique hotel dedicated to Spanish filmmakers is anything but tacky; the vintage design of each room is tasteful and authentic with attention down to the finest detail. While guests won't find big-hotel amenities here, the romantic lodging is in one of the best locations in town.
room
The über-stylish rooms here are each dedicated to a different filmmaker, with exceptional antique décor, original canvas prints, and retro odes like the Marshall bedside speakers aside the wonderful beds. Smart TVs that are pre-equipped with the full filmography of the eponymous artist of the room. Espresso machines, AC, free Wi-Fi are standard. They may be slightly louder but we highly suggest getting one of the rooms overlooking the street for the natural lighting and the small balconies.
Along with its eight rooms the hotel also offers an entire apartment just down the block for larger groups or families. The chic lodging, entirely dedicated to Alfred Hitchcock and his films, can sleep up to four people and and comes at an excellent price for such a sensational and large accommodation.
bathroom
Bathrooms are each designed to match the room at large, from the ultra-mod, encased in back stone with black fluorescent glows, to the classically elegant, with throwback British sink and quirky light fixtures. Regardless of the theme, all bathrooms are clean and come with rainforest showerheads and nice toiletries.
lobby
A charming common lounge on the second floor of the building also serves as the reception area. It's adorned with old film prints and original memorabilia while the exposed timber roofs and exposed stone foundations are a reminder of the building's Old Quarter history.
dining
There is no restaurant or café here but the pension does have a partnership with the lovely bakery downstairs where guests can have a discounted breakfast.
drinking
If you love your hotel lobby bars you'll have to venture elsewhere. Luckily there are about a million (or so we can only guess) amazing bars in Bilbao's Casco Viejo (old quarters) right outside your door.
People also liked
$$ | c/ Ronda, 3
Opened in 2017, Hotel Arrizul Congress is an elegant contemporary addi... Read More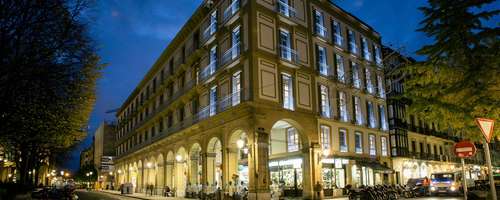 $$ | Calle Legazpi, 12
This unassuming boutique hotel that overlooks Plaza Gipuzkoa in San Se... Read More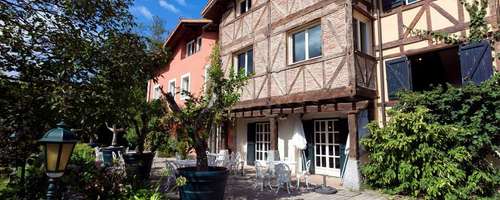 $$ | Portal de Atea S / N
Tucked away in a pastoral valley behind the picturesque seaside villag... Read More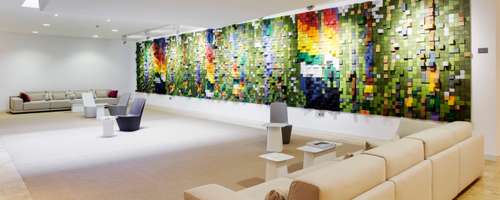 $$ | Paseo Campo Volantín, 11
Located on the quiet side of the River Nervión as it cuts throu... Read More
$$ | Bº Askizu
Nestled among the rolling vineyards above the picturesque seaside vill... Read More
$$ | Getaria and Zumaia | Roke Deuna 25
Located in the historic seaside village of Getaria and overlooking Gaz... Read More
LOCATION
Getting Around
Bilbao is a wonderful city for getting around without a car. The old Quarters are made for walking while a clean subway and a scenic aboveground tram make getting to the commercial district and to the museums an easy and quick commute. If you're arriving by car, Caravan Cinema has a few private parking spots in an offsite lot just a few minute walk away for a nightly fee. Buses run regularly from the airport to the main Bilbao bus station and trains will get you here from other cities in Spain.
Restaurants
One of the best perks of staying in the Old Quarter is being in the heart of Bilbao's pintxo bar scene. These creative Basque tapas sprawled out along the bar of every establishment are designed to allow many quick stops at many different places with a small beer or wine to accompany ach snack: It's what we like to call a pintxo crawl. One of the best places for this is in Plaza Nueva (2-minute walk), a neoclassic square with pintxo bars lining the perimeter. Café Bar Bilbao (2-minute walk) is a crowd favorite here. For a more proper serving of local cuisine, stop at Restaurante Mandoya (3-minute walk), it's some of the best traditional Basque food in Casco Viejo and is served in a stylish setting.
Bars
Plaza Nueva (2-minute walk) is also the perfect day-drinking spot, where you can grab a gin & tonic at some of the outdoor terraces and sip your refreshment under the shade of the arcade. Kukusoak Taberna (3-minute walk) is a cool bar in the Old Quarter closer to the river that has a variety of events and makes a good drink. Those looking for an energetic Basque vibe should look into Kafe Antzokia (7-minute walk), a classic theater that's been turned into a lively music venue and bar that goes late into the night.